This ice cream pie requires only THREE ingredients! Alternate scoops of your two favorite flavors of ice cream in a store-bought graham cracker crust for a dessert that will be a hit wherever it's served! With 15 minutes prep (or less), this is the perfect dessert to make when in a time pinch.
Some other ice cream treats you'll want to try next is this ice cream sandwich cake, samoas ice cream bars, or these cookies & cream ice cream bars.
Ice cream pie
My mom is known for her ice cream pie. She'd make variations of this pie all summer long; it was one of her go-to treats. And whenever she'd serve it, people would go crazy for it as if it were a culinary masterpiece that had taken my mom hours to make (ha!)
As far as I know, my mom "invented" this dessert, and well, to be honest, it's not even much of a recipe. More of a concept — you'll see what I mean.
Essentially you chose the flavors and pick the "theme" you want for this ice cream pie. It can be chocolaty, fruity, minty, coffee flavored, etc. Pick two flavors of ice cream that go together, grab a pre-made graham cracker (or oreo) crust and we're already on our way to EASY dessert heaven.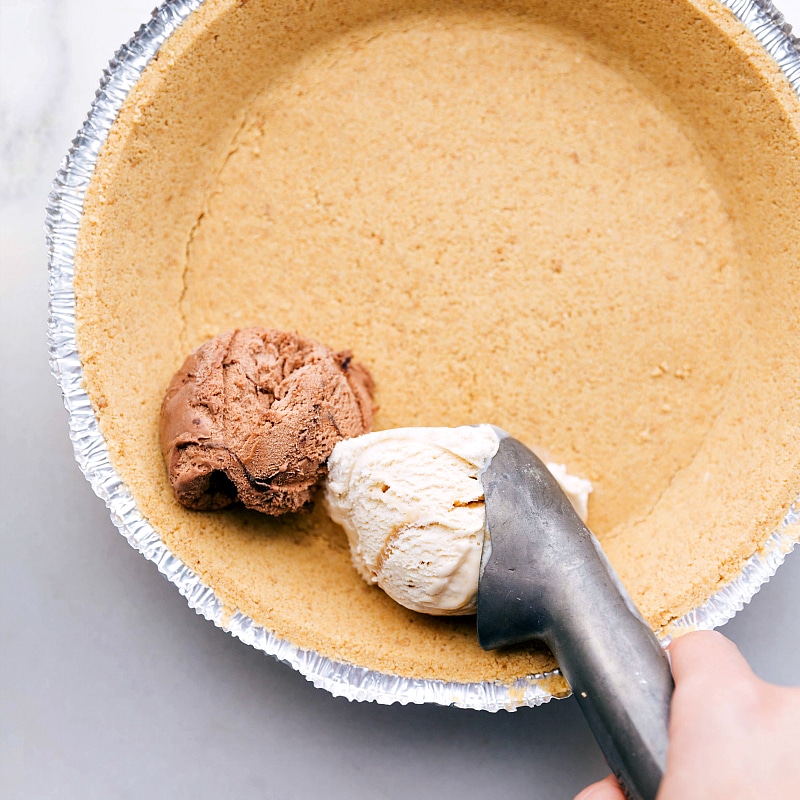 How to make ice cream pie
It starts with a graham cracker crust. For a true 3-ingredient dessert, you'll need to buy the graham cracker crust. However, if you have the extra time and want to, you can make your own graham cracker crust (I like the crust from this lemon pie) and put it in a pie tin. Next you pick two flavors of ice cream that complement each other. My two favorites? A salted caramel and chocolate fudge brownie.
Scoop the ice cream into the pie crust. One scoop of flavor choice #1, then one scoop of flavor choice #2, then flavor #1 again, flavor #2, and on and on. The ice cream scoops will cover the bottom of the crust and then you do one more layer of ice cream scoops right on top.
Finally, you press it all together with the plastic top that came with the store bought graham cracker crust. If you chose to make your own crust (and don't have that plastic top), you can press together the layers with parchment paper and your hands. Once the ice cream scoops are solidly pressed together, it's time to freeze the ice cream pie until it's firm.
Once firm, use a sharp knife to cut out slices! Garnish if desired 🙂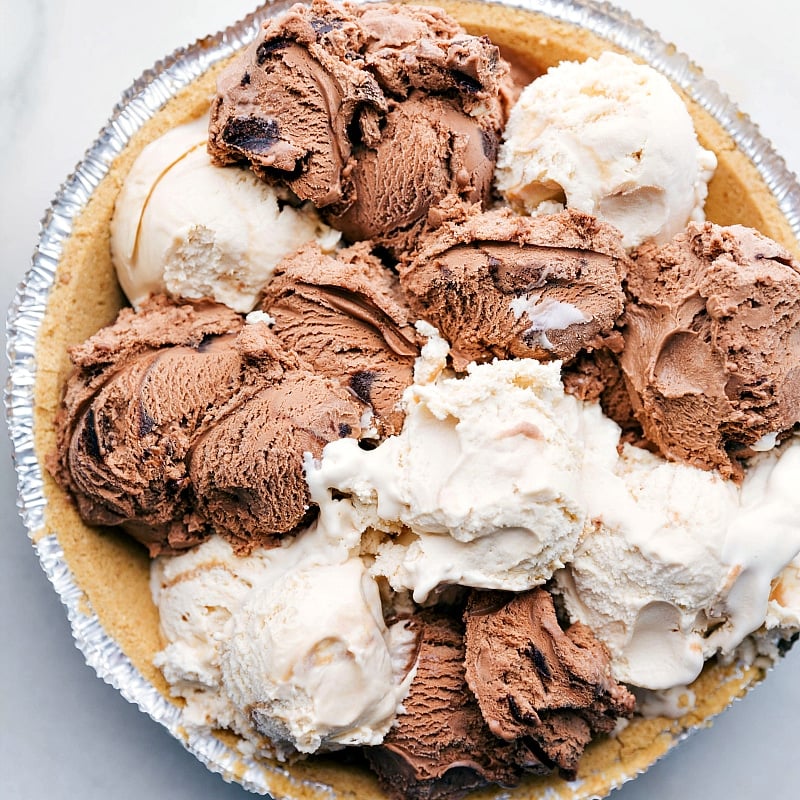 Ice cream pie variations
Minty: try this grasshopper version with an Oreo crust and mint ice cream filling
Fruity: use your two favorite sorbets or sherbets in a graham cracker crust
Turtle ice cream pie: fill up an Oreo crust with caramel ice cream. Drizzle fudge and caramel ice cream sauces over top and sprinkle chopped pecans on top. Garnish with whipped cream if desired
Oreo ice cream pie: fill up an Oreo crust with cookies and cream ice cream. Garnish with whipped cream and additional crushed up Oreos. Drizzle hot fudge sauce if desired
Coffee ice cream pie recipe: fill up an Oreo crust with coffee ice cream, drizzle with hot fudge sauce
Strawberry ice cream pie recipe: this is my favorite recipe!
Peanut butter ice cream pie recipe: fill up a graham cracker or oreo crust with peanut butter ice cream. Garnish with whipped cream and crushed peanuts
Adding a cornflake crust: try this crust recipe
Adding a rice krispie crust: Foodiecrush is the genius behind this creative crust!
Swap out the graham cracker crust for an oreo crust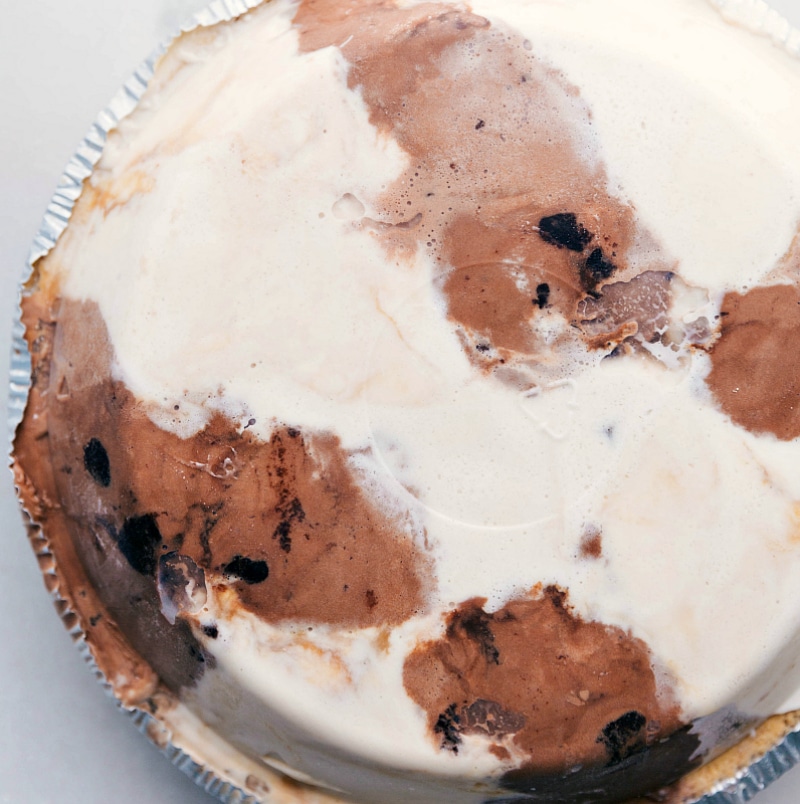 Toppings
Depending on the flavors you use for your ice cream pie, there are tons of options for what to top the pie with. Below are some of our favorite topping ideas:
Whipped cream (from a can or see: how to make whipped cream)
Chocolate fudge sauce
Caramel sauce
Miniature chocolate chips or shaved chocolate (I shave a large chocolate bar with a vegetable peeler)
Crushed nuts
Maraschino cherries
Crushed oreos
Sprinkles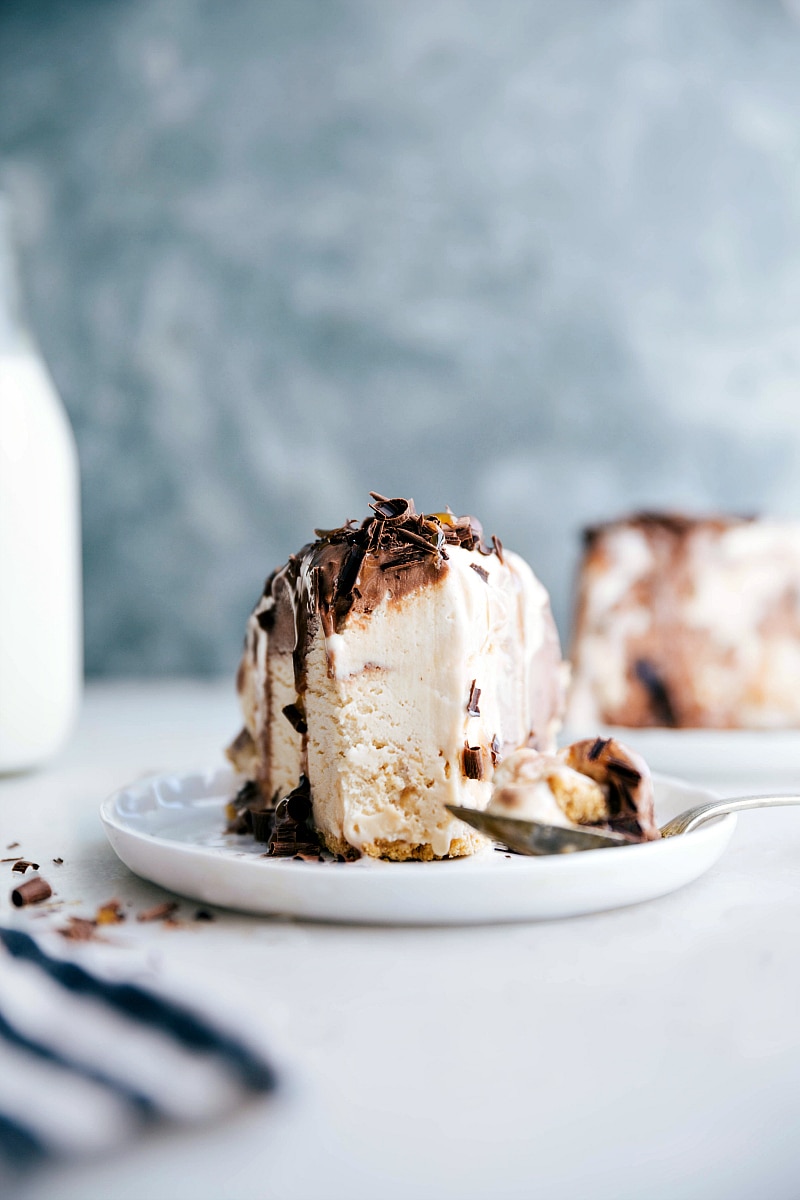 Quick tip
To get clean slices, run your knife under hot water for a few seconds, wipe to dry, make 1 slice, and repeat.
More frozen desserts: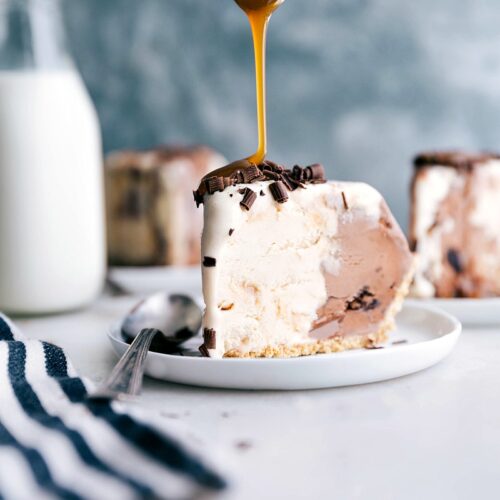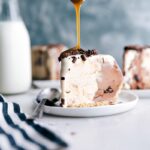 Ice Cream Pie
A three-ingredient, ten-minute preparation salted-caramel truffle and chocolate fudge brownie ice cream pie that will be a huge hit for any party.
Ingredients
1

pre-made graham cracker crust

3/4ths of 1 full

(48 ounce container)

salted caramel ice cream

3/4ths of 1 full

(48 ounce container)

fudge brownie ice cream

Optional: whipped cream, shaved chocolate pieces, and/or caramel sauce
Instructions
Remove the packaging for the graham cracker crust. Set aside the plastic "lid."

Allow the ice cream to sit out to become barely softened.

Scoop one flavor into the graham cracker crust and then scoop the other flavor right next to the first scoop.

Scoop the ice cream, alternating flavors, in a circular motion all the way around the pie crust. Scoop the flavors in the center.

Repeat step four right above the first layer of ice cream scoops to create a second layer of ice cream.

Press the plastic from the graham cracker crust into the ice cream to press it together.

Place in the freezer to completely re-freeze and harden. (Try not to let the ice cream get too soft/melted or it could get icy once it is re-frozen).

Once the pie is hardened, cut into large slices and, if desired, top with whipped cream, a drizzle of caramel sauce, and shaved chocolate. I use a vegetable peeler to shave the underneath of a chocolate bar right on top of the pies. Enjoy and return any leftovers to the freezer.