Knowing how to make whipped cream from scratch is handy for so many dishes and desserts. This recipe gives you all the steps, tips, and tricks to make perfect whipped cream every time.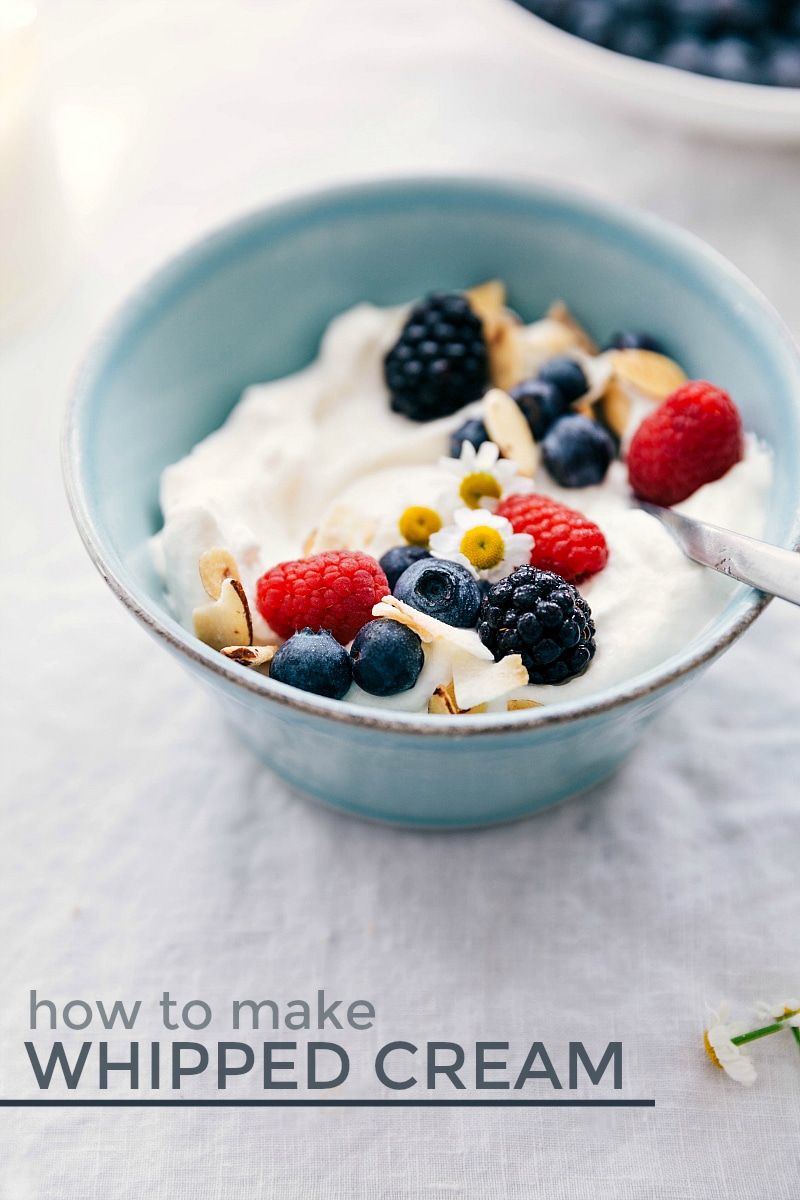 My oldest boy Grey could eat whipped cream by the spoonful if I let him. I blame his grandma for getting him hooked — while the husband and I were in Italy last Spring, my mom introduced my boys to Reddi-Whip and gave them a spray of it every night before bed. Yes, the same mom that NEVER bought us Reddi-Whip growing up haha!
While I'll admit that spray whipped cream is just about as easy as it gets, there is nothing that compares to making it homemade. Plus, it is super simple to make (not that much harder than purchasing it ready made). Today I'm sharing how to make whipped cream, a few simple tips, and teaching you how to stabilize cream.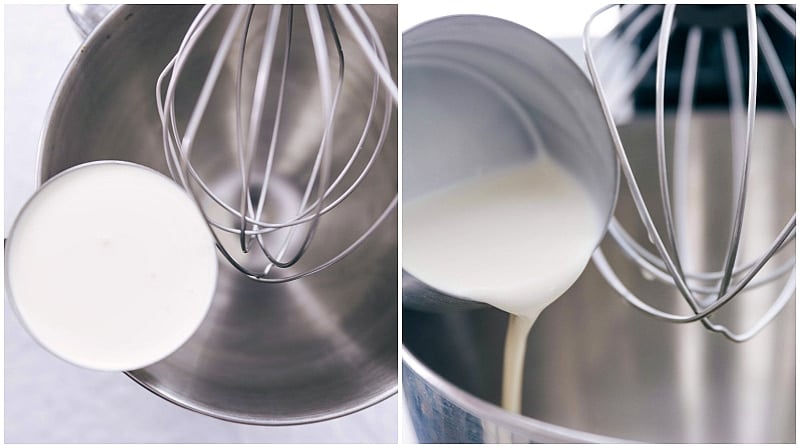 How to:
Chill the mixer: start by putting your mixing bowl and whisk in the freezer for 15 to 20 minutes. The colder everything stays the better your cream will be!
Add ingredients: pour all your ingredients into the chilled mixing bowl and whisk it all together on a high speed for about 1 minute.
Watch closely: make sure you do not over beat the mixture. If you added too much liquid you may have to beat a bit more than 1 minute, but make sure you are watching the mixture closely — it will go from soft peaks to over whipped, stiff, and grainy.
Use: serve immediately OR put it in the fridge until ready to serve.
Can whipped cream be made ahead?
Yes! You can make it an hour up to 1 day ahead of time. To do so:
Whip the cream (with the vanilla, powdered sugar, and salt) as usual, but beat it less stiff than you want it to be when you'll be serving it.
Cover the bowl tightly with plastic wrap and place it in the fridge until you need it.
As soon as you need the cream, grab a (cold) wire whisk and give it a few brisk strokes as needed. It will thicken right up and be ready to use!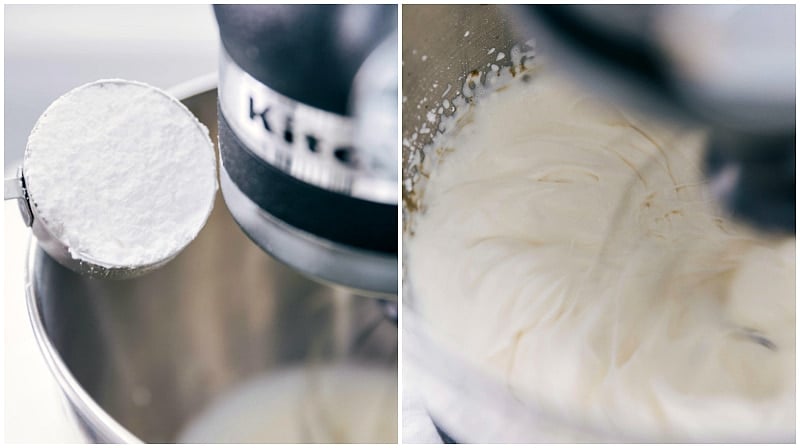 How do you make whipped cream stay stiff?
If you want cream that will hold its shape and remain stiff, you'll need to make what is called stabilized whipped cream. Once stabilized it won't deflate or weep, will hold its shape well, and is great for pipping onto desserts.
To make stabilized whipped cream, you'll need a few extra ingredients, but the process isn't too much harder. Check out this post for a full recipe and more information.
Quick tips
Use a good heavy whipping cream. The best tasting heavy cream doesn't have additives; if possible find a brand that lists only one ingredient: cream.
Use cold cream: the heavy whipping cream must be very cold to whip up to a gorgeous whipped cream. Make sure you're grabbing it straight from the fridge!
Adjust the sugar: as the cream has become fluffy and thick from beating, it will taste less sweet. Make sure to give your nearly finished cream a taste and add a bit extra sugar as needed.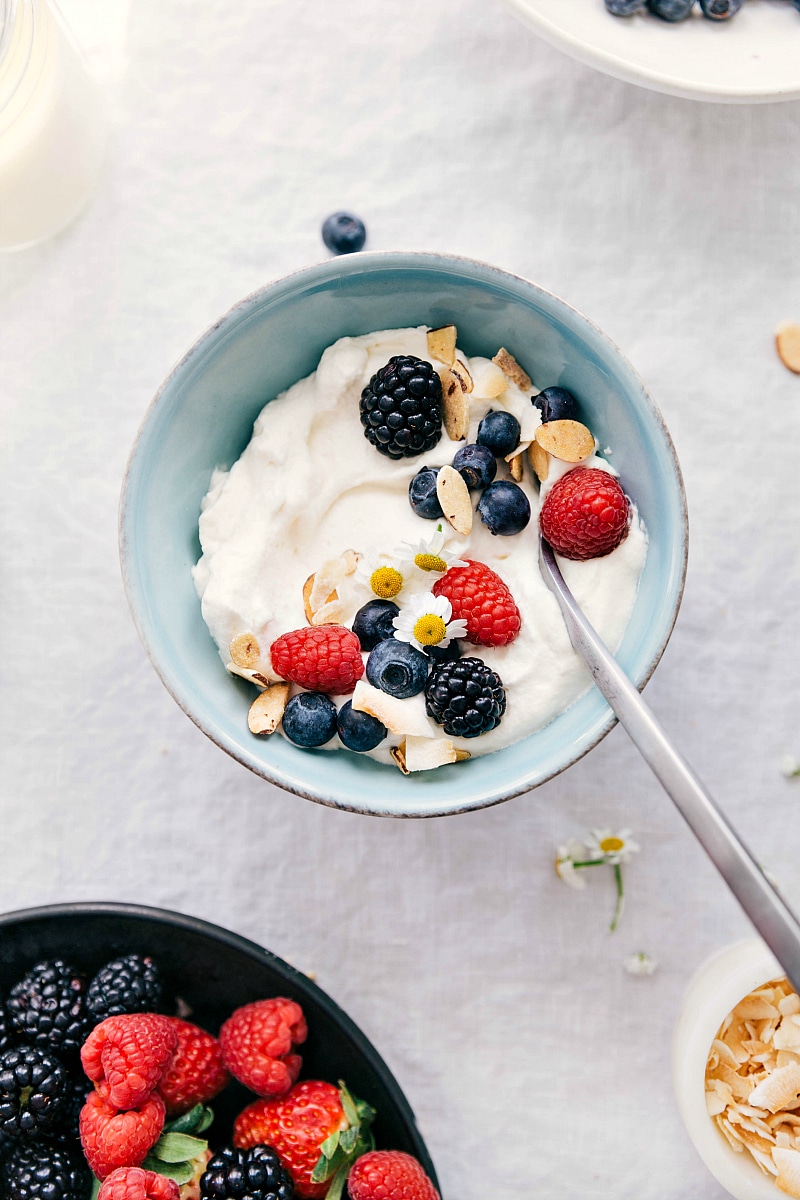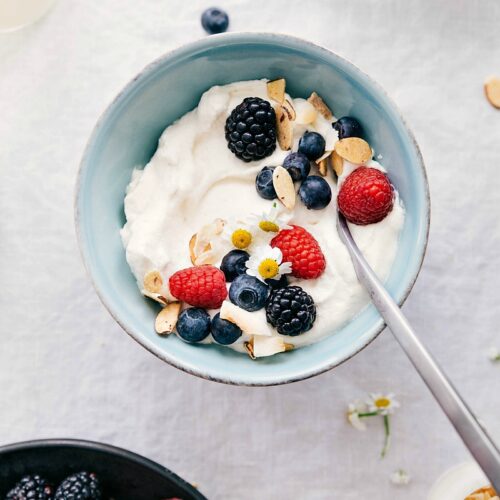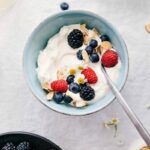 How to Make Whipped Cream
Knowing how to make whipped cream is handy for so many dishes and desserts. This recipe gives you all the steps, tips, and tricks to make perfect delicious whipped cream every time.

Keyword:
homemade whipped cream, how to make whipped cream
Ingredients
1

cup

(very cold) heavy whipping cream

1/4

cup

powdered sugar

1/2

teaspoon

pure vanilla extract

Tiny pinch of salt
Instructions
Place mixer bowl and whisk in freezer for 15 to 20 minutes to chill. Make sure the cream has been chilling in the fridge for at least an hour (don't use straight from a grocery store).

Pour heavy whipping cream, sugar, vanilla, and salt into the cold bowl (attached to a stand mixer) and whisk on low speed to combine. Gradually increase to high speed until medium to stiff peaks form, about 1-3 minutes. Watch carefully to avoid over-beating. Near the end of the time, taste and adjust sugar to taste (adding more if needed).

Store any unused whipped cream in an airtight container for up to 10 hours. When ready to use again, briskly re-whisk (with a cold whisk) for for 10 to 15 seconds.
Use your homemade whipped cream in these popular recipes:
French Toast (Reader Favorite!)
Hot Chocolate (or add to a Hot Chocolate Bar)
Sugar Cookie Turtle Pudding Bites
Homemade Crepes (or Banana Crepes)