Brownie-bottomed ice cream bars with hot fudge, samoas cookies, caramel delight ice cream, and topped with caramel topping and cookie crumbs!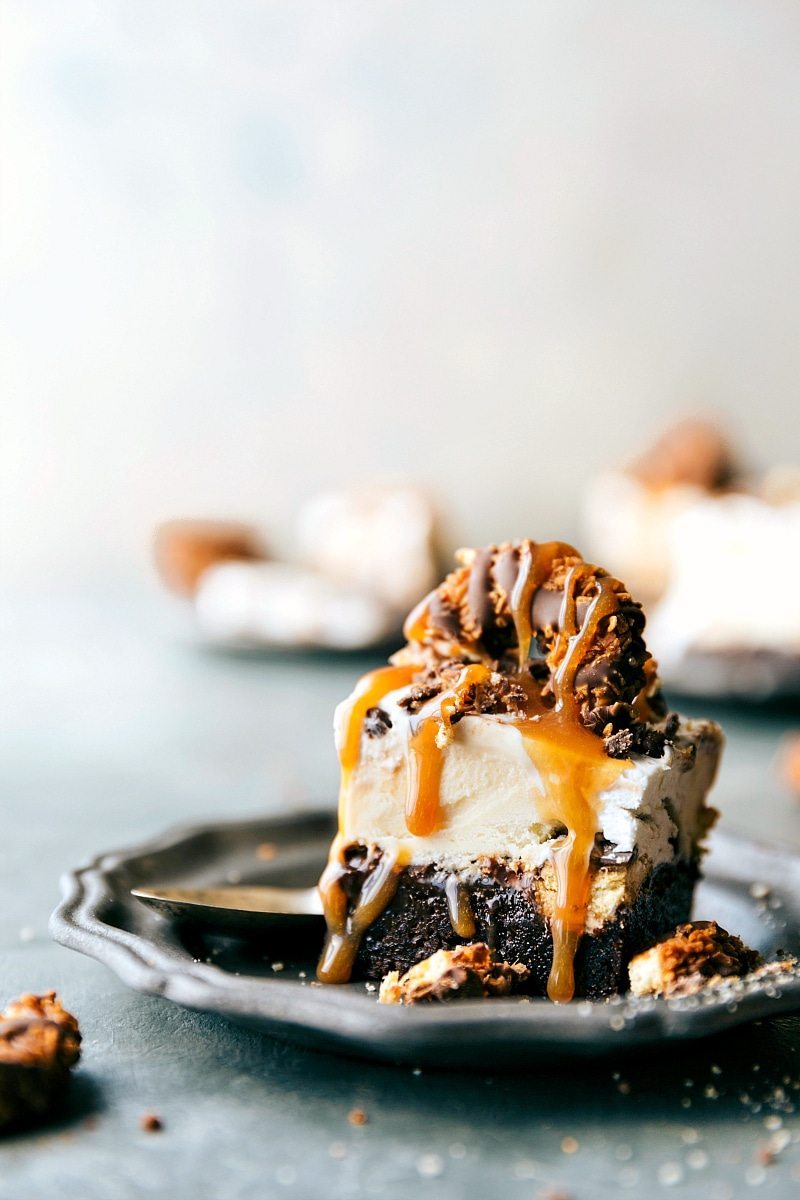 The husband has a habit of eating dinner and then checking all of my "hiding places" for where he can scavenge a treat or dessert. My hiding places are obviously not so great since they 1. never change and 2. consist of being in the fridge or freezer and placed near the back in tupperware. But it keeps the toddler from finding treats that I don't want him to get himself OR keeps treats intact until I can snap a few shots for the blog.
He'll find something and usually ask if I've taken pictures yet which also means "can I eat these all"?
Last Sunday he found these Samoas ice cream bars in the freezer which I may or may not have conveniently forgotten to tell him about. Obviously because I still had half the pan to finish.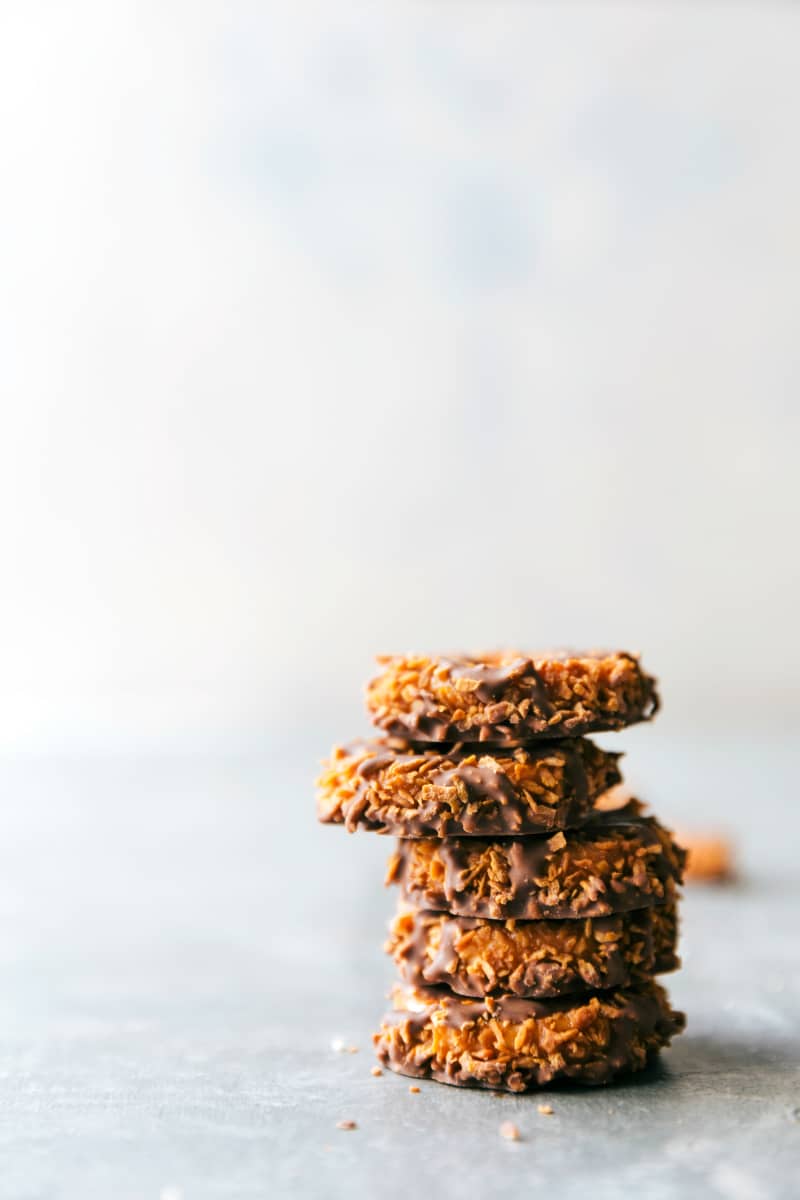 He cut out a piece and could not stop talking about these. He even said it was "the best dessert I've ever made." As a Samoa fanatic he was in total heaven.
After devouring one piece he went back to grab another one and then quickly asked me if I'd already taken pictures of these. I told him I hadn't, but wasn't planning on it because summer is coming to an end now that school is in session and no one is looking for an ice cream dessert. His face was hilarious. He looked at me with wide eyes and said, "What?! That is a huge mistake. You've got to put this on your blog RIGHT NOW." Haha!
And as I got thinking about it, I've really been holding out on you guys. There has only been TWO ice cream desserts featured on the blog this summer and these bars are the only ones that have chocolate. ? That is definitely a first because the past two summers this blog has been up and running we've probably had at least 5 different chocolate desserts per summer. And there has typically been way more ice cream recipes. So, I decided to take some pictures of the few bars left after the husband finished most the pan (he's training for his third marathon this summer so apparently these will make him run so much quicker ?) and here they are!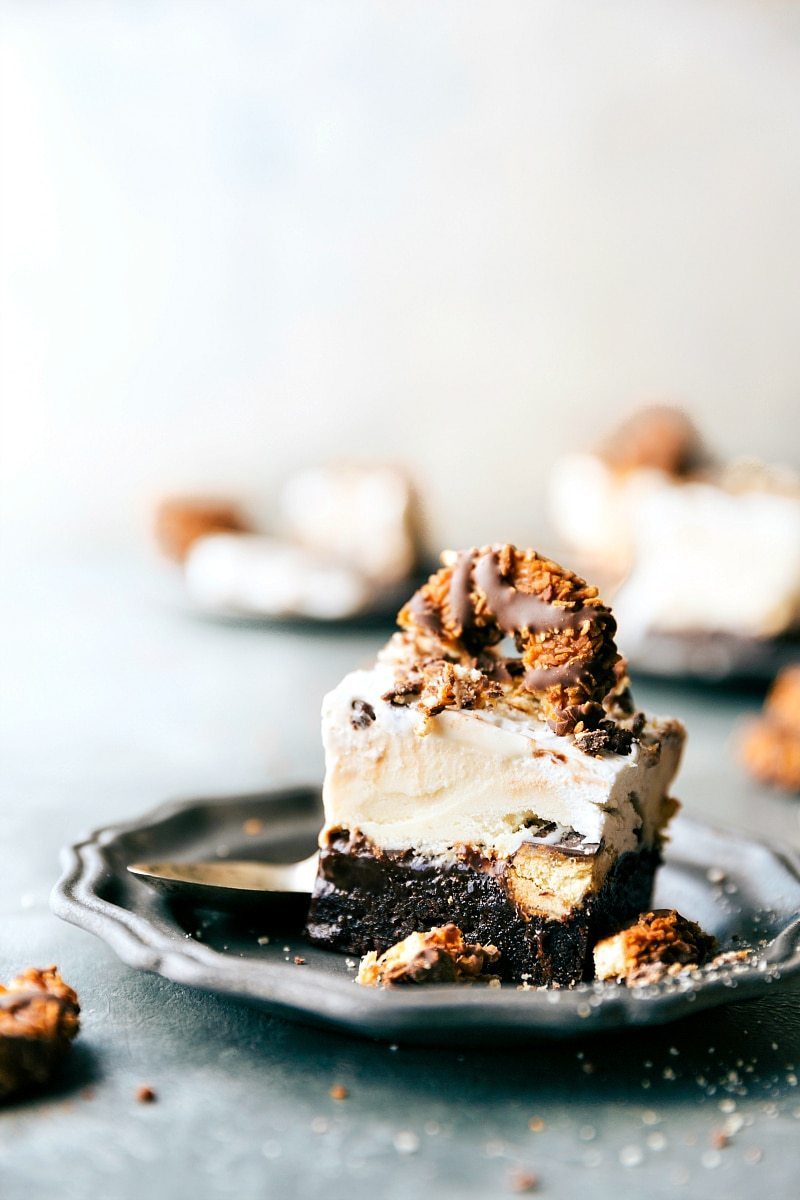 These bars are the ultimate LAST minute treat for a huge wow factor. They are crazy easy and fast to make which makes them that much better tasting of course! 🙂
The bottom is a fudge brownie mix that has been very slightly underbaked to keep the bottom ultra fudgy and soft. Next layer is hot fudge sundae topping with coarsely chopped Samoas cookies. Finally you've got a tub of caramel flavored ice cream and to finish things off some whipped topping. You can use a frozen whipped topping package OR make your own. If you do make your own with heavy whipping cream, it does tend to get icy tasting faster than packaged whipped topping. Either way the whipped topping is best added right before enjoying. You want to avoid re-freezing these bars with the whipped topping since its flavor and texture is less than ideal after being refrozen.
The toppings for these bars can be simple or you can go all out. For the ultimate Samoas treat add some caramel sauce, crushed/chopped up Samoas cookies, and miniature chocolate chips. Even some more chocolate sauce if you are really feeling a crazy dessert!
If you are craving one more cold treat this summer, make it this one!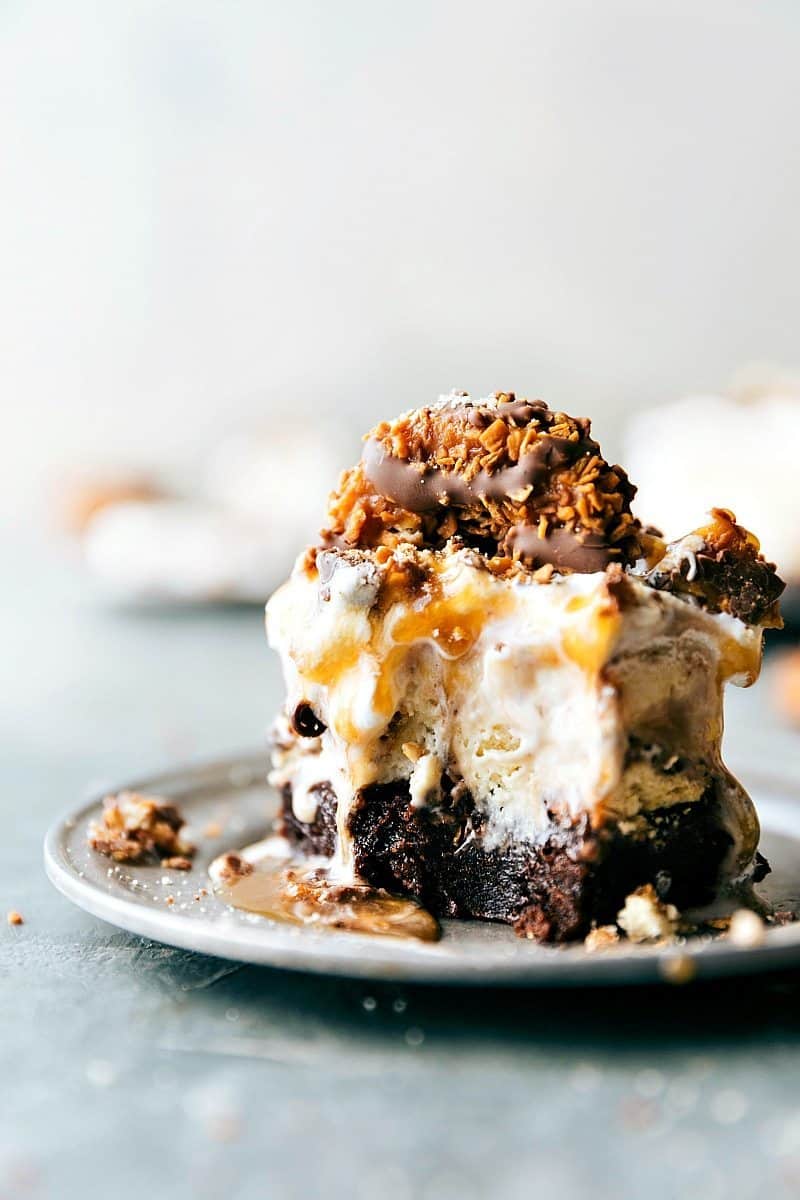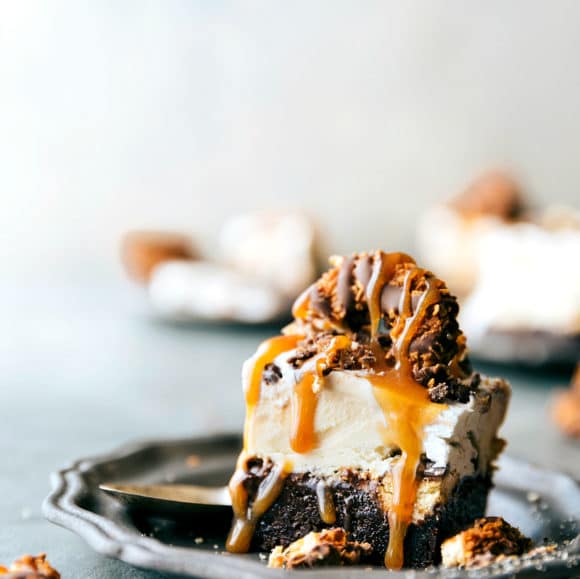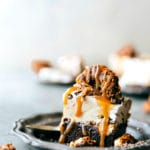 Samoas Brownie-Bottomed Ice Cream Bars
Servings
:
1
(9-13) pan, ~36 bars
Ingredients
1

package (18.4 ounces)

Family-Sized Chocolate Fudge Brownie Mix

9 x 13 pan

Ingredients called for on brownie mix

1

container (12 ounces)

hot fudge sundae topping

1

package (8.5 ounces)

Coconut Dreams Cookies *

or regular Samoas

1

container (1.5 quarts)

Caramel Delight Ice Cream

1

container (8 ounces)

frozen whipped topping

Optional: Caramel sundae sauce, extra Coconut Dreams cookies, mini chocolate chips
Instructions
Lightly spray a 9 x 13 pan with cooking spray and set aside. Prepare the brownies according to package directions.

Pour brownie batter in the prepared pan and slightly under-bake by 2-3 minutes.

Remove and allow to cool. Cover and place in the freezer for 30 minutes.

Top the brownies evenly with the hot fudge sundae topping (warm slightly for easier spreading).

Coarsely chop up all but 3 of the cookies and place on top of the fudge topping.

Freeze for 10 minutes covered.

Place the ice cream on top of the bars (don't let the ice cream melt too much or it gets icy upon being re-frozen).

Spread the ice cream as evenly as possible and then cover and return to the freezer until firm.

Before serving, top with the whipped topping, miniature chocolate chips and leftover 3 cookies finely crushed/chopped.

Top individual bars with caramel sundae sauce if desired.

Note: whipped topping and crushed cookies are best added to just what you are enjoying -- these additions don't re-freeze as well.

When cutting these out they are difficult without a good, sharp knife. Use a very sharp knife that you have run under hot water and then dried off.
Recipe Notes
*I like the Keebler "Coconut Dreams" cookies for these bars -- they are softer than all the other brands I've tried.
More Delicious Ice Cream Treats: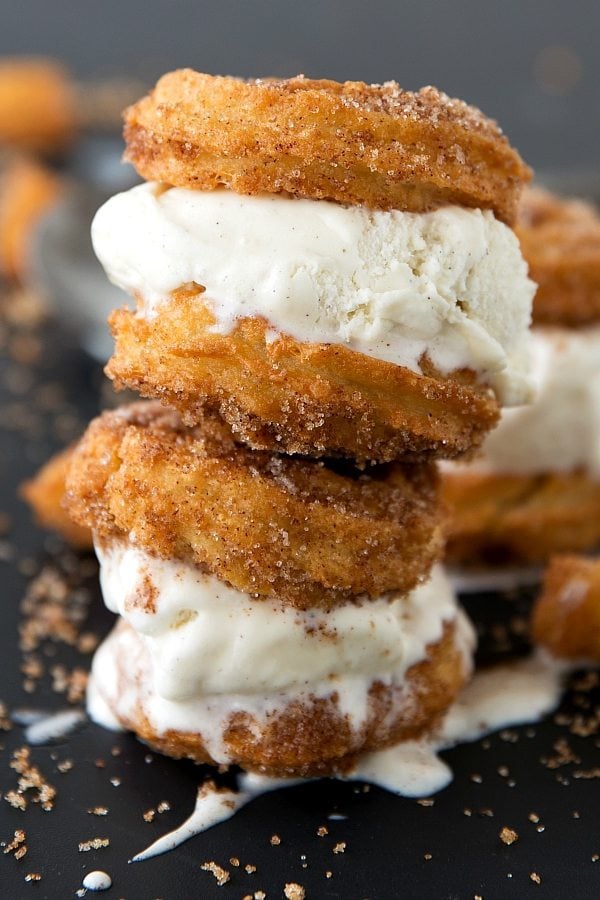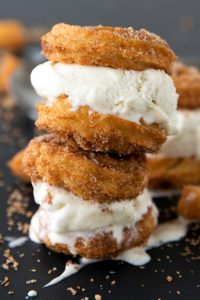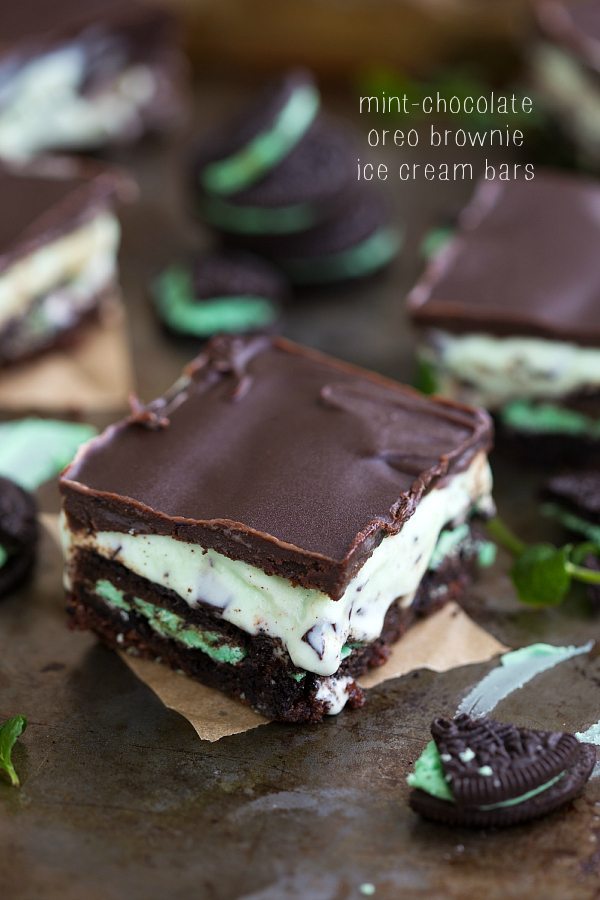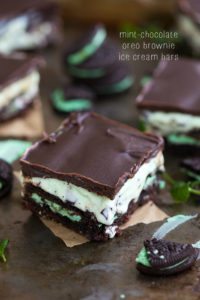 Mint-Chocolate Brownie Oreo Ice Cream Bars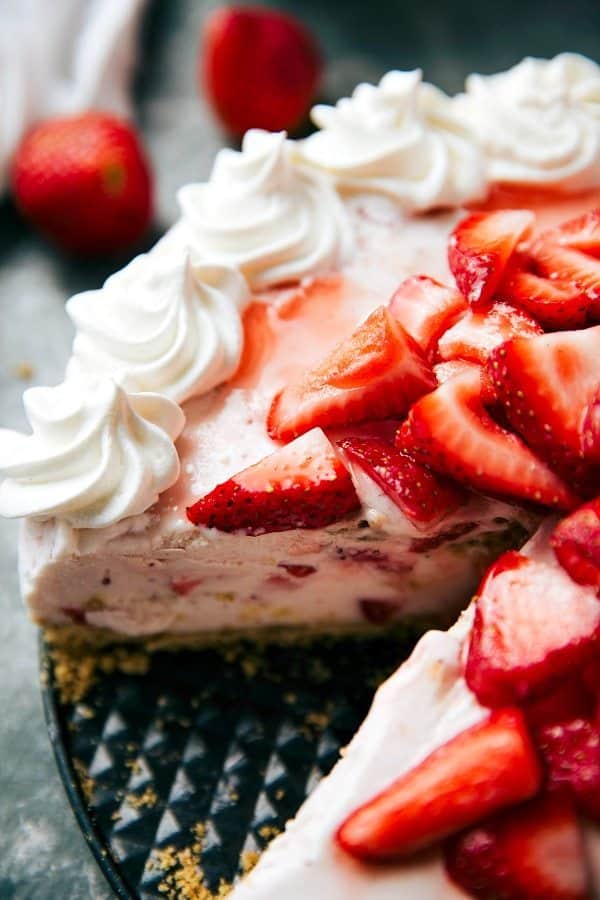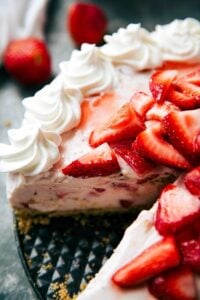 Frozen Strawberry Cheesecake Ice Cream Pie