A lower-calorie version of a favorite! An ice cream sandwich cake with lower sugar and fat ingredients, but all the great taste remains!
The very first dessert I made the husband after we were married was an ice cream sandwich cake. We had just gotten back from our honeymoon and still had about a week until school started up. The particular day I made these, the husband had left for work and I had the day off. I worked on unpacking our new apartment most of the day, but in between the boredom of unpacking box after box, I kept myself entertained with making this very dessert.
You may think it's weird that I remember this four years later, but I guess it also just goes to show how impressive this dessert is. I mean it's that good that I still remember it all this time later. And, admittedly, I'm a bit of a dessert freak — I always remember and subsequently crave my favorite desserts.
This is one of those desserts that gets made all spring and summer long, every year. It's absolutely tasty and the perfect way to cool down. Not to mention, it also has a super quick assembly time which I love. 🙂
They base is actually made with Weight Watchers ice cream bars which are quite a bit lower in calorie and fat content that regular ice cream sandwiches.
The other way this dessert is majorly lightened-up is by using fat-free frozen whipped topping.
To top the dessert off, I crushed a few cookies on top which you could do OR you could crush up a candy bar (Heath, Skor, or Butterfinger recommended) for the top of this cake.
With only a few ingredients and about 15 minutes to make this creamy and delicious cake, it's so worth it to try it out!
This cake can also be doubled easily — just use a 9 x 13 pan instead of an 8 x 8 and double all of the ingredients. It's the perfect thing to bring to a party (so long as there is somewhere you can keep it chilled until serving.)
One other thing to note, I believe this cake is best made about an hour or so before it will be served. First off, it needs to harden up a bit before it cuts well (like 25-30 minutes). Second, if it sits in the freezer longer than a few hours or overnight, the whipped topping tends to get a little bit icy. It still tastes great, but is best served pretty soon after making.
Lightened-up Ice Cream Sandwich Cake
Lightened-up Ice Cream Sandwich Cake Author: Chelsea Prep time: 15 mins Total time: 15 mins Serves: 9
Ingredients
2

packages Weight Watchers vanilla ice cream sandwich bars

1

ounces

container fat-free frozen whipped topping

thawed, 8

Chocolate Syrup

Caramel Syrup

3-4

Oreos*
Instructions
Line an 8 x 8 pan with parchment paper.

Unwrap the ice cream sandwiches. Press 5 sandwiches into the bottom. Cut up the sixth one (There are 6 in each box) and fit it in the blank space.

With a spatula, spread half of the whipped topping over the ice cream sandwiches.

Drizzle the chocolate syrup over the whipped topping. Then drizzle the caramel syrup over that.

Repeat the steps -- top the caramel syrup with 5 more of the bars, fitting the sixth in the empty space. Spread the rest of the whipped topping over the bars. Drizzle the chocolate and then the caramel syrup on top.

Crush the cookies or candy bar and sprinkle on top.

Cover tightly (be careful the tin foil or plastic wrap doesn't touch the top layer or it will stick) and freeze for 20-30 minutes or until solid.

Cut and serve.

Immediately return any leftovers to the freezer.
Recipe Notes
*Try a crushed up candy bar (heath, skor, butterfinger) instead of the cookies if desired. **I like to make this cake the same day it will be served -- the whipped topping tends to get a bit icy after the first day.
More delicious ice cream desserts: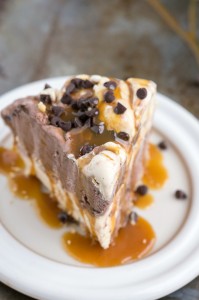 3-ingredient Salted Caramel Ice Cream Pie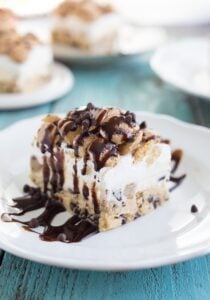 Fully loaded cookie dough ice cream bars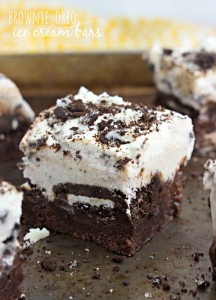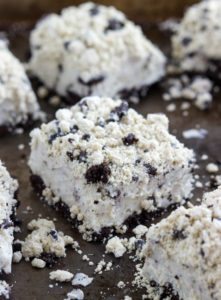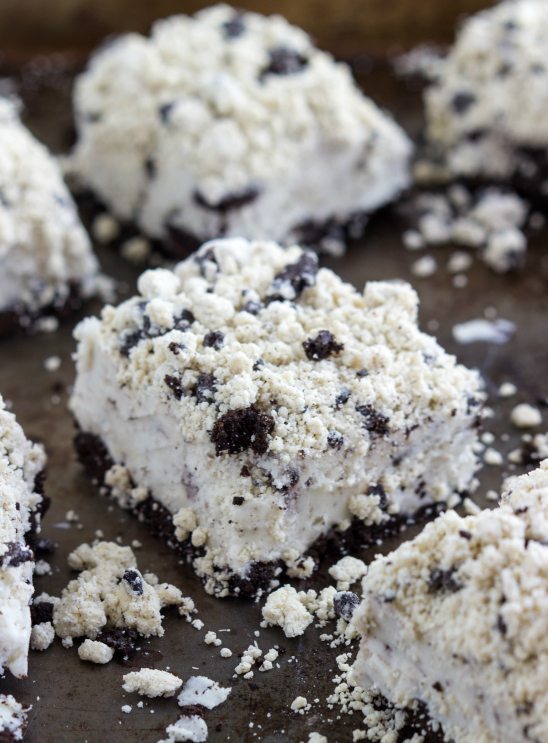 Cookies and Cream Oreo Bars