These delicious and easy tin foil packets are so quick to assemble! They are packed with sausage, tons of veggies, and the best seasoning mix. This easy tin foil sausage and veggies dinner is sure to be a family favorite this summer!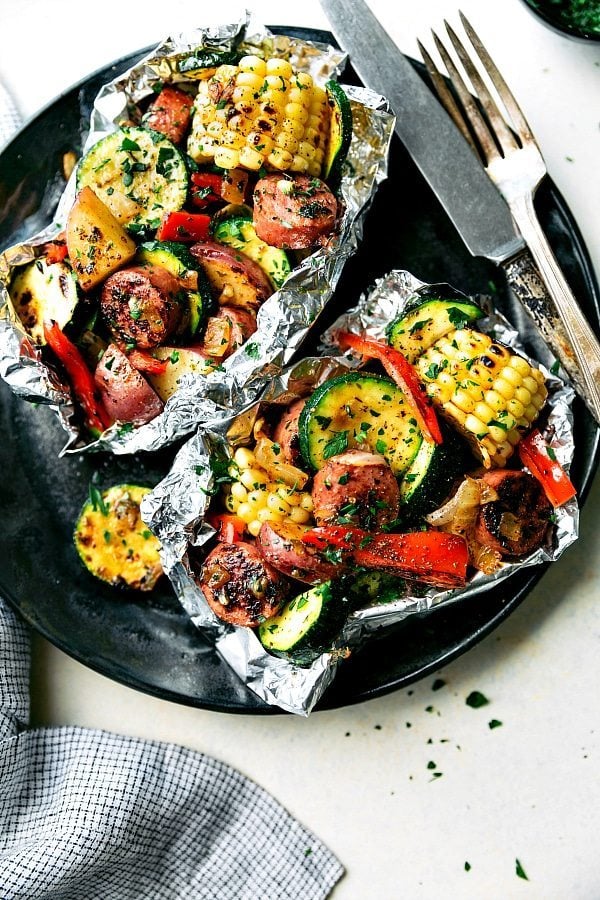 I am going to warn you all right now that I am totally & 100% obsessed with tin foil dinners and there may be about 500+ more tin foil dinners showing up in the next couple of weeks here (sneak-peak: there is a tin foil lemon parmesan crusted salmon coming soon that is ??). This recent obsession with tin foil dinners is really just a rediscovery. My mom made a very traditional tin foil dinner every few weeks for us growing up. She'd cook them in the oven year round and we as kids loved them.
I've figured out why she liked them so much too — they are SO easy to assemble and the results are well worth the little effort of putting them together.
Not to mention clean up because that is pretty much nonexistent. I mean, eat it out of foil and then chuck out the foil and…wash your fork?? That is the kind of kitchen clean up I'm all about!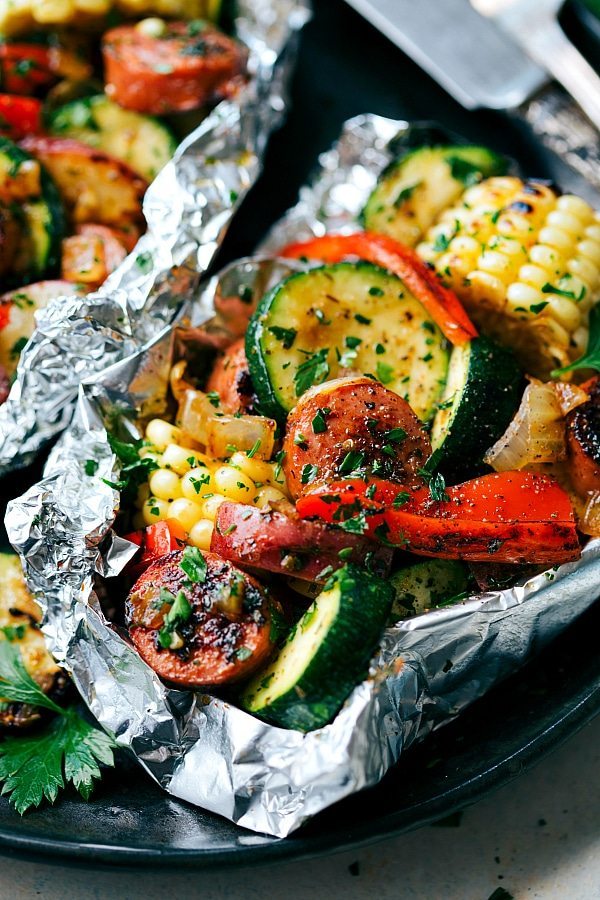 There are two things that make these tin foil dinners extra special.
The first: the easy seasoning mix. I've had some less than exciting (read: bland) tin foil dinners in the past where all the salt and pepper in the world doesn't make them all that much more exciting. These are not like that at all. They've got just the right level of seasonings without requiring a million different spices. In fact there are only 6: dried oregano, dried parsley, paprika, garlic powder, pepper and seasoned salt.
Those spices + olive oil and you'll be amazed how the simple mixture transforms the veggies and sausage.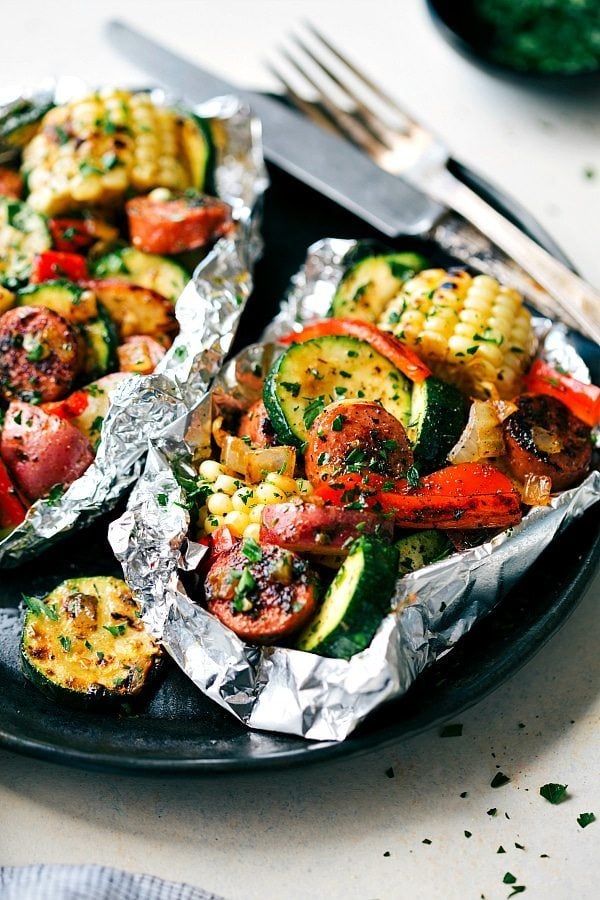 And the second: the turkey sausage. For these foil packs, I use Butterball Hardwood Smoked Turkey Sausage and it is honestly out of this world delicious! It's got an amazing authentic smoked flavor which is only enhanced by being thrown on the grill. It's juicy, flavorful, and the perfect complement to the spices and veggies.
My family is a huge fan of turkey — we love plain turkey, turkey burgers, turkey bacon, and turkey sausage so I'm super excited that I'll be sharing three more turkey recipes over the next few months. Turkey is definitely not just for the holiday season and I'm so excited to share the other recipes I have planned!
This turkey sausage dinner is healthy, flavorful, protein-packed, and best of all so simple to make. It's the perfect BBQ summer recipe.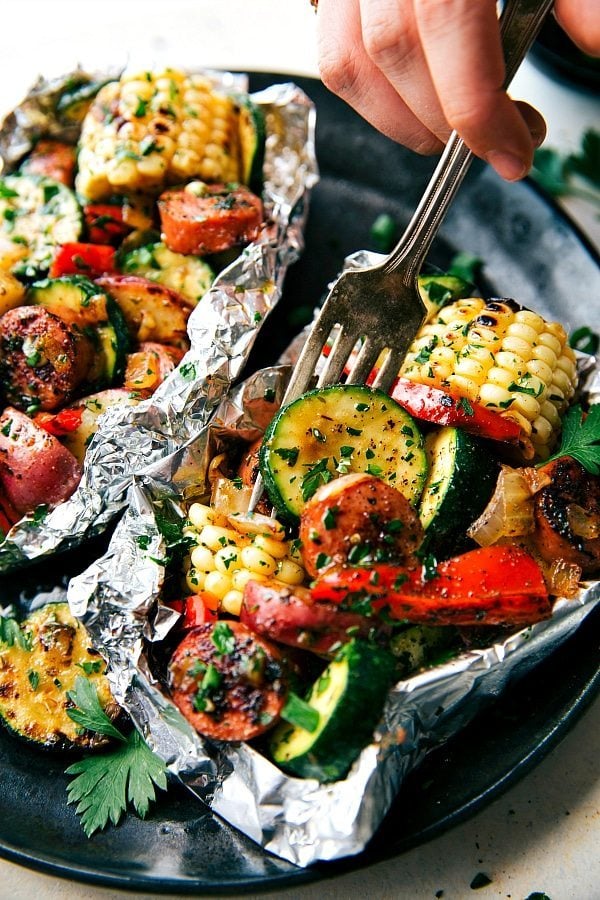 Don't forget to PIN this recipe to your summer recipe boards!
More grilling: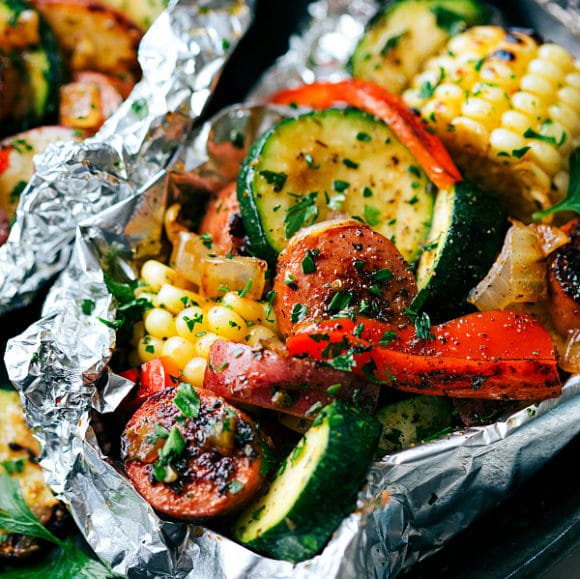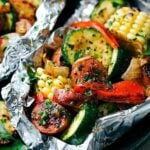 Easy Tin Foil Sausage and Veggies Dinner
Easy to assemble sausage and veggie foil pack meals.
Ingredients
1

red bell pepper

2

ears corn

1/2

large yellow onion

1 medium

4-5

small red potatoes

1

medium sized zucchini

1

package (13 ounces)

Butterball Hardwood Smoked Turkey Sausage

5

tablespoons

olive oil

1

tablespoon

dried oregano

1

tablespoon

dried parsley flakes

1/2

teaspoon

garlic powder

1

teaspoon

paprika

Seasoned salt and pepper

Optional: chopped parsley
Instructions
Cut the top off the pepper and remove the seeds. Thinly slice.

Remove husk from corn and cut into 1 inch disks. Coarsely chop the onion.

Cut the potatoes into small bite-sized pieces -- about 8-10 pieces per potato depending on size.

Coin the zucchini.

Coin the turkey sausage.
Assemble
Preheat the grill to medium heat.

In a small bowl, stir together the olive oil, oregano, parsley, garlic powder, paprika, about 1/2 teaspoon (or to taste) seasoned salt and pepper. Stir.

Add seasonings mixture to the veggies + meat and toss well.

Place 2 pieces of tin foil on top of each other.

Put a generous amount of the mixture in the center and then fold up the first piece of foil and then the next piece of foil to form a secure encasing.

Grill covered over medium heat for 16-24 minutes (depending on heat of grill) until veggies are crisp tender.

Remove and top with freshly chopped parsley if desired.
OVEN
I haven't personally tried these in the oven but I'd recommend 400 degrees for around 30-35 minutes.