Today I'm sharing how to grill an avocado! We're adding that grilled avocado to an incredible veggie bowl with an irresistible creamy cilantro sauce!
These grilled avocado and veggie bowls make an amazing vegetarian meal OR you can pair the bowl with some grilled steak or grilled chicken.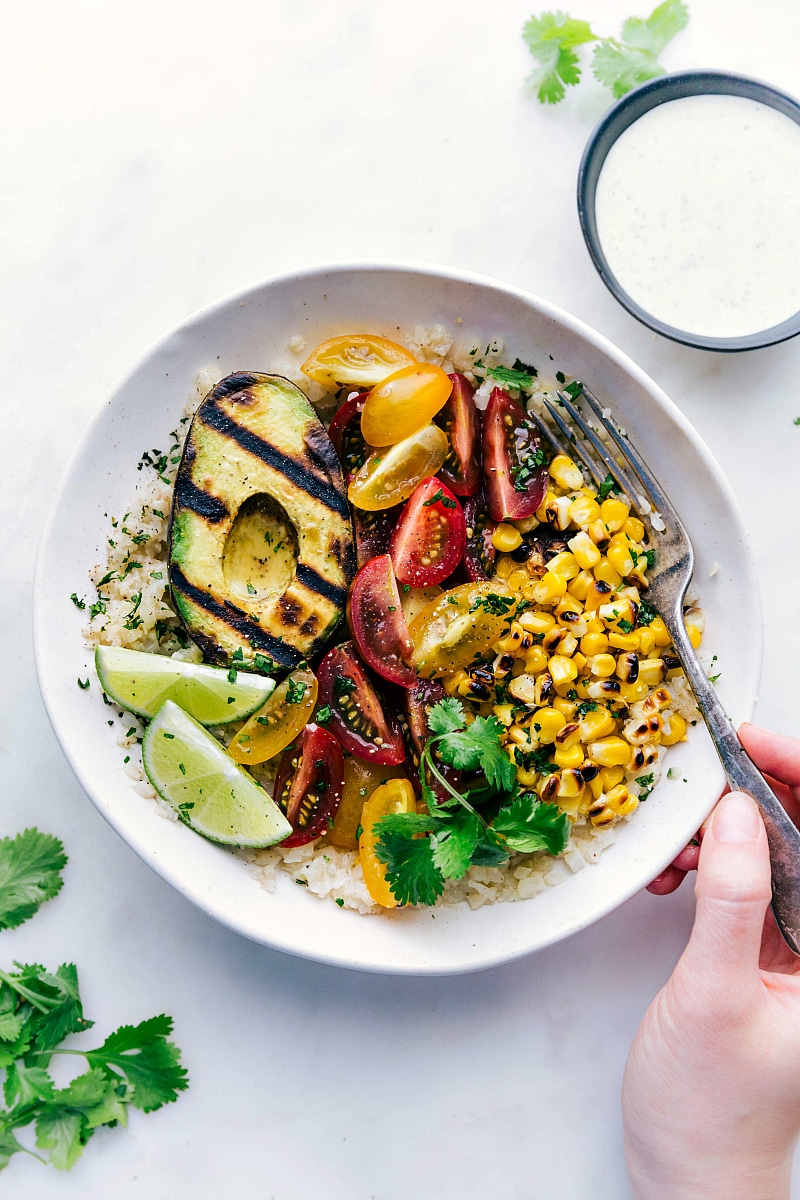 It's no secret I love avocado and find any excuse to add it to every recipe I can, but GRILLED AVOCADO? In the least dramatic way I can say this: life will never be the same.
Okay, but really, if you're an avocado fan, you need grilled avocados in your life. Preferably with grilled sweet corn, fresh cherry tomatoes, and a saucy cilantro dressing. While this recipe didn't begin as a meal for the blog (I mean, it is a little…random?) it is too good to not share. It's veggie packed, low carb, low calorie, and amazingly flavorful ALL while being simple to make.
Today I'm going to cover the basics on grilling an avocado and how to grill corn. I'll share how to make cauliflower rice AND a shortcut to make this meal even quicker (frozen cauliflower rice FTW). Toss all these ingredients together and cover them in an addictive sauce and we're talking about a vegetarian meal you're going to crave year round.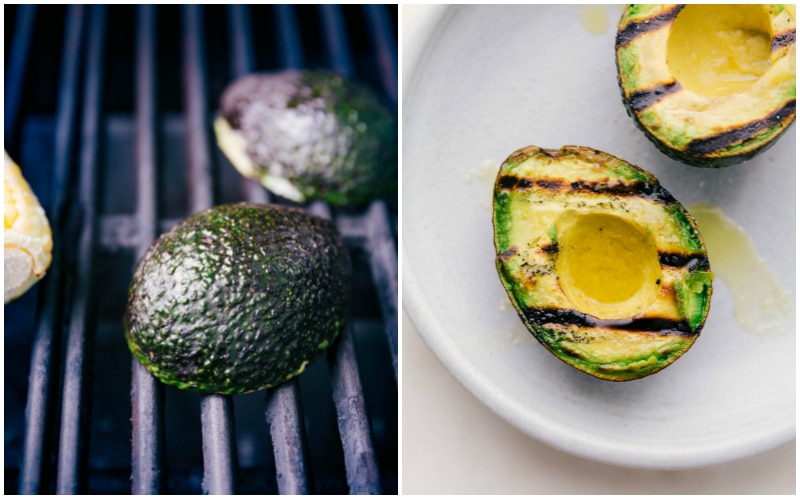 Grilled avocado: how to
First, prep the grill. Heat the grill fully and then clean the grill grates. Generously oil the grill grates. I do this by drenching a rolled up paper towel in vegetable (or canola oil) and (holding with tongs) rubbing over the hot grates. (Add the avocado right after greasing.)
To grill an avocado, start by cutting a ripe avocado in half and removing the seed. Drizzle the flesh with fresh lime or lemon juice and brush lightly with olive oil.
Gently place cut side down on grill, over medium high heat (~400 degrees) for 2-3 minutes. Using a metal spatula, pull the avocado off the grill and sprinkle with fine sea salt.
You can grill the corn the same time as you grill the avocado.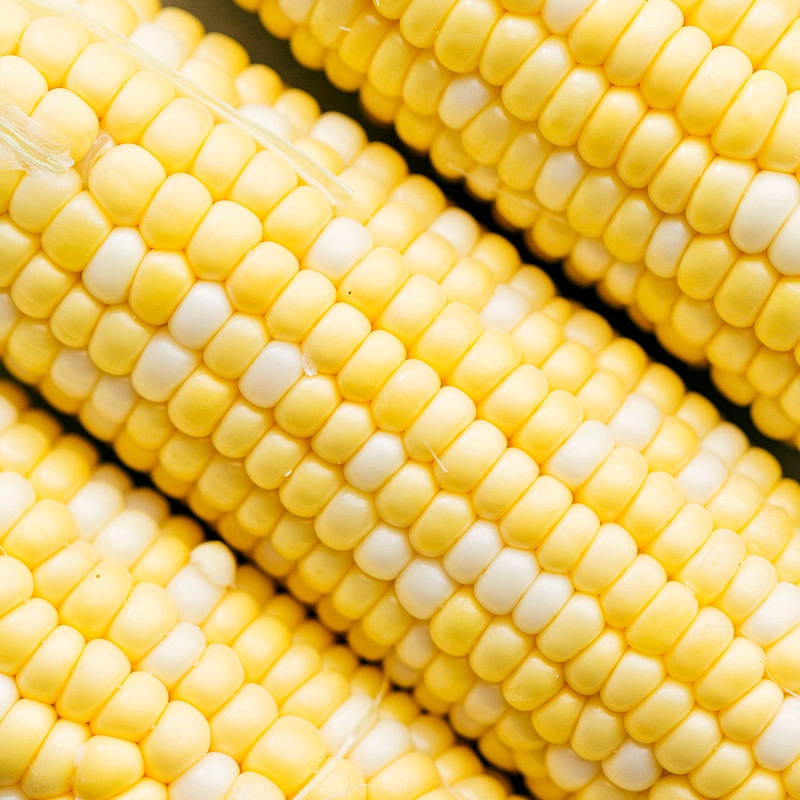 How to grill corn
To grill corn follow the steps in the section above to heat and prepare the grill. While a lot of grilled corn recipes require you to keep the husk on, I prefer shucking and removing silk first.
Once the corn is shucked and silk strands removed, rub vegetable oil all over the cob and sprinkle with fine sea salt. Add the corn directly to the (greased 400 degree) grill rack and cook (with the lid closed) for about 12-20 minutes, flipping 4 times total, every 3-5 minutes.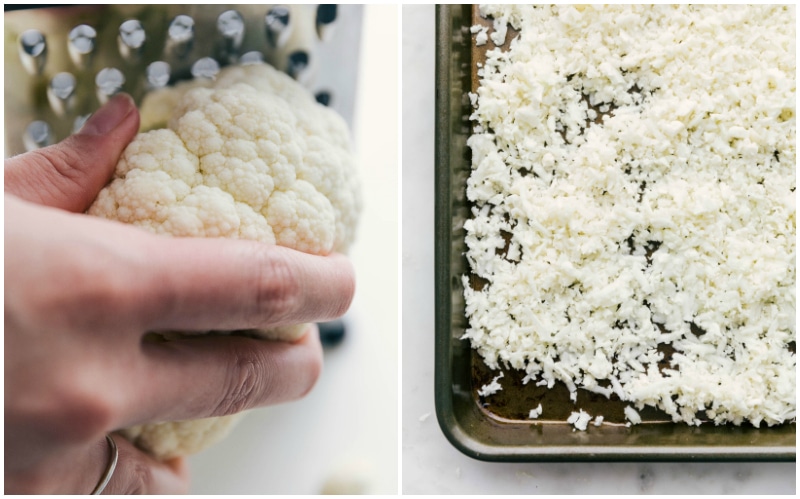 How to rice cauliflower
Let's start with how to cut cauliflower into rice: first remove the core and then give the cauliflower a coarse chop to cut it into florets. Add those florets (in 3-4 batches) to a large food processor and pulse until the cauliflower is in small pieces and has the texture of rice or couscous.
Be careful to not over process the cauliflower or it will get mushy. Repeat until all the cauliflower has been processed. Now it's time to cook 🙂
Toss the cauliflower "rice" with a little olive oil, garlic powder, and salt and spread into a single layer. Roast it until golden and use it in this recipe!
Alternatively you can use frozen cauliflower rice for this recipe to make it quicker. If I'm using frozen cauliflower rice, I usually don't have the time for it to bake for 25 minutes, so I simply saute it in a skillet with a little olive oil (don't add water as indicated on the package).
For using frozen cauliflower rice, I like to use one that is seasoned with garlic. (If not seasoned, I'd recommend adding a little fresh minced garlic.)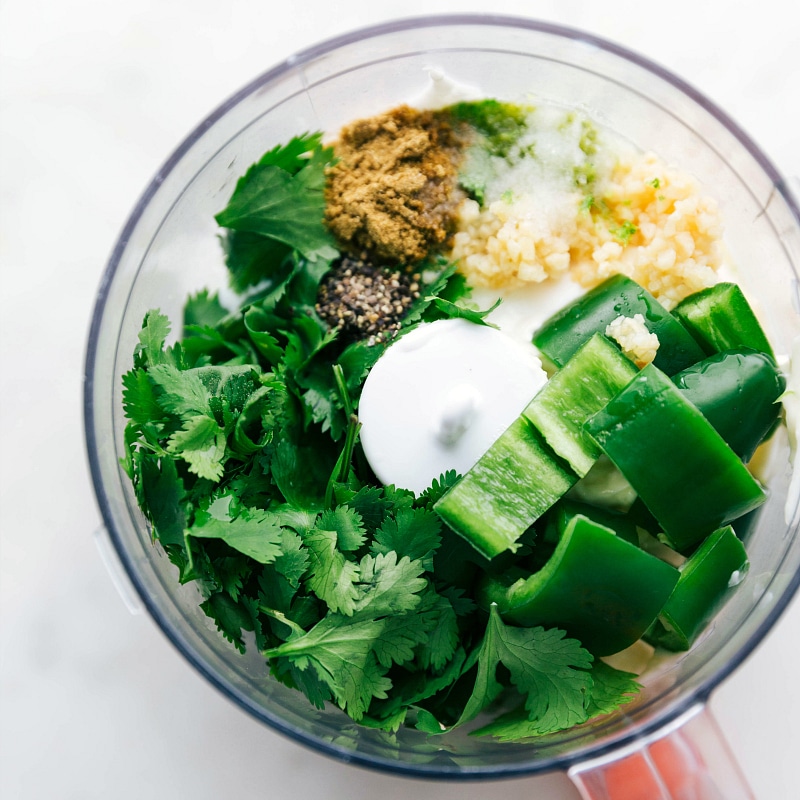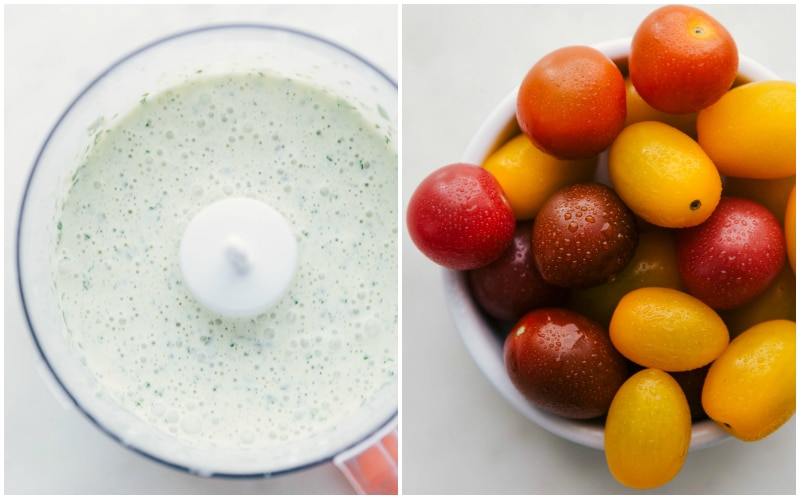 Add protein to your grilled avocado bowl
While we've got lots of veggies in this dish and healthy fats (avocado), there isn't a whole lot of protein. Below are a few ideas if you're looking to add protein.
Hard boiled eggs (tutorial on this deviled egg recipe)
Beans
Grilled meat (beef, chicken, pork, etc.)
Grilled salmon or shrimp
What to do with leftover sauce
While the sauce is easy to halve, I LOVE making a big batch to use throughout the week (cook once, enjoy several times!) Below are some of the ways you can use leftover sauce beyond on top of a grilled avocado.
Over a simple salad
Alongside grilled chicken or steak
More amazing vegetarian meals
Grilled avocado sauce quick tip
IF able, I recommend making the cilantro sauce in advance (1 day before is best!). The sauce gets more and more flavorful the longer it sits. It's still great freshly made, but we love it after it has sat for a day.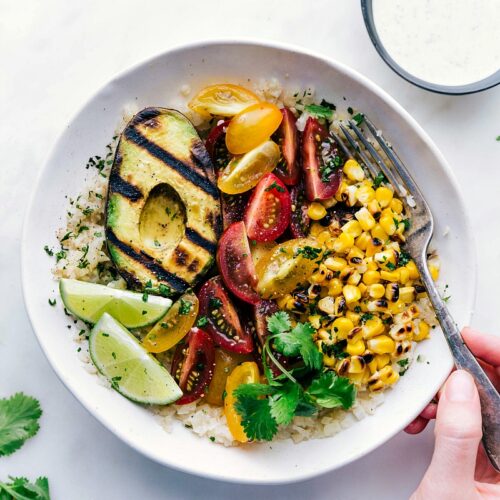 Grilled Avocado Bowl
Today I'm sharing how to grill an avocado! We're adding that grilled avocado to an incredible veggie bowl with an irresistible creamy cilantro sauce!16 oz riced cauliflower
Servings
:
4
servings (with extra sauce)
Ingredients
Bowls
2

(10 ounces EACH)

Frozen Roasted Garlic Riced Cauliflower

(Note 1)

1

large

avocado,

sliced in half and pit removed

1-2

tablespoons

fresh lemon juice

Olive oil

3/4ths of

1 pint

petite medley cherry tomatoes

(I like the mix of red, orange, & yellow; about 12 tomatoes)

2

ears

fresh corn

Optional: fresh chopped cilantro

Fine sea salt and freshly cracked pepper
Cilantro/Jalapeno Sauce -- Note 2
1/2

cup

regular full-fat mayo

1/2

cup

sour cream

(I use fat free)

1/2

cup

firmly packed fresh cilantro leaves (stems fine)

1

jalapeno,

coarsely chopped (remove seeds and ribs - Note 1)

1 and 1/2

teaspoons

minced garlic

(reduce if sensitive to garlic)

1

large and juicy

lime

(3 tablespoons juice + 1/2 teaspoon zest)

3/4

teaspoon

ground cumin
Instructions
SAUCE: in a food prep food processor, add in the mayo, sour cream, firmly packed cilantro, coarsely chopped jalapeno (add 1/2 for less spicy/less flavor and full jalapeno for more spice/more flavor -- still a fairly mild sauce), minced garlic, lime juice and zest, and cumin. Pulse until combined and smooth. Season to taste with salt and pepper, I add about 1/2 teaspoon salt and 1/4 teaspoon pepper. Cover and place in the fridge until everything else is ready. Sauce lasts a week in an airtight container in the fridge.

CAULIFLOWER RICE: Frozen - drizzle a tablespoon of olive oil in a large nonstick skillet and add in the frozen (unthawed) cauliflower rice. Cook for a total of 5-8 minutes, stirring occasionally, or until crisp tender. Season to taste with salt and pepper.

Fresh - Wash and thoroughly dry cauliflower, then remove all greens and core. If using a box grater, cut the cauliflower into large chunks and grate into "rice." For a food processor, cut cauliflower into small pieces and use the grater attachment to grate into "rice." Spread the riced cauliflower evenly on a large sheet pan. Drizzle on 1/2 teaspoon salt (or to taste) and 1 tablespoon olive oil. Add 1/2 teaspoon garlic powder IF desired. Toss everything. Bake in a 425 degree F oven for 10 minutes, flip around, and bake for 10-15 minutes or until toasted and crisp tender.

GRILLED AVOCADO & CORN: Preheat the grill to medium high heat, about 400 degrees F. Cut avocado in half and pour over 1 tablespoon lemon juice. Rub sides together and let stand for 1 minute. Meanwhile, shuck and remove silk from corn. Rub oil all over the sides (about 1/2 teaspoon per ear) and lightly sprinkle with sea salt. Back to avocado: drain any leftover lemon juice off and add about 1/2 teaspoon oil per half. Place flesh down on prepared grill for 3-5 minutes with the grill closed (check at 3 mins for dark grill marks and tender flesh). Place corn next to the avocado and with grill closed, flip every 3-5 minutes (check at 3 mins) (flipping 4 times total) until corn is nicely charred and crisp tender. Remove avocado and corn from grill. Allow to slightly cool.

ASSEMBLE: place an even amount of cauliflower rice on two bowls/plates. Cut the corn off the cob and add all the corn from one cob to one bowl and all the corn from the other cob to the other bowl. Halve (or quarter if large) cherry tomatoes and place next to the corn in even amounts per bowl. Add one half of grilled avocado to each bowl. Drizzle sauce generously over bowls. Enjoy immediately.
Recipe Notes
Note 1: IF not using frozen cauliflower, use 20 ounces fresh cauliflower.
Note 2: the sauce makes WAY more than you'd want for these bowls, but I like having lots to top meals/salads throughout the rest of the week. If you don't want extra, it halves well. For more recipes to use this sauce on, see the post.