Easy to make brownie cookies with chunks of peppermint bark and an optional sprinkle of crushed peppermint. These cookies are ultra fudgy AND easy to make!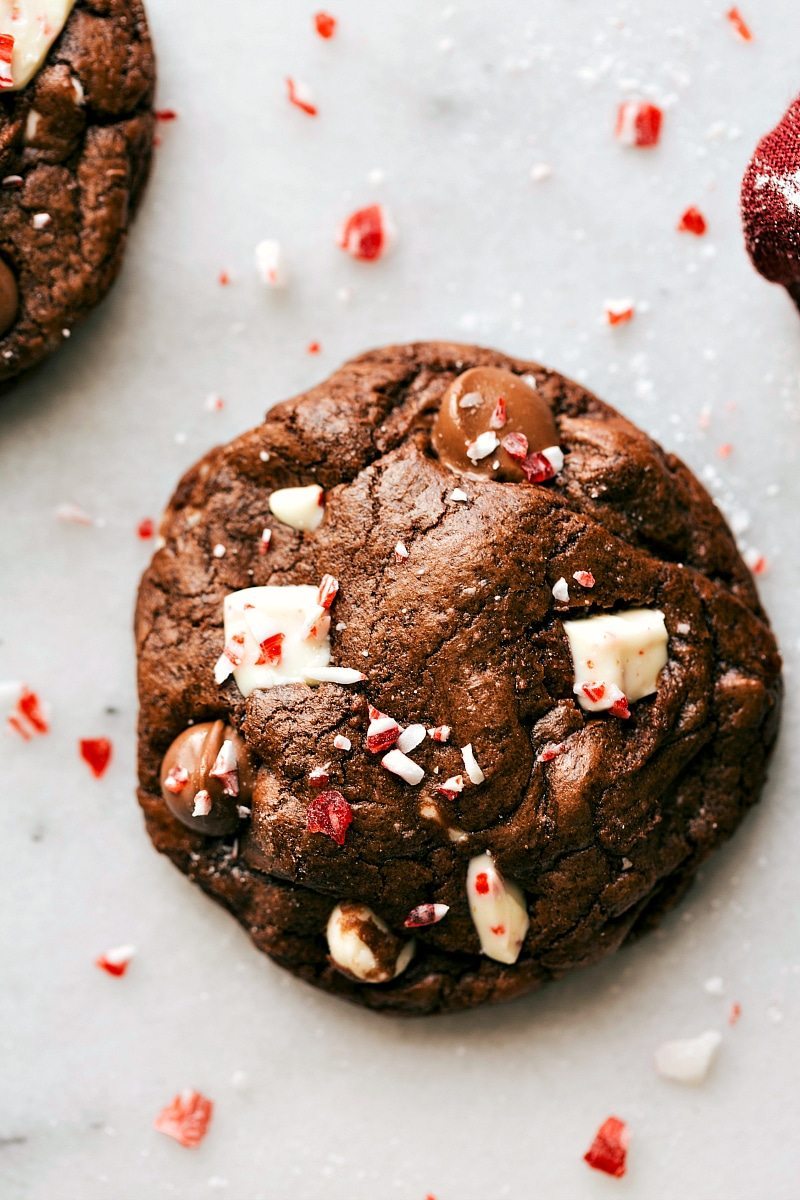 These peppermint bark brownie cookies are your holiday LIFESAVER. They are seriously crazy easy and the resulting flavor is out of this world delicious! People will think you slaved over these cookies for hours when in reality they only took you 10 minutes to whip together.
That, my friends, is called holiday lifesaving cookies.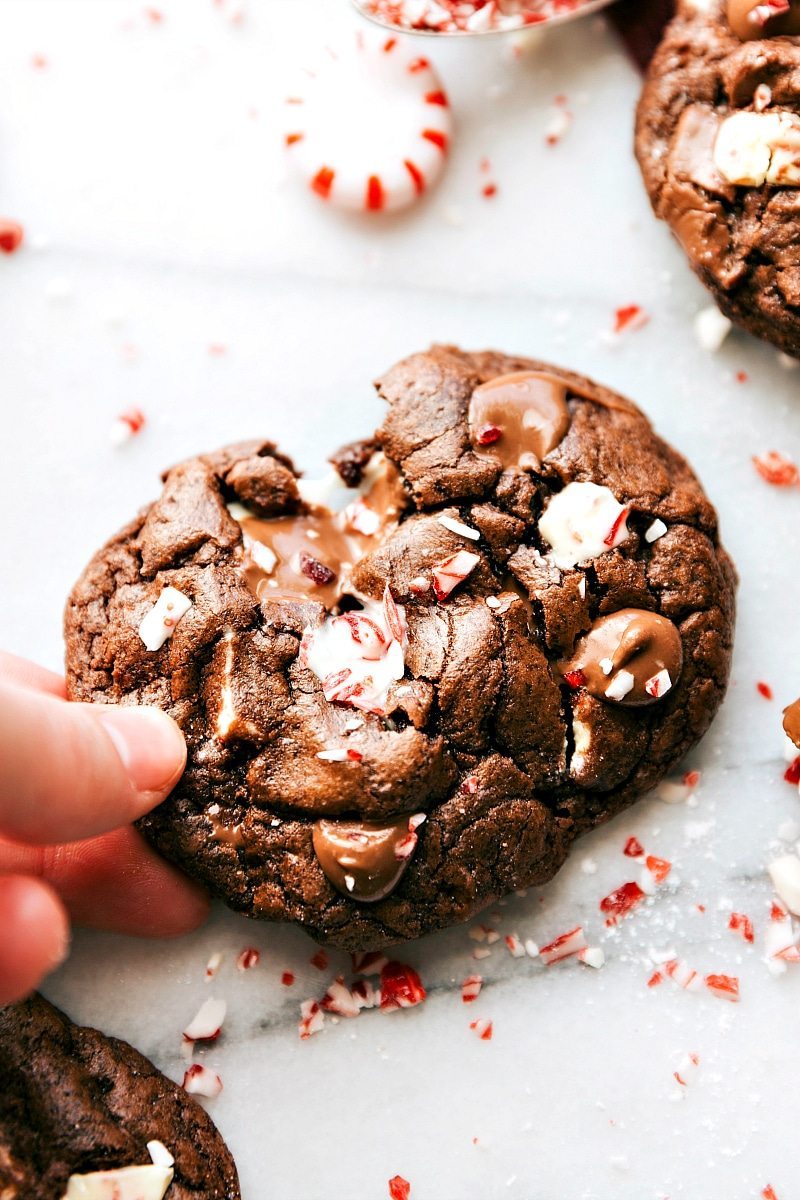 So why are they so quick? They have an actual brownie mix as the base! The brownie mix makes these cookies (you guessed it) taste like actual brownies. They are the soft and chewy, crisp on the edges, kind of brownie cookies.
But they are so much faster thanks to the brownie mix. Beyond that mix there is also a mix of pudding which makes these cookies have that super soft and chewy center. It also enhances the chocolate flavor quite a bit.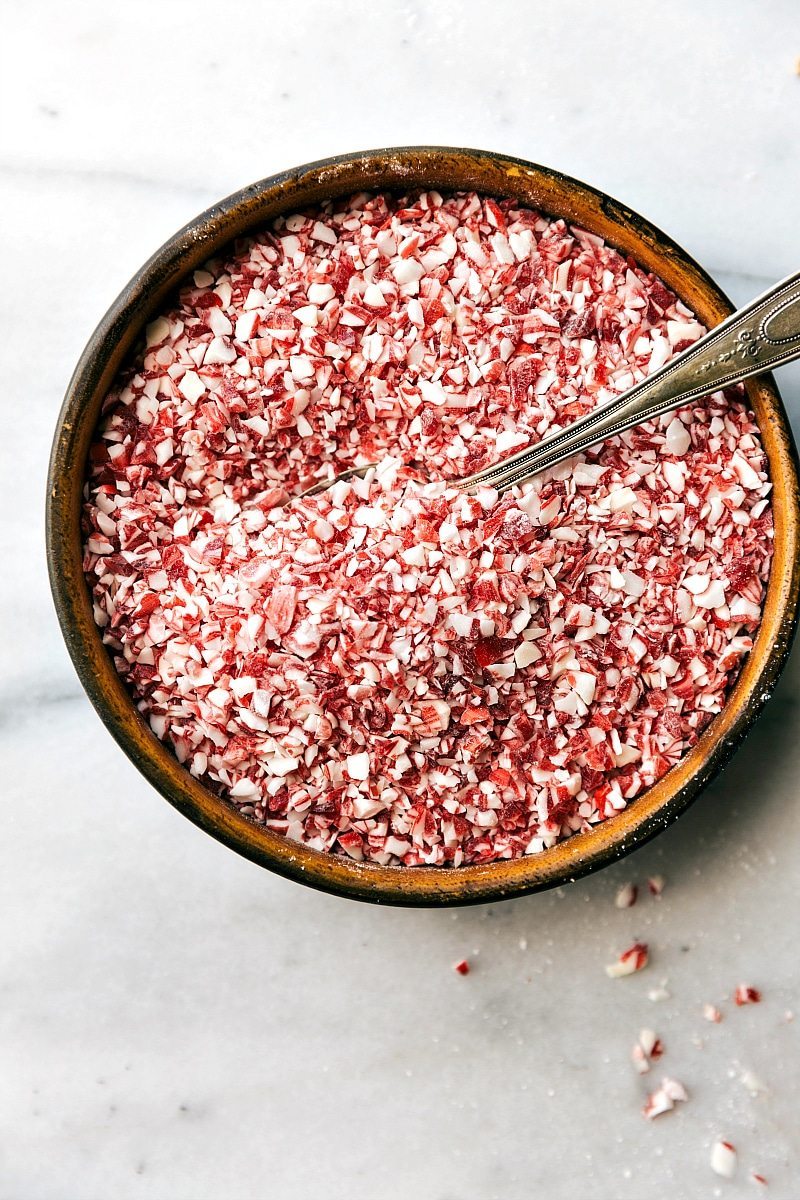 A last little note: these are called peppermint bark brownie cookies, but they aren't super peppermint flavored. I'm actually not a huge fan of too much peppermint flavor in cookies and prefer peppermint as a crunchy topping or a frosting flavor. The "peppermint bark" in the title comes from the addition of an actual peppermint bark candy bar. You'll chop up the bar and mix it into these cookies.
The peppermint bark candy bar gives these the perfect touch of peppermint without overpowering them. I also sprinkle on a little bit of peppermint crunch sprinkles for a touch more flavor and little bit of crunch. It sticks pretty well to these cookies if you sprinkle it on right out of the oven (mostly on top of the warm melty chocolate chips).
All this said, if you are looking for more of a peppermint punch to the cookies, definitely add in some peppermint (I'd avoid mint) extract to personal taste preference.
P.S. A cheaper alternative to a peppermint bark bar that is still delicious is a candy cane chocolate bar (Hershey's makes one).
ENJOY!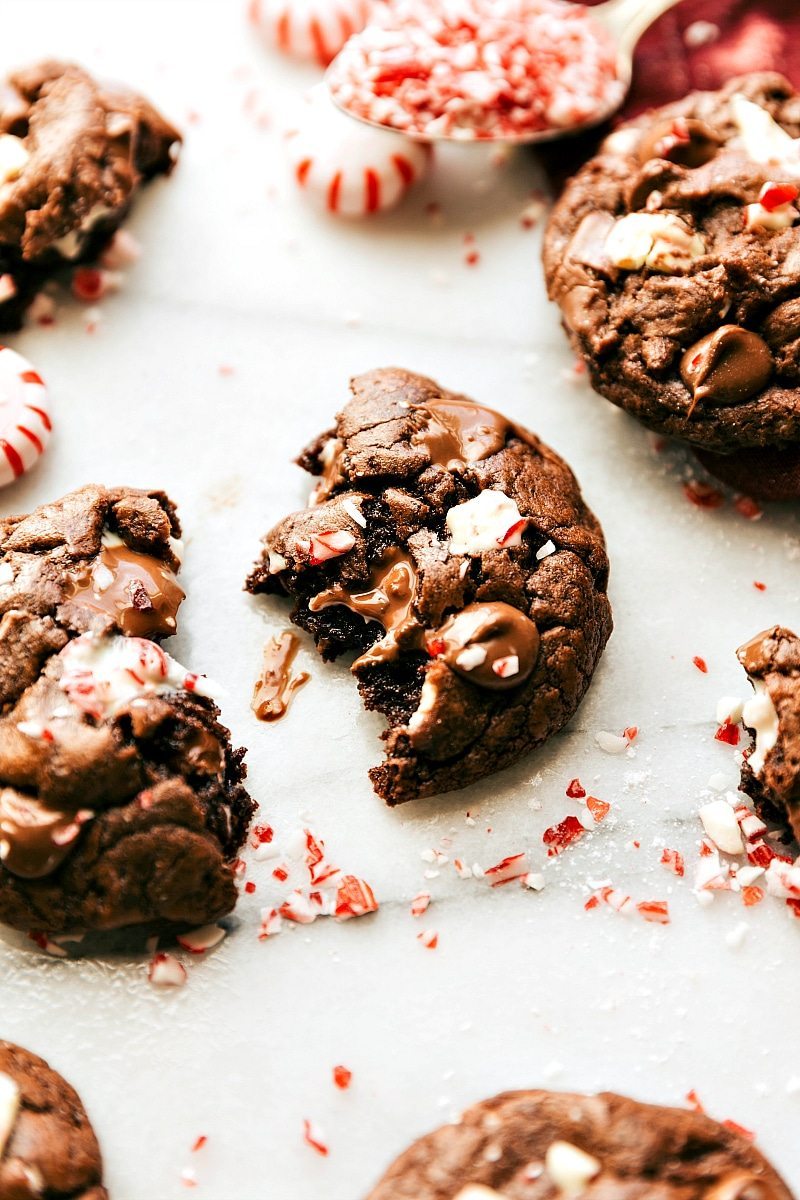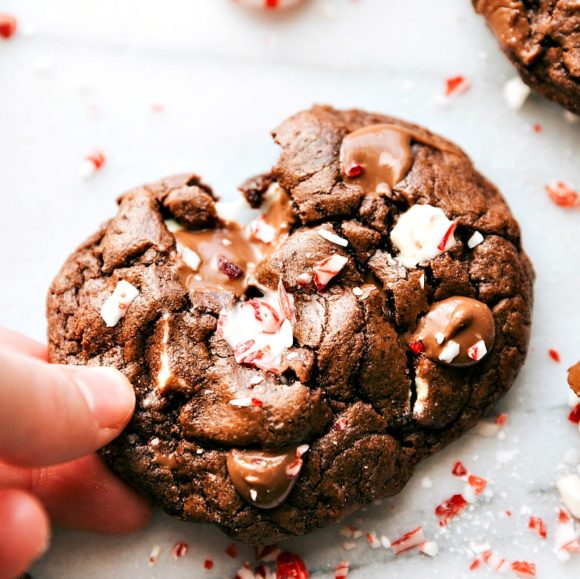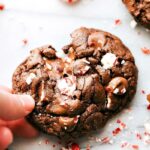 Peppermint Bark Brownie Cookies
Ingredients
4

ounces

full-fat cream cheese

room temperature

1/2

cup

unsalted butter

room temperature

1

large egg

1

teaspoon

vanilla extract*

1

3.9 ounces

instant chocolate fudge pudding mix

dry (unprepared)

1/4

cup

white flour

1

18.4 ounces

fudge brownie mix**

1

3.5 ounces

Ghirardelli peppermint bark bar

3/4

cup

milk chocolate chips

Optional: 1/3 cup white chocolate chips,

peppermint crunch sprinkles
Instructions
Preheat the oven to 350 degrees F.

In a large bowl fitted to a stand mixer, cream together the cream cheese and butter until completely smooth. They must both be at room temperature -- do not melt or soften in the microwave of your cookies will flatten more/ be less thick. Just leave out for about 45 minutes to an hour and they'll be perfect!

Beat in the large egg and vanilla (OR peppermint extract to taste -- see note).

Beat in the pudding mix (do not prepare), and flour.

Beat in the fudge brownie mix. It will be EXTREMELY thick and takes a while to get a dough to form. This is intended 🙂 Just keep mixing and it will all come together even though it seems like it won't.

Coarsely chop the peppermint bark bar. Stir in the chopped peppermint bark bar (reserve a few pieces to press in the top), chocolate chips, and white chocolate chips (if desired).

Scoop out cookies using a cookie scoop onto a baking sheet lined with parchment or a silpat liner.

Bake for 13-16 minutes. Slightly under-baking these cookies gives them an awesome taste and texture like ultra fudge-y brownies so err on the side of slightly under-baking.

Optional: Make them pretty! Press a few pieces of the reserved peppermint bark bar or a few extra chocolate chips onto the tops of the cookies right as they come out of the oven. Sprinkle the cookies with a bit of peppermint crunch sprinkles if desired (they stick to the melted chocolate chips).
Recipe Notes
*I like a hint of peppermint in the form of candy in my cookies. If you are someone that is "give me all the peppermint" try peppermint extract (1/2 teaspoon) in place of the vanilla. Do not use mint extract or they will taste like toothpaste. **Make sure you have the right size brownie mix before starting these cookies.
Here are some more delicious Christmas treats: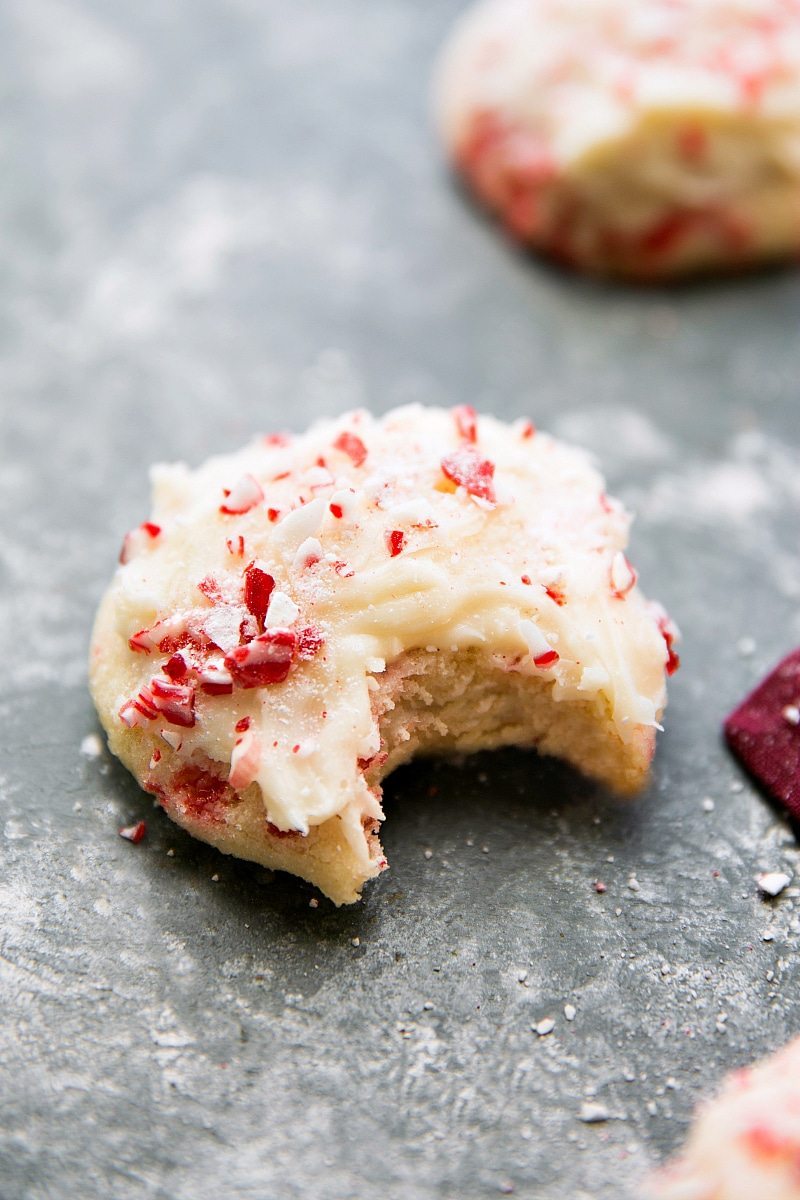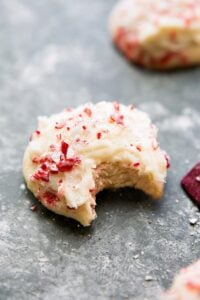 Super Soft Peppermint Sugar Cookies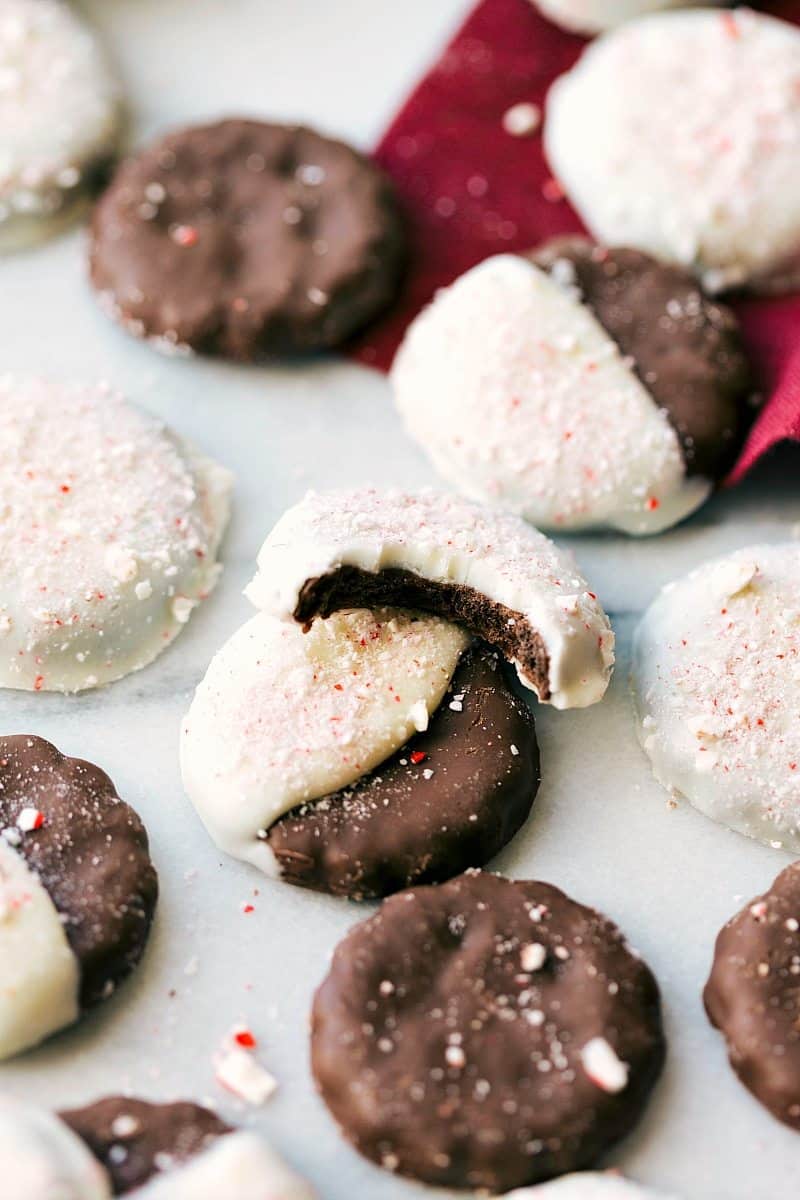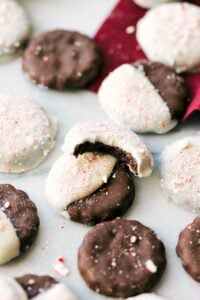 5-ingredient Peppermint Bark Cookies