The BEST EVER Carmelitas — oatmeal bars with a thick layer of milk chocolate and creamy caramel. Video tutorial and step by step recipe instructions.
Once you've tried this carmelitas recipe, you've got to try these 7 Layer Bars, these oatmeal chocolate chip cookies, or for a fruity dessert: these lemon bars.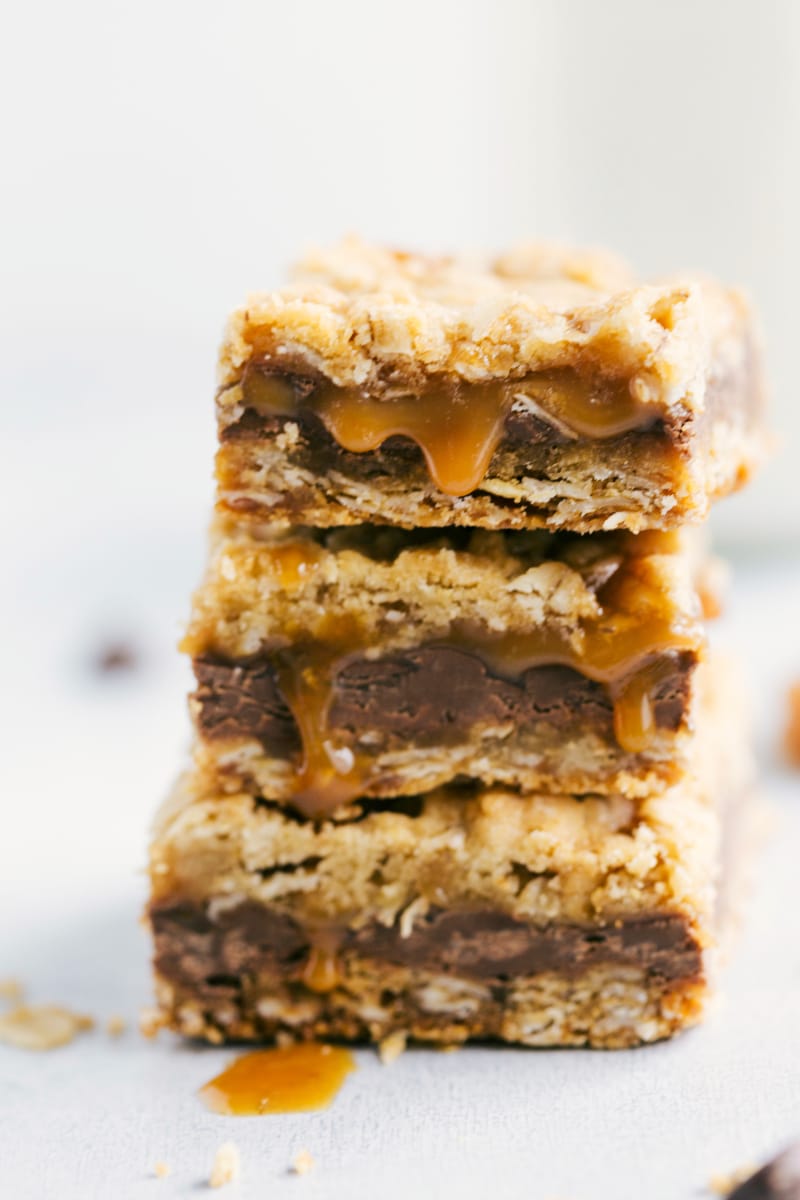 Carmelitas
Carmelitas — these bars are my absolute hands-down favorite dessert. It's no secret I'm obsessed with all kinds of desserts, but if you ask me my favorite — these always win.
These bars aren't only delicious, but they also have a lot of good memories for me. These are the bars my mom and I would make every single year for Christmas growing up. I would eat so many that I'd get sick…and then scolded for stealing the neighbor's treats…
Since carmelitas are my favorite EVER dessert, I'm pretty picky with how they end up. I've tweaked my mom's recipe (and I'm not sure where she got hers) over the years to make them just right! The crust is even throughout, the chocolate layer is thick, the caramel is soft and gooey. The layers are just right and once these have cooled, you'll get a bite of the BEST EVER carmelitas!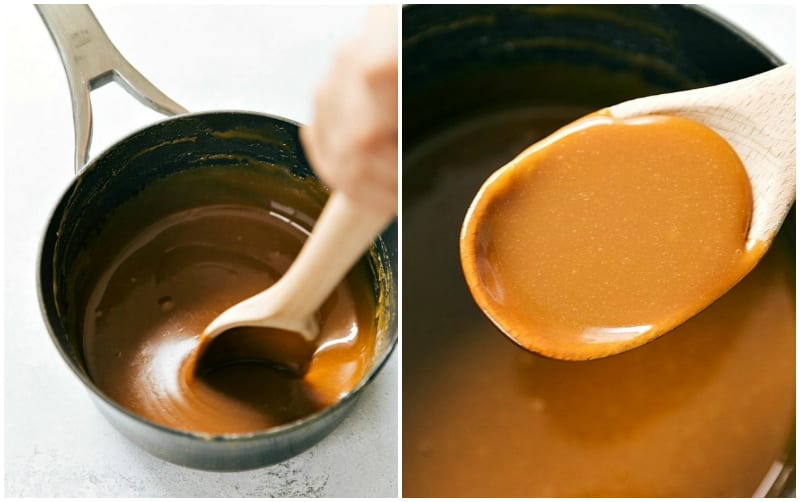 How to make Carmelitas:
Prepare the caramel filling: add caramels and heavy cream to a saucepan and melt, stirring frequently, until completely smooth.
Prepare the crust: mix the butter, sugar, flour, oats, baking soda, vanilla, and salt. Half of this mixture forms the bottom crust and the other half goes on top!
Bake: Bake the crust first, then add chocolate and caramel in the middle, add the final crust layer, and bake once more!
Follow those 3 steps and you're on your way to perfect carmelitas!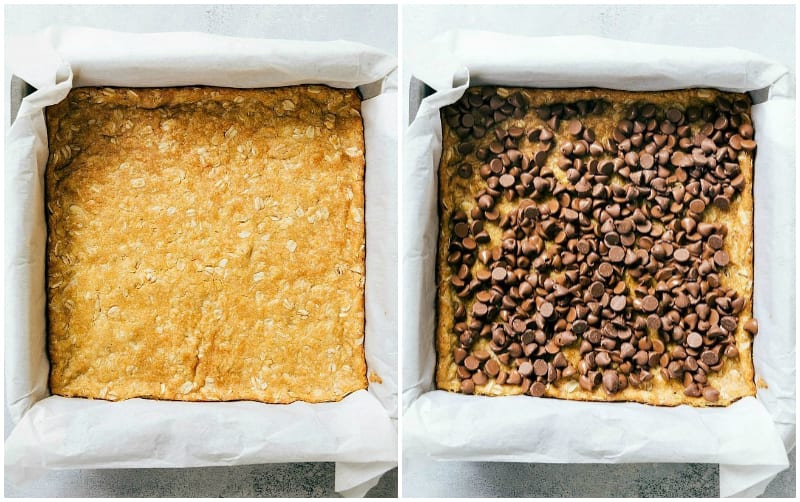 Tips to making the BEST Easy Carmelitas:
It's important you use a 9 x 9 baking pan (instead of an 8 x 8 pan) so you don't have a huge "side crust." The dough works perfectly in a 9 x 9 pan to make sure it's relatively even and flat.
Using Milk chocolate chips are a must for these bars (in my opinion), BUT if you are worried about them being too sweet (or simply don't like milk chocolate), then definitely use semi-sweet or dark chocolate in its place.
I recommend a good quality SOFT caramel. While it is kind of a pain to unwrap individual caramels, it is so worth it to go with a quality caramel!
Use parchment paper. Seriously these are ridiculously messy and difficult to get out of the pan if you don't line it well. With parchment paper they are a breeze to pull out and clean up is even easier!
Let them cool completely before pulling them out or cutting them up. This isn't one of those desserts that is best out of the oven, but rather, it's best when they are completely cooled and set up. You can also chill these carmelitas for a little change – they're delicious that way too!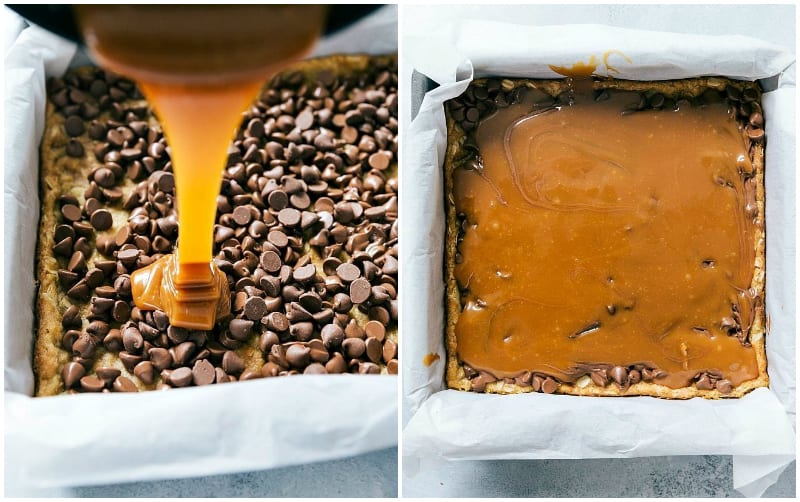 ENJOY!
More Delicious Desserts: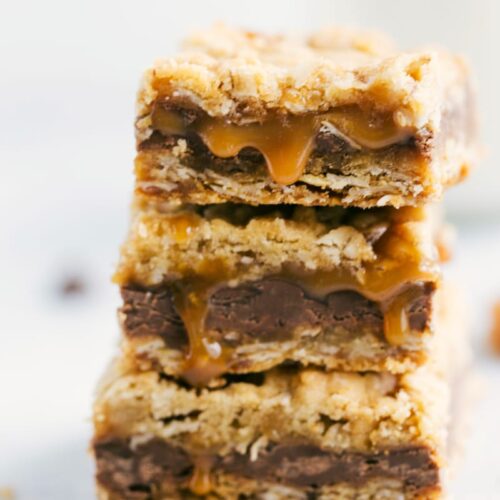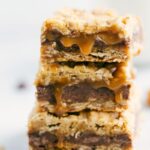 Carmelitas
The BEST EVER Carmelitas -- oatmeal bars with a thick layer of milk chocolate and creamy caramel.
Ingredients
9 x 9-inch

baking pan

2

bags (5 ounces EACH)

soft caramel squares,

unwrapped (I highly recommend Werther's Original SOFT caramels for these bars)

1/3

cup (80g)

heavy whipping cream

3/4

cup

unsalted butter,

softened

3/4

cup (145g)

brown sugar,

packed

1

cup (126g)

white flour

1

cup (100g)

old fashioned oats,

do not use quick or steel oats

1

teaspoon

baking soda

1

teaspoon

vanilla extract

1/2

teaspoon

salt

1 and 1/4

cups (211g)

milk chocolate chips
Instructions
Preheat the oven to 350 degrees F. Line a 9 x 9-inch baking pan with parchment paper and set aside.

Unwrap the caramels and add them along with the heavy cream to a small saucepan over medium low heat. Stir until completely smooth and then set aside to slightly cool and thicken.

In a large bowl, mix the softened/partially melted butter, brown sugar, flour, oats, baking soda, vanilla extract, and salt. Divide the mixture in half and press 1 half of it into the prepared 9 x 9-inch pan.

Bake at 350 degrees for 8 minutes, then remove. Sprinkle the chocolate chips evenly over the crust. Pour the melted and slightly cooled caramel over the chocolate chips.

Crumble the rest of the oatmeal mixture over caramel and then bake for another 13-18 minutes until the top layer is lightly browned.

Remove from the oven and allow to cool at room temperature for at least 1 hour before cutting into the bars. Best enjoyed within 2-4 days (store in an airtight container).
Recipe Video