Cuban-inspired, healthy, and nutritious Mojo Salmon Bowls made with salmon, black beans, grilled pineapple, and avocado.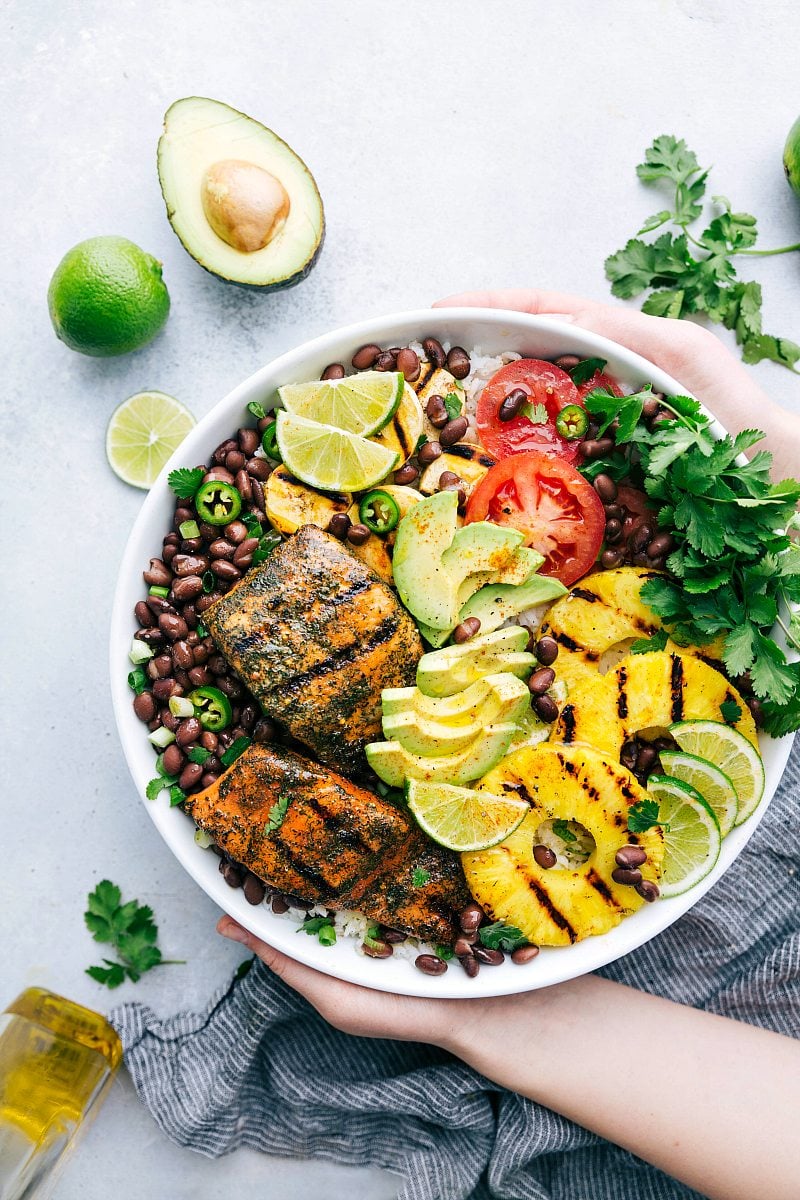 Mojo Salmon Bowls — this is the very type of food that is getting me excited for warmer weather and some non-stop summer grilling 🙂
Fresh fruits and veggies, lighter meals, and plenty of greens all encompass what spring & summer eating is for me and this dish fits the bill perfectly. Not to mention it did involve some grilling which always adds a whole ton of flavor and fun to the preparation!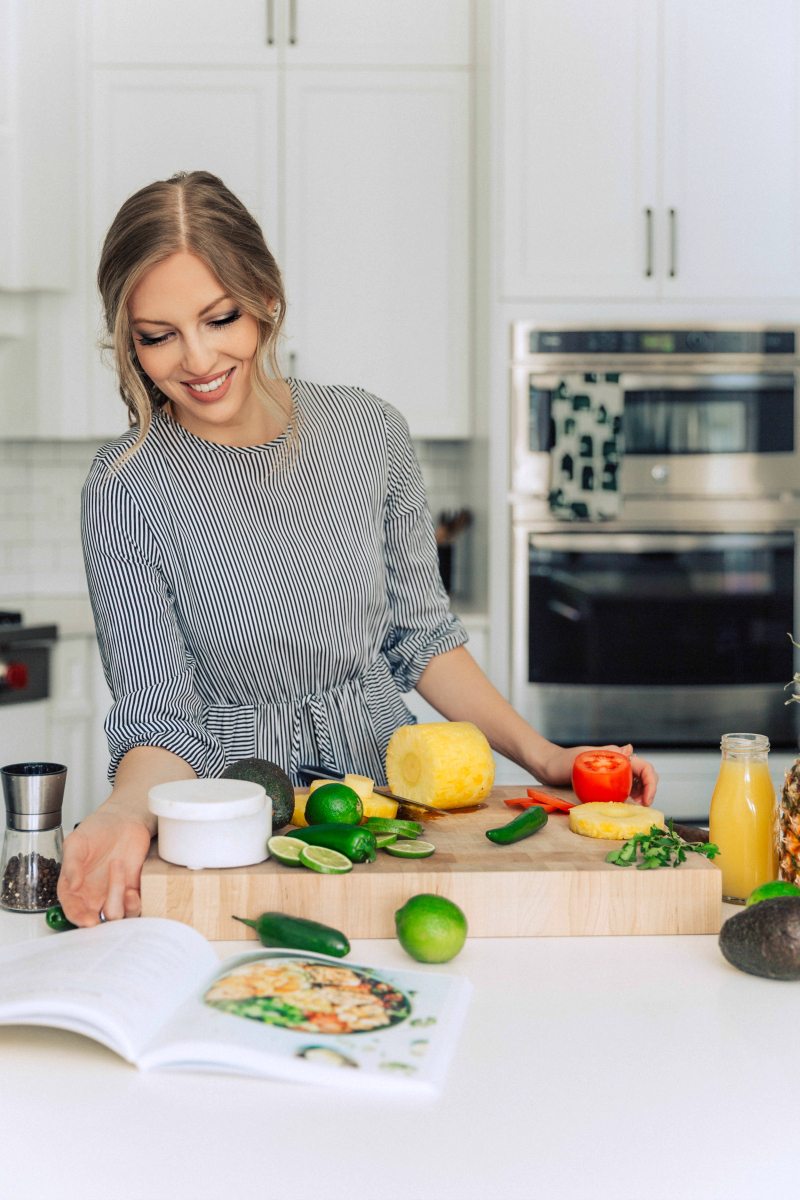 While I can't take credit for this masterpiece, I am excited to share with you the creator and source of these mojo salmon bowls: Lindsay Cotter from Cotter's Crunch. Lindsay is a great friend and an incredibly talented author of a brand new cookbook: Nourishing Superfood Bowls. The book is filled with 75 mouth-watering, healthy, gluten-free, and gorgeous meals all made in bowls!
Meals in bowls are not new to the internet, but I'm really obsessed with her concept of "family-style large bowls" which is a chapter in her book. Essentially layer all the ingredients in a massive bowl and let your family grab and put on in their own bowls/plates. Instead of separating ingredients and toppings into a million little bowls (and washing dishes all night long) you throw it all together in a large bowl and family members can just grab whatever and however much they want. Genius!
The other chapters in the book: Energizing Breakfast Bowls, Zippy Lunch Bowls, Plant-Powered Bowls, Family-Style Large Bowls, and Sweet Tooth Bowls. There are so many delicious recipes and she's included a mouthwatering photo with every single recipe as well as informative health notes for each of the dishes. As a AASDN Certified Nutrition Specialist, Lindsay knows what she's talking about and it's very evident in this book!

How are these Mojo Salmon Bowls Healthy?
Lindsay shares that this Cuban-inspired meal is "packed with fiber, healthy fats, resistant starches, omegas, and immunity-boosting superfruit."
Here are just a few of the benefits of the ingredients in these mojo salmon bowls:
Salmon is a great source of high-quality protein, vitamins, and minerals (including potassium and vitamin b12), but salmon is most known for containing omega-3 fatty acids which have been shown to reduce inflammation, decrease risk factors for disease, and lower blood pressure!
Black Beans are LOADED with fiber. Because they contain so much fiber, they get digested very slowly and during that process of digesting, you feel full for a longer period of time.
Tomatoes have Lycopene (responsible for the red color) that is a super powerful antioxidant that assists in detoxing the body and protecting it from cancer. The antioxidants in lycopene protect the body from radical damage essentially removing toxins from the body.
Cilantro has actually been found to detox heavy metals (such as aluminum, mercery, arsenic, lead, etc.) from your body which in turn protects just about every vital organ.
Lime Juice helps to flush toxins out of your digestive tract.
Green onions help to rid your liver of harmful toxins.
Pineapple: one of the most loved health benefits of pineapples are their ability to reduce inflammation in the joints and muscles.
How do you make these Mojo Salmon Bowls?
These Mojo Salmon Bowls are simple and come together pretty quickly, especially if you have leftover cooked white rice! If you don't have white rice, get that cooking (or even quinoa would be delicious).
While the rice is cooking, whisk together your marinade ingredients which will coat the salmon and also get brushed over the grilled pineapple.
The salmon marinates for 10 minutes which is the perfect timing to get the oven pre-heated and all the other ingredients prepped: slice the pineapple, plantains, rinse and drain a can of black beans, slice up some limes, and prepare the other bowl toppings.
Once the salmon is done marinating, it goes into the oven and you can finish everything else for the bowls. Grill the plantain and pineapple and then assemble it all into your large bowl or 3-4 smaller bowls.
Add the salmon right on top, slice up an avocado, and enjoy! 🙂
More Healthy Meals:
Roasted Sweet Potato and Pesto Couscous Bowls
One Pan Healthy Italian Sausage and Veggies
(Many of the ingredients overlap in different sections of this recipe but have been written out twice for clear reading.)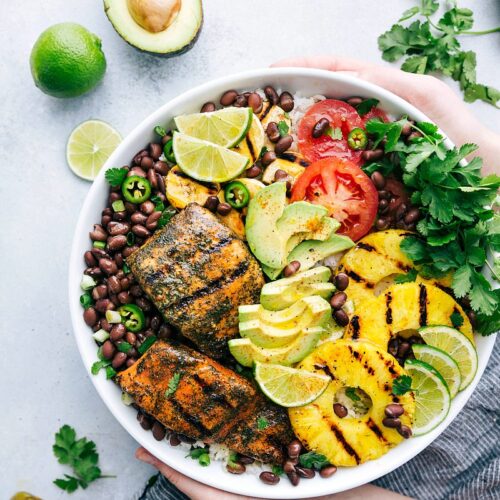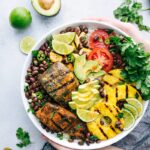 Mojo Salmon Bowls
Cuban-inspired, healthy, and nutritious Mojo Salmon Bowls made with salmon, black beans, grilled pineapple, and avocado.
Ingredients
Mojo Sauce:
1/2

cup

orange juice

1/2

teaspoon

cumin

1/2

teaspoon

dried oregano

1/4

teaspoon

sea salt

1/8

teaspoon

pepper

1-2

tablespoons

fresh lime juice

2

tablespoons

chopped fresh cilantro

1

teaspoon

minced garlic

1/4

cup

olive oil
For the Bowls:
8-10

ounces

wild-caught salmon fillets

2

teaspoons

olive oil (or avocado oil)

4-5

pineapple slices,

sliced 1/2-inch thick

1

ripe

plantain,

sliced

1-1 1/2

cups

white rice,

cooked

1

large ripe

avocado,

pitted and sliced

1

tomato,

sliced

15

ounces

cooked black beans

1

tablespoon

fresh lime juice
For the Bowl Toppings:
Lime wedges, 1 chopped green onion, handful of fresh cilantro, crushed red pepper flakes, 1 sliced jalapeno (optional), paprika or cayenne pepper (optional)
Instructions
To make the mojo sauce, whisk together the orange juice, cumin, oregano, salt, pepper, lime juice, cilantro, garlic, and olive oil. Pour the mojo sauce over the salmon fillets, reserving 1/4 cup of the marinade. Marinate in the fridge for 10 minutes.

Preheat the oven to 415℉. Preheat a grill or indoor grill top.

For the bowls, bake the salmon on a baking sheet for 10-12 minutes.

Add the oil to the pineapple and plantain, and grill over medium-high heat for 10 minutes, flipping halfway through. Add 2 to 3 tablespoons of the reserved marinade on top of the pineapple in the last few minutes of cooking.

Place the rice in 1 large serving bowl or 3 to 4 separate bowls. Top with the salmon, grilled pineapple and plantains, avocado, tomato, and black beans. Add a squeeze of fresh lime. Season with salt and pepper. Top with green onion, cilantro, crushed red pepper flakes and jalapeño, if desired.

Sprinkle the bowls with a pinch of paprika or cayenne pepper, if desired.