Cookies and cream ice cream bars – a dessert inspired by the famous Oreo Good Humor Bars. These dessert bars are easy to make, ready in less than an hour (including freezing time!), perfect for a hot summer day, and sure to please a crowd!
So, for those of you that liked the Oreo version better than the Strawberry Shortcake version (I'm talking Good Humor dessert bars here), I've got you covered.
After I made the strawberry shortcake ice cream bars, I was left with a serious craving for an oreo treat.
And…truth be told, the oreo version was always my favorite.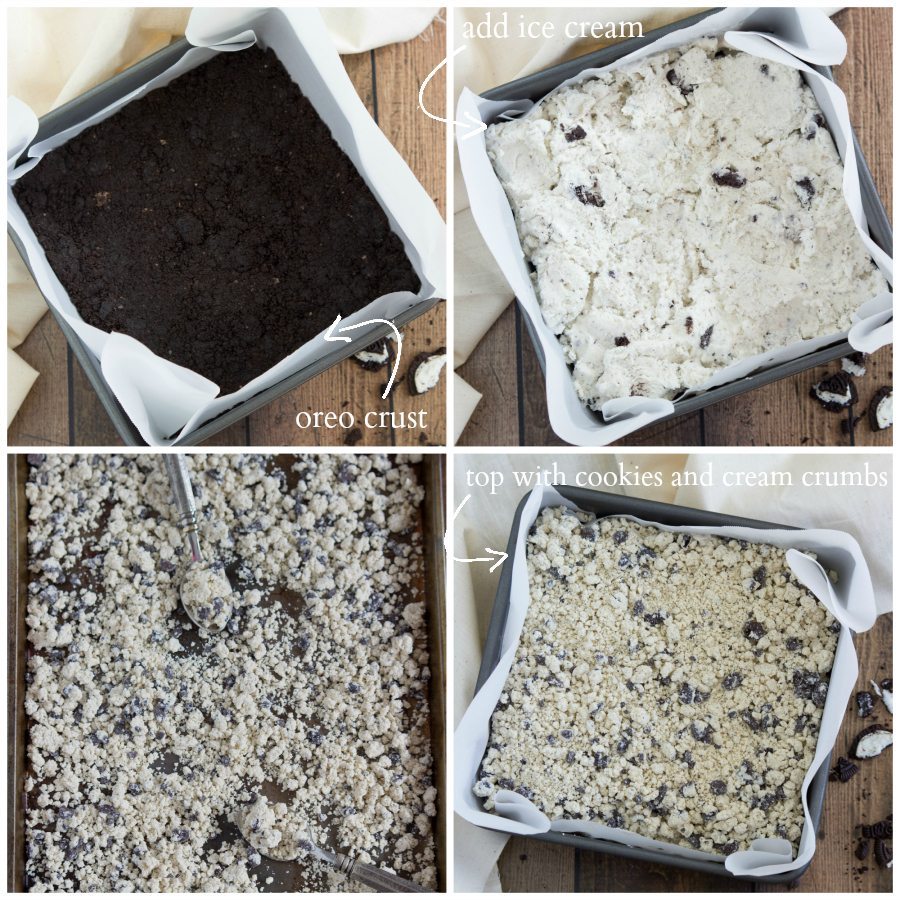 Although I do recognize these aren't in a popsicle form like the Good Humor bars I referenced, these are even better.
They start with a thick oreo crust, and don't worry, this recipe does NOT require you to separate the cookie from the cream in the oreo (Score!).
The middle? Just cookies and cream ice cream – whatever brand is your favorite and you could even make cookies and cream ice cream from scratch – totally up to you!
Finally, the crumbly topping? This is my favorite part of the whole thing.
And, I don't mean to brag, okay…I guess a little, but I am pretty proud of it. It took me quite a few tries with random ingredients and I was SO excited when a topping not only worked out, but was a drop-the-spoon, and just shove-the-bar-in-your-mouth-delicious.
Yes. Spoons are not required for these bars.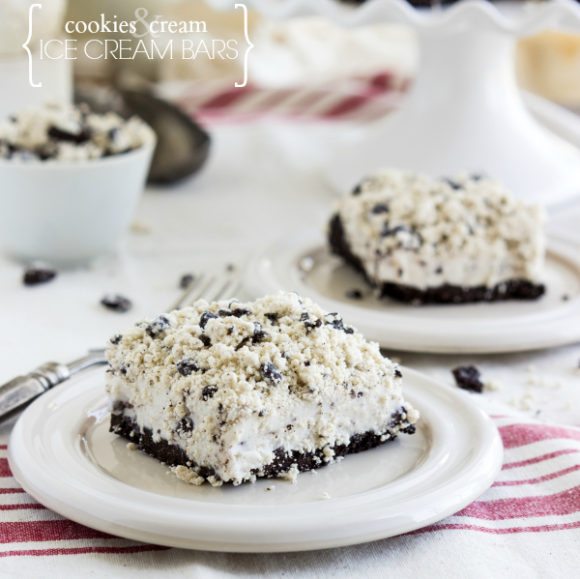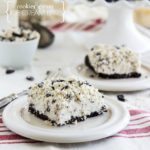 Cookies and Cream Ice Cream Bars
Ingredients
Oreo Crust
20

oreos

2

tablespoons

white sugar

3

tablespoons

butter

melted
Filling
3 and 1/2

cups

cookies and cream ice cream
Oreo Crumb Topping
2

packages (4.2 ounces EACH)

Cookies N Creme Oreo mix

Jell-o has this type

1/2

cup

butter

softened

1/2

cup

white flour
Instructions
Line an 8 x 8 baking pan with parchment paper or foil. Make it so the parchment paper (or foil) hangs over the pan for easy removal of these bars. Set aside.
Topping
In a large bowl, combine both Cookies and Creme Oreo mixes (totally dry) with the butter, and flour. Stir and mash the ingredients together with forks or with a pastry cutter until crumbs are created. This takes some time and patience if you are using a fork, but it will get to a crumb consistency.

Lay the crumbs evenly on a large baking tray and place in the freezer while preparing the other layers.
Crust
In a blender or food processor, pulse the oreos (with the white cream filling left inside) to a crumb consistency.

Stir in the white sugar and melted butter until all ingredients are well combined.

Press the oreo mixture evenly into the bottom of the pan.
Filling
Soften the ice cream by leaving it on the counter for about 7-8 minutes. You do not want the ice cream to get too soft or unmelted or it becomes icy when unfrozen.

Press the ice cream on top of the oreo crust. You can put as much or as little as desired (I used 3 and 1/2 cups) but totally up to you if you want more or less.
Putting it together
Remove the crumb topping from the freezer and sprinkle evenly over the top of the ice cream. Press the crumbs down into the slightly melted ice cream.

Cover the pan with plastic wrap and place in the freezer to harden, about 30 minutes (or longer if you used softer ice cream).

Remove from pan, cut, and enjoy immediately.

Return any leftovers to the freezer.