Only 6 ingredients to make this delicious and refreshing ice cream grasshopper pie — the perfect summer treat that takes minutes to assemble!
This grasshopper pie is the best dessert to bring to a potluck or party with friends or family. While it hardly takes any time to assemble, it looks impressive and tastes delicious.
Love mint? We're obsessed with it! Try these mint chocolate cookies, thin mint oreo cups, or mint brownies next!

Grasshopper pie: where it gets its name
If you've ever wondered what exactly a grasshopper pie is, you're not alone! It's definitely a unique name 🙂 Grasshopper is a typically green dessert or cocktail that is mint-flavored. It's called "grasshopper" because of the bright green color that typically accompanies the dessert.
For this grasshopper pie, we're using mint chocolate chip ice cream. Make sure to get a good brand of mint ice cream since it's the star of this pie.
Chocolate crust
The crust for this grasshopper pie uses mint chocolate cookies (I use Oreos; not sponsored). The cookies don't need to be separated or have the creme removed — simply pulse them in a food processor or blender until you've got crumbs.
The crumbs are tossed with melted (and slightly cooled) butter and a little bit of sugar. You want to make sure to not add super hot melted butter to the crumbs; let it cool to room temperature first so you don't get a gooey mess!
Grasshopper pie toppings
Top your pie with your favorites. We love whipped cream (how to make whipped cream tutorial here), hot fudge sauce, and more crushed up mint chocolate oreo cookies.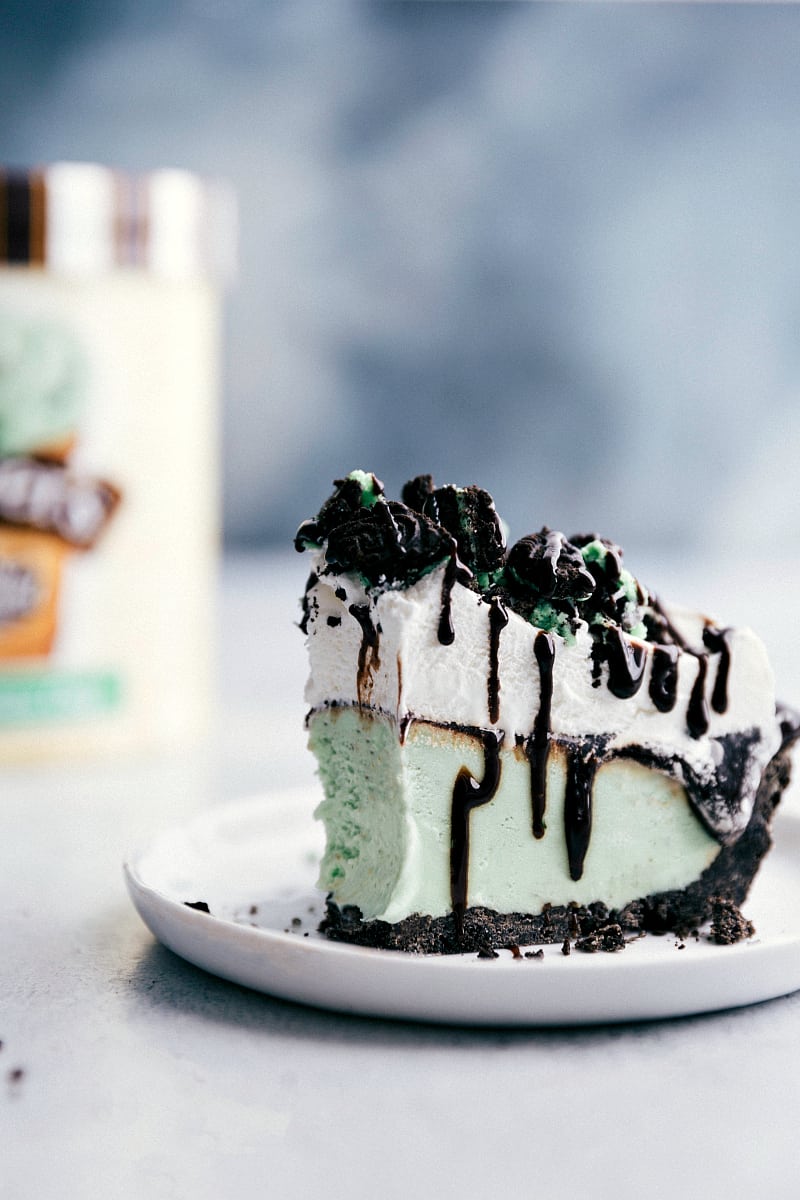 More Dessert Recipes: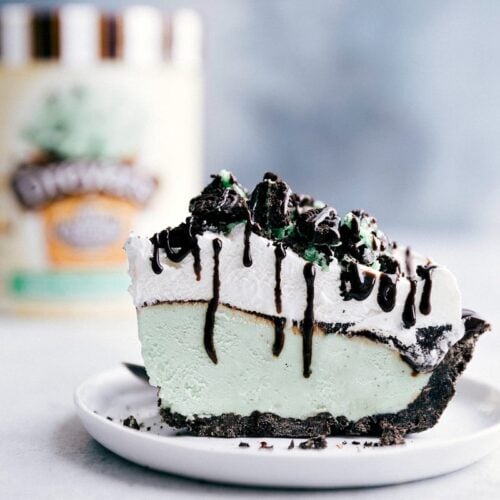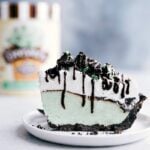 Grasshopper Ice Cream Pie
Only 6 ingredients to make this delicious and refreshing ice cream grasshopper pie -- the perfect summer treat that takes minutes to assemble!
Ingredients
25

chocolate mint sandwich cookies,

separated

2

tablespoons

white sugar

4

tablespoons

unsalted butter,

 melted

1

container (48 ounces)

Mint Chocolate Chip

1

container (8 ounces)

frozen whipped topping,

completely thawed

1

container (11.5 ounces)

hot fudge sauce, separated
Instructions
Lightly grease a 9-inch pie pan with cooking spray and set aside. In a food processor or blender, pulse 20 of the mint sandwich cookies (no need to separate cookie from filing) until you've got cookie crumbs. You should get around 1 cup cookie crumbs.

In a small bowl, combine the mint cookie crumbs, sugar, and butter. Press firmly into the bottom of the prepared pan. Place in the freezer for 10 minutes. Remove the ice cream to slightly soften for the last 5 minutes.

Smooth the ice cream evenly over the cookie crust and smooth the top evenly with the back of a large spoon or spatula.

Freeze for 20-30 minutes or until solid.


Remove from the freezer and smooth all but 3-4 tablespoons of the chocolate fudge sauce evenly over the ice cream. Loosely cover and return to freezer for at least one hour or until ready to serve.


Right before serving, smooth the whipped cream over the chocolate fudge layer (I only like to add the whipped cream to the slices that will get eaten same day otherwise the whipped cream tends to get icy if refrozen).


Coarsely chop the remaining 5 mint cookies and sprinkle over individual pieces. Drizzle the reserved 3-4 tablespoons hot fudge sauce over individual pieces.