The BEST brown butter chocolate chip cookies with plenty of chocolate chips, flaky sea salt, and oats!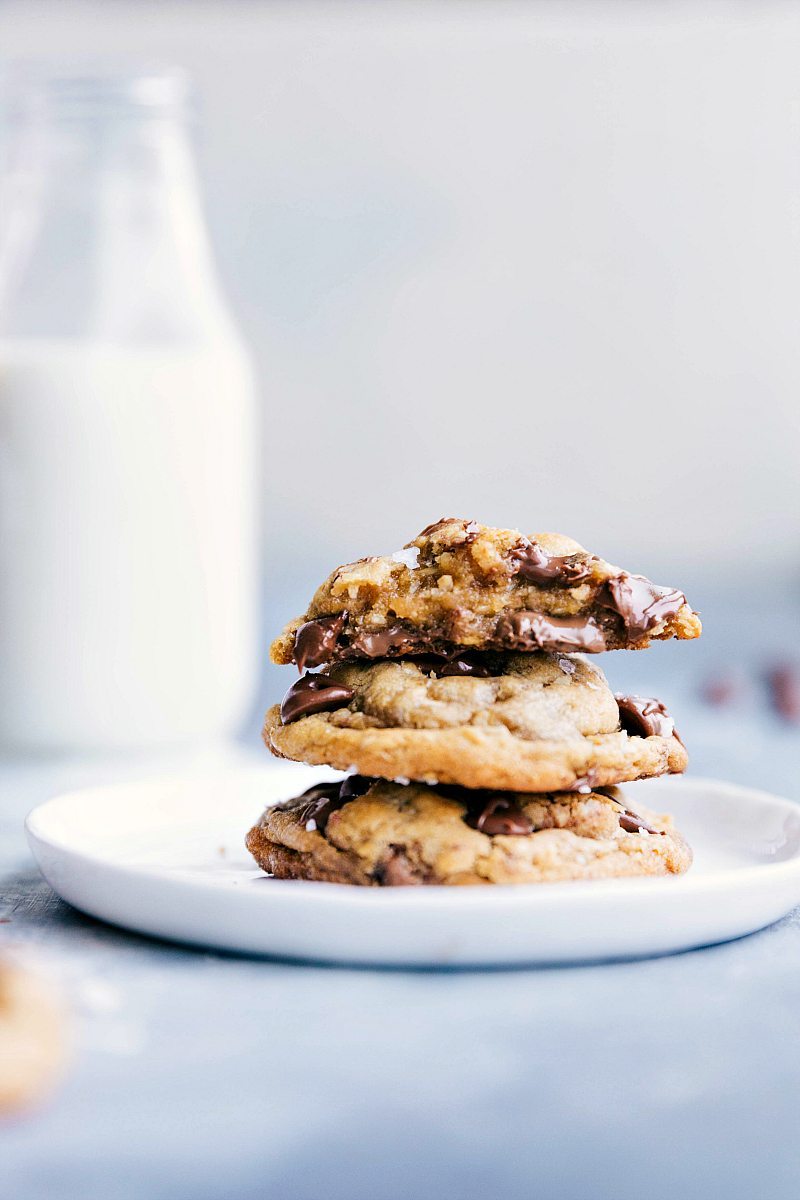 Click to pin these brown butter chocolate chip cookies.
Happy Wednesday everyone! Today I am going LIVE on my Facebook page at 11 a.m. MST with a few of my friends (Maria at Two Peas and their Pod, Heidi at FoodieCrush, Melea at The Melea Show, and Alyssa at The Recipe Critic) to bring you a show covering EVERYTHING cookies 🙂
We've got some really fun things planned — we'll be giving away gift cards and a kitchen-aid stand mixer in addition to sharing dozens of tips for cookie baking, cookie packaging tips, cookie exchange party tips, and some holiday cookie tradition ideas! And yes, you'll get to see these delicious brown butter chocolate chip cookies!
I really hope to see you all there and please say "hi" if you drop by 🙂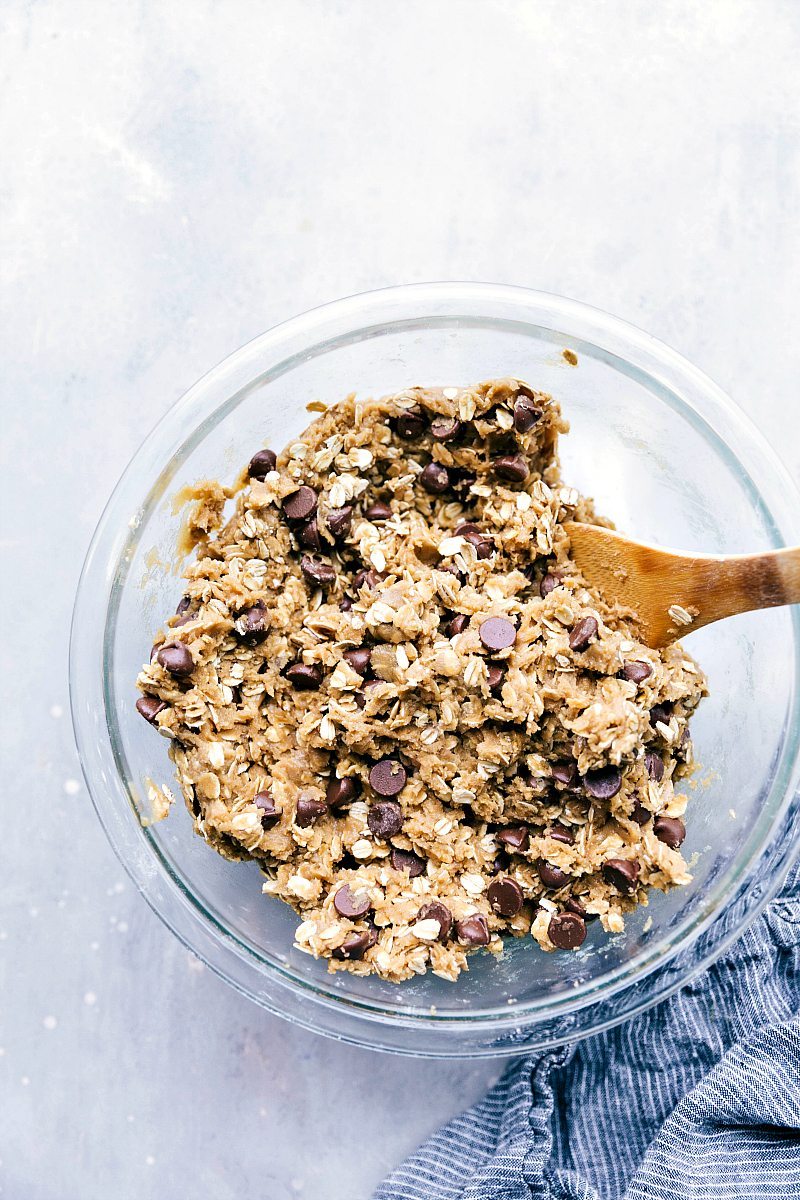 I've shared a few "sneak peaks" for the upcoming Facebook Live show on Instagram Stories and a few weeks ago I asked you for your favorite cookie recipe. After getting so many delicious submissions (and eating way too many cookies in one weekend trying them out), these brown butter chocolate chip cookies were voted the winner! Leisa, from Texas, submitted these brown butter chocolate chip cookies and everyone has been completely smitten by them.
When asked why this is her favorite cookie recipe she said, "Brown butter baby! I love everything that starts with browning butter. I love the salty gorgeous flakes on top too! Ok – I guess I truly love it because it has chocolate in it – but isn't that almost a given?"
And I have to say, those aspects were taste testers favorite things as well: the browned butter, chocolate, and the flaky salt on top! Not to mention the unforgettable texture of these cookies!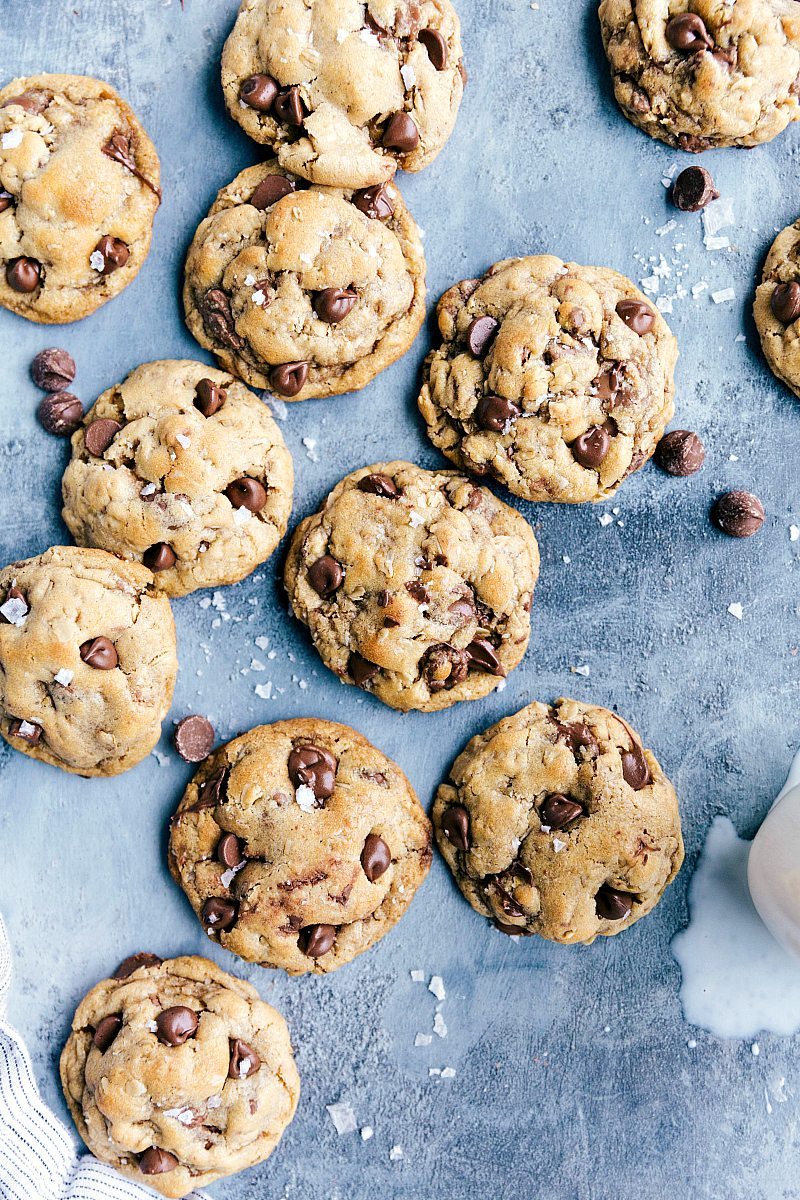 If you haven't browned butter before, it's very simple to do and does give these cookies a great texture and depth of flavor.
As a quick breakdown, here's my favorite way to brown butter for these chocolate chip cookies:
Start by melting the butter (1 cup unsalted butter for this recipe) over medium heat. If possible, use a wide pan with a light-colored bottom so you can see the color and keep track of it better.
Once the butter is all melted, swirl the pan occasionally to ensure the butter is cooking evenly.
As the butter melts, it will begin to foam up a bit. It will first change to a lemon-yellow color then a light tan color and finally a deeper brown. When it gets to that deeper brown you should also smell a "nutty" aroma.
As soon as you smell that "nuttiness" remove the pan from the heat and immediately transfer the browned butter into a (heat-proof) bowl so it can cool. Once the butter is browned you don't want it to sit in the pan because it will continue to cook and then burn.
Watch the butter carefully near the end because it can go from perfectly browned to burned in a very short amount of time!
You'll notice you get a little bit of sediment in the browned butter (which is just the milk solids that have settled). The sediment does have more of a "burned taste" so you can strain the browned butter through a fine mesh sieve to get rid of the sediment if you'd like. I personally like browned butter best with that sediment because I love the flavor and think it ends up enhancing the overall flavor, but it is of course up to you if you want to strain or leave it in.
Once the butter is browned, the rest of these cookies are pretty standard and straight forward. Since the butter is browned and melted, you will need to chill these cookies (to get the dough solid again so they don't go paper flat when baking). I also think the chilling process allows the flavors to meld and intensify. Make sure to cover the dough tight and have an activity to distract you from finishing all that dough before it makes it to the oven 😉
We absolutely love these brown butter chocolate chip cookies and I can't wait for you to try them out!
Hope to see you at 11 AM today 🙂 XO, Chelsea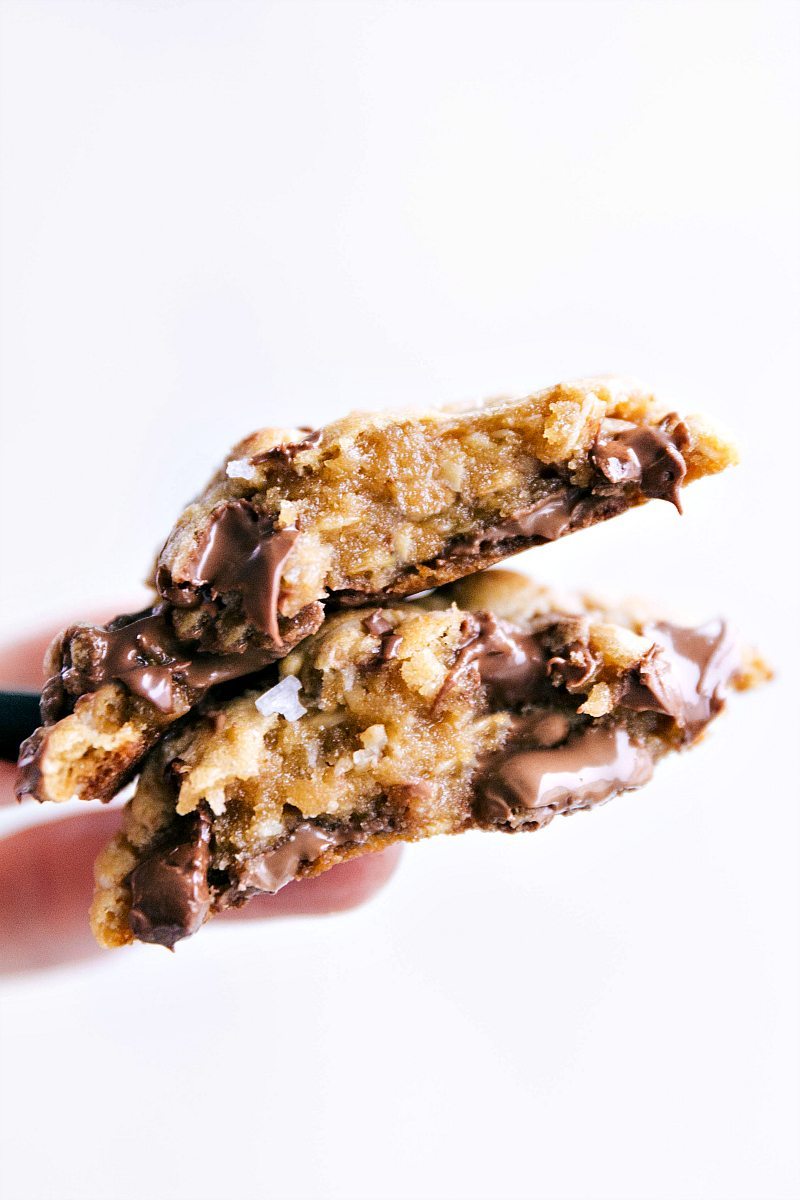 More Amazing Cookie Recipes:
Caramel-Filled Chocolate Cookies
White Chocolate Macadamia Nut Cookies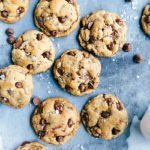 Salted Brown Butter Chocolate Chip Cookies
The BEST brown butter chocolate chip cookies with plenty of chocolate chips, flaky sea salt, and oats!
Keyword:
brown butter chocolate chip cookies
Ingredients
8

ounces (1 cup)

unsalted butter

1 and 1/2

cups

dark brown sugar,

packed

2

large

egg

2

teaspoons

pure vanilla extract

1

teaspoon

baking soda

1

teaspoon

sea salt

1/2

teaspoon

baking powder

2

cups

white all-purpose flour

1 and 3/4

cups

old-fashioned oats (do not use quick or steel oats)

10

ounces

milk chocolate chips

Flaky salt,

for topping
Instructions
Brown the butter until you smell a little nuttiness. (See the post for more in depth instruction on browning butter). Allow it too cool a little and strain out the sediment if desired (I leave it in!)

In a stand mixer set with a paddle attachment, combine the melted and slightly cooled browned butter and brown sugar. Whisk for 2 minutes.

Add the eggs, one at a time, mixing after each addition. Add in the vanilla extract and mix until combined.

Add the baking soda, sea salt, baking powder, and flour. Mix until JUST combined making sure to not overmix the batter (you'll get denser cookies!) Stir in the oats and chocolate chips. Tightly cover and refrigerate the dough for at least 1 hour. It's very important to chill the dough since we started with melted butter and that butter needs to firm up again so these cookies don't get burned and flat when baking.

Pre-heat the oven to 350 degrees F. Line your cookie sheet with parchment paper or a silpat liner and set aside.

Scoop balls about 1 and 1/2 tablespoons in size and place on the tray. Sprinkle the tops of each cookie with some flaky salt. Bake for 8-12 minutes or until the cookies just slightly turn a golden brown color on the EDGES. Watch the cookies carefully so they are still soft and chewy in the middle (I like to slightly under-bake to ensure that!)

Remove the cookies from the oven and transfer to a cooling rack.

Cookies are best eaten within 2-3 days and best stored in an airtight container at room temperature.
Recipe Notes
Total time does not include chilling time.