This grilled chicken with avocado salsa is loaded with fresh flavor and amazing textures!
The chicken is marinated in taco seasonings, grilled, and then loaded up with a crisp grilled corn and creamy avocado salsa. Pair this meal with an easy salad like this mandarin orange salad.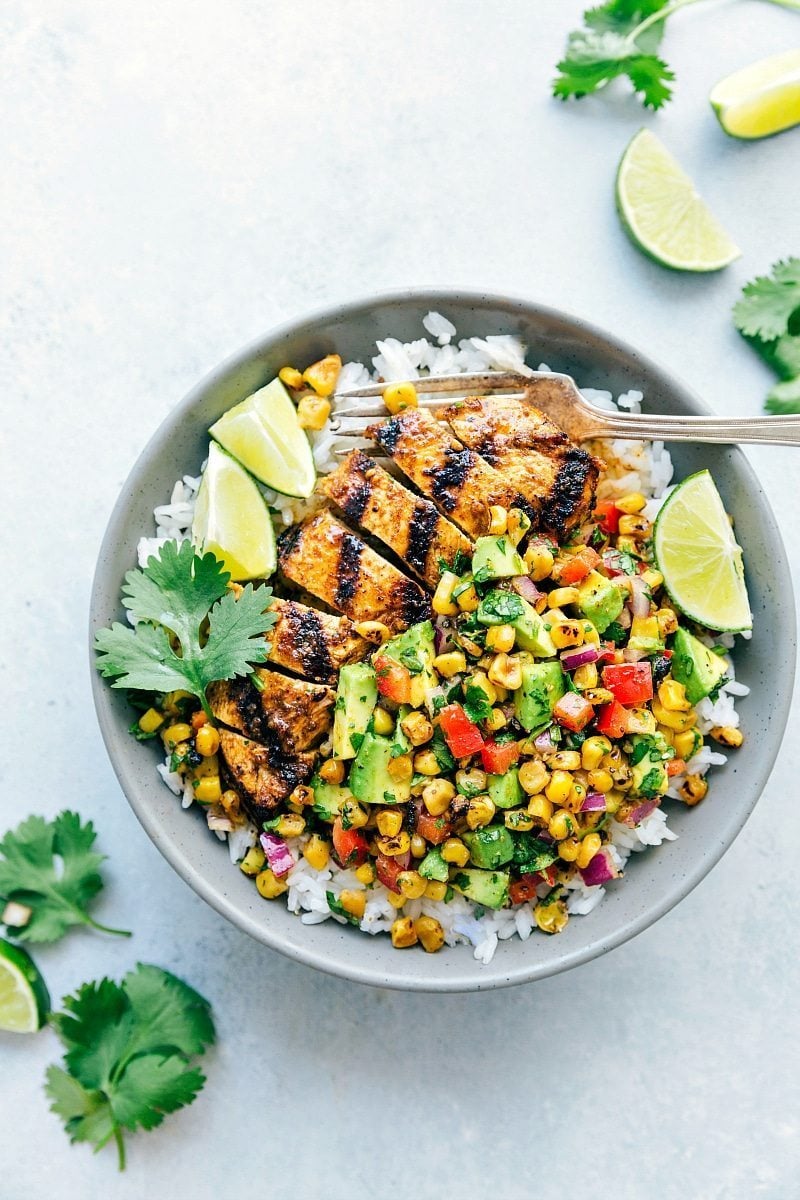 I think I'll eat this meal for every remaining dinner of summer! My whole family is completely OBSESSED with this grilled chicken with an avocado salsa. The "salsa" is my absolute favorite and I've been eating it by the spoonful. The other day I had some of the salsa ingredients leftover so I whipped up just the salsa and ate the entire thing myself.
Corn and avocado are two of my favorite veggies and I love how the two complement each other in flavors and texture. Especially with fresh grilled corn and perfectly ripe avocados — there aren't too many things better that that in my opinion.
Before you think that only the salsa is the star of this show, the chicken is insanely good and so easy to make! You'll throw together a quick marinade which takes mere minutes (few ingredients and super simple) and then grill the chicken and baste it with a bit of the reserved marinade. You end up with ultra flavorful, tender, moist, and delicious chicken. The grilled chicken and avocado-corn salsa are pure dinner happiness together. I hope you love these chicken taco bowls as much as my family has. Enjoy!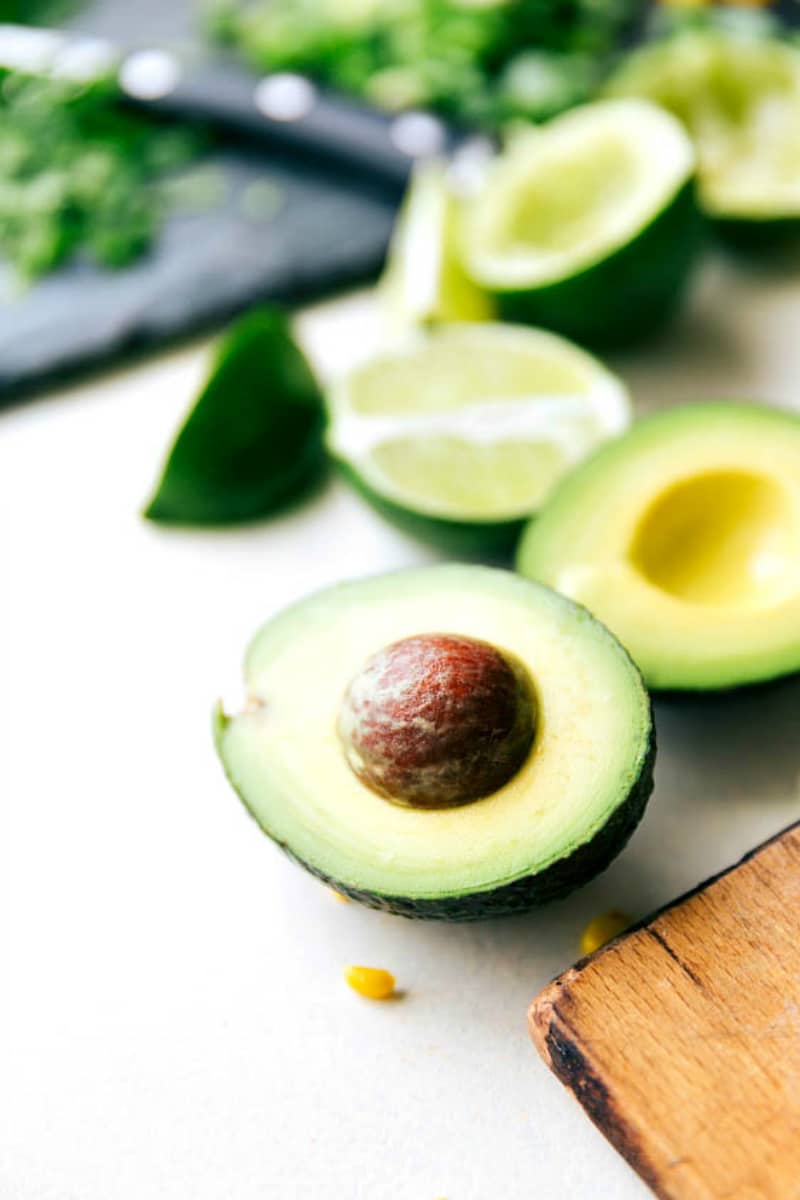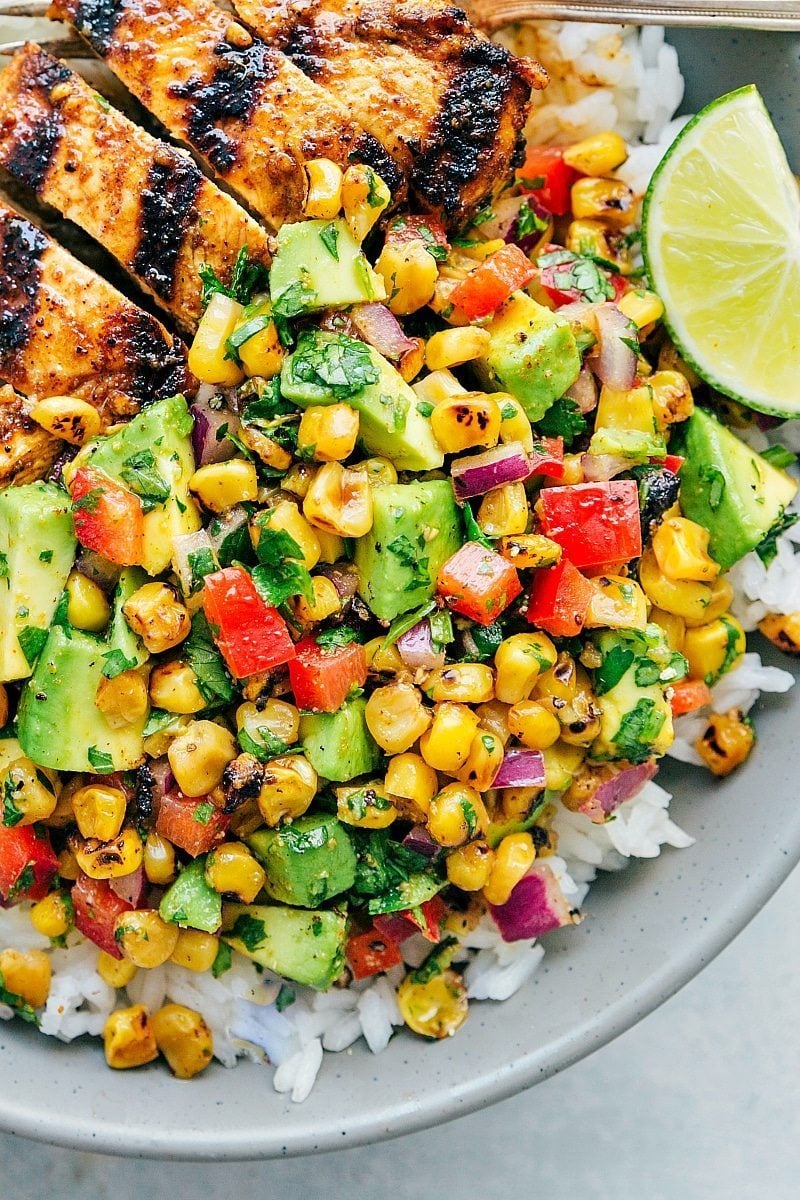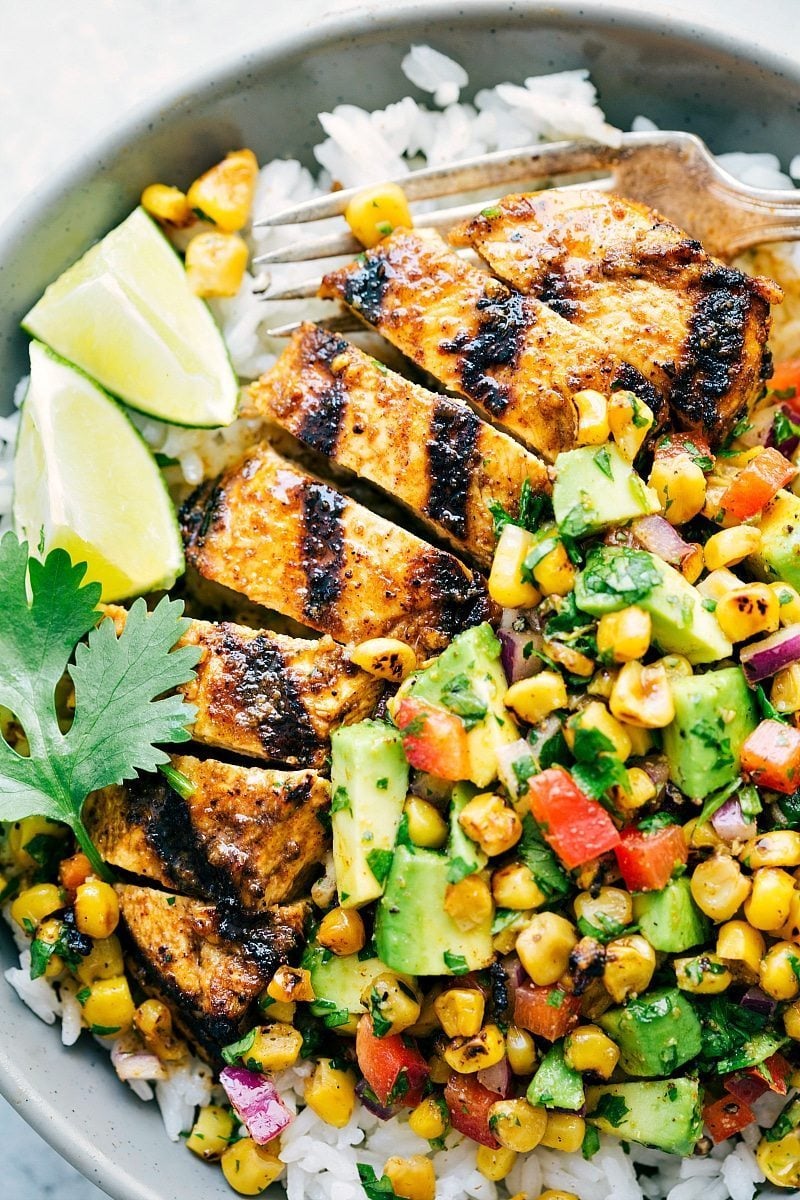 More Easy Grilled Recipes: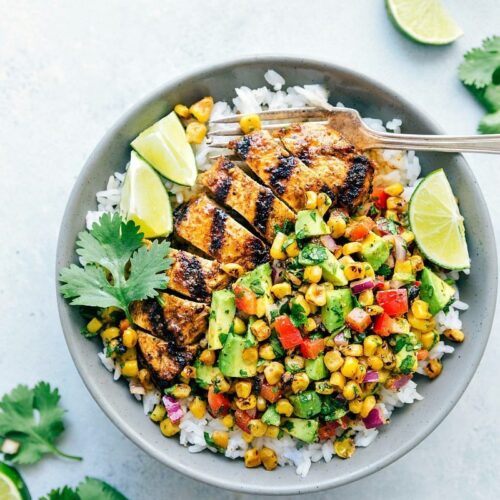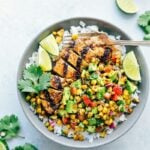 Grilled Chicken with Avocado Salsa
Amazing "Taco" Marinated Chicken with the most delicious Grilled Corn & Avocado Salsa.
Keyword:
Grilled Chicken with Avocado Salsa
Ingredients
Grilled Chicken
1 1/2

pounds

boneless skinless chicken breasts

1/4

cup + 2 tablespoons

olive oil,

separated

4

large juicy

limes (1/2 cup lime juice + lime zest),

separated

2

teaspoons

minced garlic

3

teaspoons

ground cumin,

separated

1/2

teaspoon

paprika

1 1/4

teaspoon

chili powder

Salt and pepper
Grilled Corn and Avocado Salsa
4

ears

sweet corn

Olive oil, salt and pepper

2

large

ripe avocados,

diced

1

small

red onion (or half of a large one),

diced

1

small

red bell pepper,

diced

1/3

cup

fresh cilantro,

finely chopped

1

tablespoon

minced garlic

1/4

teaspoon

crushed red pepper flakes,

optional

Optional: serve over rice or quinoa (I like to add lime juice and cilantro to the rice!)
Instructions
Trim the chicken breasts of fat and pound them to even thickness to ensure even grilling. You can also slice them evenly in half widthwise for a quicker grill. Place the prepared chicken in a large ziplock bag and set aside.

In a small bowl whisk together 1/4 cup olive oil, 1 teaspoon lime zest, 1/4 cup freshly squeezed lime juice, minced garlic, 2 teaspoons cumin, paprika, chili powder, and salt + pepper (I use about a teaspoon of each). Once the mixture is well combined, remove about 2-3 tablespoons of the mixture and reserve for later.

Add the rest of the marinade in the bag with the chicken. Seal the bag and then knead with your hands to ensure all of the chicken is well coated. Place in the fridge and marinate for at least 45 minutes and preferably 2-3 hours. Don't marinate longer than 5 hours.

Preheat a grill to medium-high heat (about 450 degrees F.) Generously oil the grill (I drench a roll-up paper towel in vegetable oil and, holding it with tongs, rub it over the grill grates. Don't skip this step.) Husk the corn and rub olive oil over the corn. Sprinkle the corn lightly with salt and pepper. Place the corn on one half of the grill.

Remove chicken from marinade and season lightly with salt. Grill the chicken (on the other half of the grill) turning once halfway through grilling, about 4-6 minutes per side (until the thickest part of the chicken registers 165 degrees F.). Baste the chicken with the reserved marinade as you grill and after flipping. Transfer the chicken to a plate and cover for foil. Allow the chicken to rest for a few minutes so the juices can re-distribute! As you baste the chicken, flip the corn too. Remove the corn when grilled to your liking (about 15-20 minutes, flipping around every 5 minutes)


Meanwhile prepare the salsa! Dice the veggies -- the avocados, red onion, red pepper and cilantro. Toss together in a large bowl. Add in remaining 2 tablespoons olive oil, remaining 1/4 cup lime juice, remaining 1 teaspoon cumin, minced garlic, and crushed red pepper flakes. Gently toss together. Slice the corn off the ears and add to the salsa. Add salt and pepper to taste. Toss again and serve over chicken
Recipe Notes
Total time doesn't include marinating time (just total prep time).