Easy-to-make peppermint brownies with a thick layer of peppermint frosting and a soft chocolate ganache topping.
Bookmark these plain mint brownies for when the holidays are over! Other brownie recipes to love: cosmic brownies or gluten free brownies with a chocolate fudge topping.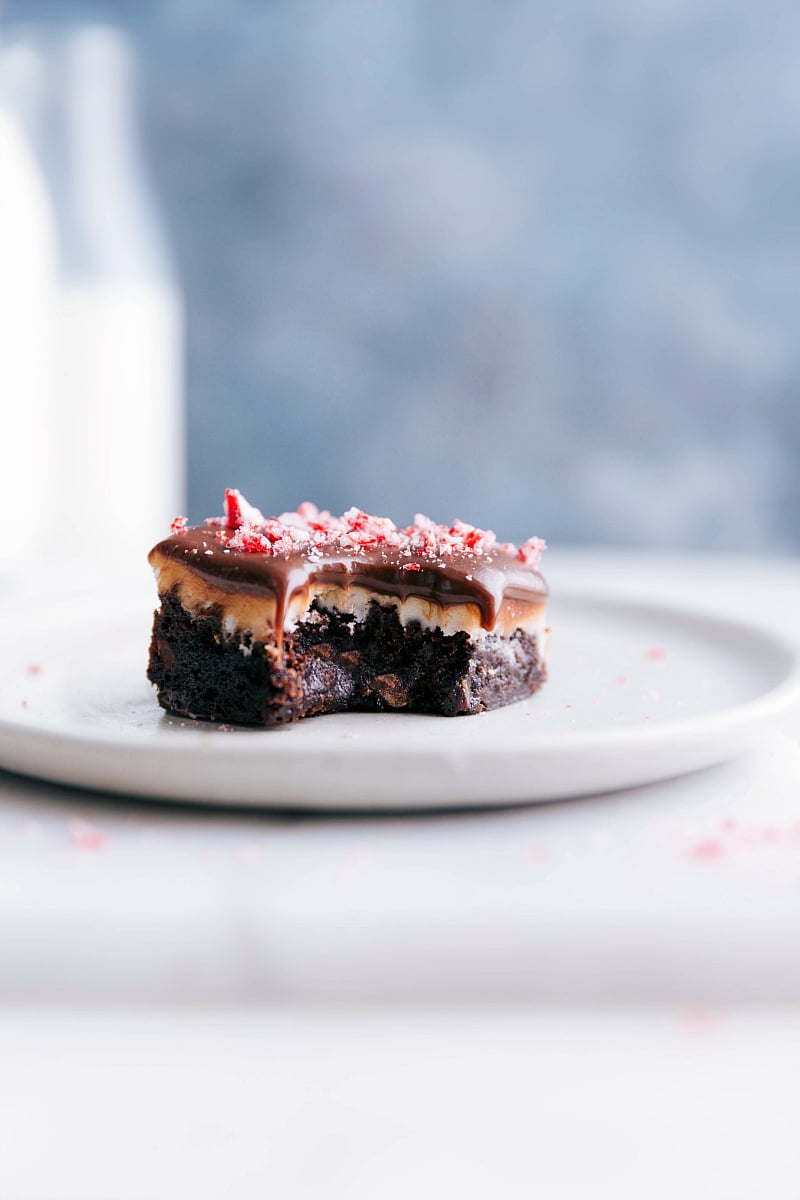 Delicious holiday treat
These peppermint brownies are the perfect holiday treat — they've got a thick chocolate-y brownie base with finely chopped Oreos (that further contribute to the fudginess). On top of the brownies is a thick layer of peppermint cream cheese frosting and these bars are finished up with a silky smooth chocolate ganache.
For an even more festive treat, add some crushed peppermint candy on top!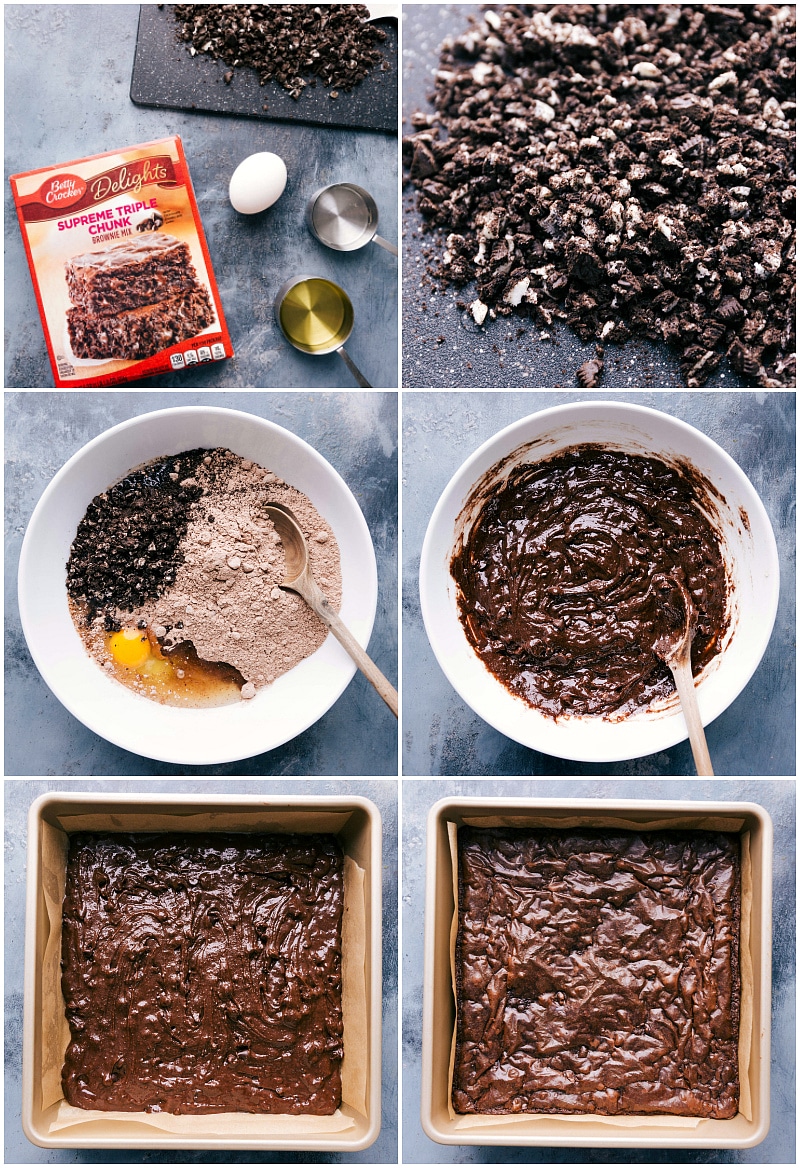 How to make peppermint brownies
Below I'm breaking down the three layers to this dessert in more detail. The photo collages show the process of the brownies, frosting, and ganache being made.
Peppermint brownies base: brownies
We begin with a boxed mix for these brownies. Truly, I think brownie mixes are delicious and they're convenient. Especially when making the frosting and ganache from scratch, it's nice to have a shortcut here. If you want to make your brownies from scratch, use your favorite brownie recipe in place of the mix in this recipe. (Make sure it fills an 8×8 or 9×9 pan)
Peppermint brownies middle: peppermint frosting
Food dye: if you want, red or pink food coloring can be added to the frosting for a more peppermint-looking treat. The food dye is optional, it won't change the flavor or consistency at all, just the color.
Make sure to grab peppermint extract, not mint. Mint extract makes the frosting taste like toothpaste; the peppermint is much more mild. Depending on how strong of a peppermint flavor you'd like use 1 to 1 and 1/2 teaspoons in the frosting. The actual strength of the peppermint extract will also depend on the brand (some are more potent than others). I use 1 teaspoon of McCormick peppermint extract which we find to be the perfect amount.
Peppermint brownies topping: chocolate ganache
And finally, the chocolate ganache topping which is actually my favorite part of these peppermint brownies! It's soft, fudge-y, thick, and practically melts in your mouth!
I use milk chocolate for the topping, but if you're concerned about sweetness, use semi-sweet or dark chocolate chips.
The topping is soft: allow plenty of time for the topping to firm up before cutting and serving these bars.
Add peppermint on top: for an extra peppermint crunch, add some crushed peppermint or finely chop a few Ghiradelli Peppermint Bark squares to top the brownies with.

More peppermint treats: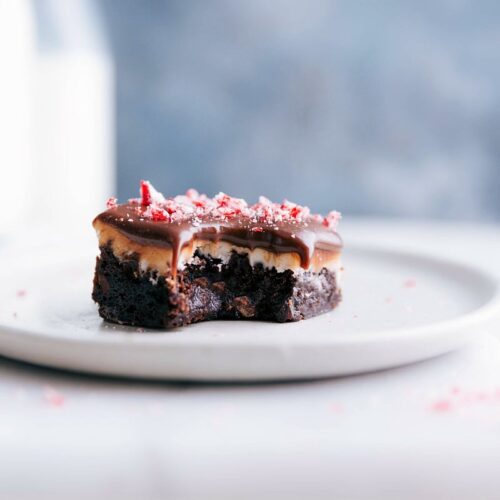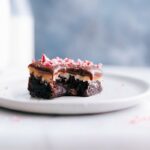 Peppermint Brownies
Easy-to-make peppermint brownies with a thick layer of peppermint frosting and a soft chocolate ganache topping.
Keyword:
peppermint brownies
Ingredients
Brownies
1

package (17.8 ounces)

brownie mix AND ingredients called for on the back

(I recommend Betty Crocker's Supreme Triple Chunk)

6

regular

Oreos,

finely chopped (leave the creme filling inside)
Frosting
3

ounces (88g)

full-fat cream cheese

4

tablespoons (56g)

unsalted butter

1

teaspoon

peppermint extract

not mint extract

1/16

teaspoon

fine sea salt

2

cups (225g)

powdered sugar

Optional: pink or red food coloring
Ganache
1

cup + 2 tablespoons (200g)

milk chocolate chips

(or semi-sweet chocolate chips if desired)

2/3

cup (160g)

full fat heavy cream

1

tablespoon (14.2g)

unsalted butter

Optional: 2-3 tablespoons crushed peppermint
Instructions
BROWNIES: Preheat the oven to 350 degrees F. Line a 9x9 inch (8x8 inch works, but we prefer 9x9) baking pan with parchment paper leaving an overhang. Follow package directions to prepare the brownies -- do NOT add a fudge packet if it came with your brownies (reserve the packet for later). Very finely chop up 6 Oreos and add to the brownie ingredients. Stir everything together to get a thick brownie batter. Transfer to the prepared pan and bake according to package instructions. Don't over-bake. As soon as brownies are baked, remove from the oven and allow to cool for 3-4 minutes. Now IF you had a fudge packet, spread it over the brownies here. Cover the brownies tightly and place in the fridge (or freezer) while preparing the frosting layer.

FROSTING: In a large bowl, beat together the (softened to room temperature; not melted) cream cheese and butter until smooth and creamy. Add in the peppermint extract (to preference; we use 1 teaspoon (See Note 1). Add in the salt, food coloring if using, and powdered sugar. Beat until smooth and creamy. Resist the urge to add milk or cream, it will seem like it's not coming together at first but just keep beating until it does. Scrape down the sides as needed with a spatula. Spread frosting evenly over completely cooled brownies. Return the brownies to the fridge while preparing the ganache.

GANACHE: measure chocolate chips out in a heatproof bowl. Add heavy cream and butter to a glass measuring cup and microwave until steaming hot (but not boiling), about 1 to 1 and 1/2 minutes. Pour the hot cream mixture over the chocolate chips. Do not stir. Cover the bowl with the chocolate chips with a pot lid or whatever you have to keep in the heat. Let stand for 5 minutes. Then stir until chocolate is fully melted and smooth. If needed, microwave the mixture for 15 seconds to further melt. Let ganache stand for 10-15 minutes to thicken. Whisk again and then pour and smooth over the frosting layer. Let brownies stand at room temperature for 30 minutes (to keep the top glossy, don't immediately refrigerate) and then refrigerate for 2-3 hours or until chocolate topping is firm. IF desired, sprinkle on some crushed peppermint on top.

SERVE: using the overhang of parchment, remove brownies from the pan and cut with a very sharp knife. To get clean cuts, run your knife under very hot water, dry, and then slice in quick fast cuts.
Recipe Notes
Note 1: the strength of the extract varies from brand to brand; I use McCormick peppermint extract and 1 teaspoon is perfect for us. Taste the frosting and decide if you'd like more extract up to 1 and 1/2 teaspoons.