Oreo crumbs mixed with crushed peppermint surrounded by mint chocolate baking chips resulting in a burst of pepperminty-chocolate flavor. These thin mint oreo cups require no baking and only three ingredients!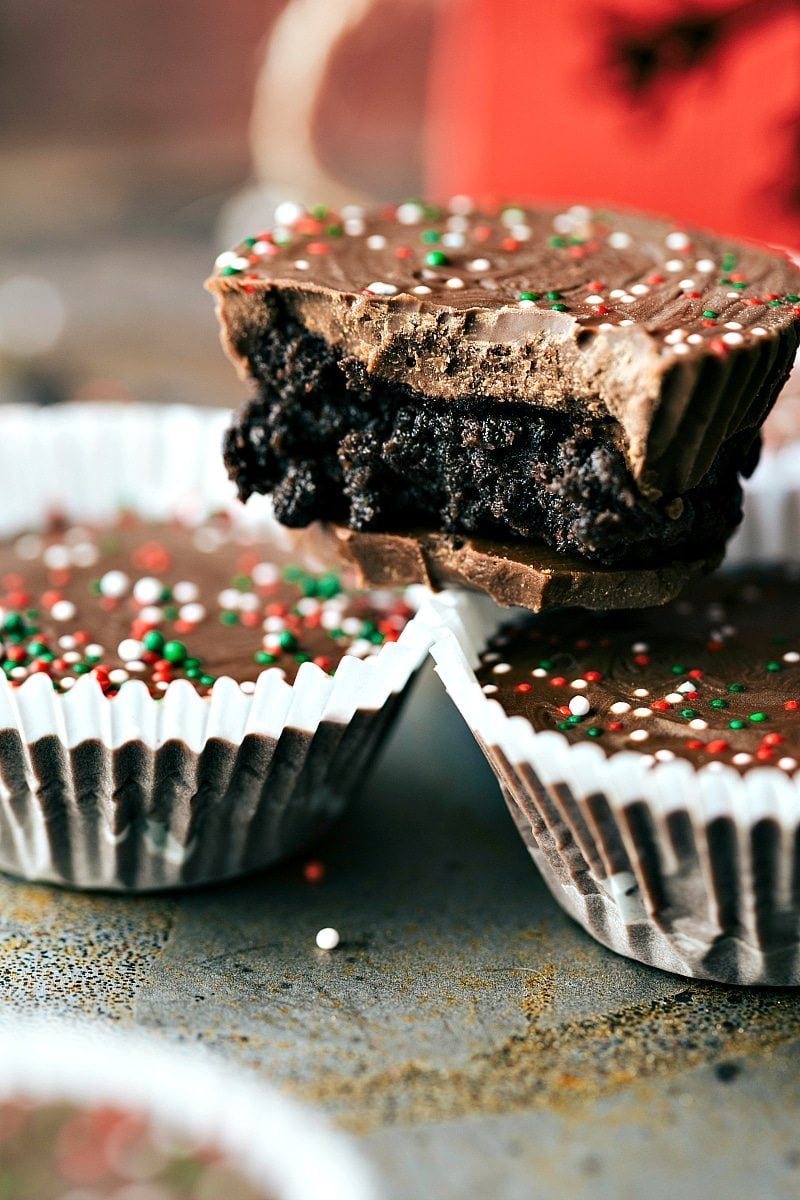 These treats started out like an oreo truffle. Oreo crumbs + cream cheese. But then changed them up a bit. I changed them to a fun Christmas treat that tastes like a thick "thin" mint. So first, you process your oreos up all nice and fine. Then process up some candy canes. MIX. Then stir in a lil bit of softened cream cheese. Roll up some little balls and flatten them a bit. Done and done! Then you want to melt your Andes baking chips. I put 1/2 cup of baking chips in the microwave at a time. Microwave for 30 seconds, stir for 30 seconds, back in the microwave for 10-15 seconds (if needed.)
In a mini-muffin tin lined with mini paper muffin cups, you pour just a bit of the chocolate in, push the flattened oreo & peppermint ball (that should be about the width of the muffin cup to make sure the oreo filling is throughout all of the chocolate) into that chocolate and cover with a bit more chocolate. Voila! Let harden before eating! And instead of tasting like the traditional oreo truffle, I think these candies taste similar to thin mints. The husband took one bite and said the same thing!
Now I said in the title I have 2 ways for you to make these. Yup, except I kind of have 3 ways.
The first is just like I described. Chocolate + Oreo/Peppermint ball + more chocolate. Done. The next is using white chocolate instead of the Andes Mint Chocolate. You prepare it pretty much the same except you melt 1/2 cup of white chocolate chips with 1 tsp. vegetable oil and then put white chocolate-oreo/peppermint ball-white chocolate. Done.
The third idea is to dress up either of the chocolate or white chocolate cups. That is done by drizzling melted white or the mint chocolate and peppermint crumbs atop the cups. This just makes them all pretty-like if you want to be the star of a Christmas dessert party. Because trust me, these will make you famous!
And another thing you'll want to trust me on? If you don't want to eat each and every peppermint oreo cup, you are going to have to take these to a party! Especially if you are home studying anatomy with just you and these thin mint oreo cups…things get a little bit dangerous!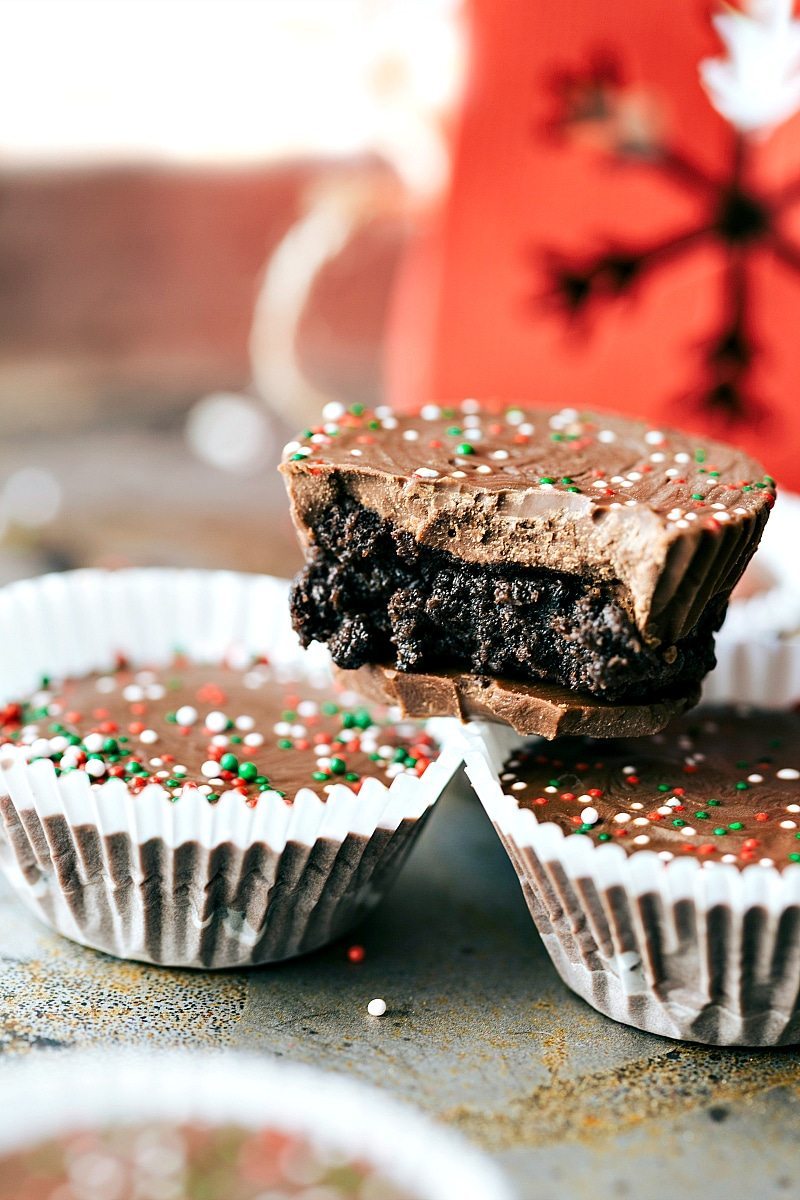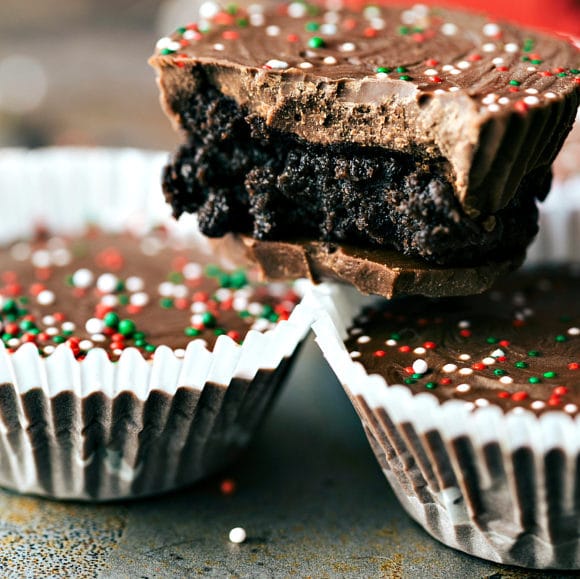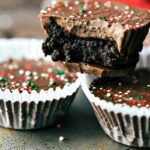 Thin Mint Oreo Cups - 2 Ways!
Ingredients
16-18

regular oreos

4

ounces

cream cheese

softened

1

bag

Andes Creme De Menthe Baking Chips

Optional: sprinkles, 3 regular sized candy canes
For a white chocolate cup variation:
1/2

cup

white chocolate chips

1

teaspoon

vegetable oil
Instructions
Line a mini muffin tin with mini muffin cups. Set aside.

No need to separate the oreos - you'll use the cookie and the creme.

In a blender or food processor, process the oreos (start with 16 and pulse 2 extra if the mixture is too wet) until you get a fine crumb consistency. Pour into a bowl.

In the blender or food processor, unwrap and process the candy canes until you get a fine sugar consistency. Add in with the oreo crumbs and mix. The candy cane addition is totally optional and for a super pepperminty flavor 🙂

Add in the softened cream cheese and mix until a thick and wet dough has been created. This takes a bit of patience. Just keep stirring, you'll get there! (I recommend using hand mixers.)

Pinch off little balls of the dough and roll into small circles. You should have about 22 circles total. Flatten the circles to be the width of the mini muffin cup.

In a small microwave-safe bowl, melt 1/2 cup of Andes chocolate chips for 30 seconds. Remove from the microwave and stir for 30 seconds and then return for 15 more seconds if they aren't all the way melted.

Pour enough chocolate to barely coat the bottom of the muffin cup. Press the oreo-peppermint dough into the chocolate.

Pour more chocolate to cover the oreo-peppermint dough completely. If desired add some Christmas sprinkles.

Let harden before eating.
White Chocolate Thin Mint Cups
If you want to do white chocolate ones, use the same instructions except melt 1/2 cup of white chocolate chips with 1 tsp vegetable oil at a time. 1/2 cup of white chocolate will make about 6 candy cups, so you will want to adjust accordingly if you want to use all of the oreo dough for white chocolate cups.
Recipe Notes
Store in an airtight container in the fridge if not enjoying within a few hours. After refrigerating, let them sit out for a bit before enjoying because the chilling does make the chocolate super hard.
More Christmas Treats: