One of the best summer appetizers channeled into a delicious and filling meal: balsamic marinated chicken topped with bruschetta and fresh avocado. This bruschetta chicken is fresh, flavorful, and made with good-for-you ingredients!
Pair this bruschetta chicken with a delicious fruit salad, roasted vegetables, or a caprese salad.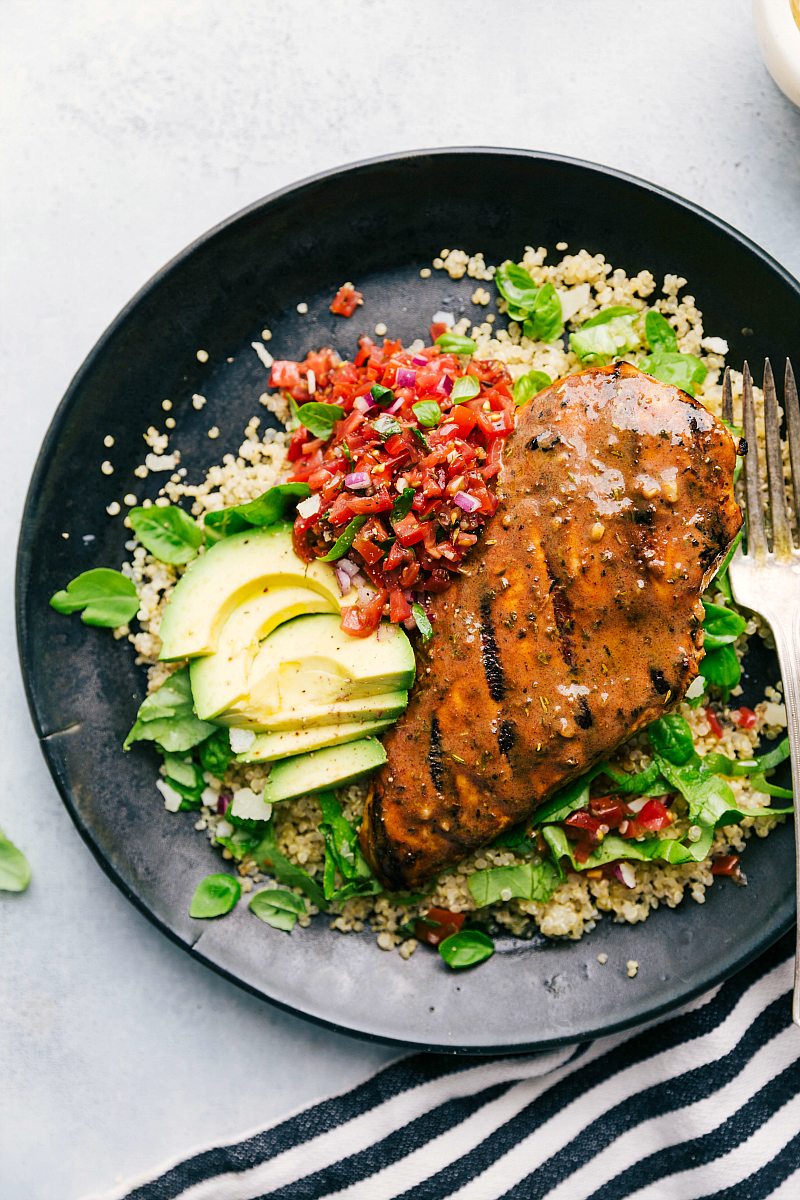 I'm so excited to be partnering up with Kroger this year to bring you delicious recipes like this Bruschetta Chicken! This post is brought to you in partnership with Kroger, as always, all opinions are my own.
Bruschetta Chicken
Cherry tomatoes are hands-down the favorite veggie in our house. So anytime I make a dish exploding with tomatoes, it almost always becomes a family favorite. And this bruschetta chicken dish is no exception! It's definitely going to be a staple meal this Spring/Summer in our house!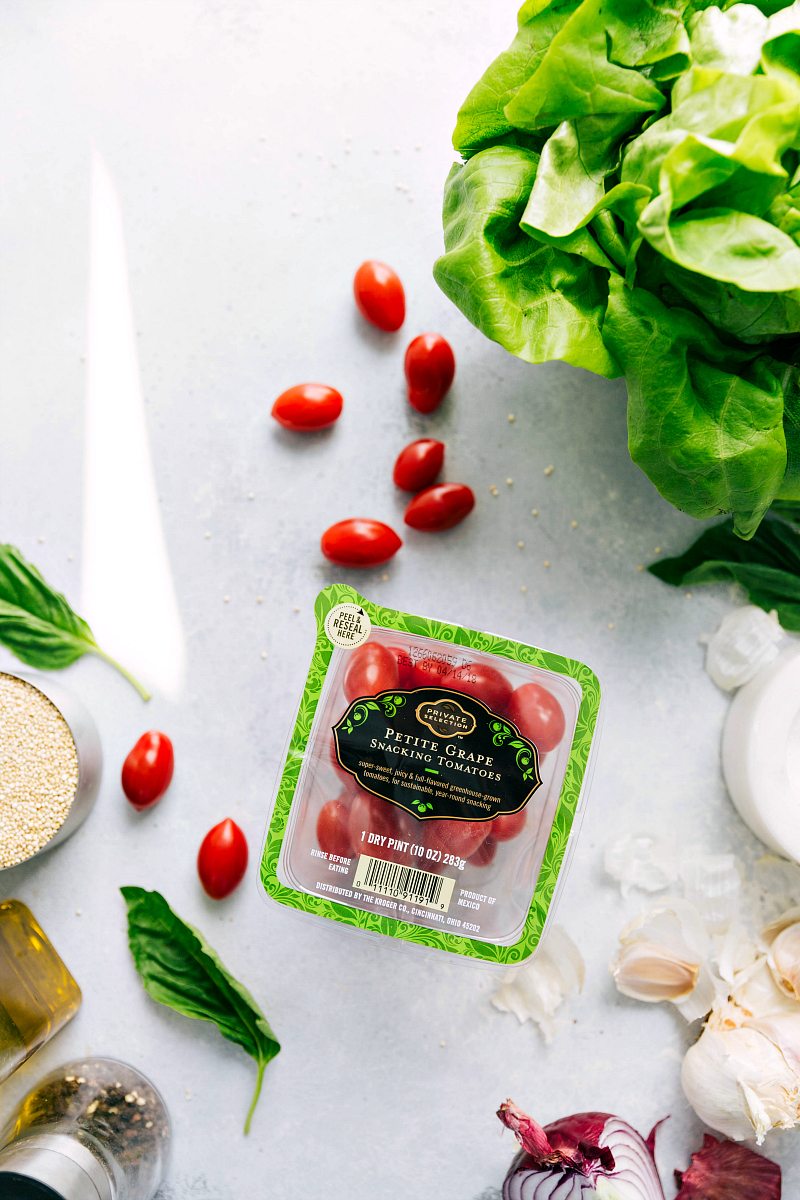 Shopping for this bruschetta chicken recipe
I know I've shared this a lot, but I'm a HUGE fan of Kroger's online Clicklist. With two boys that have more energy than a nuclear power plant, shopping in a store with them can be a challenge. But Kroger has solved this problem for me. I can sit at my computer (in my jammies, of course) when the kids are asleep and get my grocery shopping done in 15 minutes or less. (I tell my husband it takes 30 minutes so I can shop for clothes too…) It's quicker, easier, and requires less planning on my part – i.e. not needing to return to the same aisle 10 times in 1 shopping trip because I forgot different ingredients.
I also love using Clicklist when I'm following an online weekly plan (I use it every single time I make these 3 meals from 1 rotisserie chicken) AND I feel like I'm always saving money because the coupons are right beside any product that is currently on sale. Score!
And now that we're heading into warmer weather and getting ready to grill every night of the week (…. just me?) it's great to order groceries from the comfort of my back deck and stay outside soaking up good weather as long as possible!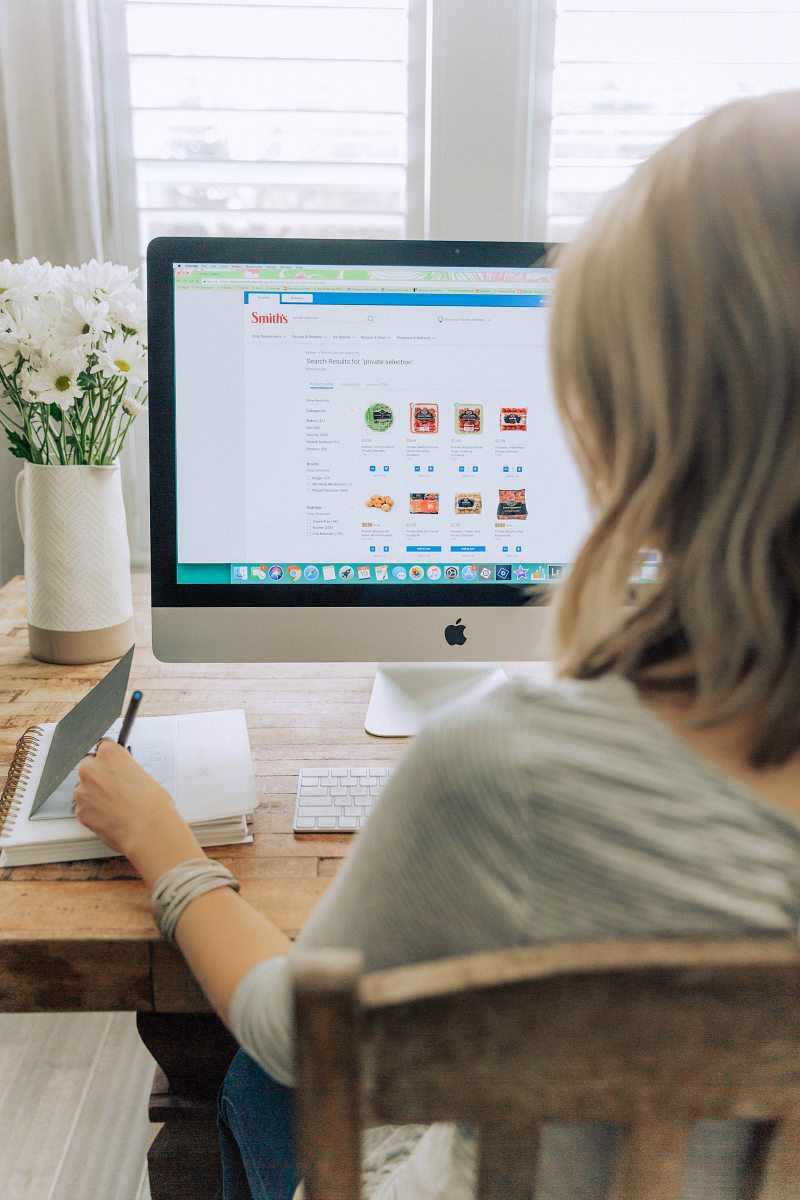 So, now that we've got ingredients; what exactly is "bruschetta chicken?"
Bruschetta is a classic antipasto (appetizer) originating from Italy that consists of grilled bread, and is topped with ripe tomatoes, fresh basil, garlic, and olive oil. There are other ways to top bruschetta (including with beans, cheese, meat, etc.) but this tomato-basil variation is my favorite! With this recipe we're swapping out the grilled bread for grilled chicken, and adding this delicious tomato-basil topping.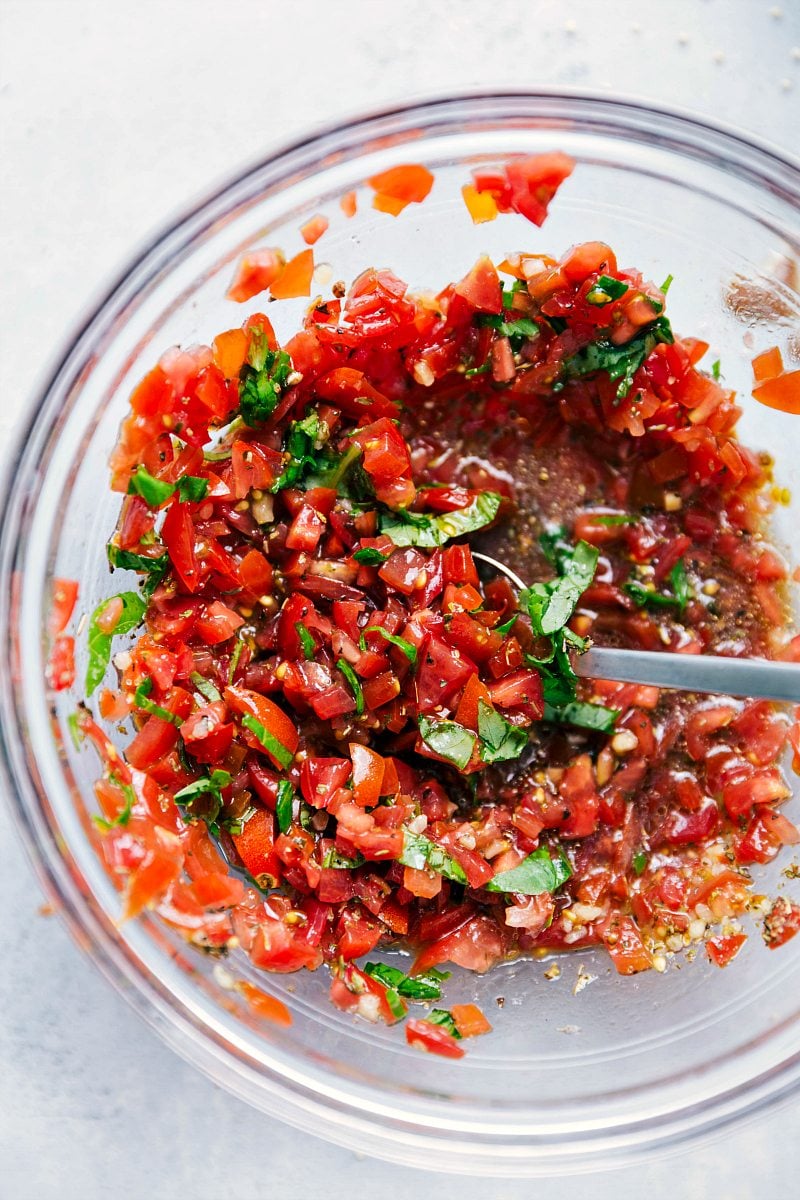 Here's the flow for helping this bruschetta chicken come together quickly and efficiently:
Start with the chicken marinade:

The chicken marinade will be used

3 times

in this dish:

First

, a portion will be used to marinade the chicken.

Second

, a portion will be used to baste the chicken (which helps keep it moist and flavorful).

Third

, you'll use a few tablespoons to brush the finished chicken with, giving it one last burst of flavor. This chicken marinade is simple, but packs a huge punch of flavor! The ingredients include balsamic vinegar (of course), olive oil, dijon mustard, fresh lemon juice, and some seasonings (including salt and pepper). The ingredients get whisked together and divided into 3 parts. I like to make the marinade in the morning and get the chicken marinating for a few hours. I then come back later in the day to cook the chicken and prepare the rest of the dish.

Next, toss together the bruschetta mixture. For best results, let the mixture sit for

10-15 minutes to allow the flavors to meld, marinate, and intensify

together. I recommend making this bruschetta mixture and letting it stand at room temperature while you prepare the quinoa for this meal. You'll then

use the juices that have accumulated in the bruschetta bowl to add some flavor to the quinoa

.

Finally, let's prepare

the base of this meal:

quinoa, chopped lettuce, and basil. I love adding Kroger's Private Selection fresh lettuce to add some extra color and nutrition to the meal. Add in some fresh basil and an avocado and you've got plenty of green and fresh flavors to perfectly finish off this dish! Here's a few final things to note:

You can easily use rice, or a different grain in place of quinoa. I like to cook whatever grain I'm using in chicken stock (or broth) to infuse it with more flavor.

While the quinoa is cooking, I like to grill the chicken and finish off the remaining parts of this dish: slice the avocado and prep the ingredients you'll toss in the finished quinoa.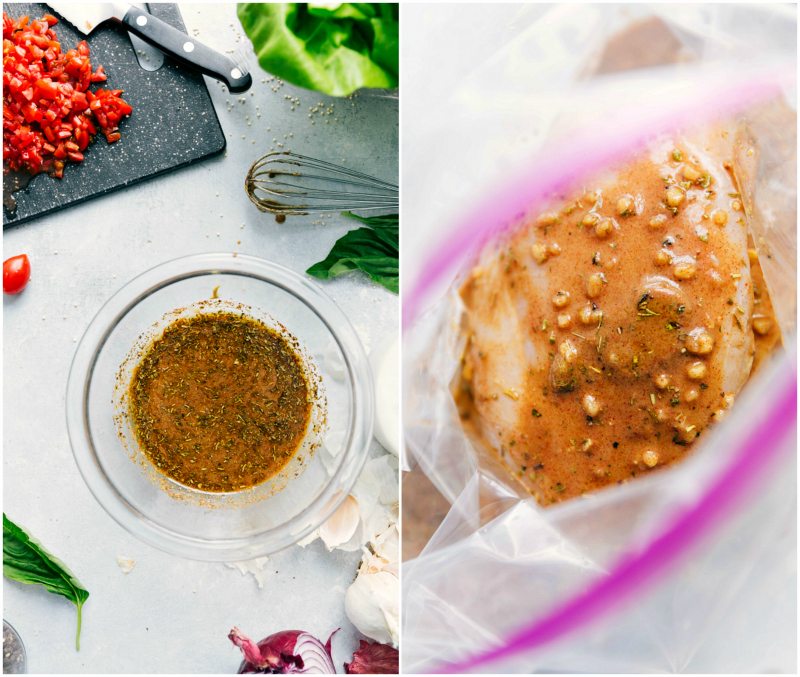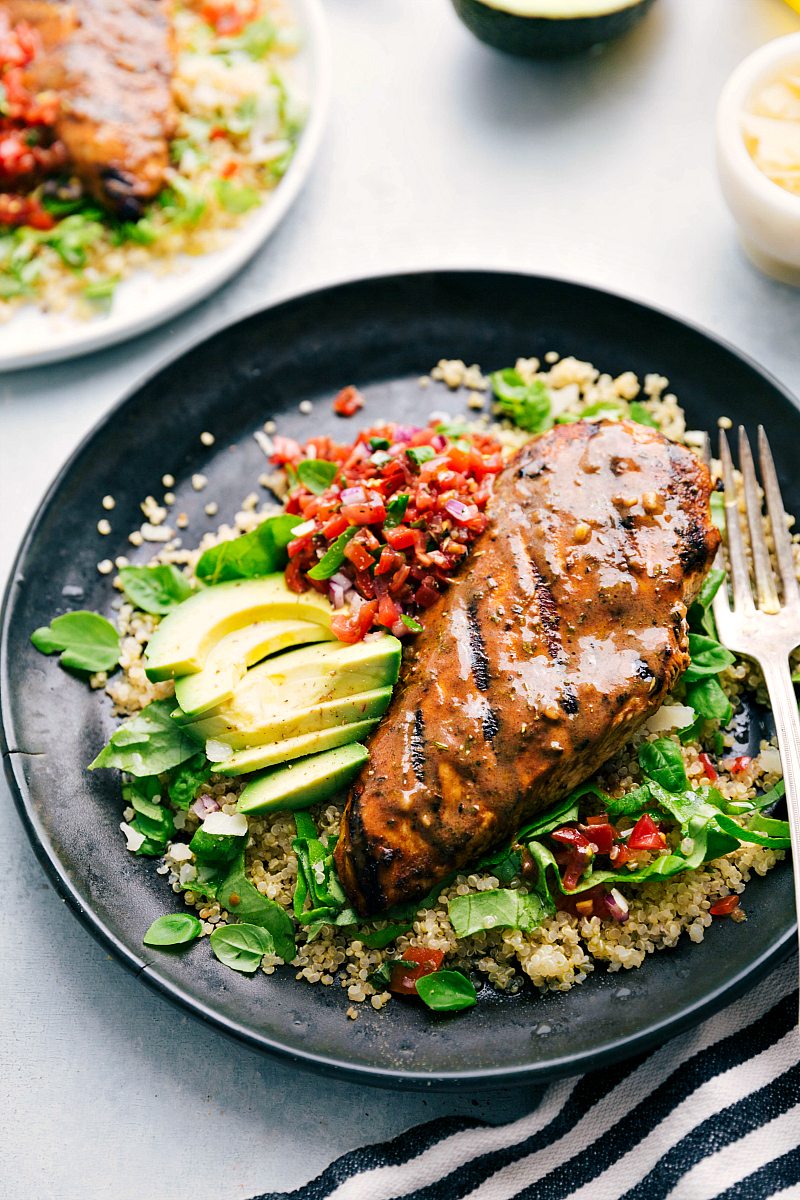 More Grilled Chicken Recipes:
A lot of the ingredients overlap in this bruschetta chicken recipe but I've written them out twice for clearer reading 🙂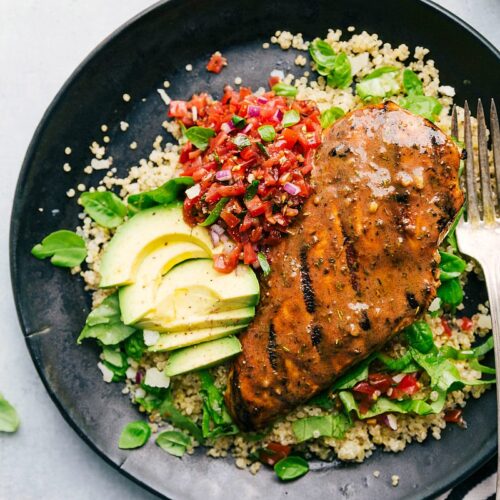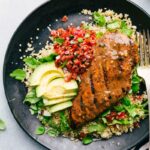 Bruschetta Chicken
One of the best summer appetizers channeled into a delicious and filling meal: balsamic marinated chicken topped with bruschetta topping and fresh avocado
Keyword:
bruschetta chicken
Ingredients
Chicken
2

large (~1.5 pounds)

Simple Truth Chicken Breasts,

sliced in half and pounded to even thickness

2

tablespoons

Dijon mustard

2

tablespoons

good quality balsamic vinegar

1

large lemon

(3 tablespoons juice)

2

cloves

garlic,

minced

1

teaspoon

paprika

1 and 1/2

teaspoons

Italian Seasoning

1

tablespoon

olive oil

Fine sea salt and freshly cracked pepper
Quinoa/Plates
1

cup

quinoa

2

cups

chicken stock or broth

1/2

cup

Private Selection Lettuce, 1 large avocado, parmesan cheese, additional fresh basil (optional)
"Bruschetta" Topping
1 and 1/4

cups

Private Selection Cherry Tomatoes,

chopped very fine (almost makes a paste)

1

clove

garlic,

minced

2

tablespoons

red onion,

minced

2

tablespoons

basil,

finely diced

1 and 1/2

tablespoons

olive oil

1

tablespoon

balsamic vinegar
Instructions
Chicken Marinade
Slice the chicken breasts in half widthwise and pound to even thickness to get 4 even pieces of chicken. Set aside in a large ziplock bag. In a medium-sized bowl, whisk together the Dijon mustard, balsamic vinegar, lemon juice, minced garlic, paprika, Italian seasoning, olive oil, and salt + pepper. Add salt and pepper to personal preference; I add 1/2 teaspoon salt and 1/4 teaspoon pepper. Whisk until ingredients are combined and then remove 1/3 cup of this mixture and set aside in the fridge.

Pour the remaining mixture over the prepared chicken breasts. Seal the bag, knead the chicken to coat in the marinade, and place in the fridge. Let chicken marinate for at least 30 minutes, up to 4 hours. (I don't recommend marinating it too much longer as the acid in the mixture starts to dry out or "cook" the chicken.)

Make sure your grill grates are clean and greased. To grease, dredge a paper towel in vegetable oil and holding it with tongs, rub it all over the grate. Preheat the grill to medium heat about 375-450 degrees F. Don't go hotter than 450 to avoid drying out the chicken. Grill the chicken until completely cooked through (about 4-6 minutes per side depending on heat of the grill) Chicken should be at 165 degrees F at its thickest part. Remove 2 tablespoons from the reserved 1/3 cup marinade. Generously brush chicken with the reserved marinade mix as it grills. Reserve those last 2 tablespoons for the finished chicken.
Plates/Toppings
For the "Bruschetta" Topping: In a medium sized bowl, add the finely chopped tomatoes, garlic, red onion, basil, vinegar, olive oil, and balsamic vinegar. Add salt and pepper to taste and toss until combined. Mix thoroughly and let sit for 10-15 minutes at room temperature to let the flavors marinate while you prepare the quinoa and grill the chicken.

Prepare the quinoa according to package directions using the chicken stock or broth in place of the water. Add salt and pepper to taste. Fluff the quinoa and set aside to slightly cool. Meanwhile, finely ribbon the lettuce and then toss with the warmed quinoa. By this time, liquid will have accumulated in the bruschetta mixture. Drain this liquid off over the quinoa and toss with the quinoa.
Assemble
Divide the quinoa mixture evenly among four plates. Add one piece of grilled chicken to each plate and drizzle on the last remaining 2 tablespoons marinade evenly among each piece. Divide the bruschetta mixture evenly among each plate. Thinly slice or chop the avocado and add equal parts to each plate. Add parmesan cheese and, if desired, additional basil to each plate. Enjoy!

Recipe Video