The best carrot cake recipe you'll try – incredibly moist and perfectly spiced with a delicious cream cheese frosting. The cake is coated in (optional) candied pecans giving it an extra delicious (and pretty) touch!
Love carrot cake? Check out some of my other carrot cake recipes such as this Carrot Cake Cookie recipe, this Carrot Pumpkin Cake recipe, or these Carrot Cake Cupcakes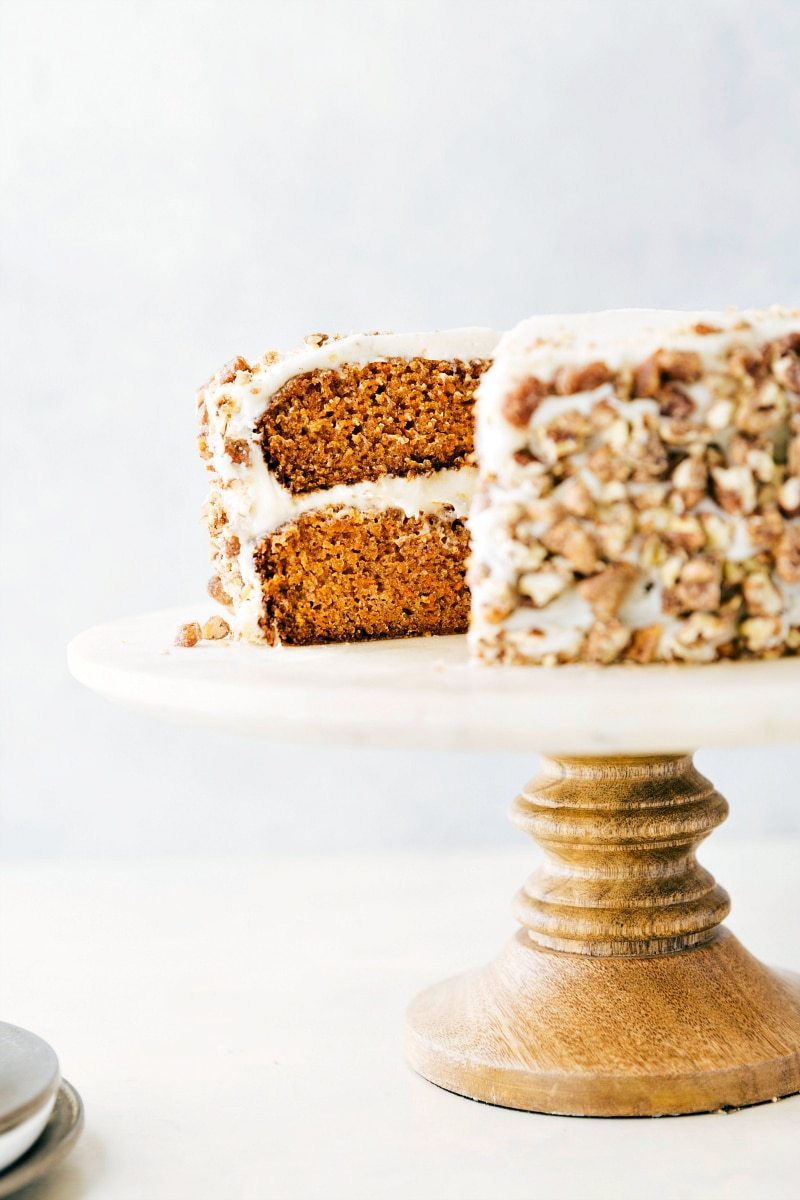 Carrot Cake
My toddler is OBSESSED with cake. It's easily his favorite dessert and while he doesn't have a big sweet tooth (he has no problem turning down candy) he inhales this cake.
His little friend celebrated her birthday last weekend and he was most excited about eating a piece of her cake. He even had a few meltdowns at the party waiting to eat the cake. But when he finally got it, all was right in the world. That is, until his piece was gone and he wanted another one…
The next day he told me it was his birthday. When I told him it actually wasn't, he whined, "why it not my birthday?!" And, "but it IS my birthday." And my personal favorite, laced with betrayal and mumbled through hysterical tears (?), "Why you forget my birthday is today mom?!"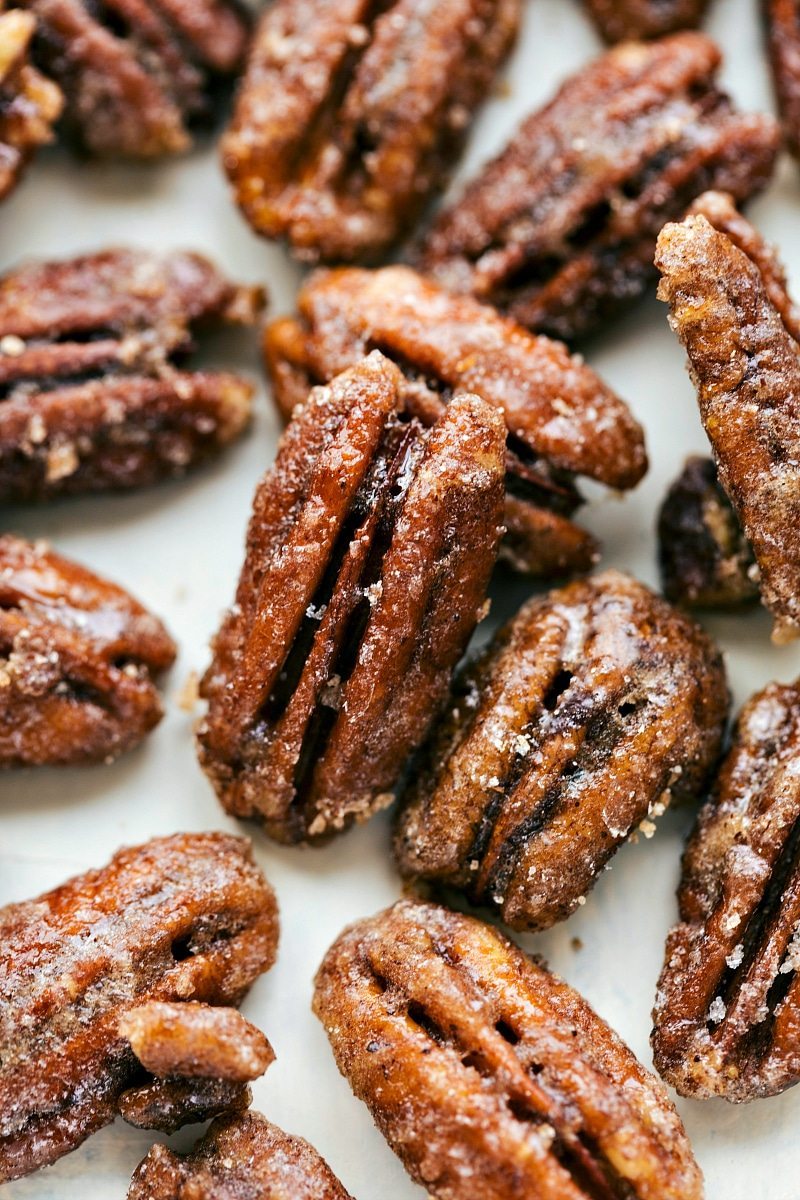 When I finally convinced him I didn't forget his birthday I suggested we make a cake together which he was thrilled about. He helped me make it, and as soon as I gave him his mini cake on a plate, he asked me for candles on top…and that's when I realized I'd never actually convinced him it wasn't his birthday.
That and his following statement, "Thank you for my birthday cake mom."
Well, you win some and you lose some. ??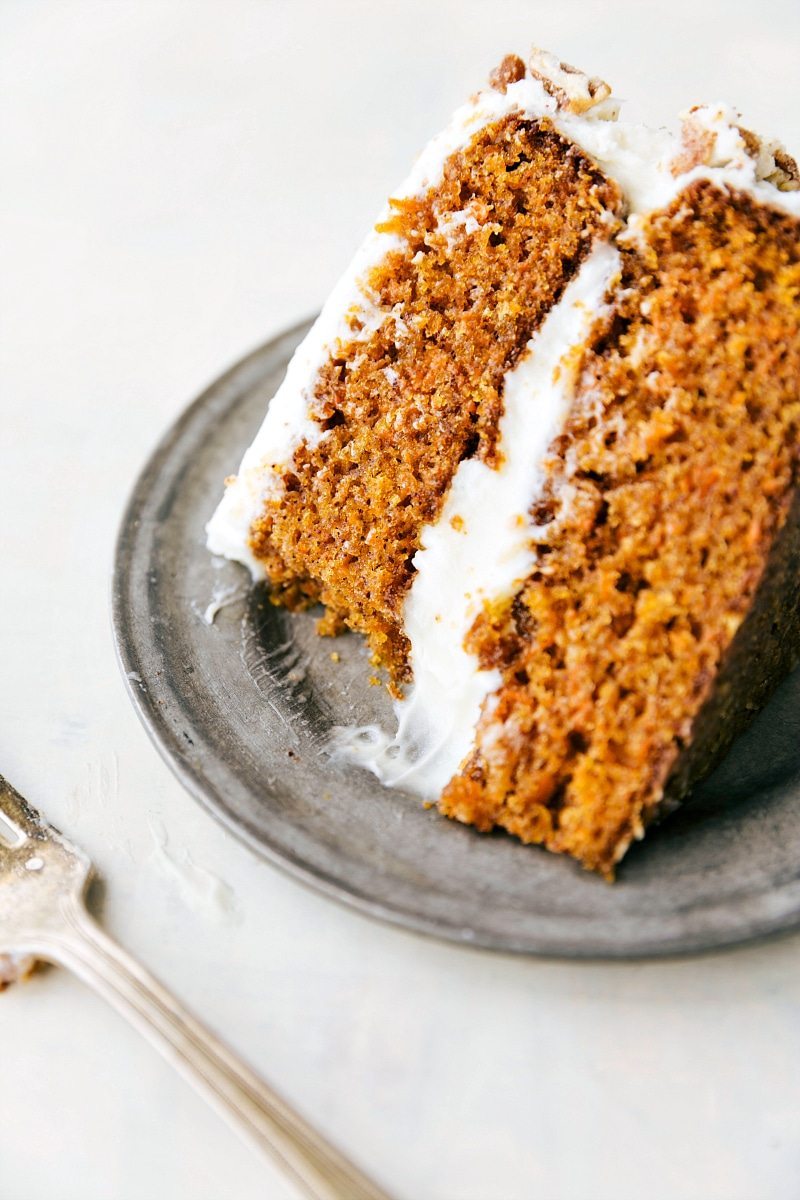 This carrot cake is absolutely delicious – moist and flavorful with a yummy frosting. It is sincerely the best carrot cake I've ever tasted. My husband doesn't like carrot cakes, but he'll eat and enjoy this cake – that's how good it is!
How Do You Make A Delicious Carrot Cake?
The trick here is make the cake as moist as possible, while using a high-quality frosting. Do those 2 things, and you'll be well on your way to a delicious carrot cake!
I also include candied pecans in this recipe to put around the outsides of the cake. This is purely inspired from my obsession with candied pecans. I always have candied pecans on hand to throw on salads and I thought it would add a fun touch to this cake. Not only did it add a fun touch in the appearance, but it is seriously SO good. It adds an amazing finishing touch to this cake as well as a fun sweetness.
See my recipe below for a complete list of directions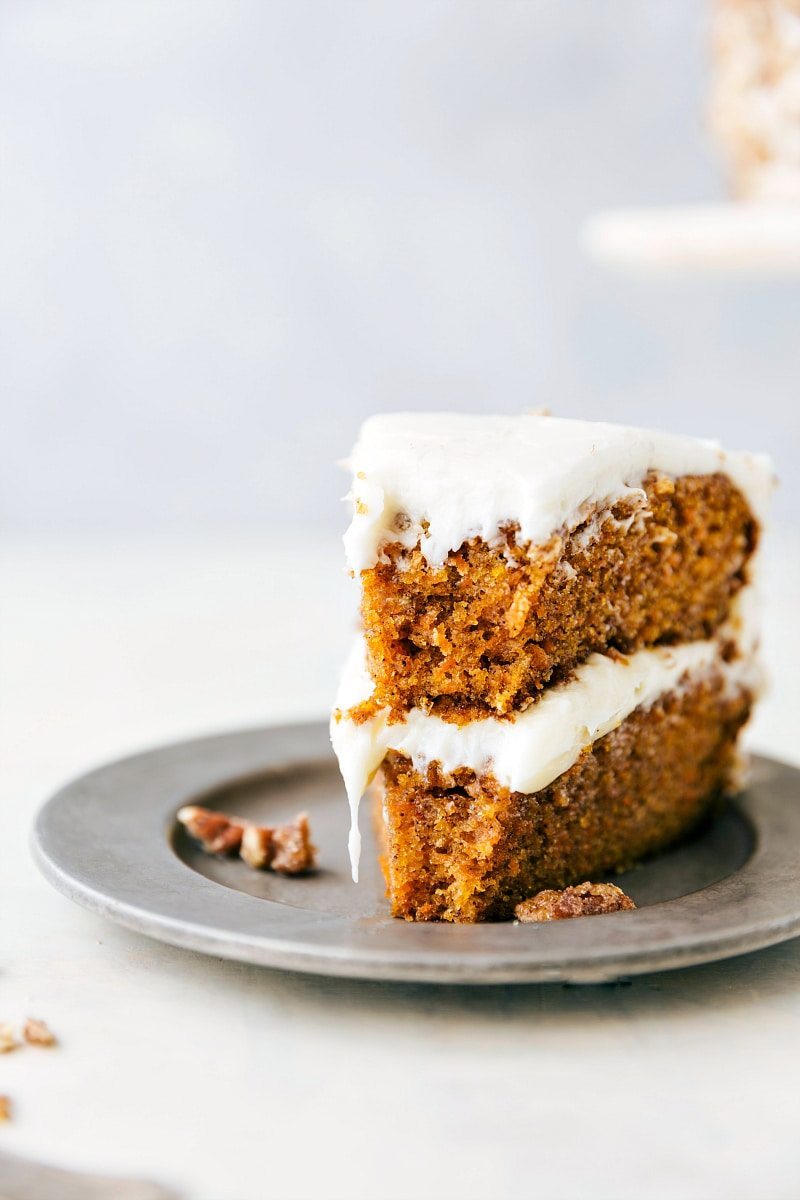 I hope you enjoy this delicious carrot cake recipe as much as my family and I do. Enjoy!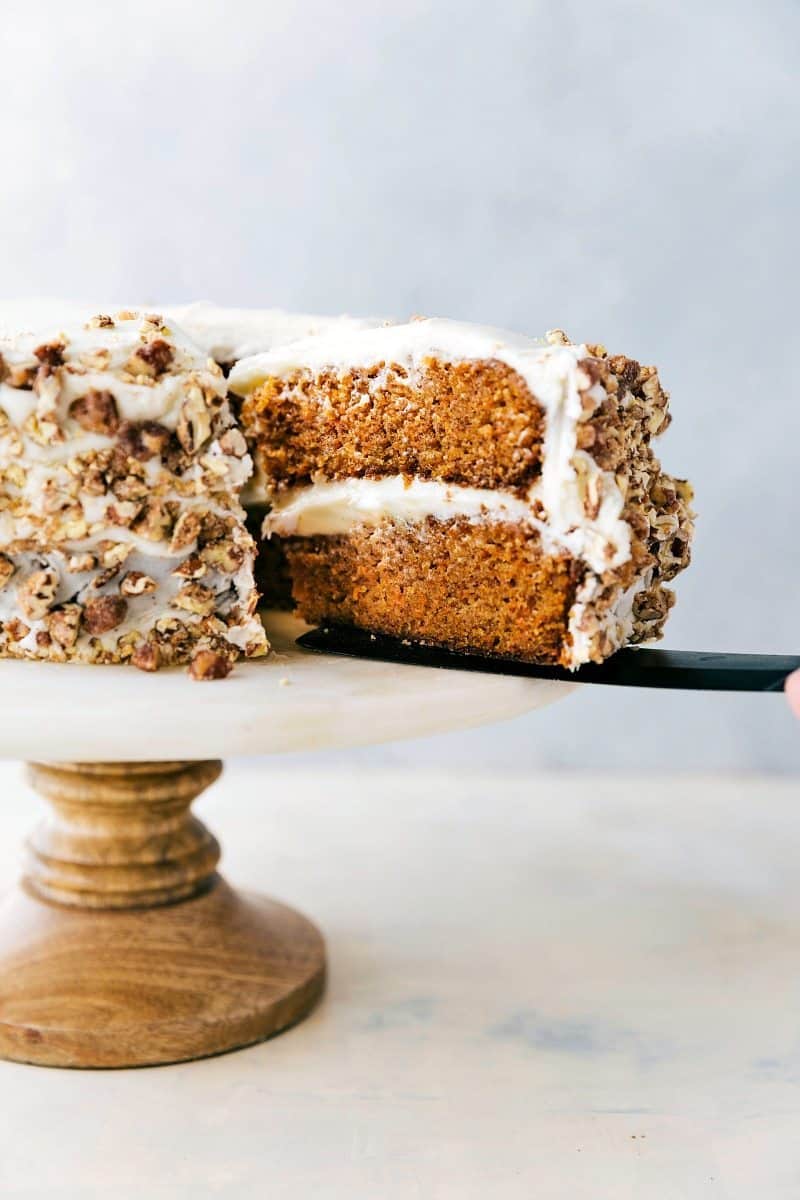 Other Delicious Cake Recipes To Try: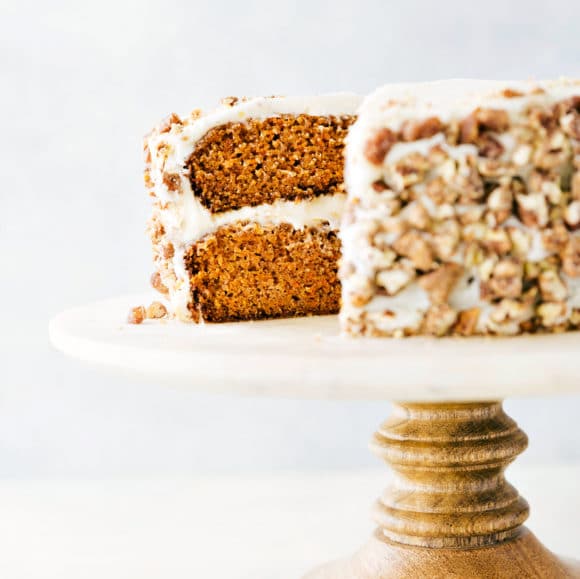 Carrot Cake
The best carrot cake recipe you'll try - incredibly moist and perfectly spiced with a delicious cream cheese frosting. The cake is coated in (optional) candied pecans giving it an extra delicious (and pretty) touch!
Ingredients
Dry Ingredients
2

cups

all purpose flour,

spooned and leveled

2

teaspoons

baking soda

1

teaspoon

salt

1 and 1/2

teaspoons

ground cinnamon

1/4

teaspoon

ground nutmeg

1/8

teaspoon

ground ginger

1/8

teaspoon

ground cloves
Wet Ingredients
1

cup

vegetable oil

1/4

cup

regular applesauce

(sweetened)

1 and 1/2

cups

light brown sugar

1/2

cup

white sugar

3/4

tablespoon

vanilla extract

4

large

eggs

(organic recommended for flavor)

3

cup

grated carrots
Frosting
2

packages (8 ounces EACH)

full-fat cream cheese,

at room temperature, do not melt

1/2

cup

unsalted butter

at room temperature, do not melt

1

teaspoon

vanilla extract

4-5

cups

powdered sugar

Optional: 1-2 tablespoons heavy cream
Candied Pecans
1

large

egg whites,

discard or save the yolk for another recipe

1

teaspoon

water

1/2

teaspoon

vanilla extract

1/2

cup

white sugar

1/2

teaspoon

salt

1/2

teaspoon

ground cinnamon

2

cups

pecan halves*
Instructions
Cake
Start by pre-heating the oven to 350 degrees F. Grab 2 9-inch round pans and generously spray with cooking spray and dust generously with flour. (Take your time preparing the pans so the cake doesn't stick) Set aside.

In a large bowl, sift together (don't skip the sifting!!) all of the dry ingredients starting with the flour (important to spoon and measure the flour so you don't end up with too much), baking soda, salt, cinnamon, nutmeg, ginger, and cloves. Whisk together and set aside.

Grab another large bowl and mix the oil, applesauce, brown sugar, white sugar, and vanilla with a large whisk until completely combined. Add in the eggs, 1 at a time, mixing after each addition.

Peel and then grate the carrots on the small side of a grater to get very fine pieces of carrots. Shred the carrots carefully. Measure to ensure you have 3 cups. Stir into the wet ingredients.

Add the dry ingredients in 3 parts to the wet ingredients mixing after each addition until they are *just* incorporated (do not over-mix to avoid a denser/tougher cake.)

Separate the mixture evenly among the prepared pans and bake for 27-35 minutes or until a toothpick, when inserted into the center, comes out clean. Remove and allow to cool for 5-7 minutes before inverting the cakes onto a cooling rack for them to finish cooling.
Candied Pecans
Meanwhile, prepare the pecans. Lower the oven temperature to 250 degrees F and line a large sheet pan with parchment paper or a silpat liner.

In a mixing bowl, whip together the egg whites, water, and vanilla until frothy. In a separate bowl, mix together sugar, salt, and cinnamon.

Add pecans to egg whites, stir to coat the nuts evenly. Remove the nuts, and toss them in the sugar mixture until coated. Spread the nuts out on the prepared baking sheet.

Bake for 45 minutes to 1 hour, stirring and tossing every 15 minutes. Remove the nuts and spread them on a sheet of parchment paper. Allow them to cool completely and harden and then finely chop the candied pecans.

Frosting
Meanwhile, prepare the frosting. In a large bowl fitted to a stand mixer, add in the cream cheese and butter. Make sure both are at room temperature and not at all melted or softened.

Beat the two until completely smooth. Add in the vanilla extract and a generous pinch of salt (if desired). Beat until smooth.

Add in the powdered sugar, 1 cup at a time until you've added 3 and 1/2 cups. Remove 1/4 of the frosting now to go into the center of the cake. Add the remaining 1/2 to 1 and 1/2 cups of frosting until you have a good frosting consistency. If needed add in the heavy cream. The frosting won't be as firm as a buttercream, but firm enough to frost the cake.

To decorate: place a little frosting on the bottom of a cake pan (just to hold the bottom cake in place) and top with 1 completely cooled cake. Add the reserved 1/4 of the frosting into the center and smooth it.

Top the frosting with the other cake.

Use the remaining frosting to generously frost the cake. If the frosting is too soft, either refrigerated it or add an additional 1/2 cup powdered sugar. (You will likely have a bit of extra frosting, so don't feel like you need to use it all on the cake).

Once the cake is frosted, decorate the sides with the chopped candied pecans. Add a few to the top if desired.
Recipe Notes
*We like pecans just on the outside of the cake, but if you want nuts in the cake, feel free to add 1 cup to the batter.
I've personally tried quite a few carrot cake recipes over the years which has shaped the creation of my own carrot cake recipe. Here are a couple that stand out to me: this one and this one