These perfectly festive and wintery white chocolate cranberry cookies are soft and chewy with slightly crispy edges. These cookies can be made in ONE bowl with one wooden spoon; no hand or stand mixer needed!
Try some of our other favorite cookies next: oatmeal cookies, toffee chocolate chip cookies, or Mexican wedding cookies.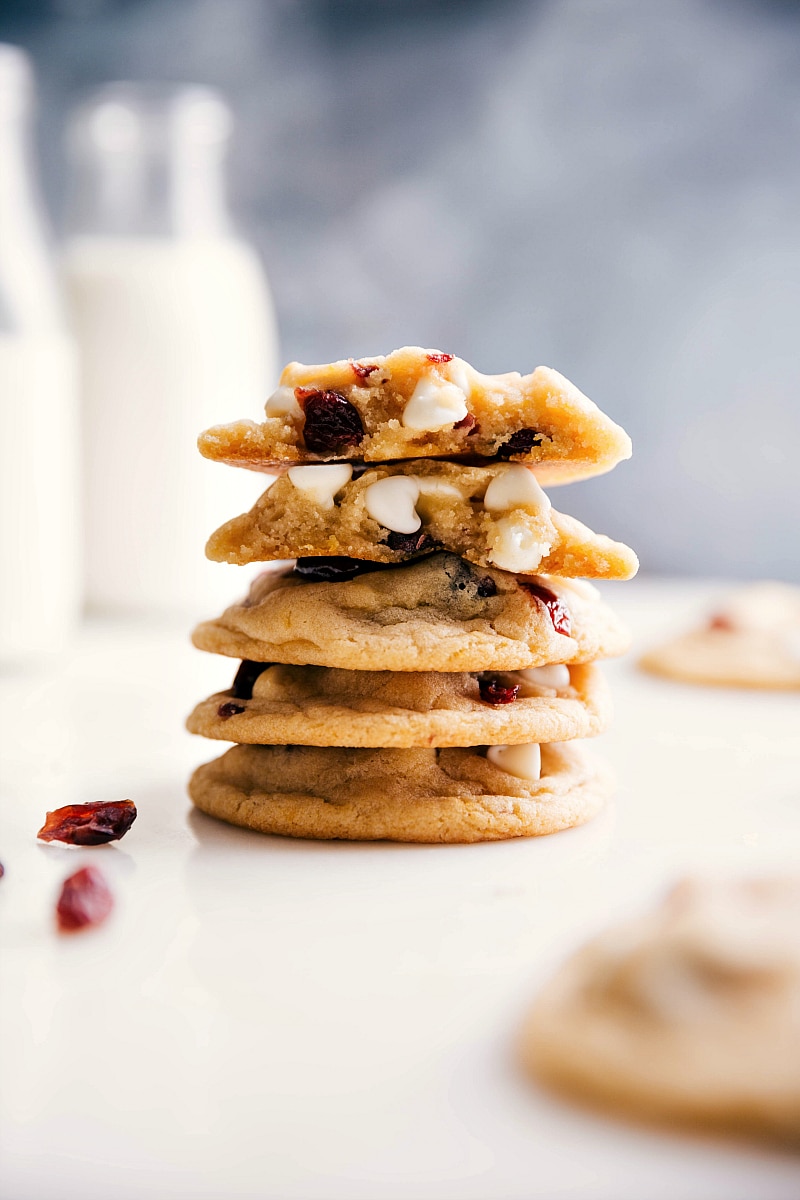 Since I'm a through and through foodie, the first thought I have when thinking about Christmas traditions is COOKIES. The boys and I make cookies almost every day in December; it's one of our favorite things to do.
I also usually host some kind of cookie exchange and of course, practically eat my weight in cookies. All in the name of Christmas traditions, of course 🙂
These cookies are a new winter favorite and added to our Christmas tradition baking list; they're packed with white chocolate and chopped up dried cranberries. These cookies are super soft, chewy, & gooey in the center with slight crisp edges. They're buttery, sugary, and ever so slightly flavored with vanilla and almond.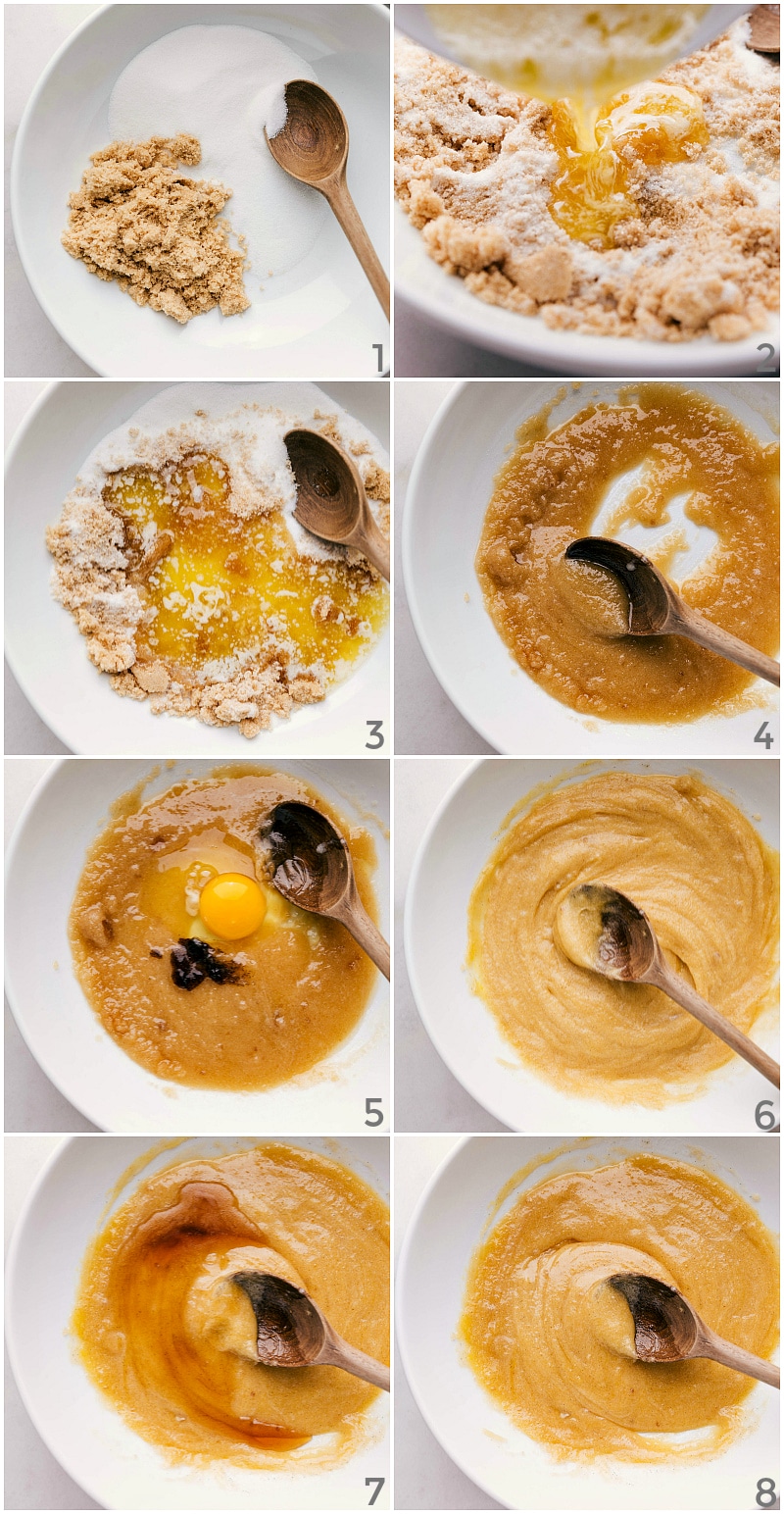 How to make white chocolate cranberry cookies
The picture collage above has numbers that correlate with the description below:
Combine sugars: light brown and white granulated
Pour in butter: the most important thing to note here: make sure your butter has cooled 100% to room temperature. Hot melted butter will melt your sugars and cause greasy cookies.
Stir together butter and sugars: just using a wooden spoon! No fancy mixers needed here.
Take your time mixing until you've got the three ingredients fully incorporated
Add in the egg, vanilla, and almond extract. Make sure the egg is at room temperature — it will combine with the ingredients better.
Mix until smooth and combined.
Add in the "secret" ingredient for super soft, chewy, & sweet cookies: agave nectar. Trust me, it's a game changer!
Mix until smooth. (And then not pictured; we add in the baking agents, salt, and cornstarch (another "secret" ingredient for soft cookies.) Mix and then add in the flour). After that (pictured below) add in the white chocolate chips and chopped cranberries)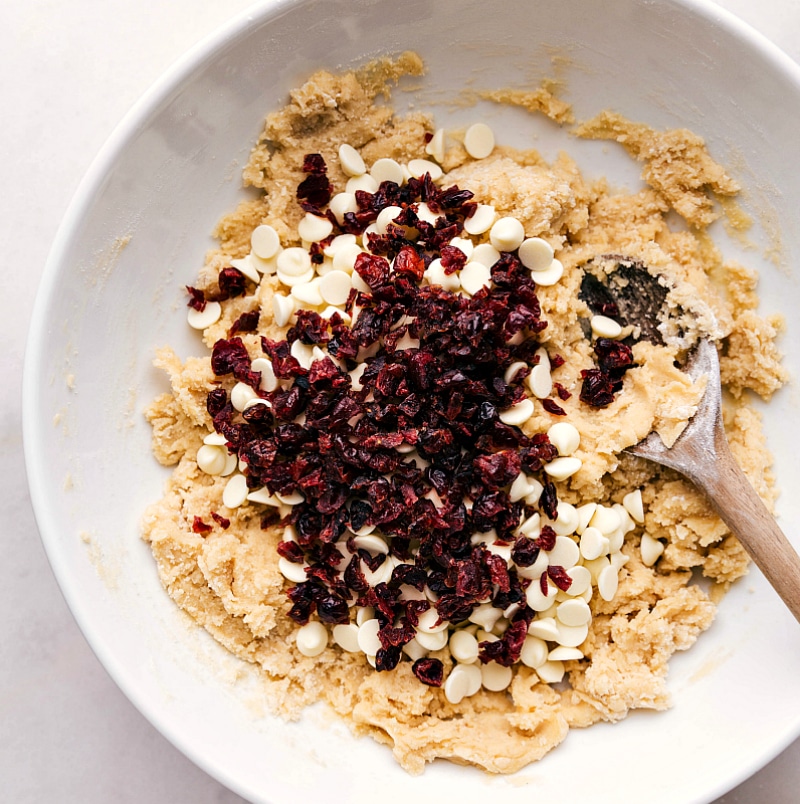 Top cookie tips
Measure carefully: the most important measurement is the flour. If you press a measuring cup into a bag of flour you are likely packing in way too much flour which will yield cake-y and less flavorful cookies. Spoon the flour into a measuring cup and level the top with the back of a butter knife. See a visual of this here. Even better? Weigh your ingredients on a food scale!
Chill the dough: since we melted the butter, the dough needs time to chill allowing for the butter to re-solidify. Otherwise, these cookies spread into a pancake! The chilling time also gives a chance for the flavors and textures to meld together and intensify.
Big cookie dough balls make softer and chewier cookies than smaller ones. Again, a food scale comes in handy here; I weigh the balls to be 1.7 ounces in size.
Don't over bake: remove the cookies as soon as the edges turn a light brown and the top center is pale (and not shiny). As the cookies cool and firm up, the center will be soft and chewy.
Use a silpat liner (or parchment paper) and a light colored sheet pan: these two things make a huge difference for evenly baked cookies (and not dark/over baked bottoms)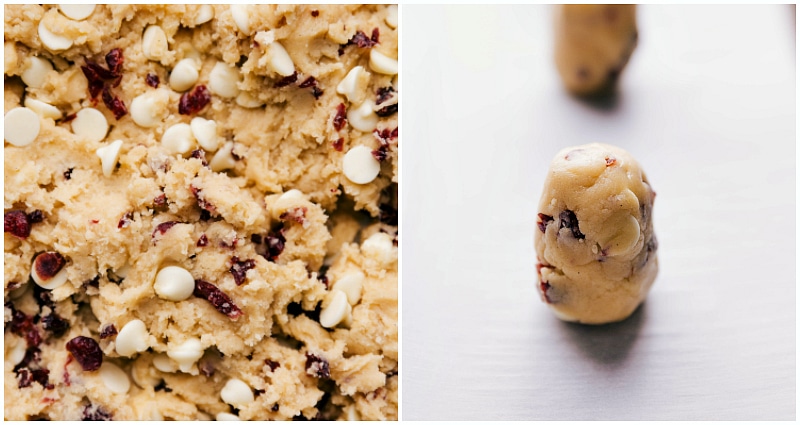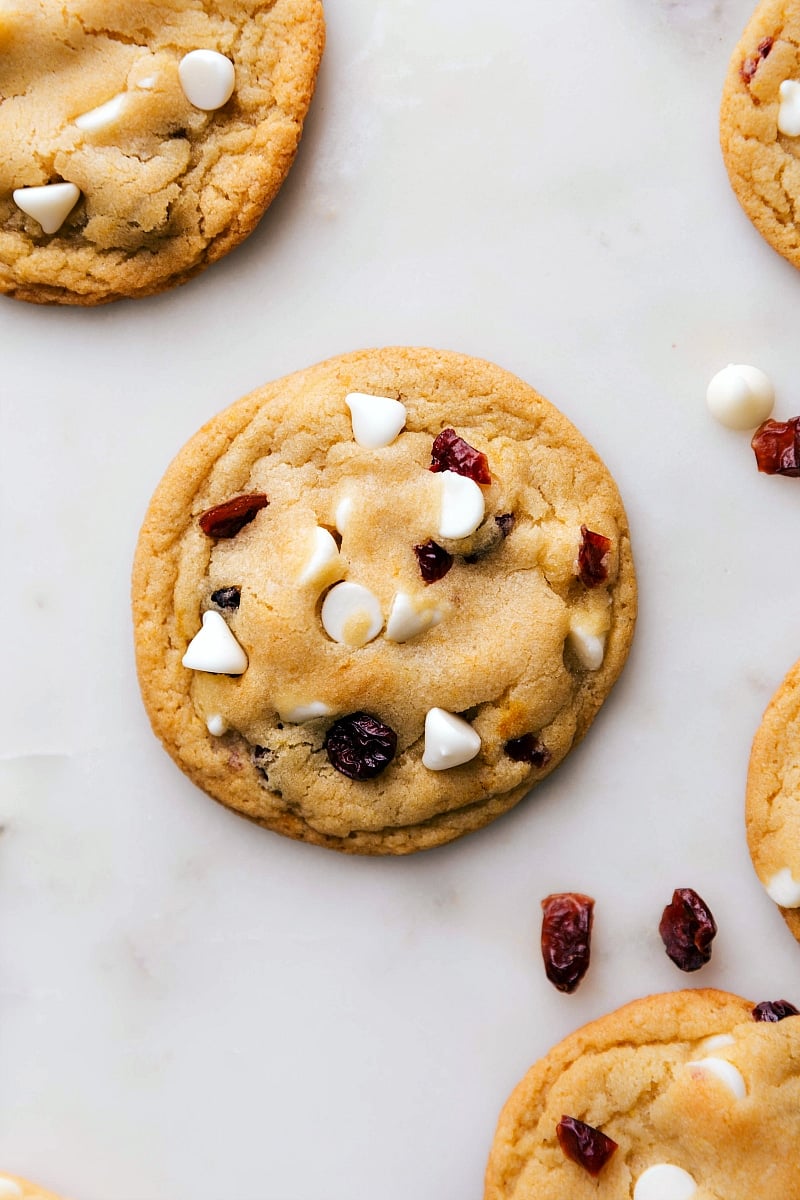 Instead of freezing already baked cookies, try freezing the dough! Roll the cookie dough balls and then place on a large sheet pan and freeze until solid. Once solid, transfer the frozen cookie dough balls into an airtight container/bag and freeze for up to 3 months. (Don't forget to label the bag or container!)
To bake: you can bake straight from the freezer; just add 1-3 minutes onto the cooking time. (OR thaw the dough in the fridge and bake according to directions.)
More amazing cookie recipes: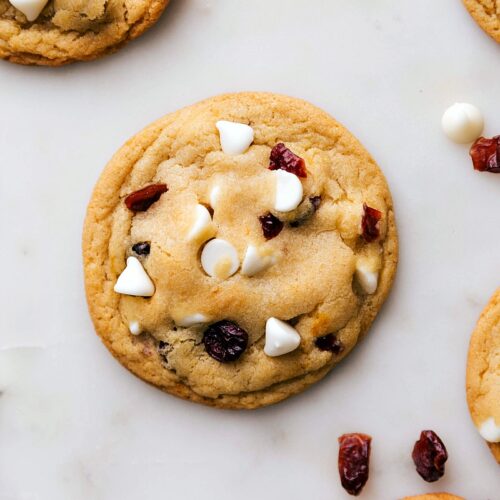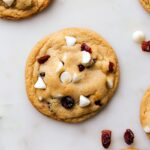 White Chocolate Cranberry Cookies
These perfectly festive and wintery white chocolate cranberry cookies are soft and chewy with slightly crispy edges. These cookies can be made in ONE bowl with one wooden spoon; no hand or stand mixer needed!
Keyword:
white chocolate cranberry cookies
Servings
:
16
large cookies
Ingredients
8

tablespoons (113g)

unsalted butter

1/2

cup (102g)

light brown sugar

packed Note 1

1/3

cup (96g)

white sugar

1

large

egg,

at room temperature

1/2

tablespoon

pure vanilla extract

1/8

teaspoon

pure almond extract,

optional

2

tablespoons

agave nectar

Note 2

2

teaspoons

cornstarch

1/2

teaspoon

baking soda

1/2

teaspoon

baking powder

3/4

teaspoon

sea salt

(reduce if using table salt OR if sensitive to salt)

1 and 3/4

cups (224g)

white all-purpose flour

Note 3

1

cup (150g)

good quality white chocolate chips,

separated

1/2

cup (57g)

chopped dried cranberries (crasins)
Instructions
BUTTER: In a microwave-safe bowl, melt the butter. Once melted, stick it in the fridge for 5 minutes. It's important the butter isn't hot when you add in the sugars or it will melt the sugar and make the cookies greasy.

WET INGREDIENTS: Once butter is cooled to room temperature, stir in the light brown sugar and white sugar. Stir until smooth. Stir in the egg, vanilla extract and almond extract (if desired; not necessary to the cookies, but adds a slight almond flavor; leave out if you don't want that!). Stir until smooth. Add in the agave nectar, stir until smooth.

DRY INGREDIENTS: Add in the cornstarch, baking soda, baking powder, and salt. Again, stir until smooth. Add in the correctly measured (Note 3) flour and mix until JUST combined. Don't over mix.

COOKIE ADDITIONS: Gently stir in 3/4 cup of white chocolate chips AND the chopped cranberries. Stir until combined.

CHILL: Cover the bowl tightly and chill for 1 hour.

BAKE: Preheat the oven to 350 degrees F. Line a pan with parchment paper or use a nonstick silpat liner. If you have a light colored sheet pan, use that over a dark one!

ROLL BALLS: Roll balls of dough into tall cylindrical balls (see picture above for shape and size). Place 6-8 cookie balls on a sheet to give the cookies plenty of room to spread. (Dough balls should be about 1.7 ounces if you have a food scale; this dough should make 15-17 cookies.) If the dough gets warm by being at room temperature or through the rolling process, pop the balls into the fridge again for 10-20 minutes or until firm.

BAKE: Bake for 8-12 minutes erring on the side of under-baking which keeps them soft and chewy (We like ours right at 9-10 minutes)! Remember the cookies will bake a little more out of the oven, so take them out as soon as the edges start to lightly brown.

FINISHING: Remove from the oven and press the remaining 1/4 cup chocolate chips into the tops of the cookies (ensures even placement of chocolate AND makes them look pretty!). Allow to cool on the baking tray for 5 minutes before transferring them to a cooling rack to let them finish cooling.

STORAGE: We like these cookies best on day 1 and 2 of being made. They do last up to 1 week, but they do begin to lose texture and flavor. To store: place in an airtight container and keep at room temperature. Wait until cookies are completely cooled before adding to the container.
Recipe Notes
Note 1: if using dark brown sugar, these cookies do spread a bit more, become flatter, and are a little less "pretty"
Note 2: agave nectar is the "secret" ingredient that makes these cookies AMAZING. You can use pure maple syrup in its place. Agave nectar has become a widely popular ingredient and can be found in most grocery stores. You can generally find it with other sweeteners (like brown and white sugar) or in the natural foods section.
Note 3: spoon the flour into a measuring cup and level the top with the back of a butter knife OR weigh the flour on a food scale for an accurate measurement.