Soft, chewy, and flavorful coconut oatmeal cookies are a fun twist on traditional oatmeal chocolate chip cookies. This version adds in flaked sweetened coconut and uses dark brown sugar for an ultra rich flavor.
We're obsessed with these coconut oatmeal cookies! Some other favorites: chewy chocolate chip cookies, snickerdoodles, and white chocolate macadamia nut cookies.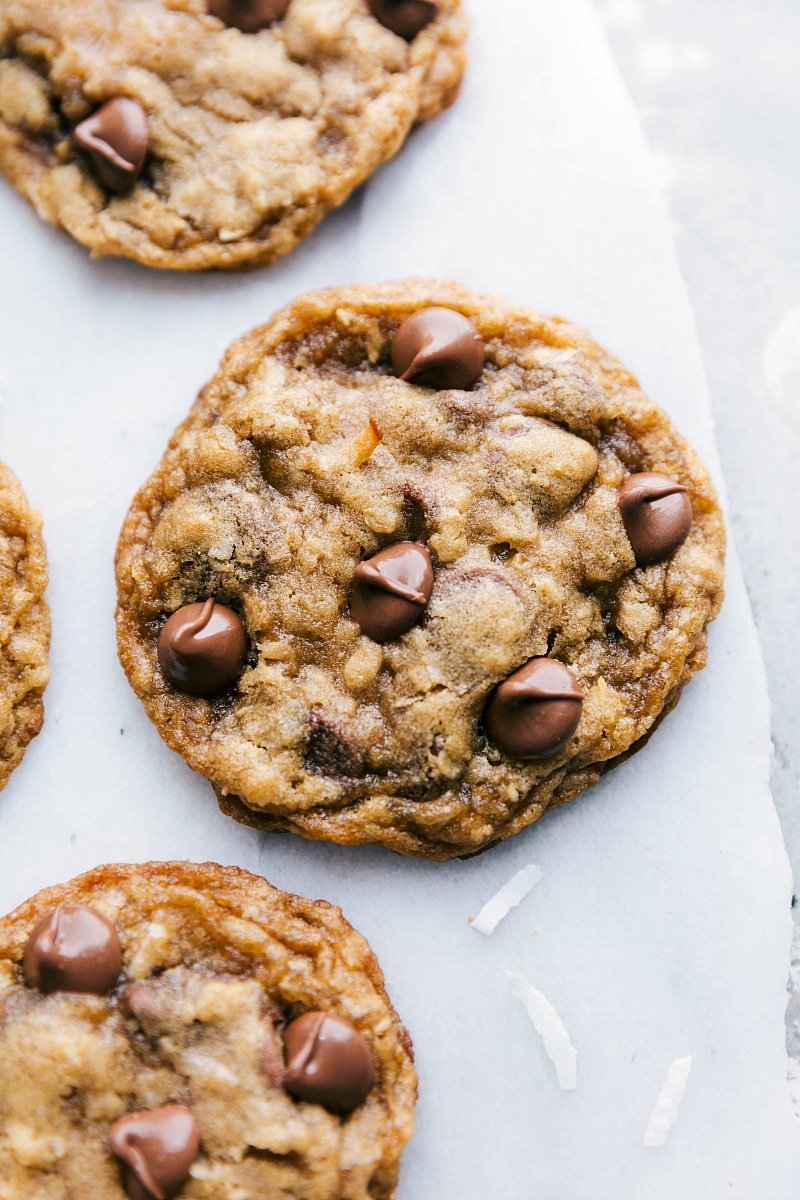 Coconut is one of my favorite ingredients to add into recipes — sweet (coconut thumbprint cookies) OR savory (coconut curry chicken) so it's about time I add it into my favorite cookie recipe. I love plain oatmeal cookies a ridiculous amount, but the coconut in these cookies takes them over the top!
While the coconut addition is subtle, it adds a great texture and subtle sweetness. With melty chocolate, a rich brown sugar flavor, crisp edges, and chewy centers — these cookies might be my new favorite!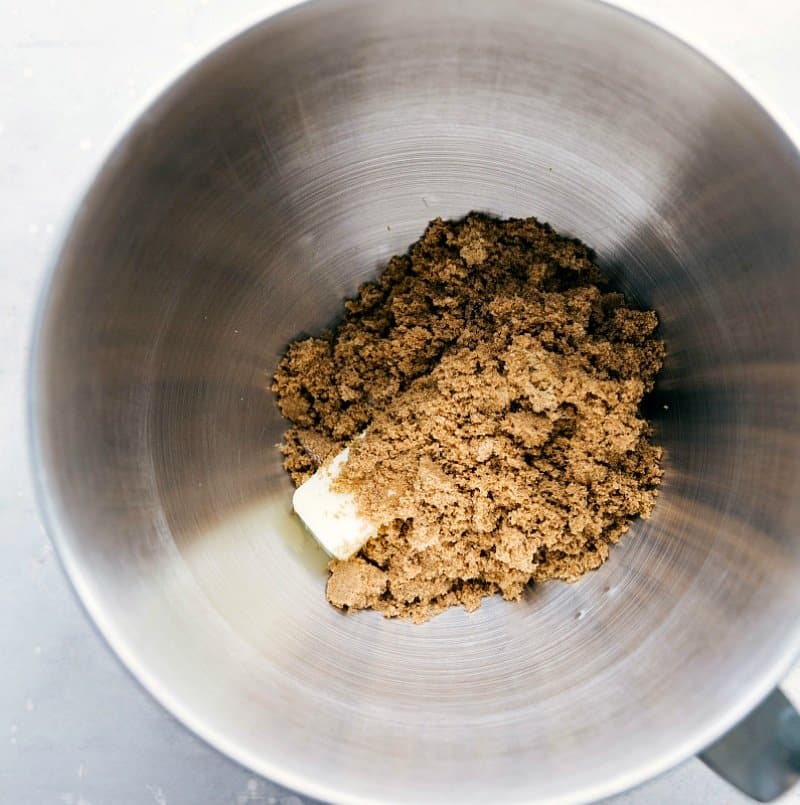 Let's start by talking about some of the ingredients in these cookies.
Coconut oatmeal cookies ingredients
Dark brown sugar gives these cookies an incredible depth of flavor. While light brown sugar will work, I highly recommend dark brown sugar.
Unsalted butter helps to perfectly control the amount of salt in these cookies. We do add salt to the batter, but with unsalted butter you'll know exactly how much salt will be in the dough.

If you're a salt lover, hit these up with a sprinkle of Maldon sea salt flakes after baking!
IF using table salt, you'll want to reduce the overall salt in these cookies. I use (kosher) fine sea salt.

Old fashioned oats: it's important to use old fashioned instead of quick or steel cut oats — each type of oat reacts differently in baked recipes.
Shredded sweetened coconut: you don't want coconut flakes or desiccated coconut (here are the differences).
Baking soda: see if yours is fresh by using this quick test!

Tips for coconut oatmeal cookies
Precise measuring: Too much flour will give you dense cake-like cookies. Spoon the flour into the measuring cup and level it off with the flat edge of a butter knife. IF you have a food scale, use it! That's how you'll get the most precise measurement 🙂
Slightly under-bake: This ensures the soft and chewy texture we all love! Over-baked coconut oatmeal cookies lose their delicious chewy texture and become less flavorful
Don't overmix: If you overmix the batter, the cookies will become denser and less soft and chewy. This is because the gluten in the flour becomes activated.
Bake on a silpat liner: I've tested these cookies on parchment paper and with a silpat liner, and prefer the cookies baked on the liner. The bottoms always end up the best! If you don't have a liner, parchment paper is still better than nothing.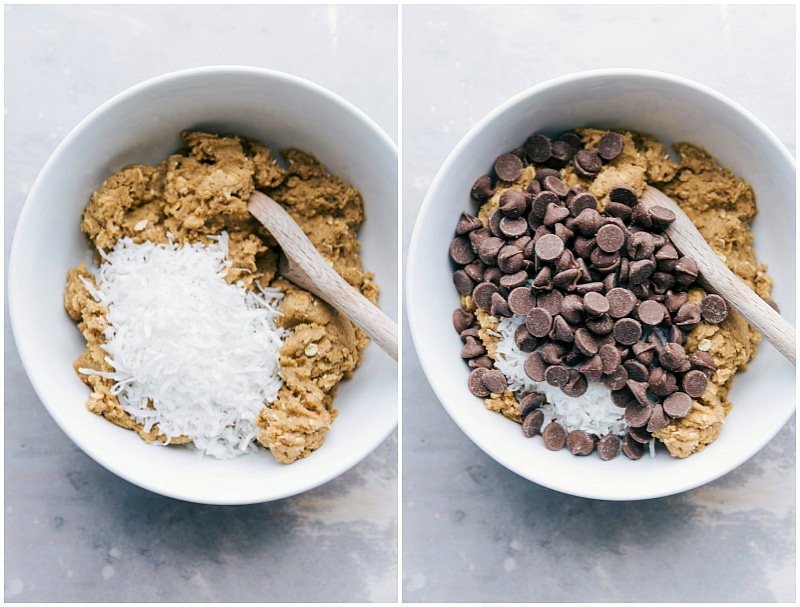 Can I use quick oats in these cookies?
I don't recommend quick oats for this recipe. Quick oats are so little that they act like additional flour instead of oats. This will make the cookies much drier and cake-like which is not what we're going for with these coconut oatmeal cookies 🙂 We want a bit more texture which old fashioned oats provide.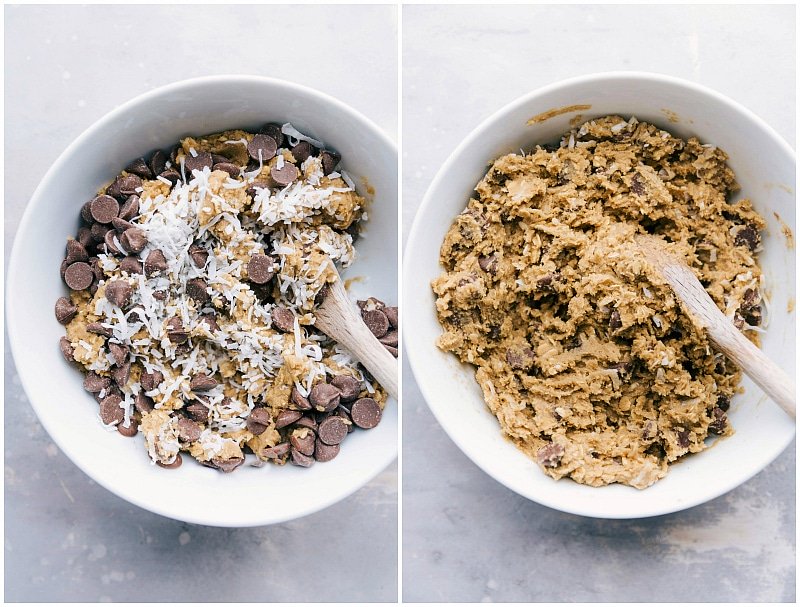 Making oatmeal cookies pretty
I like to press additional chocolate chips on top of the cookies right out of the oven. While this is (of course) completely optional, it make the cookies beautiful AND ensures you're getting chocolate in every single bite!
What chocolate chips to use
Use good quality chocolate chips for the best possible flavor. I highly recommend Ghirardelli or Guittard chocolate chips. The flavor you get is up to you — any and all work in these cookies (white, semi-sweet, milk, dark, or bittersweet). My family's personal preference is milk chocolate, but semi-sweet would be our next choice.
You can switch out chips for raisins or nuts! To add in raisins, make sure to soak them first in hot water for about 10 minutes. Drain and dry THOROUGHLY before adding into the cookie dough. To add in nuts make sure to coarsely chop them first. I'd recommend pecans. (I do have an oatmeal pecan cookies recipe already on the site if you'd prefer to reference that recipe).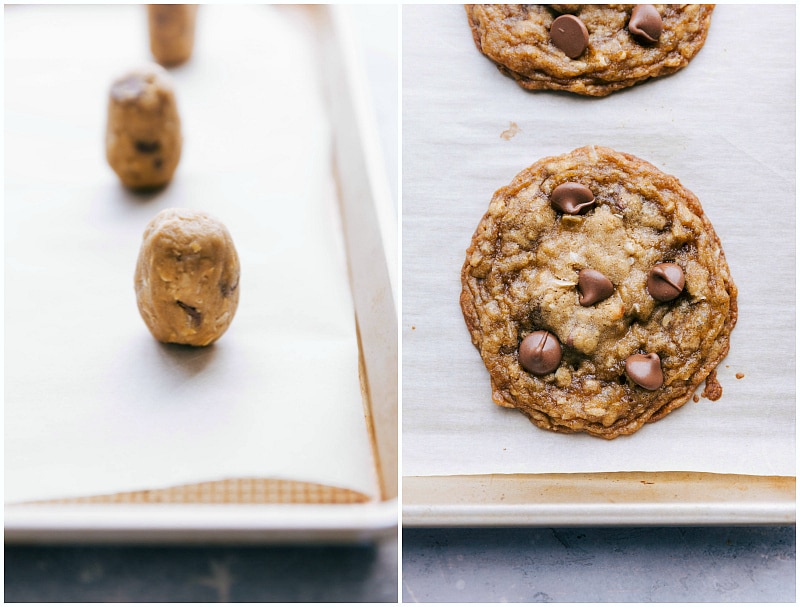 Freezing coconut oatmeal cookies
To freeze baked cookies: place completely cooled cookies on a baking sheet and freeze until solid. Then place the cookies in freezer bags or plastic tupperware containers layering parchment paper in between each row of cookie. Freeze for up to 3 months. Note there is a slight loss of texture with freezing already baked cookies.
To freeze unbaked cookies: place shaped cookie dough balls on a baking sheet and freeze until solid. Place frozen cookie dough balls in a freezer bag or plastic tupperware container. When ready to bake, you don't have to thaw the cookie dough. Simply place the frozen dough onto a baking sheet and bake for 2-3 minutes longer than the recipe indicates.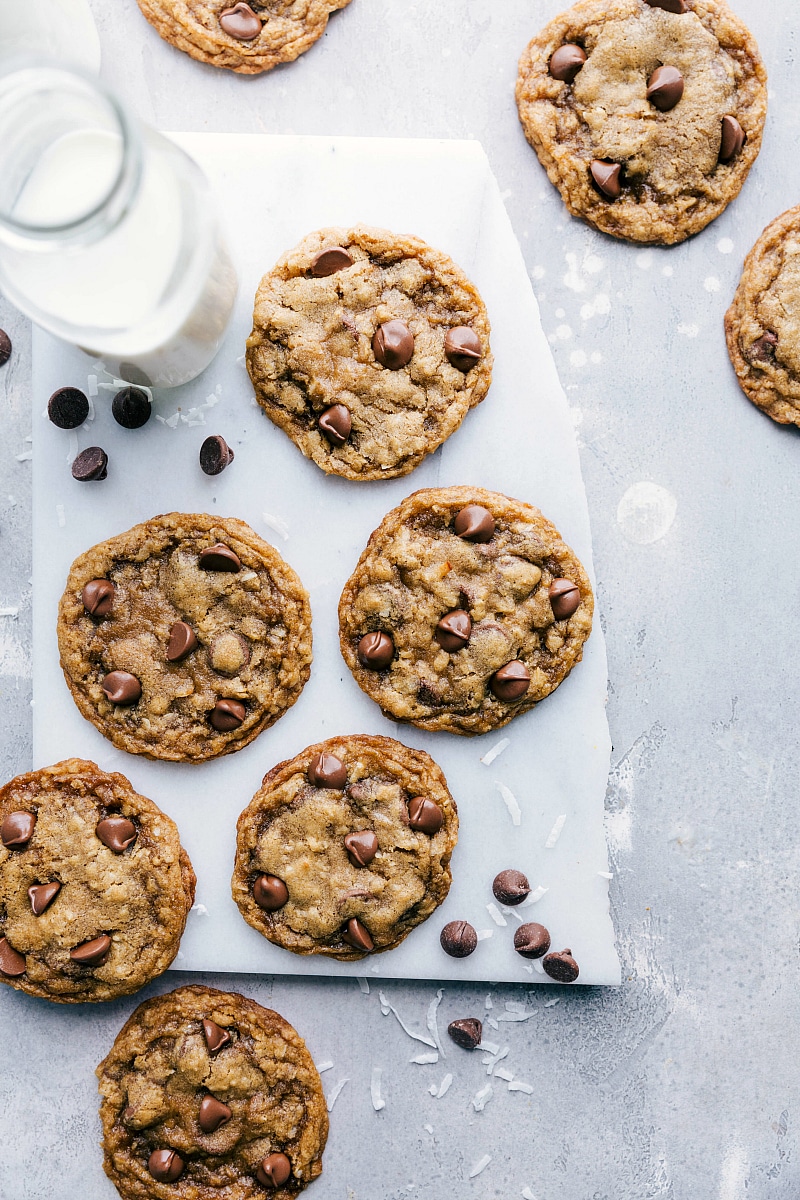 More cookie recipes: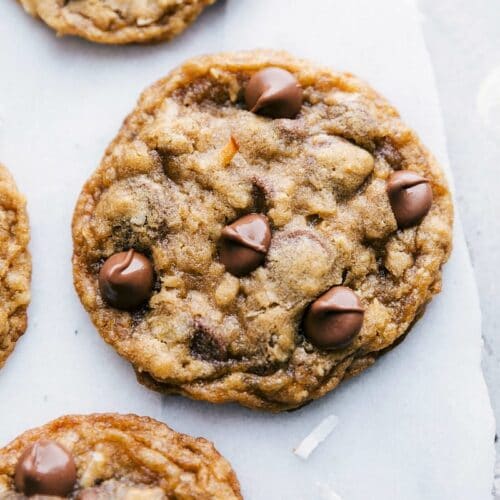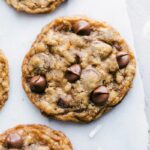 Coconut Oatmeal Cookies
Soft, chewy, and flavorful coconut oatmeal cookies are a fun twist on traditional oatmeal chocolate chip cookies. This version adds in flaked sweetened coconut and uses dark brown sugar for an ultra rich flavor.
Keyword:
coconut oatmeal cookies
Ingredients
1/2

cup (113g)

unsalted butter,

at room temperature

1

cup (230g)

dark brown sugar

(light works, but dark is best!)

1

large

egg

1/2

tablespoon

pure vanilla extract

1/2

teaspoon

baking soda

1/2

teaspoon

fine sea salt

1/2

cup (50g)

old fashioned oats

1

cup + 2 tablespoons (138g)

white all-purpose flour

1/2

cup (39g)

shredded sweetened coconut

1

cup (159g)

chocolate chips

(we like milk, but semi-sweet or dark work well too)
Instructions
In the bowl of a stand mixer fitted with the whisk attachment (or use a large bowl and hand mixers) add the room temperature butter (not melted, not softened) and dark brown sugar. Beat at medium speed until light in color about 1-2 minutes. Add in the egg and vanilla and beat until light and fluffy, about 2 more minutes. Scrape down the sides of the bowl as needed. Add in the baking soda and fine sea salt. Mix until just combined, about 20 seconds.

Add the oats and flour to a food processor and pulse 10 times at 1 second per time. Mixture should be coarsely blended. Pour this mixture into the stand mixer and mix for about 10 seconds or until mostly incorporated (it won't be fully incorporated)

Now add the coconut and chocolate chips and mix until ingredients are JUST combined. Do not overmix or overbeat. Overworking the dough will result in dense cookies.

Shape the cookie dough into balls about 2 tablespoons of dough (if you have a food scale: 49 grams; 1.7 ounces). Roll the balls higher instead of wider (see photo in post). Place them on a plate lined with parchment paper and cover gently with plastic wrap. Place in the fridge for at least 30 minutes and preferably 45 minutes to an hour.

Preheat oven to 350 degrees F. Line 2 half sheet pans with silpat liners. Place 6 cookie dough balls per sheet pan (they spread a lot!) spacing them with plenty of room to spread. Bake for 8 to 12 minutes (mine always take 9-10 minutes) remembering they're best slightly underbaked. Remove from the oven and let stand on the cookie sheet for 5-10 more minutes to firm up enough to remove to a wire cooling rack. Right out of the oven you can press a few more chocolate chips in the tops of the cookies if desired (makes them look better and ensures chocolate in every bite!)

Let cookies fully cool and set up before eating! Store in an airtight container at room temperature for up to 4 days. Cookies best eaten within 2-3 days.