These Mexican wedding cookies are irresistibly tender, buttery, and crumbly. These butter based, vanilla flavored cookies are filled with pecans and rolled in powdered sugar.
Try our other flavor variations next: these peppermint snowball cookies or these chocolate chip snowball cookies.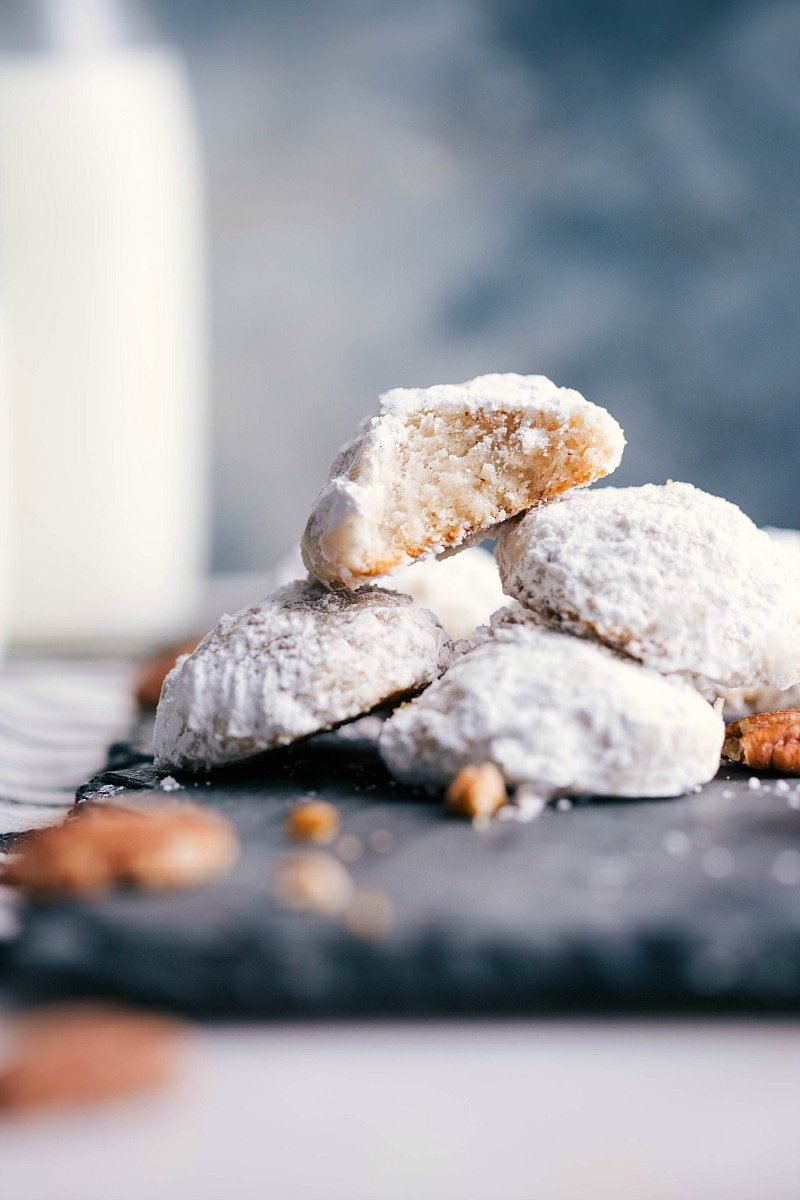 If you've never had a Mexican wedding cookie, you're definitely in for a treat; these cookies basically melt in your mouth.
They've got a buttery and slightly nutty flavor with a hint of vanilla. The baked cookies are rolled in two coats of powdered sugar, for the perfect finishing touch.
You'll notice from the first picture, these Mexican wedding cookies end up a slightly more flat than a typical tight ball shape. This is intentional and exactly how we love them. They've got a richer butter flavor and truthfully are easier to eat than a compact ball (they basically melt in your mouth!).
To achieve this shape and texture, make sure to spoon the flour into the measuring cup and then level the measurement with the back of a butter knife. We also chill the dough instead of baking it right away.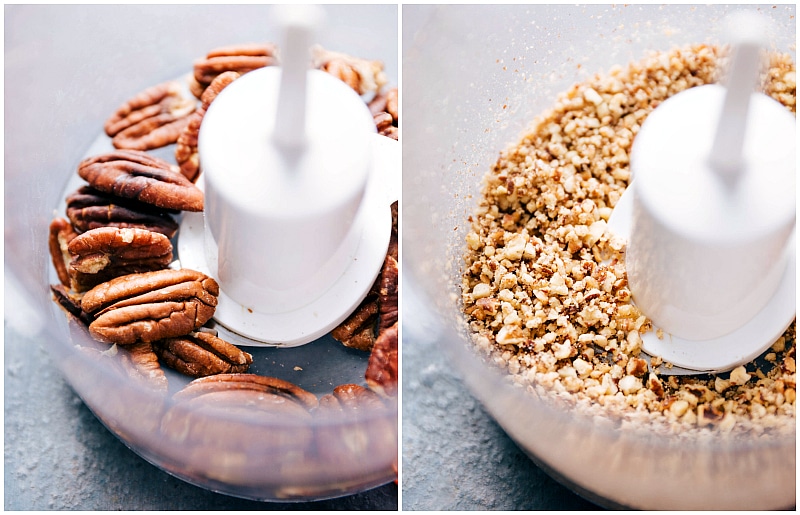 The other names for Mexican Wedding Cookies
These widely popular cookies are known all over the world, but have many different names. In the US we typically call them Mexican Wedding Cookies or Snowballs 🙂 Some of the other names you may have heard these cookies go by:
Pecan balls
Italian Wedding Cookies
Mexican Teacakes
Italian Butter Nuts
Russian Tea Cakes
Swedish Tea Cakes
Pecan Sandies
Polvorones
Viennese Sugar Ball
Snowballs
Snowdrop Cookies
Ingredients in these cookies
These Mexican wedding cookies are so simple to make and require few ingredients.
Butter: make sure to use REAL butter, not margarine. Since the base for these cookies is butter, you'll want to use the best quality butter possible.
Powdered sugar: half of the powdered sugar is added to the cookies and then the cookies are rolled in the leftover sugar.
Salt: this helps to balance the sweetness of the cookies and contributes to a more even flavor.
Vanilla: again, good quality vanilla makes a huge difference. The vanilla adds so much flavor to these cookies. I'll also occasionally use vanilla bean paste for beautiful specks of vanilla bean throughout the cookies.
Flour: make sure to spoon and level the flour so you don't pack in too much!
Cornstarch: the cornstarch contributes to the melt-in-your-mouth quality these cookies have. It's my "secret" ingredient!
Pecans: we toast the pecans to add loads of flavor to these cookies. Then to ensure really small pieces, I pulse them in a mini food prep food processor.
How to make Mexican wedding cookies
The descriptions below correlate with the pictures in the collage
Beat together the room temperature butter (not warm or melted at all) with the powdered sugar…
…until smooth and creamy
Add the cornstarch, vanilla extract, salt, and crushed toasted pecans
Beat together until smooth
Add in the flour
Mix until smooth. It may seem sandy and crumbly at first, but keep going until a dough forms.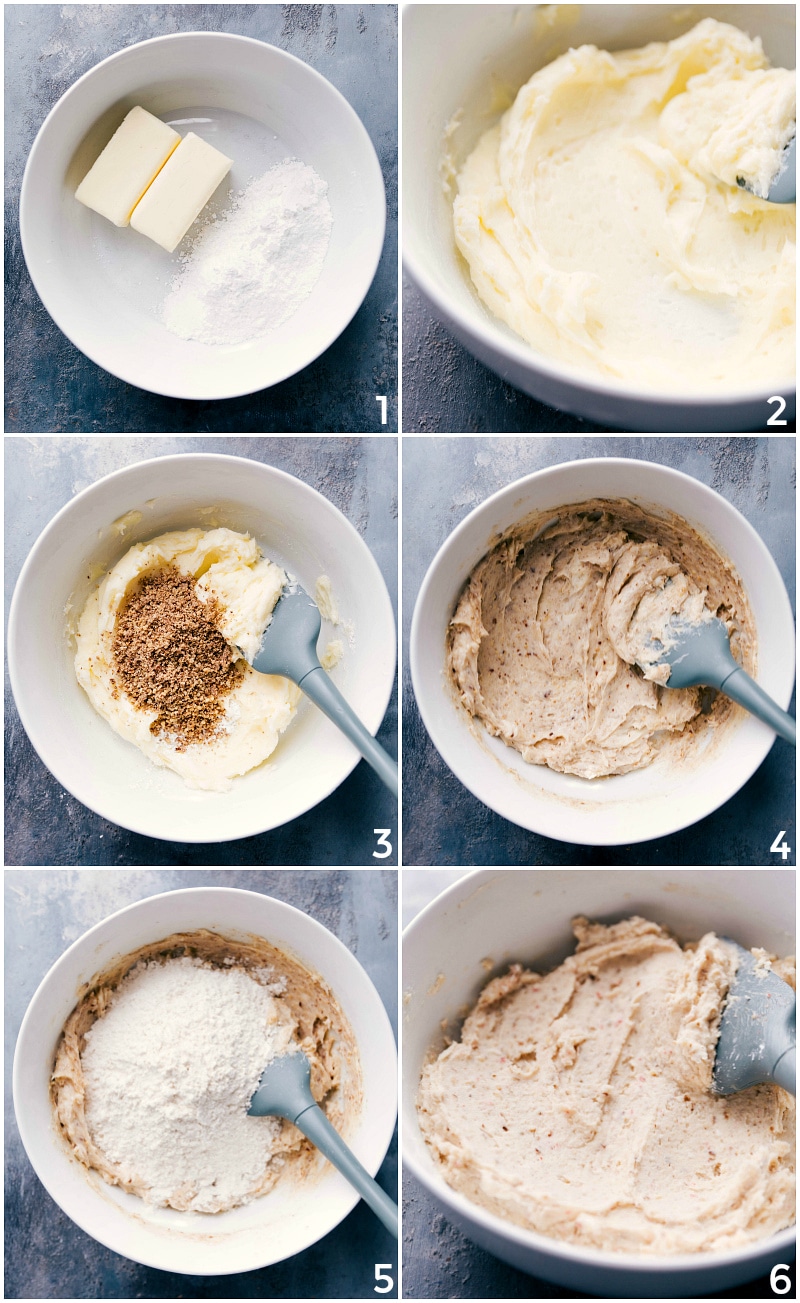 Can Mexican Wedding Cookies be frozen?
Yes, these cookies freeze really well; either as unbaked dough or baked cookies. I recommend freezing the unbaked dough (as opposed to the baked cookies) if possible.
UNBAKED dough: shape the dough into balls, freeze on a baking sheet in a single layer, then transfer to airtight freezer bags for longer storage. Defrost overnight in the fridge and bake as directed by the recipe (you may need to add another minute or two)
BAKED cookies: to freeze the baked cookies, roll them in powdered sugar while slightly warm, cool completely, and freeze on a baking sheet. Once the cookies are frozen solid, transfer them to airtight freezer bags; label and date. Thaw at room temperature for 1-2 hours and then roll them in powdered sugar a second time.
Variation ideas
Different nuts: swap out the pecans for almonds, macadamia nuts, or walnuts (you'll still want to toast and then pulse or chop them)
Stuffed: add an up-wrapped Hershey's kiss to the center of these cookies OR a miniature Reese's cup
Spiced: add 1 teaspoon ground cinnamon and/or 1/2 teaspoon pumpkin pie spice for a pumpkin flavored Mexican wedding cookie
Lemon or lime flavored: add 2 teaspoons zest of a lemon or lime to the batter. Add lemon or lime extract to the batter (1/4 to 1/2 teaspoon depending on strength of extract).
Chocolatey: add 3/4 cup miniature chocolate chips into the batter OR drizzle melted chocolate on top of the finished cookies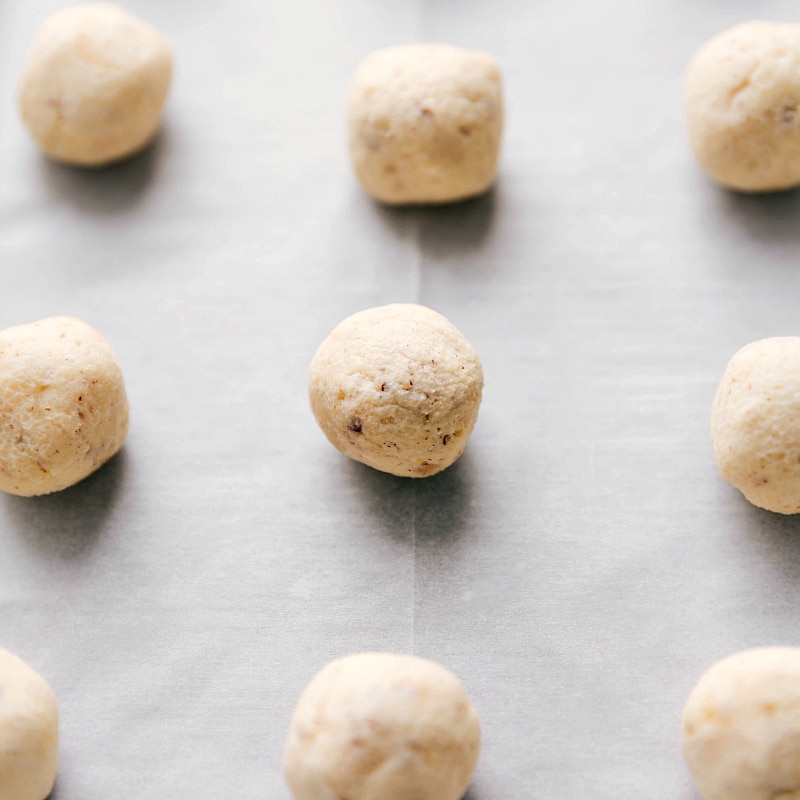 Tips for the best Mexican wedding cookies
Don't melt or soften the butter; this will cause cookies that spread.
Don't skip the chilling; the butter needs to be 100% cold and firm before going in the oven, otherwise these cookies will burn and spread!
Use a mini food processor to pulse the pecans for an even dispersion of pecan bits throughout the cookie. Watch carefully when pulsing, the pecans can go from perfect bits to pecan butter!
Use silpat liners or parchment paper for these cookies; otherwise they'll spread too much or get overly browned bottoms. Do not grease a sheet pan!
Number 1 tip:
Double dip your cookies in powdered sugar! Once the cookies have slightly cooled (but are still warm), cover them in one coat of powdered sugar. Let the cookies cool a bit longer and then dip them again for another coat. This double dipping ensures thoroughly powder coated cookies which not only look more beautiful, but also taste the best!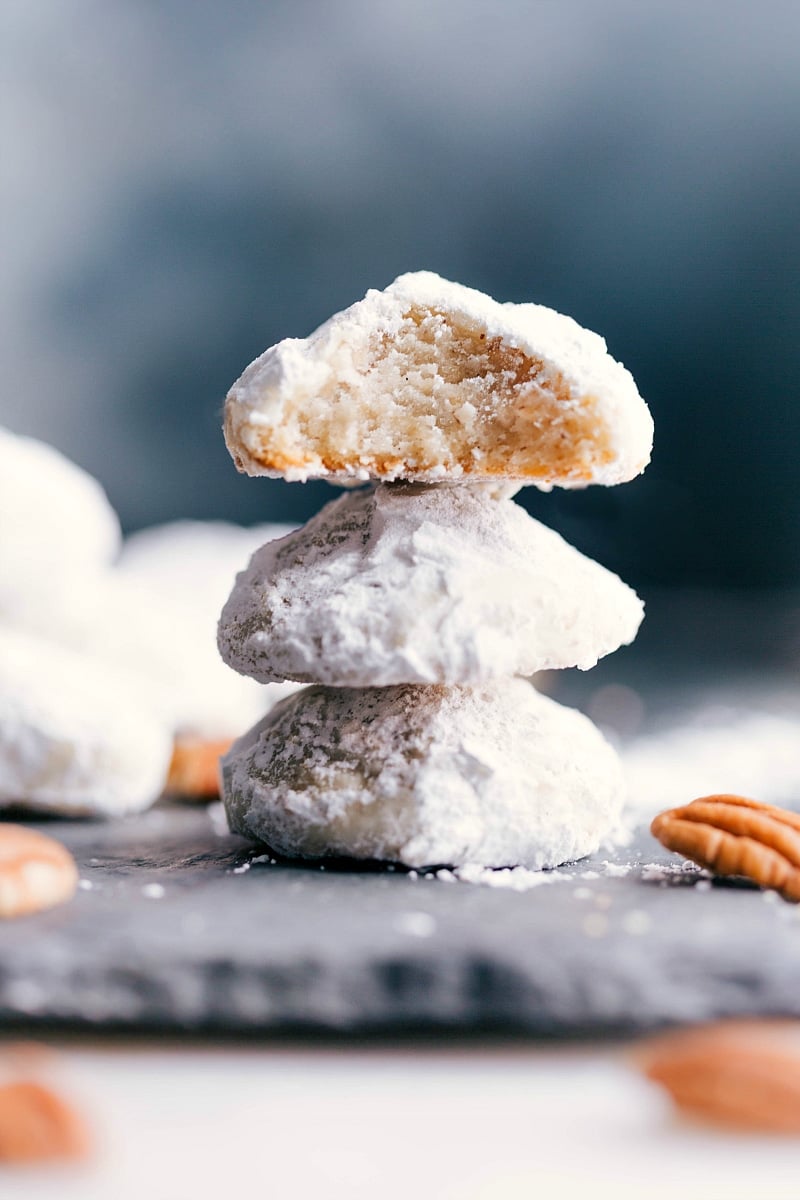 More delicious cookie recipes: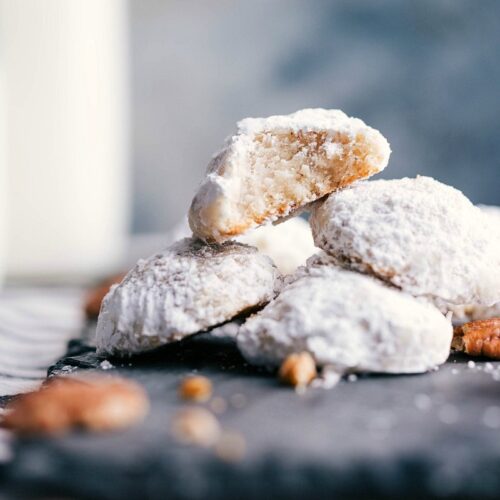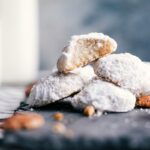 Mexican Wedding Cookies
These Mexican wedding cookies are irresistibly tender, buttery, and crumbly. These butter based, vanilla flavored cookies are filled with pecans and rolled in powdered sugar.
Keyword:
Mexican wedding cookies
Ingredients
1/3

cup (42g)

whole pecans

1

cup (226g)

unsalted good quality butter

Note 1

3/4

cup (78g)

powdered sugar

1/2

teaspoon

fine sea salt

2

teaspoons

pure vanilla extract

Note 2

1 and 3/4

cups (211g)

white flour

1

tablespoon

cornstarch

Powdered Sugar for coating the cookies
Instructions
TOAST PECANS: Preheat the oven to 350 degrees F. Spread the pecans in an even layer on the sheet pan. Bake for 5-7 minutes or until they smell fragrant. Watch carefully, you don't want to burn them. Remove and allow to completely cool before transferring them to a mini food processor or cutting board. Pulse on the "chop" setting or finely chop. You want very small pieces. Avoid over-pulsing in the food processor or you'll end up with pecan butter.

WET INGREDIENTS: Either in a bowl of a stand mixer with the whisk attachment OR a large bowl (and using hand mixers) combine butter and 3/4 cup powdered sugar. Cream together until smooth and creamy, about 3-4 minutes. Add in the vanilla, salt, cornstarch, and pulsed/chopped pecans. Beat until smooth and combined. Add in the flour and beat, slowly, until combined and smooth. It will seem sandy and crumbly at first, keep mixing, it will come together 🙂 Once combined, do not overmix.

CHILL: Wrap the dough in plastic wrap and put it in the fridge for 1 to 2 hours to chill (at the least 1 hour)

BAKE: After being chilled, measure out cookie dough using a 1 tablespoon measuring cup (each ball should be exactly 1 tablespoon). If the dough gets overly warmed from being rolled or sitting in a warm kitchen, put in the freezer for 10-15 minutes. Preheat the oven to 375 degrees F. Line a light colored sheet pan with a silpat liner (Note 3) Bake for 7-11 minutes (mine always take 10 minutes). Remove from the oven, let stand on tray for 3-5 minutes and then transfer to a wire cooling rack. Let cool for 2-3 or so minutes.

POWDERED SUGAR: Add powdered sugar to a bowl (I start with 1 cup, you may need slightly more). Roll the warmed cookie in the powdered sugar and then return to the wire cooling rack. Let cool down a few more minutes and then roll in the powdered sugar again.

STORAGE: store in an airtight container at room temperature. Re-roll in additional powdered sugar as needed. Best enjoyed within 1-3 days.
Recipe Notes
Note 1: it's important to use really good quality butter, not margarine. Use unsalted so you can control the salt amount. Make sure the butter is at room temperature, not melted or softened. 1 cup is the equivalent of 16 tablespoons or 2 sticks.
Note 2: I'll also occasionally use vanilla bean paste; 1 teaspoon of paste if using!
Note 3: I tested this recipe with no parchment paper, with parchment paper, and with a silpat liner. Bottoms of cookies turned out best every-time with the silpat liner. The darker the trays, the darker the bottoms of the cookies. The best results I found were with a light colored tray.
How many calories are in a Mexican wedding cookie?
There are 85 calories in one Mexican wedding cookie.