Santa cookies are flavorful and sweet with soft interiors and slightly crisp edges. Plus these cookies are easy to make — you'll only need one bowl and a spoon — no hand or stand mixer required!
This recipe makes a small batch of cookies to make on Christmas Eve — perfect for Santa! If you're looking for an even smaller batch try one of these recipes: single serve chocolate cookie or single serve oatmeal cookie!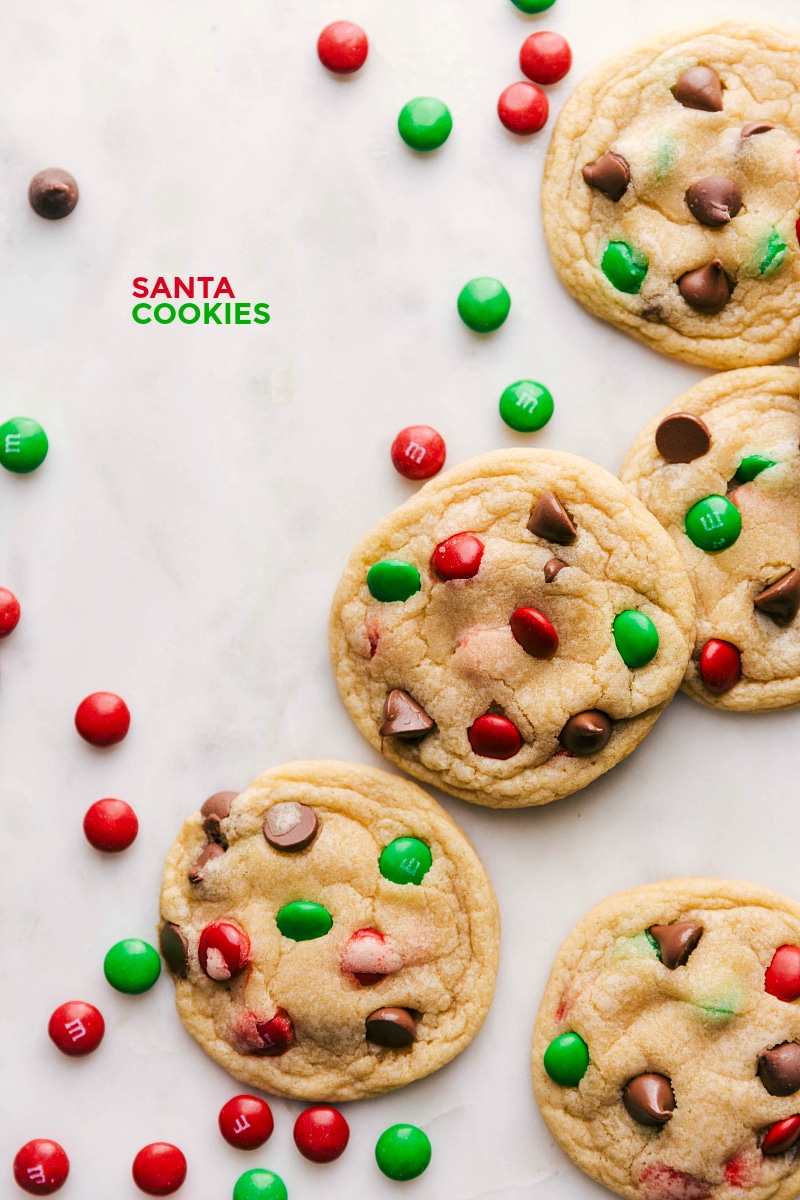 At our home, Santa is a bit picky over cookies 😉 The kids know every year that we'll be dedicating some priority time Christmas Eve to make those cookies for Santa and some reindeer chow for the reindeers. Because the hubs and I (errr…I mean Santa) need some serious fuel for wrapping presents and getting everything ready for Christmas!
How to make Santa cookies
Melt the butter and allow it to cool to room temperature — this is very important to avoiding greasy flat cookies
Stir in the two sugars until smooth
Consistency of butter and sugars shown here
Add in the egg and vanilla — use a room temperature egg for rest results (how to get an egg to room temperature quickly)
The "secret" ingredient that makes these cookies ultra soft, chewy, & mega flavorful: maple syrup.
Add in the syrup and stir to combine
Add in the baking agents — baking soda and baking powder. Add salt (helps balance sweetness and intensifies flavors) and another "secret" ingredient: cornstarch — this also contributes to soft and chewy cookies.
Add in flour — make sure to spoon and level the flour to avoid adding too much
And then the chocolate chips and festive Christmas M&Ms
Dough is finished and needs to chill for at least an hour
This picture is showing the size and shape of the dough — it's important to roll taller cylindrical balls to get that classic chewy center and slightly crisp edges (as the dough bakes, the bottom will bake slightly longer than the center)
And the finished product: baked Santa cookies!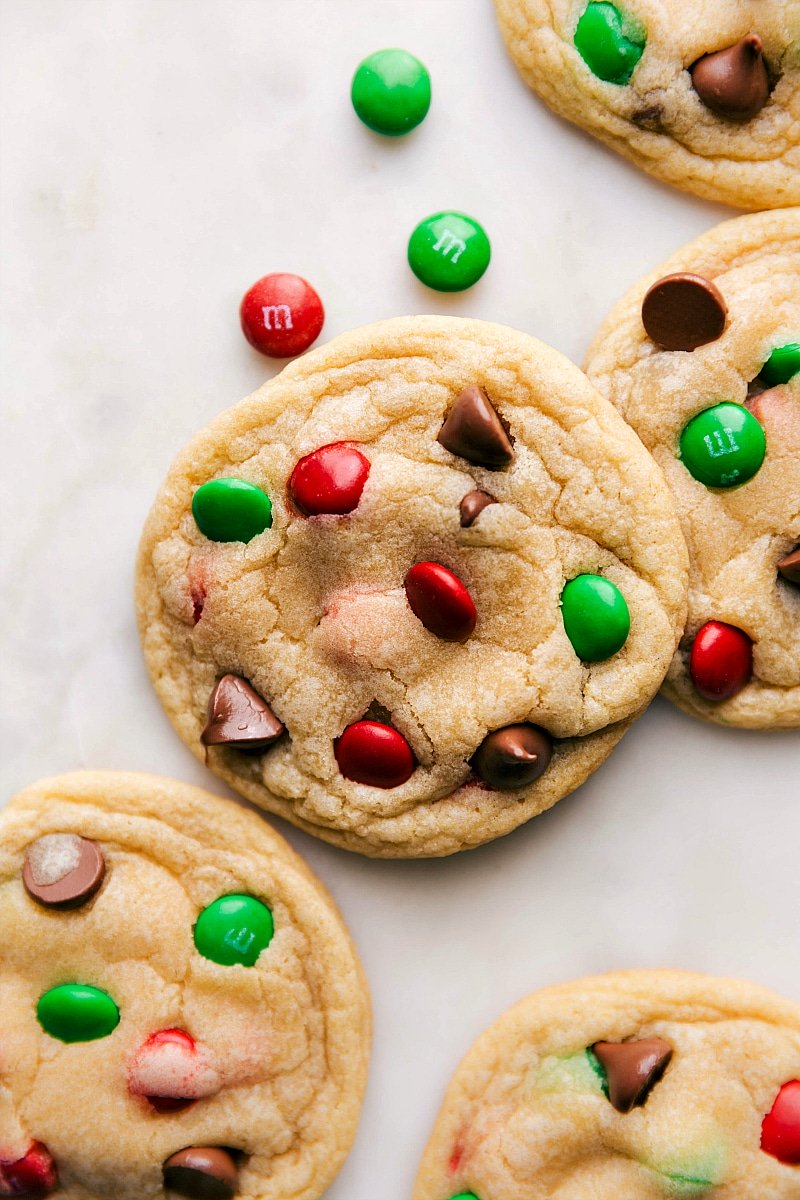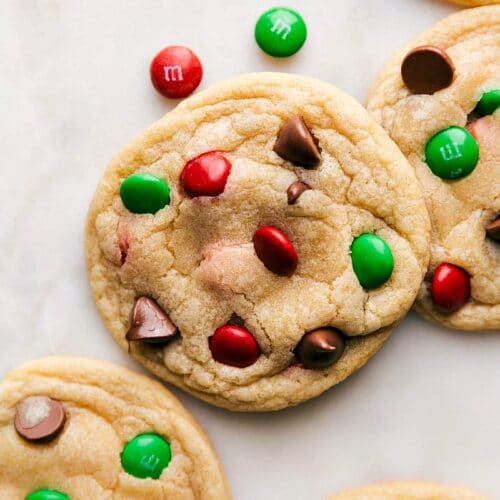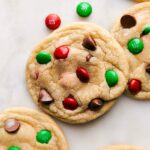 Santa Cookies
Santa cookies are flavorful and sweet with soft interiors and slightly crisp edges. Plus these cookies are easy to make -- you'll only need one bowl and a spoon -- no hand or stand mixer required!
Servings
:
16
large cookies
Ingredients
8

tablespoons (113g)

unsalted butter

1/2

cup (102g)

light brown sugar

packed

1/3

cup (96g)

white sugar

1

large egg

(at room temperature)

1/2

tablespoon

pure vanilla extract

2

tablespoons

pure maple syrup

2

teaspoons

cornstarch

1/2

teaspoon

baking soda

1/2

teaspoon

baking powder

3/4

teaspoon

sea salt

(reduce if using table salt OR if sensitive to salt)

1 and 3/4

cups (225g)

white all-purpose flour

1/2

cup

good quality milk chocolate chips

(OR use semi-sweet or dark chocolate -- whichever is your favorite)

1/2

cup

Christmas M&Ms
Instructions
BUTTER: In a very large, microwave-safe bowl, melt the butter. Once melted, stick it in the fridge for 3-5 minutes or until it's a room temperature. It's important the butter isn't hot when you add in the sugars or it will melt the sugar and make the cookies greasy.

WET INGREDIENTS: Once butter is cooled to room temperature, stir in the light brown sugar and white sugar. Stir until smooth. Stir in the egg, vanilla extract and maple syrup. Stir until smooth.

DRY INGREDIENTS: Add in the cornstarch, baking soda, baking powder, and salt. Again, stir until smooth. Add in the correctly measured (Note 1) flour and mix until JUST combined. Don't over mix. Add in the chocolate chips and M&Ms. Gently stir until combined.

CHILL: Cover the bowl tightly and chill for 1 hour.

OVEN: Preheat the oven to 350 degrees F. Line a pan with parchment paper or use a nonstick liner.

SHAPE BALLS: Roll balls of dough into tall cylindrical balls (see picture #11 above for shape and size). Place 6-8 cookie balls on a sheet to give the cookies plenty of room to spread. Dough balls should be about 1.7 ounces if you have a food scale; or the batch should make about 16 total cookies)

BAKE: Bake for 8-12 minutes erring on the side of under-baking which keeps them soft and chewy (We like ours right at 9 minutes)! Remember the cookies will bake a little more out of the oven, so take them out as soon as the edges start to lightly brown and the top is no longer "wet" looking (should be a pale color).

MAKE EM PRETTY (OPTIONAL): Remove from the oven and press a few extra chocolate chips or M&Ms into the tops of the cookies if desired. Allow cookies to cool on the baking tray for 5 minutes before transferring them to a cooling rack.

STORAGE: We like these cookies best on day 1 and 2 of being made. They do last up to 1 week, but they do begin to lose texture and flavor. To store: place in an airtight container and keep at room temperature. Wait until cookies are completely cooled before adding to the container.
Recipe Notes
Note 1: the most important measurement is the flour. If you press a measuring cup into a bag of flour you are likely packing in way too much flour which will yield cake-y and less flavorful cookies. Spoon the flour into a measuring cup and level the top with the back of a butter knife. See a visual of this here. Even better? Weigh your ingredients on a food scale!