The best soft, chewy, and thick snickerdoodle cookies. Sharing all my tips and tricks for making delicious snickerdoodles with chewy centers and perfectly crisp edges!
Once you've become hooked on these snickerdoodles, try these other delicious cookies: oatmeal cookies, chewy chocolate chip cookies, or white chocolate macadamia nut cookies.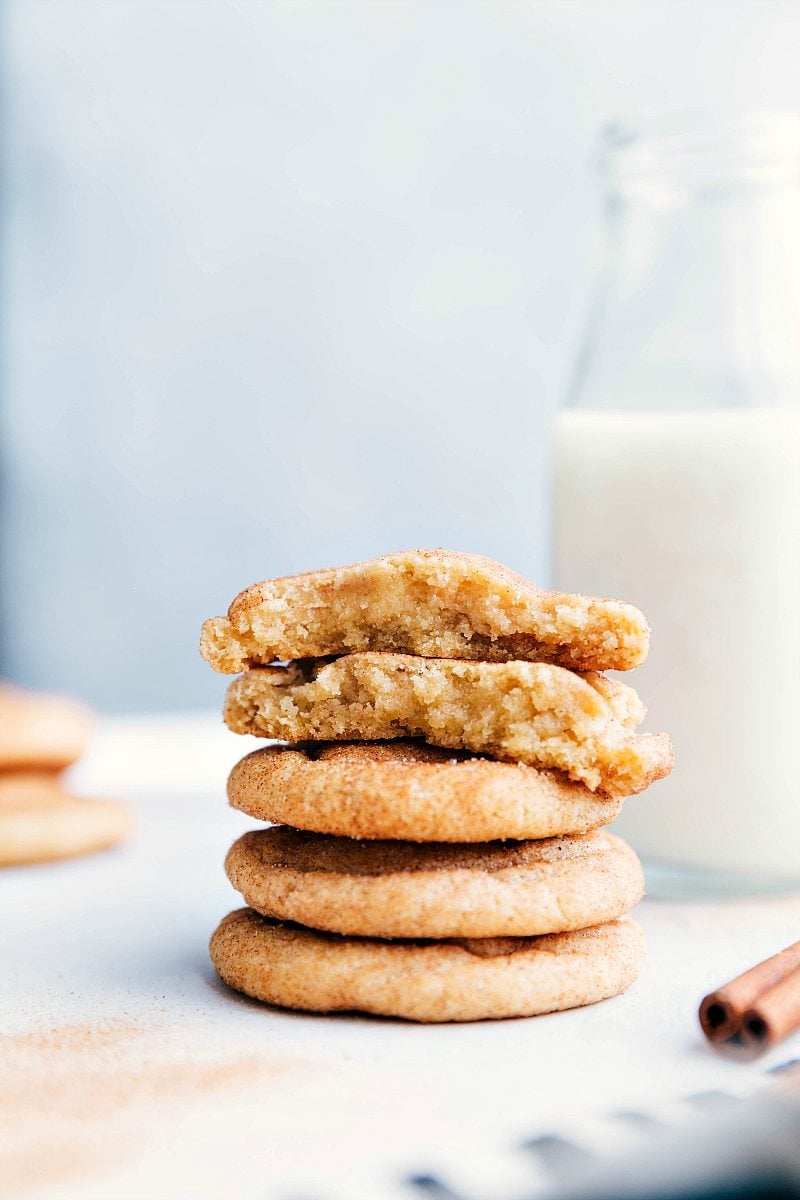 Snickerdoodle Cookies
Snickerdoodle cookies have always been just an "okay" cookie for me; I'd much rather have mine stuffed (or dipped) in as much chocolate as possible. But when my soon-to-be brother-in-law said snickerdoodles are one of his favorites, I set out to perfect the snickerdoodle cookie.
My sister and her fiancé are having a "cookie bar" at their reception with 10 different kinds of cookies and I volunteered to develop the recipes AND make the cookies (luckily I have a lot of help on the baking!). I've been working on my final cookie recipes for months (I get way too excited over these kinds of things!).
So I've worked on this snickerdoodle recipe for a few months now and have made dozens of batches, trying to get them just right. And if I'm being honest these cookies have not only converted me to be a snickerdoodle lover, but they've also been deemed by the almost brother-in-law to be the "BEST EVER." These snickerdoodles have just the right amount of cinnamon, and are soft on the inside with perfectly crisp edges. The flavor is incredible and the texture is unbelievable.
If you've never experienced the joy of a snickerdoodle, you might be wondering what they taste like. They are buttery and sugary with a hint of vanilla and a tang from the cream of tartar. The dough has a hint of cinnamon and the unbaked dough is rolled in cinnamon sugar before being baked further enhancing the cinnamon flavor.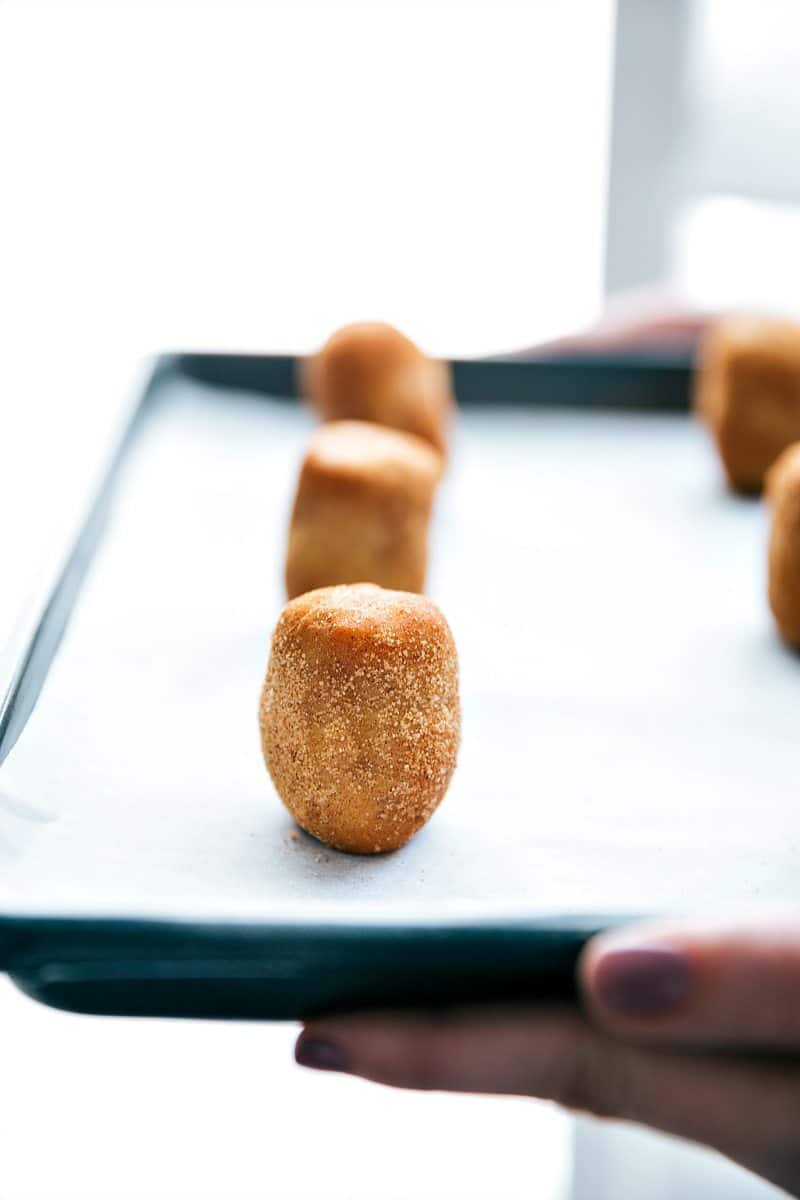 First things first, snickerdoodles are sometimes confused with sugar cookies since they have a lot of the same basic ingredients.
What's the difference between a sugar cookie and snickerdoodle?
There are two main differences between sugar cookies and snickerdoodle cookies. First, snickerdoodles have cream of tartar which gives them that signature tang to the flavor. Secondly, snickerdoodles are rolled in a cinnamon sugar mixture making them more cinnamon flavored. Sugar cookies rarely have cream of tartar and don't contain cinnamon.
So you might be wondering…
Why are snickerdoodles called snickerdoodles?
The Joy of Cooking claims that snickerdoodles are probably German in origin, but it's also very possible that the name is simply a nonsense word without any particular meaning.
Before we get started on process and talking tips, let's talk ingredients!
Snickerdoodles are made of:
Butter: use unsalted to ensure you perfectly control the amount of salt (If you use salted, omit the extra salt addition)
White sugar
Brown sugar
1 large egg and 1 large egg yolk: the extra yolk adds so much flavor. Use leftover whites in these Spinach and Feta Wraps
Pure vanilla extract: for flavor!
White all-purpose flour: make sure to spoon and level this measurement so you're getting the right amount of flour.
Cream of tartar: this ingredient is what gives these snickerdoodle cookies that classic "tangy" flavor; it's also a stabilizer.
Salt: to intensify all the ingredients' flavors
Baking soda
Cinnamon: added to the dough AND the topping for extra flavor!
How to make snickerdoodles
For these cookies we start with partially melted butter. I don't melt it all the way because it tends to make the cookies a bit greasy. Cookies can also become "greasy" if the melted butter is so hot that it melts the sugars — make sure you give the butter a second to return to room temperature.
We melt the butter because it adds an incredible texture to these snickerdoodle cookies. When you melt butter for cookie recipes, chilling the dough is a MUST before baking. This matters because the fats need to re-solidify. If the dough is baked immediately with melted butter in it, the cookies will spread while baking and become thin, hard, and crispy. The longer the fat stays solid, the less the cookies will spread.
The sugar in the dough also gradually absorbs liquid so when you chill the dough, the sugar has a chance to absorb more liquid further preventing spread.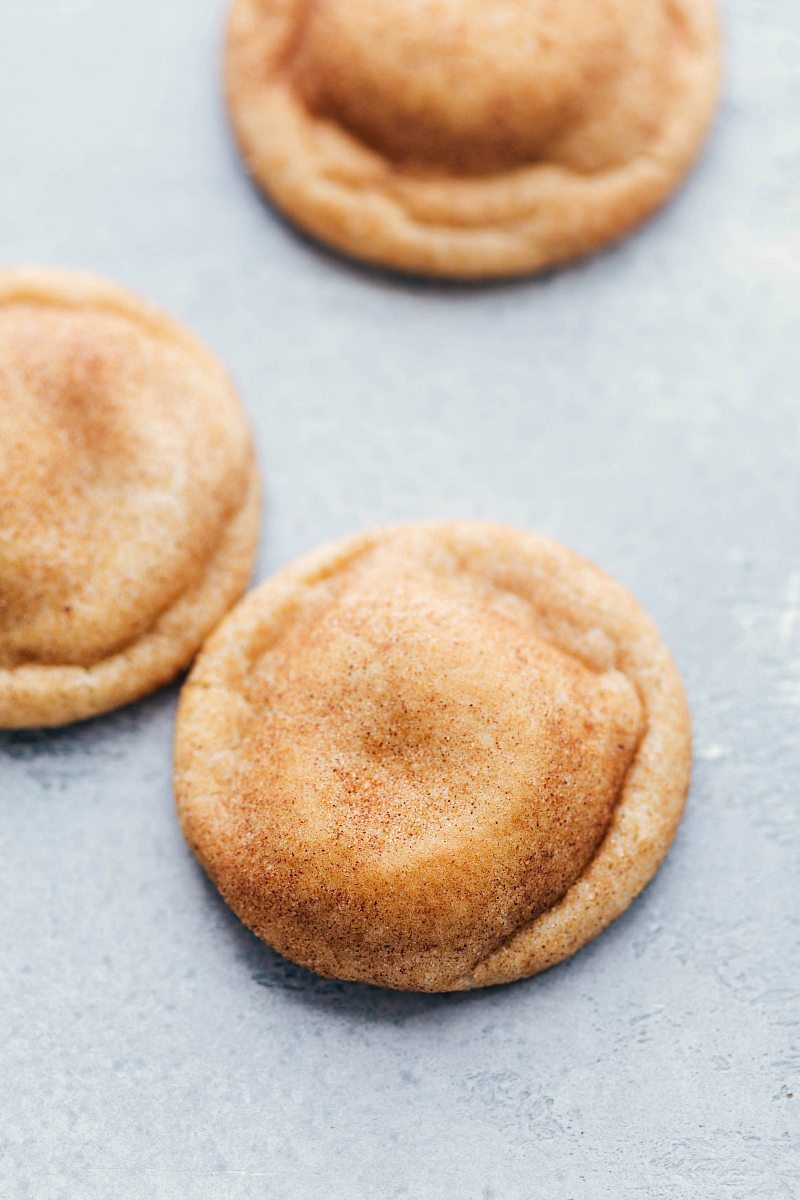 Baking Tips
Correctly measure the flour: If you press a measuring cup into a bag of flour you will pack in way too much flour (which will result in cake-like cookies with the wrong texture). To properly measure your flour, spoon the flour into the measuring cup until its overfilled. Then use the back of a butter knife to level the measuring cup at the top. You'll have a perfect flour measurement now!
Use room temperature eggs: This ensures the eggs disperse more evenly into the batter giving these snickerdoodles a lighter texture (the eggs trap air). Soaking refrigerated eggs in a bowl of warm (not hot) water for about 10 minutes is a quick way to do this. Otherwise, pull the eggs out of the refrigerator about 30 minutes before use.
Roll tall cookie dough balls: Instead of rolling a perfect ball, I've found if you roll the dough so it's taller and skinnier, when the cookies bake you'll get that perfect thick & chewy center AND the crisp edges. Using this technique, the bottom of the cookie "ball" bakes first, which will push out and become the crisp edge. The top of that tall cookie dough "ball" then becomes the thick and chewy center. Perfect texture every time! (See the 2nd picture in this post for how I roll my cookie dough balls.)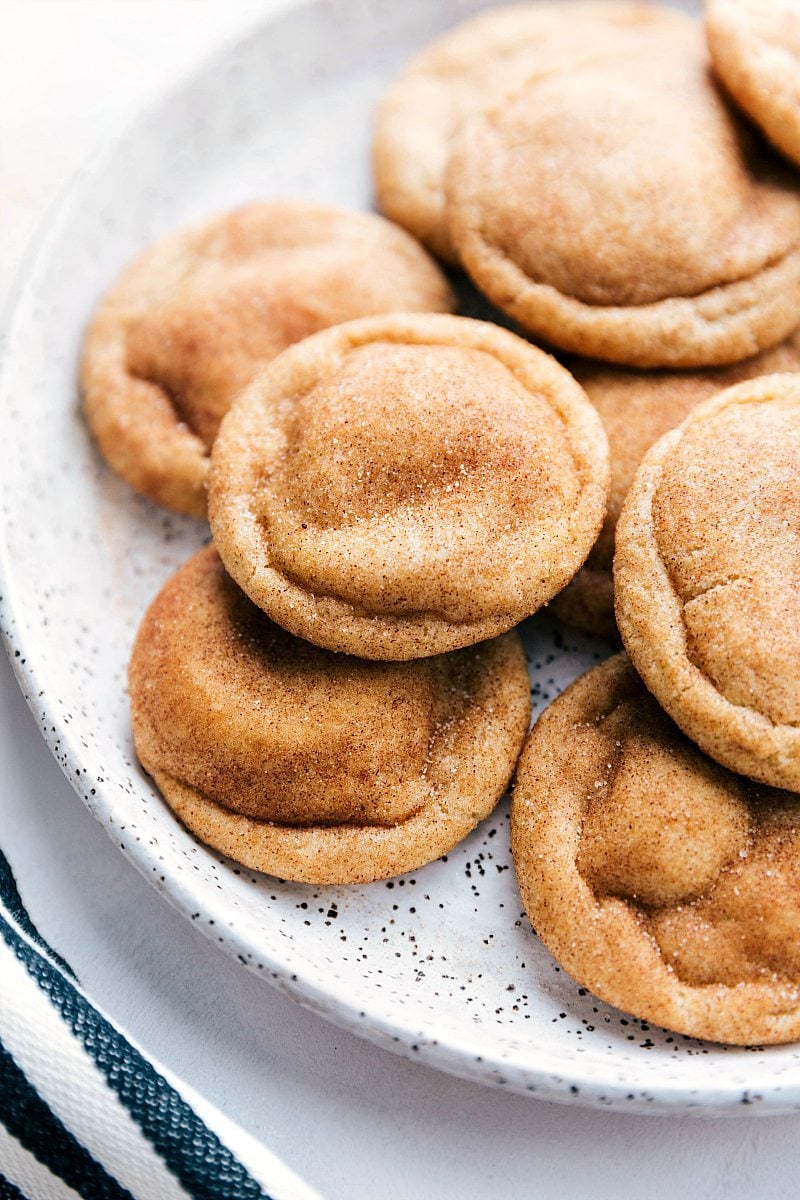 More Delicious Cookie Recipes: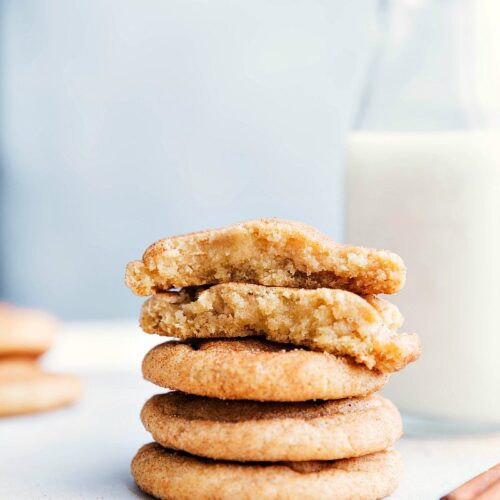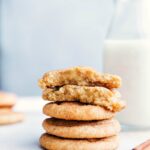 Snickerdoodle Cookies
The best soft, chewy, and thick snickerdoodle cookies
Keyword:
Snickerdoodle cookies
Ingredients
16

tablespoons (1 cup)

unsalted butter,

80% the way melted

2/3

cup (135g)

white sugar

2/3

cup (120g)

light brown sugar,

packed

2

large

eggs,

separated

1/2

tablespoon

pure vanilla extract

2 and 3/4

cup (337g)

all-purpose white flour

1 and 1/2

teaspoons

cream of tartar

1/2

teaspoon

salt

1

teaspoon

baking soda

3/4

teaspoon

ground cinnamon
Cinnamon Sugar Coating
1/4

cup (50g)

white sugar

3

teaspoons

ground cinnamon
Instructions
In a large bowl add the 80% melted butter, sugar, and brown sugar. Whisk together until smooth. Add in 1 whole egg and 1 egg yolk (reserve the whites for a separate recipe or discard) and the vanilla extract. Whisk until just combined and smooth.

In another bowl, stir together the flour, cream of tartar, salt, baking soda, and 3/4 teaspoon ground cinnamon. Whisk together.

Add all of the dry ingredients into the wet ingredients and mix until JUST combined. Do not overmix the dough. Cover tightly and place in the fridge for 45 minutes to 1 hour.

Preheat the oven to 325 degrees F. (If you have a convection oven, do 325 degrees F at convection bake). In a small bowl stir together the white sugar and cinnamon.

Remove the dough and roll tall balls of dough (see the 2nd photo in the post). If you have a kitchen scale, the balls of dough should be about 1.7 ounces. Roll the balls of dough generously into the cinnamon-sugar mixture.

Place dough balls on a parchment or silpat lined sheet pan and bake for 9-11 minutes. Watch carefully being sure to not over-bake. I think slightly under-baked snickerdoodle cookies are the BEST!

Remove and let stand on cookie sheet for 2 minutes before removing to a cooling rack.

Cookies best enjoyed within 2-3 days.
Recipe Video
Recipe Notes
*Prep time doesn't include mandatory chilling time
Testing began with these cookies on Genius Kitchen and evolved to become this recipe! 🙂