These Toffee Cookies are soft and chewy with crisp edges and are packed to the brim with chocolate and toffee! These are the best toffee cookies ever!
Use leftover toffee in some other favorite recipes: this brownie cheesecake ball or these toffee shortbread cookies.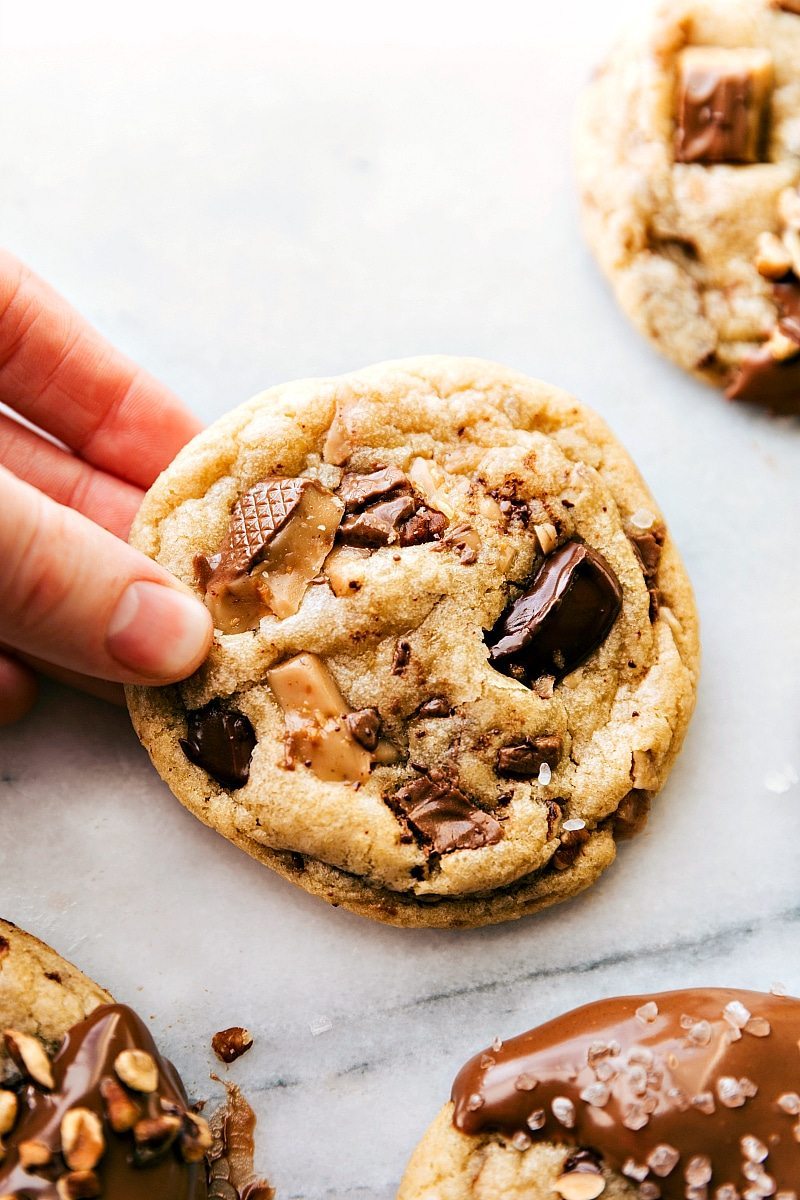 Toffee Cookies
My dad's commute from his home to work almost directly passes my home. He stops in occasionally to say hi to his daughter grandsons and we love the visit. The last time he came for a visit, I had just pulled these cookies out of the oven and there was hot soup in the crockpot. He sheepishly informed me that he planned all of his visits around either lunch or dinner time in hopes that I will feed him something good.
So I told him, if I'm going to feed him, he has to give me a recipe rating on what he tries. It's only fair right?
I spooned him up a big bowl of soup as he eyed these Toffee Cookies. After he ate the soup he had a Toffee Cookie, or two, or three. And then it was time for the recipe ratings.
He said, "So tell me how this works exactly." To which I responded, "Scale of 1 to 10; 1 being the worst thing you've ever eaten and 10 is the best."
And his rating: "Soup was a 2."
"Really?! A 2? Wow, I loved that soup!" To which he looked at me with a puzzled expression and said, "A two is the second highest I could have given you!" After we re-discussed how the ratings worked, he gave the soup a 9 and the cookies, he said, "I'll give a 20." Clearly I had to fire him from rating my recipes. However, since these got a solid 20 on that 1-10 scale, I am going to assume he really loved them.
These toffee cookies are so delicious: they're soft and chewy, buttery, sweet, and they've got those crisp edges that we all know and love.
They are stuffed with pecan bits, toffee, and plenty of chocolate. And if you're really in the mood for a treat, you can dip or drizzle these cookies in melted chocolate.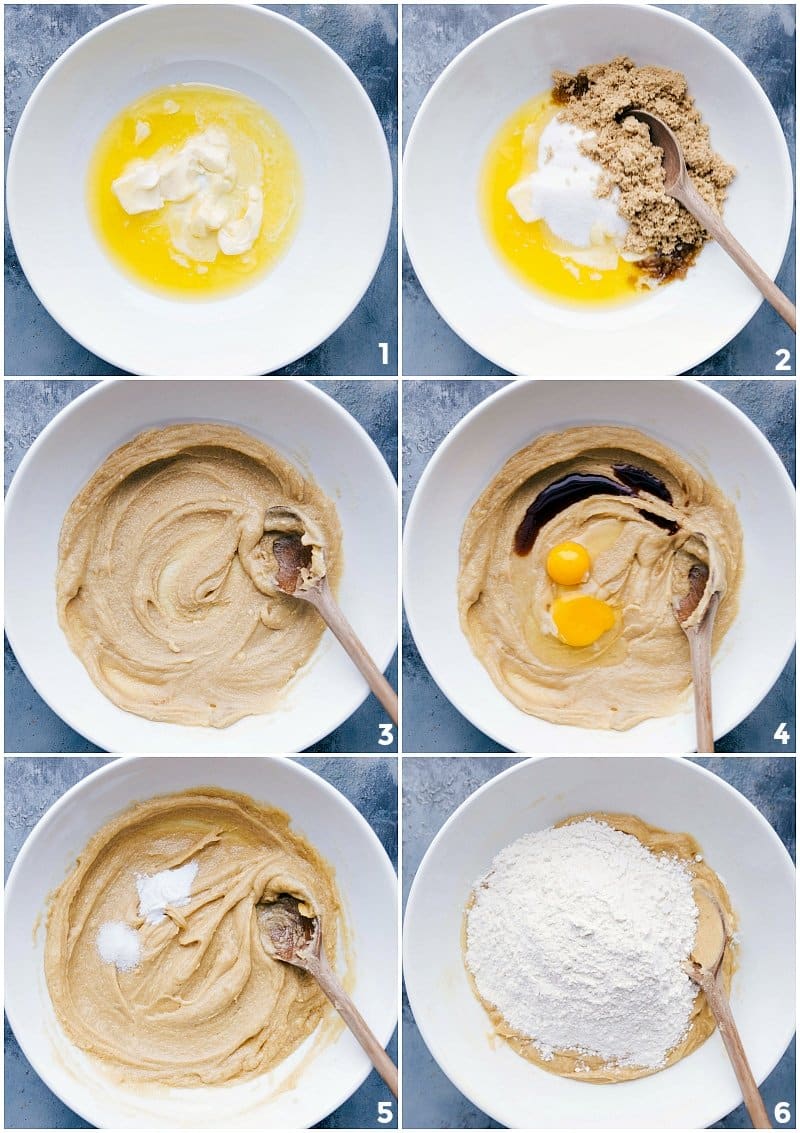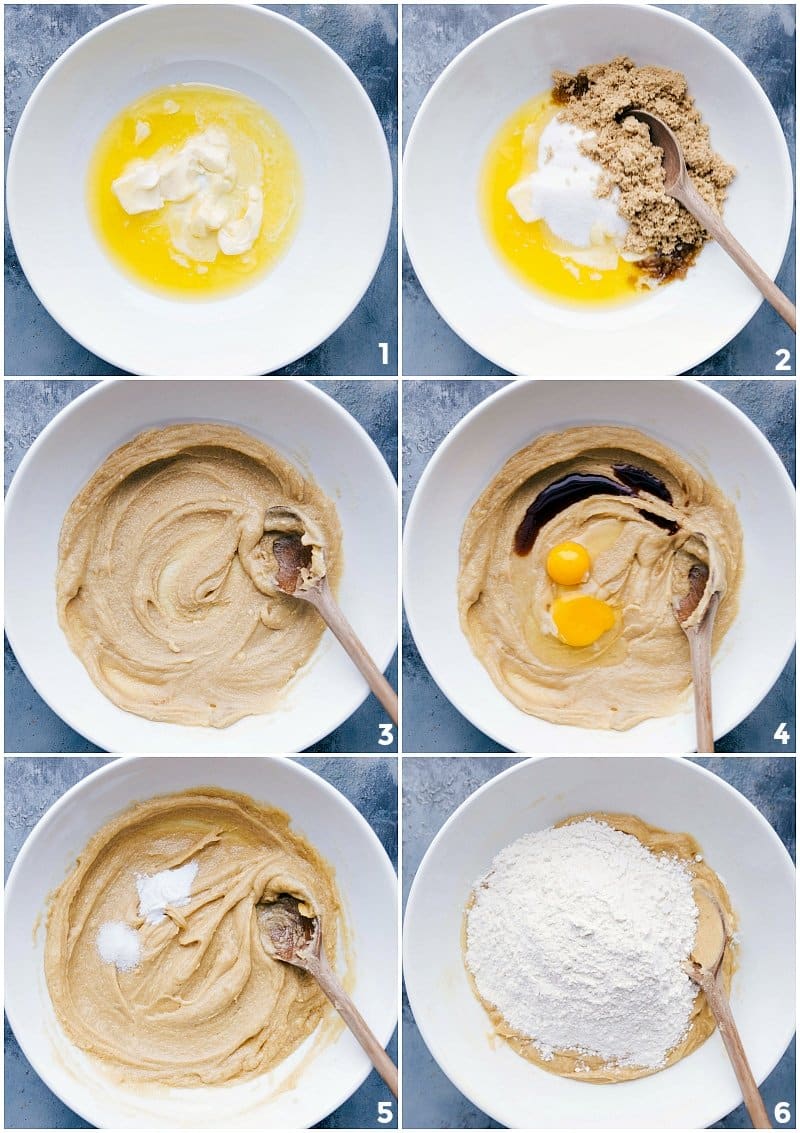 How to make Toffee Cookies
Melt butter. As you can see from photo #1, the butter is mostly melted. Melted, hot butter often results in greasy cookies. This is because the hot butter is melting the sugars. I recommend melting the butter 80% of the way and then letting it stand to come back to room temperature. If the butter melts all the way, that's fine, just make sure it's 100% at room temperature before adding in the sugars.
Add sugars. Add in white and brown sugar.
Stir until smooth Use a wooden spoon to mix until creamy.
Add egg, egg yolk, and vanilla extract. Stir until ingredients are smooth.
Add salt and baking soda. Stir into the dough.
And finally add in flour. Mix until just combined; it will be thick and seem dry, but just keep mixing until it comes together. Then it's time to add in the toffee, chocolate chips, and (if desired) pecans. (See photos below) Roll toffee cookie dough balls and bake!
Quick tips
Because the butter is mostly melted, it does mean you'll need to chill the dough for these toffee cookies. But honestly chilled dough is the best! There is so much more flavor and the best possible texture comes from chilled cookie dough.
The one measurement to really be careful with is the flour. If you press a measuring cup into a bag of flour, you'll pack in a lot more than intended. I spoon the flour into the measuring cup, fill it up completely and then scoop off the extra off the top with the back of a butter knife.

If your cookies are spreading too much you likely didn't add enough flour.
Too cake-y and you've added too much.

Shape the cookie balls just like the picture. I basically roll the dough higher rather than wider. This makes it so the bottom of dough bakes first giving you that crisp delicious exterior and the top section of the dough bakes last leaving a slightly under-baked, soft and chewy center. YUM.
Last but not least: MIX-INS! I like for Toffee Cookies to be stuffed full! If there isn't chocolate in every bite, it's not my favorite. Chopped Heath ® Bars and chocolate baking bars are amazing when added to these cookies! If you like less in your cookies, make sure to scale back the amount of mix-ins called for in the recipe.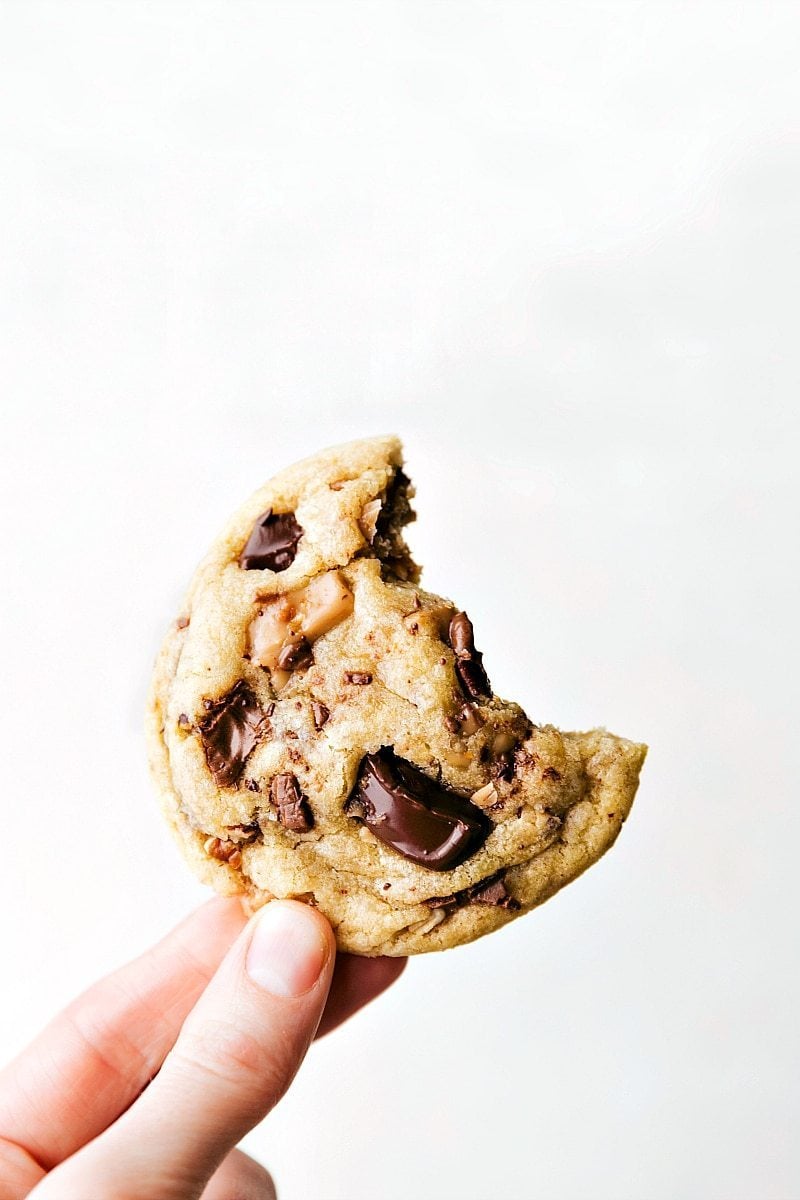 More Cookie Recipes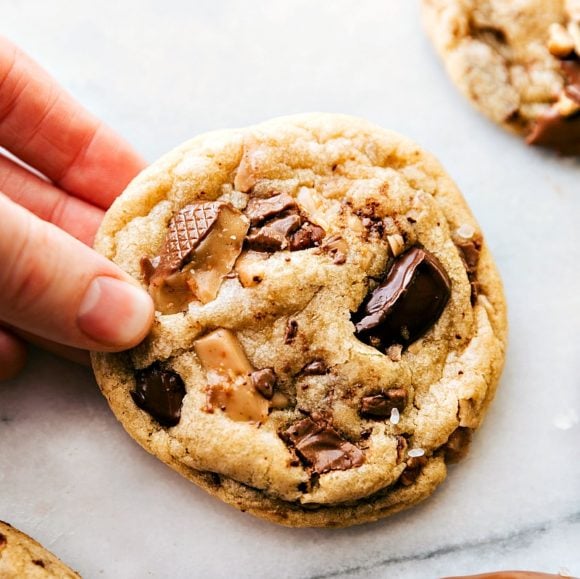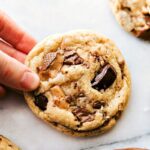 Toffee Cookies
These Toffee Cookies are soft and chewy with crisp edges and are packed to the brim with chocolate and toffee! These are the best Toffee Cookies ever.
Ingredients
12

tablespoons (170.1g)

unsalted butter

3/4

cup (155g)

light brown sugar,

packed

1/2

cup (105g)

white sugar

2

large

eggs,

separated

1/2

tablespoon

vanilla extract

I LOVE Mexican vanilla in these cookies!

scant 1/2

teaspoon

salt

3/4

teaspoon

baking soda

2 and 1/4

cups (300g)

white flour

3

Heath Bars

(or use 1 cup (155g) Heath baking bits)

1/3

cup (38g)

finely chopped pecans,

optional

2

packages (4 ounces EACH)

semi-sweet or milk chocolate baking bars (divided) OR use 1 (160g) cups milk chocolate chips

Optional: Maldon sea salt flakes
Instructions
BUTTER: In a large bowl, place the butter and partially melt. There will be chunks, but it should be about 80% melted. Let the butter come back to room temperature before adding in sugars. If the butter is still hot, it will melt the sugar and cause greasy cookies. If you fully melt the butter, it's fine, it just needs an extra few minutes to cool down.

SUGARS: Add in the brown sugar and white sugar. Whisk together until just combined and smooth.

REMAINING WET INGREDIENTS: Add in 1 large egg and 1 egg yolk. (Discard the whites or save for another recipe.) Add in the vanilla extract and mix.

DRY INGREDIENTS: Add in the salt, baking soda, and white flour (Note 1). Mix until just combined, being careful to not over-mix.

ADD INS: Add in the coarsely chopped Heath bars or 1 cup Heath baking bits, 1 package of a coarsely chopped baking bar (save the other baking bar for step 9) or add 1 cup milk chocolate chips. Add in the finely chopped pecans if desired. Mix into the dough. Cover the bowl tightly and chill for 1 to 8 hours.

BAKE: Preheat the oven to 350 degrees F. Line a pan with parchment paper or use a nonstick liner. Roll balls of dough into tall cylindrical balls (see picture above for shape and size). If the dough gets at too warm while rolling balls, place on a cookie sheet and then chill for 10-20 minutes in the fridge; we want the dough going into the oven to be cool-- not at all warm. Place 6-8 cookie balls on a sheet to give the cookies plenty of room to spread.

BAKE CONT.: Bake for 8-12 minutes, erring on the side of under-baking, which keeps them soft and chewy. The cookies will bake a little more out of the oven, so take them out as soon as the edges start to lightly brown.

FINISHING TOUCHES: Remove from the oven and if desired, press a few additional chocolate or Heath bar pieces into the top (to make them look pretty and ensures chocolate in every bite). Allow to cool on the baking tray for 5 minutes before transferring them to a cooling rack.

OPTIONAL: Dip in chocolate: coarsely chop the last baking bar and place the chopped chocolate in a microwave safe bowl. Microwave in bursts of 15 seconds stirring in between each burst for 15 seconds until melted. Drizzle melted chocolate over cookies or dip half of the cookie in the melted chocolate. Add a sprinkle of sea salt if desired. Let stand at room temperature to harden.
Recipe Notes
Note 1: When measuring the flour, do not press the measuring cup into the bag of flour, as overfills the measuring cup. Spoon the flour into the cup and then level. The flour should completely fill up the cup without being packed in. Measuring the flour correctly is going to give you the most success with this recipe. If the cookies are spreading too much you likely didn't add enough flour; if the cookies are cakey and too thick, you have used too much flour.
Recipe inspired by and very highly adapted from Food Republic.