This post may contain affiliate links. Please read my disclosure policy.
This easy, no baking required Leprechaun Bait makes the perfect treat for St. Patrick's Day. This addictive snack mix is packed with Lucky Charms, chex cereal, pretzels, chocolate-covered candies, and coated in melted white chocolate.
Package this leprechaun bait up in snack sized ziplock bags and attach a FREE printable (fill out the form directly above the recipe).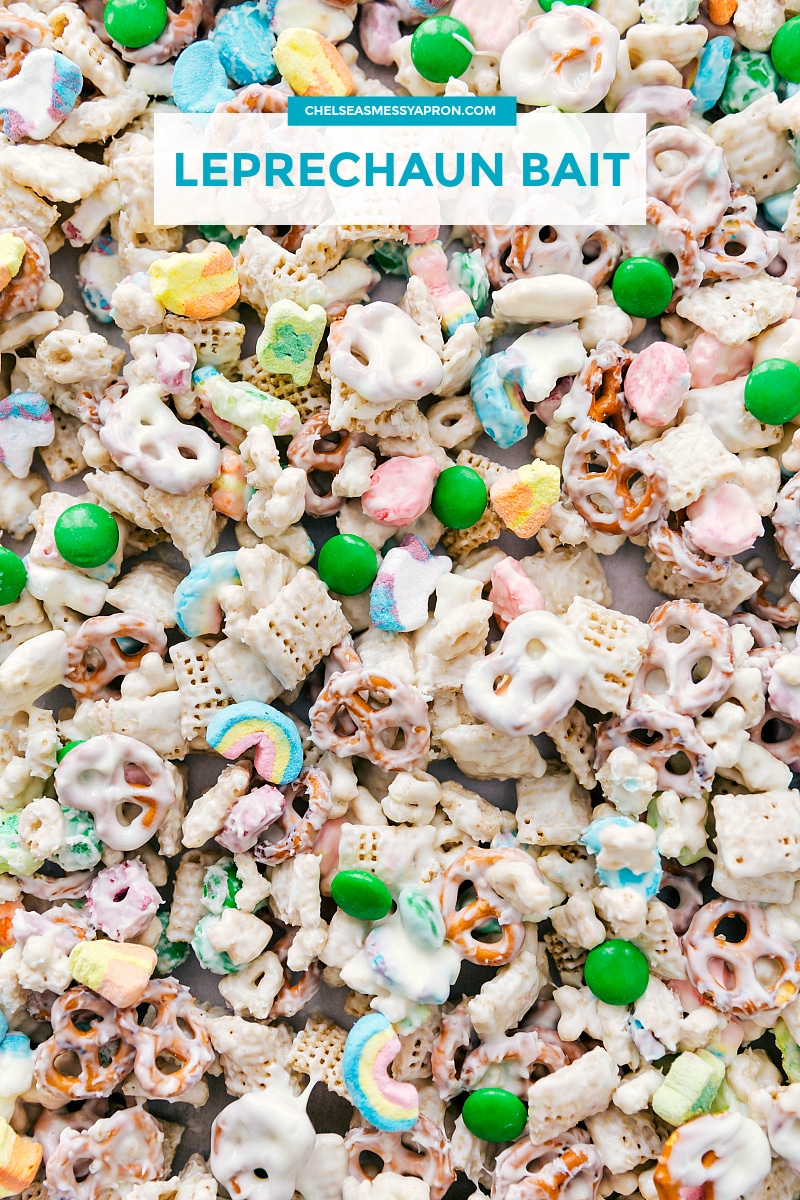 I blame my mom for my obsession with all things holiday related. She went all out for just about every single holiday and St. Patrick's day was no exception. She'd hide gold chocolate coins around the house, ensure we all had plenty of green to wear, and then serve an all green dinner.
Usually dyed green spaghetti, green grapes, and a green salad. For dessert, we'd have her famous rice krispie treats and cover them in green sprinkles. While I don't usually do quite as much for St. Patrick's day, I'll usually serve something green-ish (like this pesto tortellini) and whip up a festive treat. And this year that treat is definitely going to be this leprechaun bait.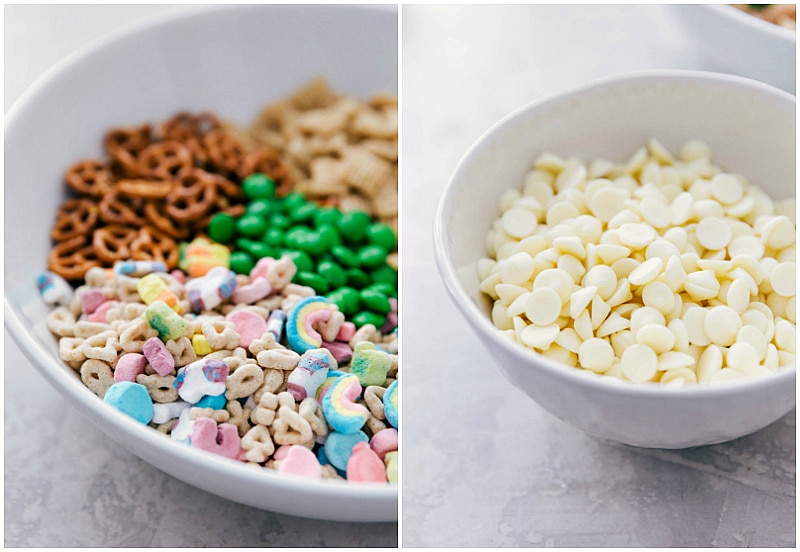 The best part of this leprechaun bait is how simple it is to make. Below I'll share the process and then a few tips for melting white chocolate in the microwave.
How to make Leprechaun Bait
Combine Ingredients: make sure to toss all the ingredients together in a very large bowl.

Note on ingredients: This mix is best with ingredients that are generally the same size. While most of the ingredients are similar sizes, regular sized pretzels can easily overpower everything else. If your store sells "itty bitty mini" pretzels those are the best in this snack mix.

Melt White Chocolate: microwave the chocolate until melted and then immediately toss it with the mix. Read below for tips on melting white chocolate!
Let Harden: let the mix stand at room temperature to harden OR if you're in a rush, stick it in the fridge for about 10-20 minutes. Break apart and enjoy or package up!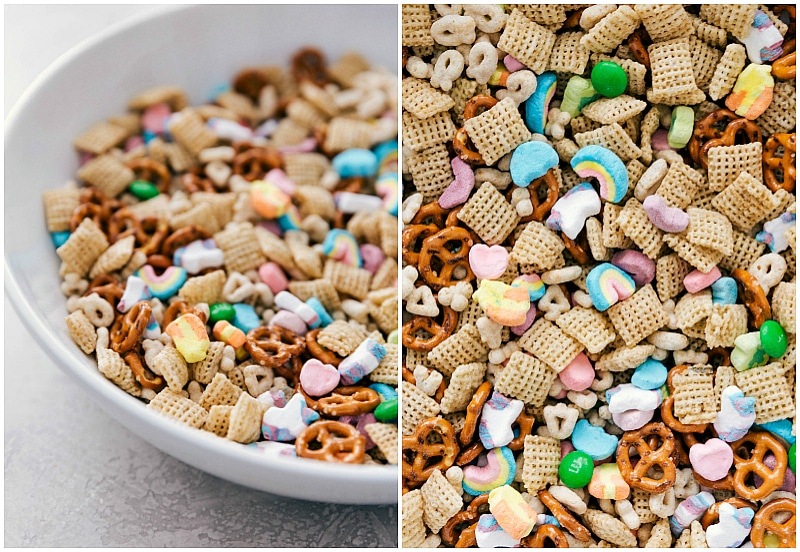 A few quick tips
Use high quality white chocolate for best results: both a better melt and a richer taste. (My favorite is Ghirardelli or Guittard.)
One of the biggest mistakes is thinking the chocolate isn't melted all of the way and then returning it to the microwave for it to then unfortunately burn. Remember the chocolate is still melting even after it has been removed from the microwave. The best tip I have for avoiding burned white chocolate: stir it often in between the melting process (every 30 seconds) and stir it for at least 20-25 seconds in between each microwave burst.
Work quickly: white chocolate hardens quickly, so mix it with the leprechaun bait immediately after it is fully melted.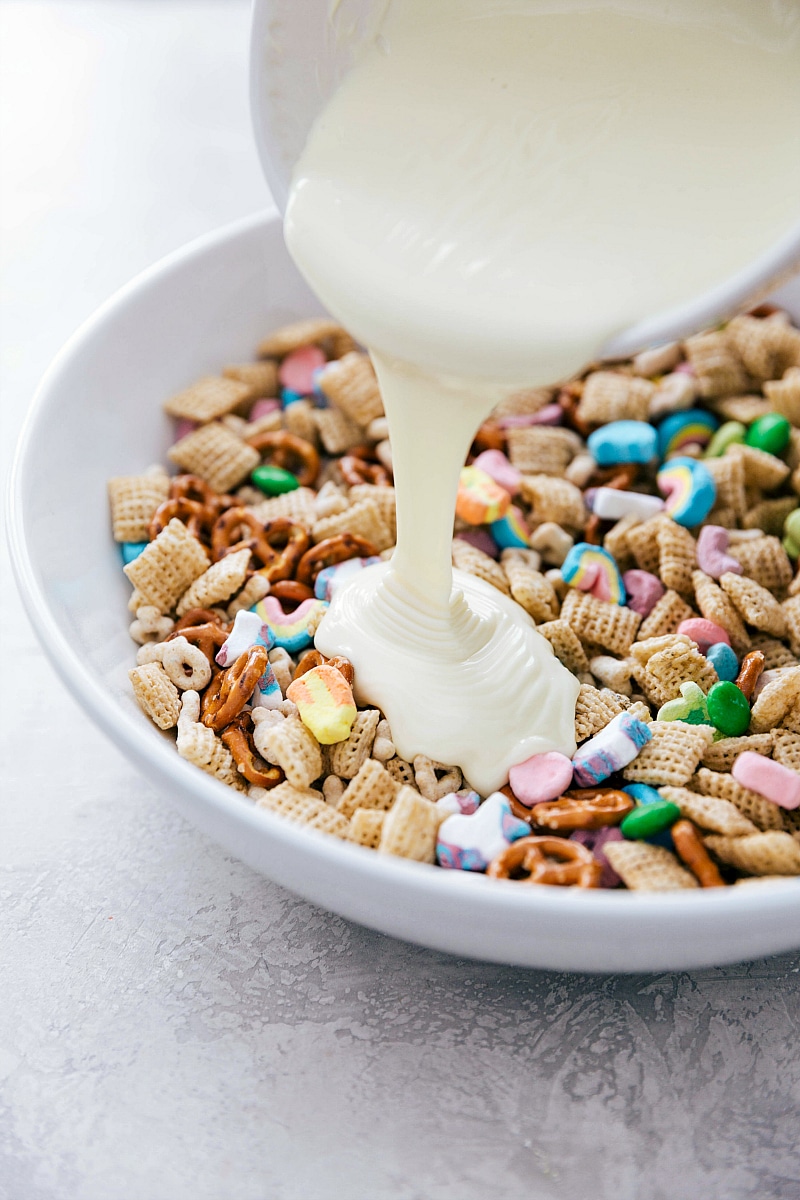 How to use the printable
Print the bag toppers on glossy cardstock paper. (Email the PDF's to Staples/Office Max and print there for best quality.)
To make cutting and folding the printable easy use a good Paper Cutter and a Scoring Board.
I found that Zip-loc has the nicest looking snack-size bag, but any snack size bags will work.
Do not print straight from the website file; make sure to first SAVE it to your computer and then print. If you're still having issues, try a different browser or feel free to drop me an email!
To assemble: fill up snack sized bags with the leprechaun bait, seal them, and staple a cut out and scored printable on top.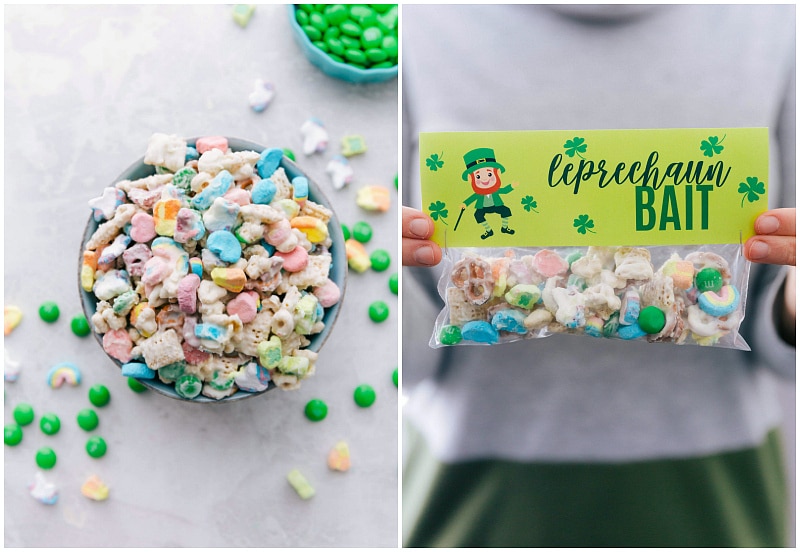 More Delicious Desserts:
Free Leprechaun Bait Printable
Fill out the form below and we'll send it to your email.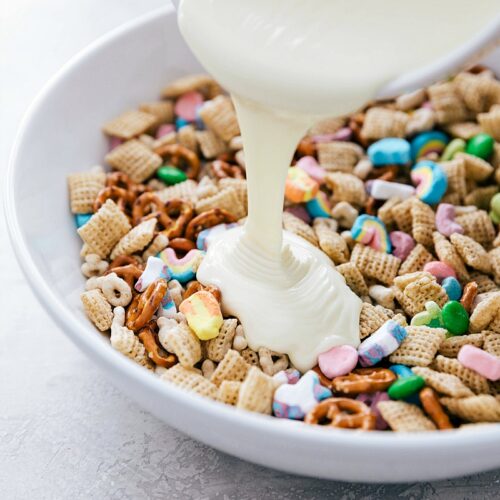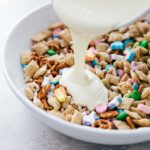 Leprechaun Bait
This easy, no baking required Leprechaun Bait makes the perfect treat for St. Patrick's Day. This addictive snack mix is packed with Lucky Charms, chex cereal, pretzels, chocolate-covered candies, and coated in melted white chocolate.
Ingredients
2

cups

corn chex

1

cup

miniature pretzel twists

1 and 1/2

cups

Lucky Charms cereal

1/2

cup

Lucky Charms marshmallows (pick out of cereal)

3/4

cup

green M&Ms,

separated

1

bag (11 ounces)

high quality white chocolate chips

1 and 1/2

teaspoons

vegetable oil
Instructions
Line a large sheet pan with parchment paper and set aside.


In a large bowl, combine corn chex, pretzels, Lucky Charms, Lucky Charms marshmallows, and 1/2 cup green M&Ms.


In a medium sized bowl add the white chocolate chips and vegetable oil. Microwave for 30 seconds, stir, and microwave for another 25 seconds. Stir until melted and smooth. If needed return to the microwave for a little longer. (Bursts of 10 seconds stirring for 10 seconds in between each burst). Pour the melted and smooth white chocolate over the snack mix.


Gently stir until completely combined and then transfer to the prepared baking sheet and spread into one even layer. Add remaining 1/4 cup M&Ms on top.


Allow to harden at room temperature or place in the fridge until firm, about 10-20 minutes. Break into pieces and serve OR fill up snack sized bags and attach the free printable (link to printable above this recipe).