Peanut butter blossoms — a chewy peanut butter base stuffed with a chocolate kiss. The secret to the best blossoms? Keeping the cookies small and rolling them in sugar before baking!
If you're looking to serve these on a platter with other cookies, consider serving them alongside this snickerdoodle recipe (RAVE reviews!), oatmeal chocolate chip cookies, or brownie cookies!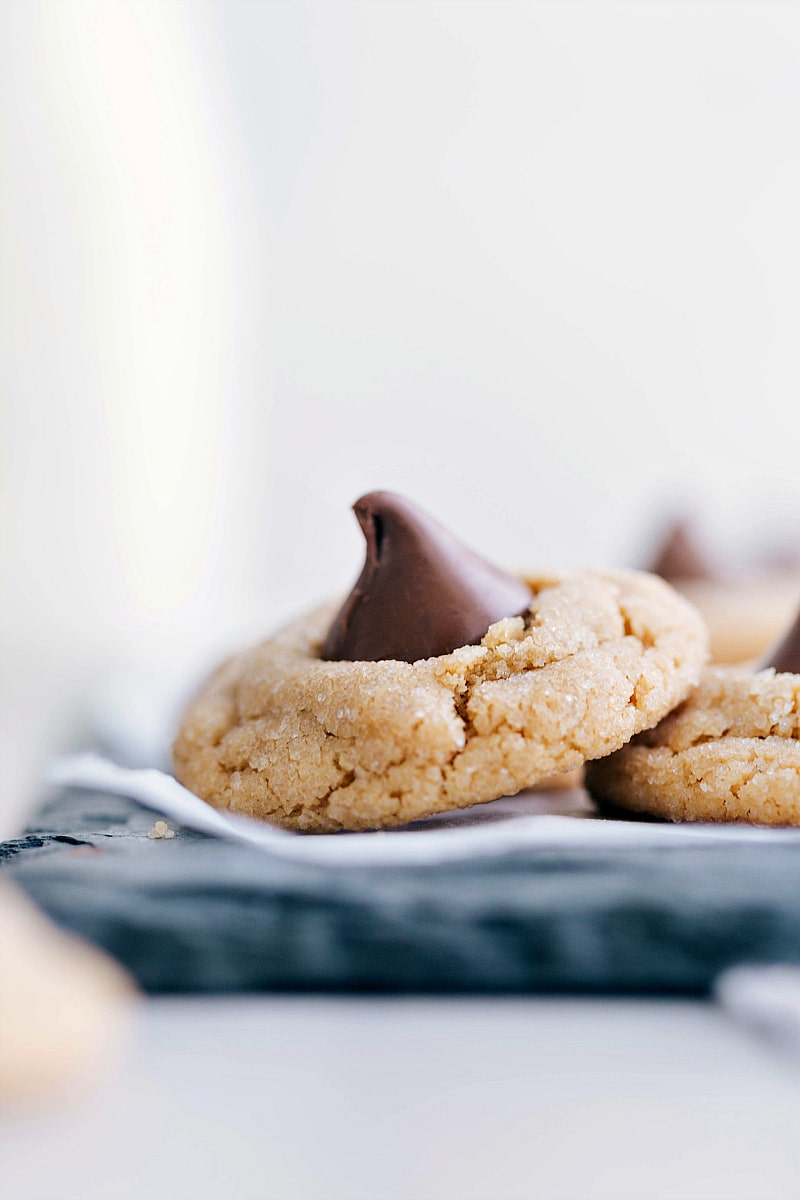 Peanut Butter Blossoms
Welcome to day #2 of Christmas cookie recipes! These peanut butter blossoms are a Christmas classic at my home. My boys love peanut butter cookies and are obsessed with chocolate, so they're definitely a no-brainer to make 🙂 Today I'm going to share all my tips and tricks for making truly delicious peanut butter blossoms and some fun variations to try!
While I do truly love peanut butter blossoms, I prefer having the chocolate more evenly spread throughout the cookie. This problem can be solved by smaller cookie dough balls and/or using alternate chocolates. Try switching out the chocolate kisses on top for Dove chocolates, Rolos, OR (for the truly peanut butter crazed) miniature peanut butter cups. (The last photo in this post shows a stack of peanut butter blossom with Dove chocolates on top).
Read on to learn my tips and tricks for perfect chewy peanut butter blossoms!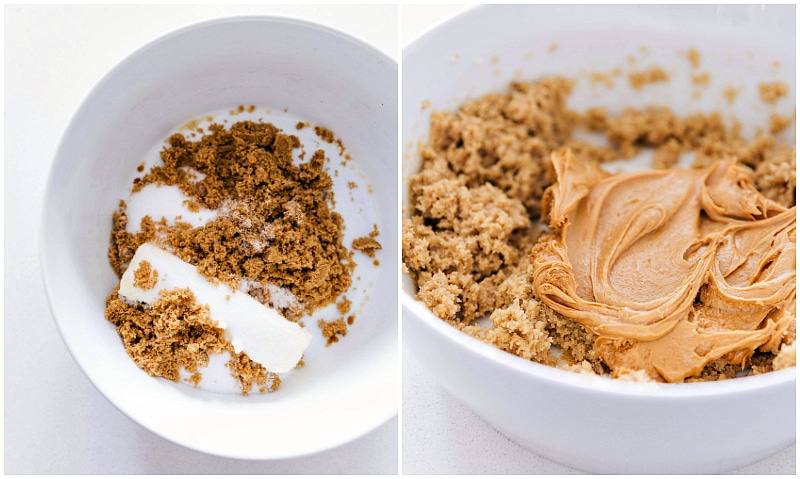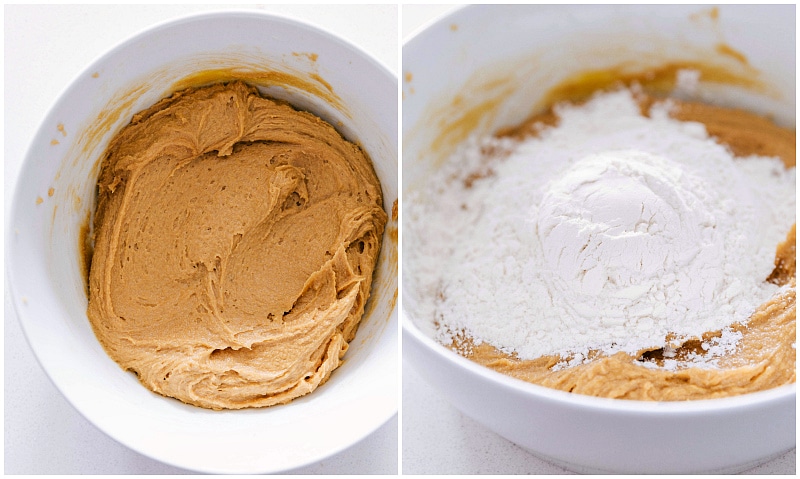 How to make peanut butter blossoms
Cream together butter and sugar: creaming simply means mixing butter and sugar(s) together until well blended. You'll have a fluffy and pale brown mixture.

Why is it important to cream the butter and sugar together? By creaming the two together you're creating air pockets in the dough. The air will then mix with leavening agent(s) and expand making the cookies rise and giving them a great texture!

Mix in the peanut butter and then the egg and extracts: one of my "secrets" to great peanut butter cookies is almond extract. Just a tiny bit intensifies the nutty flavor of the cookie!
Whisk together dry ingredients: we're using BOTH baking soda and baking powder in these cookies, salt to intensify all the flavors, and cornstarch to keep these cookies soft & chewy!
Add dry ingredients to wet: you want to add the dry ingredients until *just* incorporated making sure to not overmix the batter. Overmixing will yield denser cookies as the gluten is activated in the flour.
Chill the dough: this is essential to keep the cookies from spreading and to give them the best texture and flavor possible — the sugars absorb, the dough becomes more flavorful, and the butter solidifies again with a quick chill in the fridge.
Roll the balls in the sugar: another "secret" to delicious blossoms is rolling them in granulated sugar before baking. I've found the best size for a peanut butter blossom is exactly 1 tablespoon. Use a measuring spoon to measure out each dough ball, roll it in sugar, and bake!
Add chocolate of choice: once the cookies are baked, remove them from the oven and allow them to cool for a few minutes before pressing a chocolate into the center.
While you CAN freeze these cookies, I don't recommend it. Sometimes a white filmy residue forms on the chocolate kiss (they are still safe to eat, this residue is just from cocoa butter in the chocolate separating from the cocoa solids) and the overall peanut butter cookie does lose some texture.
Instead of freezing already baked cookies, try freezing the dough! Drop the tablespoon balls on a large sheet pan and freeze until solid. Once solid, transfer the frozen cookie dough balls into an airtight container and freeze for up to 3 months. To bake: you can bake straight from the freezer; just add 1-3 minutes onto the cooking time. Alternatively thaw the dough in the fridge and bake according to directions.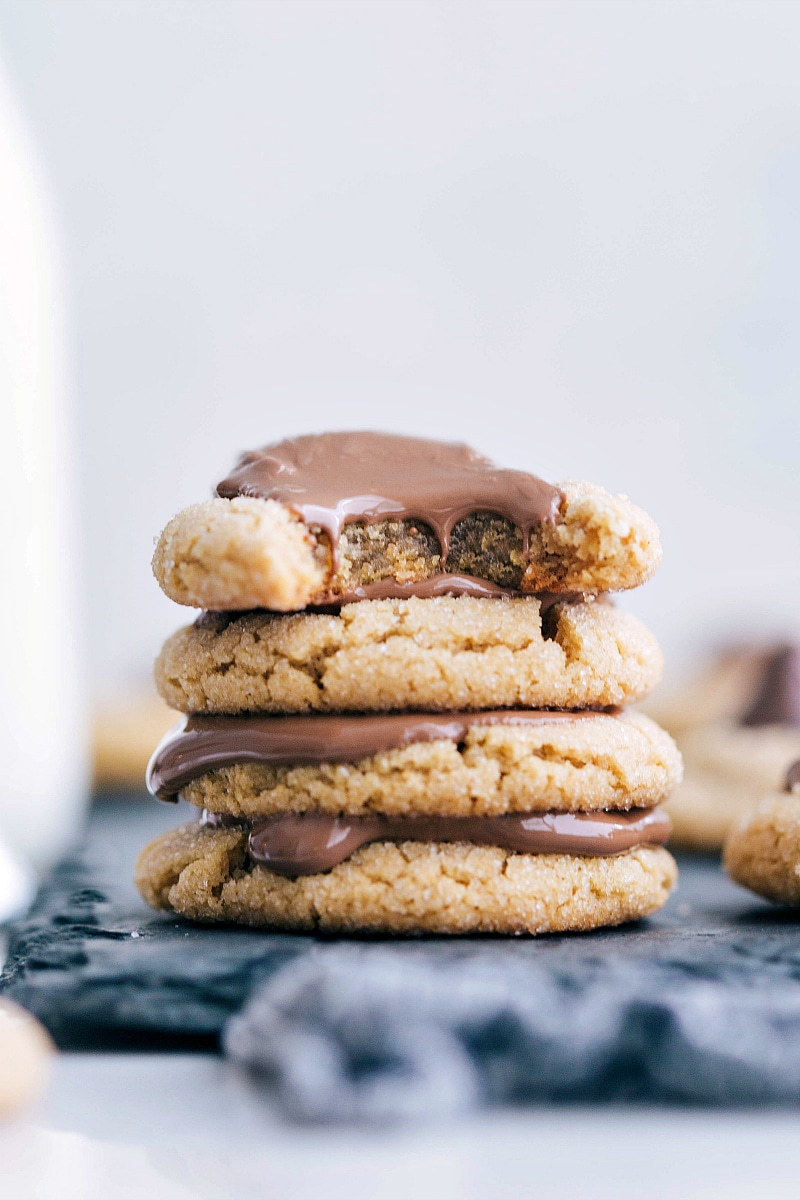 More delicious cookie recipes: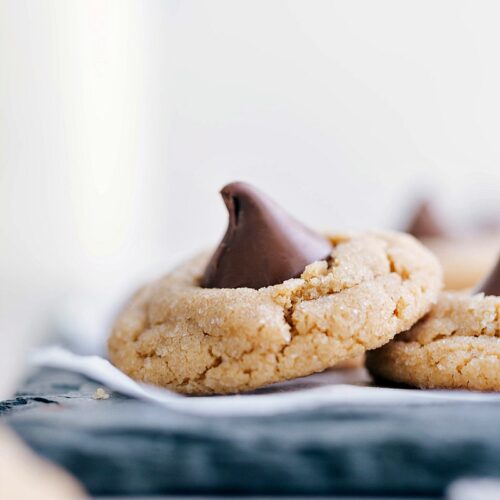 Peanut Butter Blossoms
Peanut butter blossoms -- a chewy peanut butter base stuffed with a chocolate kiss. The secret to the best blossoms? Keeping the cookies small and rolling them in sugar before baking!
Keyword:
peanut butter blossoms
Ingredients
1/2

cup

unsalted butter,

at room temperature

1/2

cup

dark brown sugar,

(light brown works too) lightly packed

1/2

cup

white granulated sugar

3/4

cup

creamy peanut butter

1

large

egg

1 and 1/2

teaspoons

vanilla extract

1/8

teaspoon

almond extract,

optional

1/2

teaspoon

salt (I use fine sea salt)

1/4

teaspoon

baking soda

1/4

teaspoon

baking powder

1

teaspoon

cornstarch

1 and 1/4

cups

white all-purpose flour

(measure by spooning flour into a measuring cup and leveling it off with a butter knife)

1/3

cup

white granulated sugar

40-45

chocolate kisses OR dove milk chocolates, miniature reese's cups, or rolos,

unwrapped
Instructions
In a large bowl, cream together the butter, brown sugar, and white sugar until light, creamy, and fluffy, about 3-4 minutes. Beat in the peanut butter until smooth. Add in the egg, vanilla, and (if using) almond extract.

In another bowl, whisk together the salt, baking soda, baking powder, cornstarch, and flour. Stir to combine.

Add dry to wet ingredients and mix until JUST combined. Cover the dough and refrigerate for 30 minutes up to an hour. (If you chill longer than a few hours or overnight let the dough sit out at room temperature for 10 minutes)

Preheat the oven to 350 degrees and line a sheet pan with a silpat liner or parchment paper. Add remaining 1/3 cup granulated sugar to a shallow bowl or plate.

Use a 1 tablespoon measuring spoon to lightly pack in the dough and level it off. This is the exact dough ball size you need! Roll that dough in a ball and then roll to coat in the set out sugar. (If the dough is starting to get too warm from rolling, chill the dough balls on the sheet pan for 5-10 minutes before baking to avoid spread)

Place on prepared sheet pan and bake for 8-10 minutes. (I recommend baking 9 cookies at a time.)

Remove and allow to cool for 1 and 1/2 minutes before pressing an unwrapped candy into the cookie. Let stand to finish cooling and for the chocolate to set.