These chewy pistachio cookies have a soft and chewy center, crisp edges, and an incredible flavor. They're packed with white chocolate chips and coarsely chopped pistachios and the dough has a hint of honey flavor.
These classy cookies are the perfect treat to bring to a party! Other popular cookie recipes to try are these snickerdoodles, chewy chocolate chip cookies, or toffee chocolate chip cookies.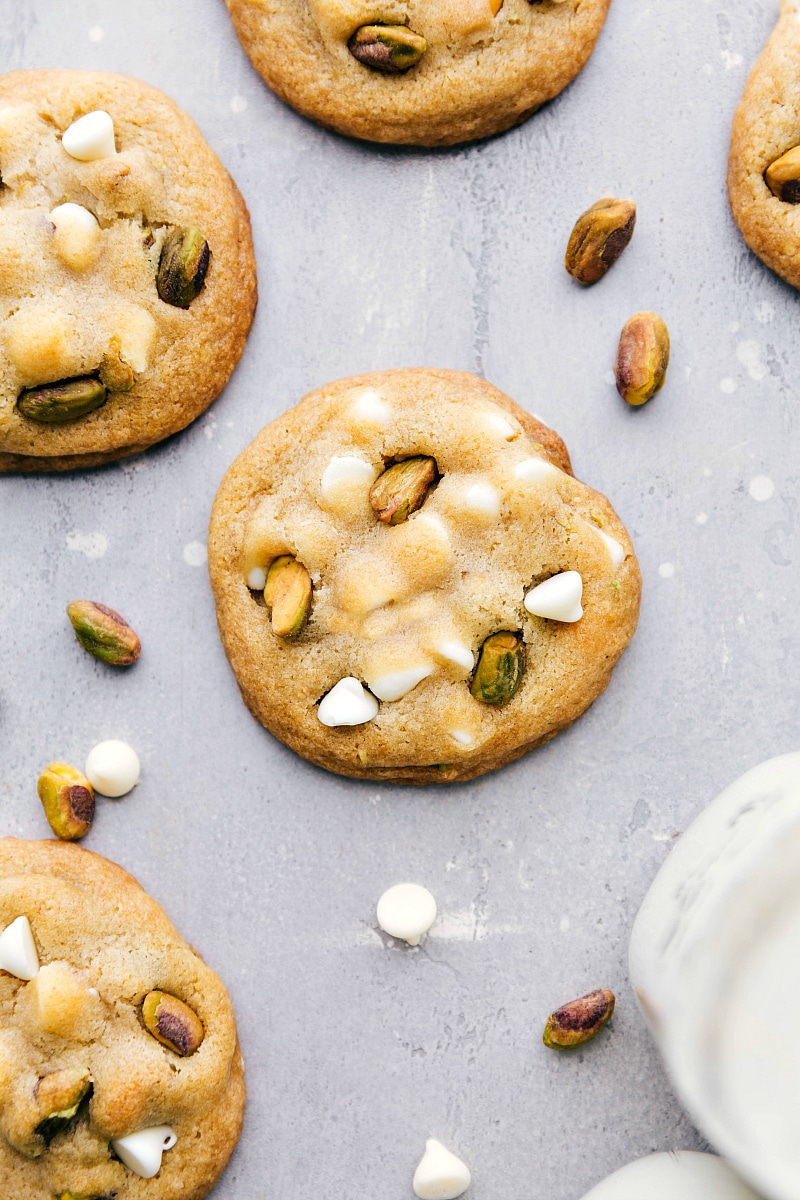 My father-in-law and husband both have the same favorite type of cookie: white chocolate macadamia nut cookies. And while I'll admit they're one of my favorite cookie flavors as well, macadamia nuts aren't my first pick of nuts.
But, pistachios, well pistachios are hands down my favorite nut.
So why I haven't put pistachios into cookies until now, I'm not sure, but I promise I'm never looking back. These sweet, soft & chewy cookies, with a hint of honey flavor and a whole lot of pistachios are perfection. Or as my sister phrased them to be "a total game changer". ?

Pistachio cookies tips
Let the melted butter cool: once the butter is melted, it needs to cool back to room temperature. This is VERY important. If the butter is hot, it is going to melt the sugars which will cause greasy cookies that spread.
Chill the dough: since we melted the butter, the dough needs time to chill allowing for the butter to re-solidify. Otherwise, these cookies spread into a pancake! The chilling time also gives a chance for the flavors and textures to meld together and intensify.
Coarsely chop the pistachios: you want to hand chop the pistachios coarsely to get good variation in the chunks of pistachios throughout the cookies. Use toasted pistachios for extra flavor! If your pistachios are salted, make sure to reduce the salt addition.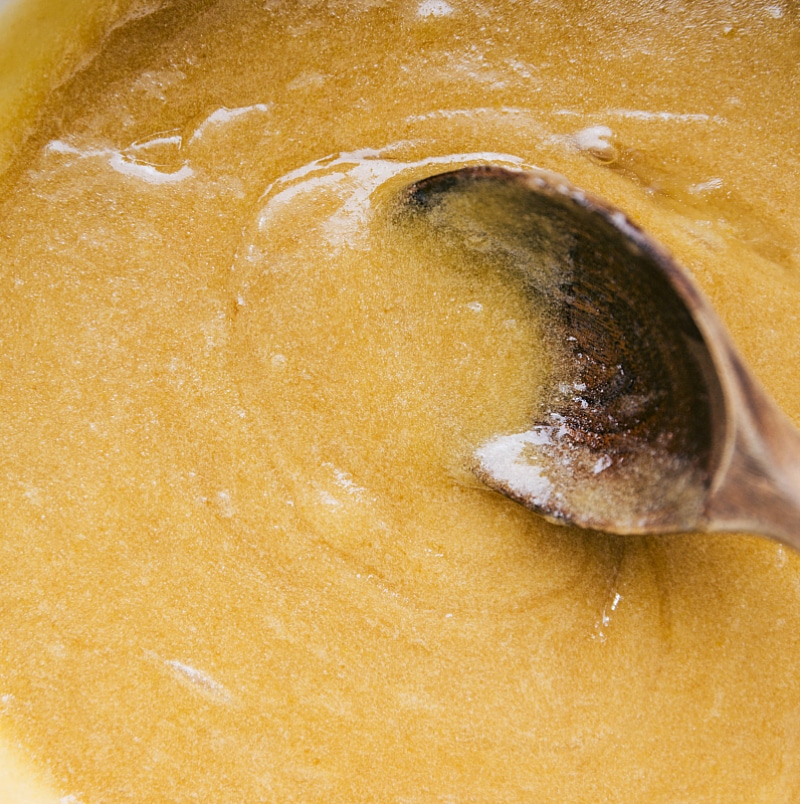 Pistachio cookies tips continued
Use the right temperature of ingredients: when at room temperature, eggs and butter form an emulsion which traps air. While baking in the oven, that trapped air expands and produces a fluffy baked good. If possible, use room temperature eggs for this recipe. Soaking refrigerated eggs in a bowl of warm (not hot) water for about 5-10 minutes is a quick way to get eggs to room temperature.
Measure carefully: the most important measurement is the flour. If you press a measuring cup into a bag of flour you are likely packing in way too much flour which will yield cakey and less flavorful cookies. Spoon the flour into a measuring cup and level the top with the back of a butter knife. I've also included gram measurements with this recipe if you prefer to measure using a scale.
Bake on a silpat liner or parchment paper. This helps bake foods evenly without burning and allows the cookies to release from the pan and clean up effortlessly.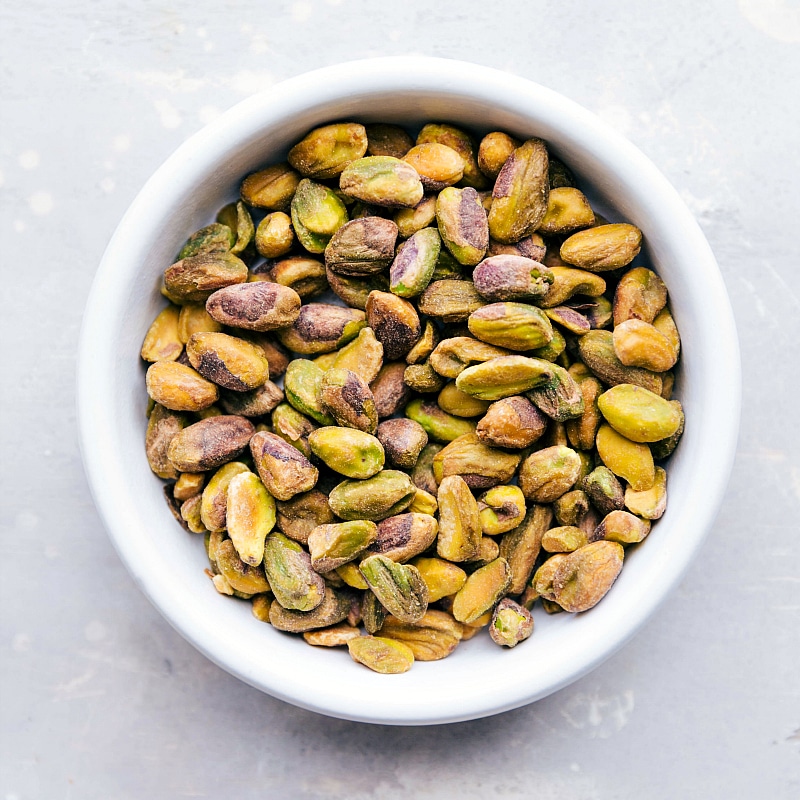 How to make pistachio cookies chewy
The more moisture in cookies, the more chewy they will be. Ingredients, baking time, and baking temperature all come into play as we work to retain moisture in the dough.
The size or mass of the cookies also contributes to their chewiness. Big cookie dough balls make softer and chewier cookies than smaller ones.
The number one way to get chewy white chocolate pistachio cookies — don't bake them too long. Remove the cookies as soon as the edges turn a light brown and the top center is pale. The cooked centers will remain soft, but as they firm up, they'll be perfectly chewy.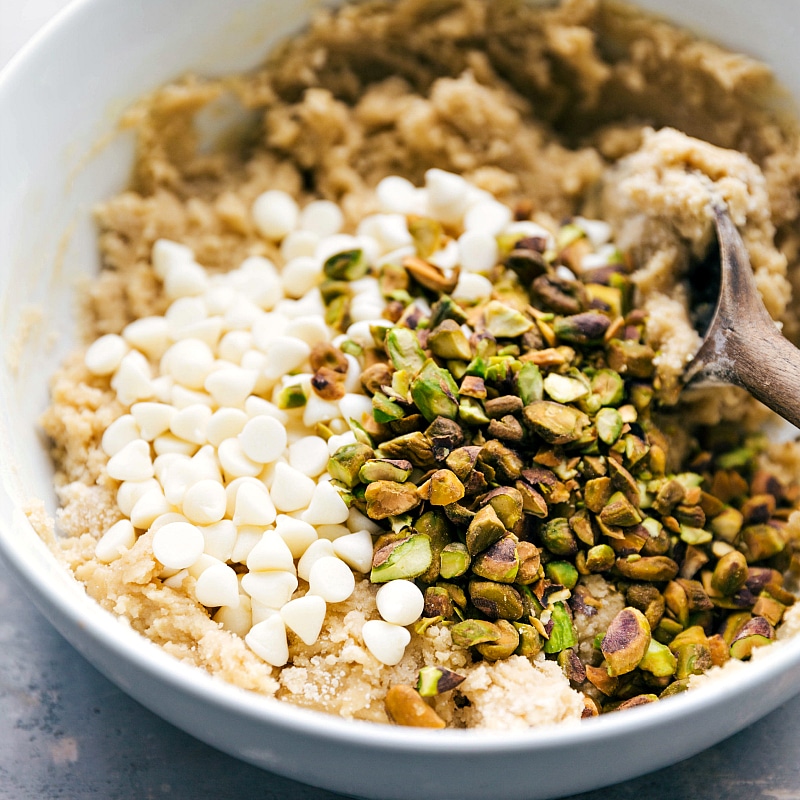 Pistachio cookie variations
Healthy pistachio cookies: these particular cookies aren't healthy, but try these breakfast cookies and add chopped pistachios to them!
Chocolate pistachio cookies: if you aren't a fan of white chocolate, add dark, semi-sweet, or milk chocolate chips to this recipe (whichever is your favorite!)
Leave out the white chocolate chips entirely and replace with dried cranberries. Or use half the white chocolate chips measurement and replace the other half with dried cranberries.
Or leave out the white chocolate chips and make these pistachio cookies with icing. Mix 1 cup powdered sugar with 2-3 tablespoons milk (stir until desired consistency is reached). Drizzle over baked and cooled cookies.
Pistachio wedding cookies: give this recipe a try!
Salty: love salt? Add a hit of sea salt flakes to the tops of these cookies!

Freezing cookies
To freeze baked cookies: place completely cooled cookies on a baking sheet and freeze until solid. Then place the cookies in freezer bags or plastic tupperware containers layering parchment paper in between each row of cookie. Freeze for up to 3 months. Note there is a slight loss of texture with freezing already baked cookies.
I recommend freezing dough balls instead:drop the cookie dough balls on a large sheet pan and freeze until solid. Once solid, transfer the frozen cookie dough balls into an airtight container/bag and freeze for up to 3 months.
To bake: you can bake straight from the freezer; just add 1-3 minutes onto the cooking time. (OR thaw the dough in the fridge and bake according to directions.)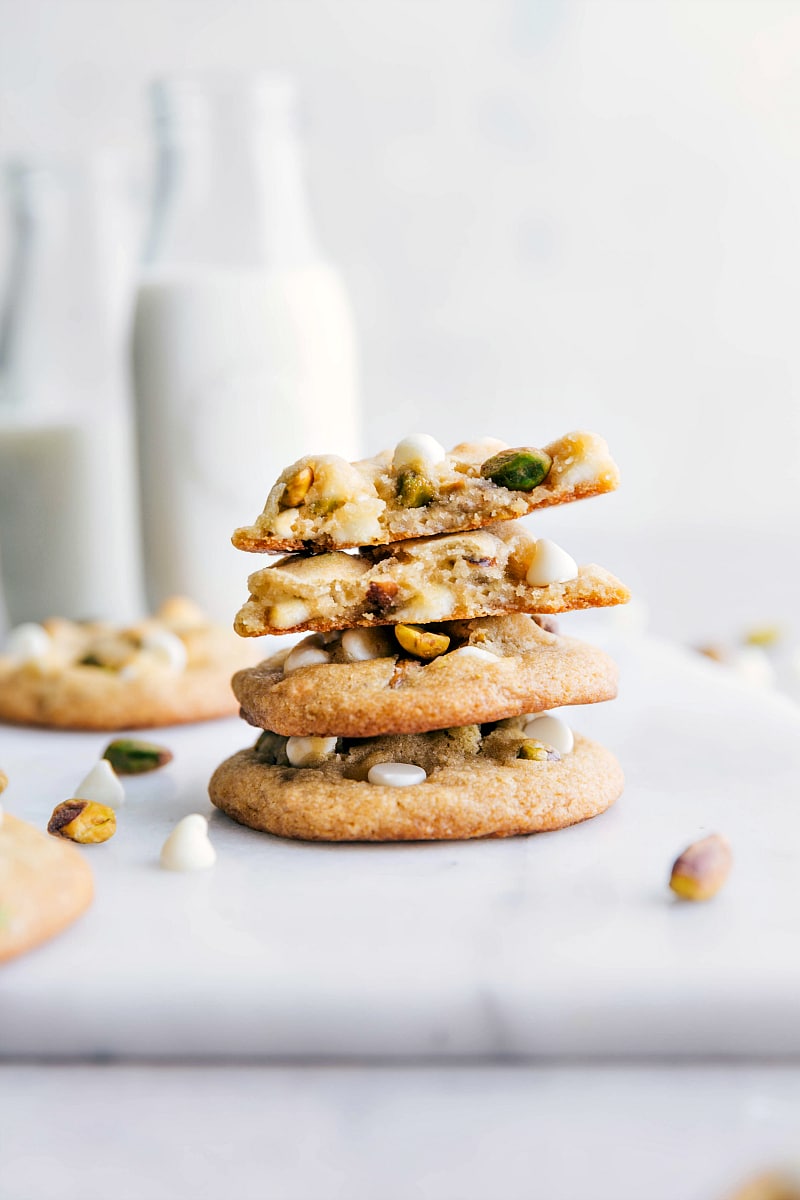 More cookie recipes: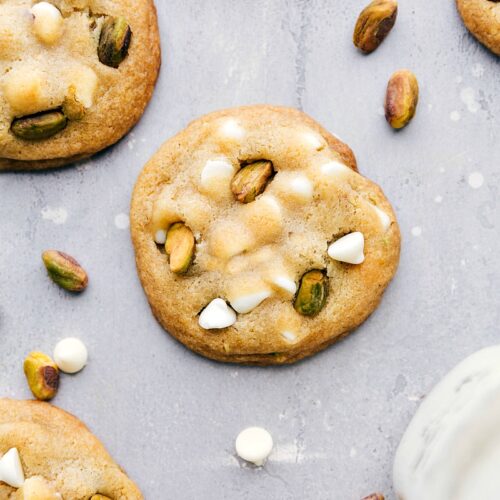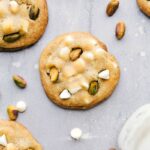 Pistachio Cookies
These chewy pistachio cookies have a soft and chewy center, crisp edges, and the perfect flavor! With white chocolate chips and pistachios these cookies are irresistible! 
Keyword:
pistachio cookies
Ingredients
8

tablespoons (113 g)

unsalted butter

1/2

cup (94g)

light brown sugar

1/2

cup (101g)

white sugar

2

tablespoons (46g)

honey

1

large

egg

1/2

teaspoon

pure vanilla extract

1

teaspoon

cornstarch

1/2

teaspoon

baking soda

1/2

teaspoon

baking powder

3/4

teaspoon

fine sea salt

1 and 3/4

cup (225g)

white all purpose flour

3/4

cup (133g)

white chocolate chips

1/2

cup (64g)

roasted pistachios
Instructions
In a very large, microwave-safe bowl, melt the butter. Once melted, stick it in the fridge for 5 minutes. It's important the butter isn't hot when you add in the sugars or it will melt the sugar and make the cookies greasy.

Once butter is cooled to room temperature, stir in the light brown sugar, white sugar, and honey. Stir until smooth. Stir in the egg and vanilla extract. Stir until smooth

Add in the cornstarch, baking soda, baking powder, and salt. Again, stir until smooth. Add in the correctly measured (Note 2) flour and mix until JUST combined. Don't over mix.

Gently stir in white chocolate chips and coarsely chopped pistachios.

Cover the bowl tightly and chill for 1 hour.

Preheat the oven to 350 degrees F. Line a sheet pan with a silpat liner or parchment paper and set aside. Roll balls of dough into tall cylindrical balls (see picture above for shape and size). Place 6-8 cookie balls on a sheet to give the cookies plenty of room to spread. Dough balls should be about 1.7 ounces (49g).

Bake for 8-12 minutes erring on the side of under-baking which keeps them soft and chewy (We like ours right at 9 minutes)! Remember the cookies will bake a little more out of the oven, so take them out as soon as the edges start to lightly brown.

Remove from the oven (and IF desired press a few extra chocolate chips or pistachios into the tops of the cookies to ensure even placement of chocolate AND makes them look pretty!). Allow to cool on the baking tray for 5 minutes before transferring them to a cooling rack.

STORAGE: We like these cookies best on day 1 and 2 of being made. They do last up to 1 week, but they do begin to lose texture and flavor. To store: place in an airtight container and keep at room temperature. Wait until cookies are completely cooled before adding to the container.