A show-stopping simple strawberry poppyseed salad with fruity and sweet strawberries, creamy avocado, crunchy candied almonds, and tangy feta cheese. The poppyseed dressing is the absolute best and takes only minutes to whip together.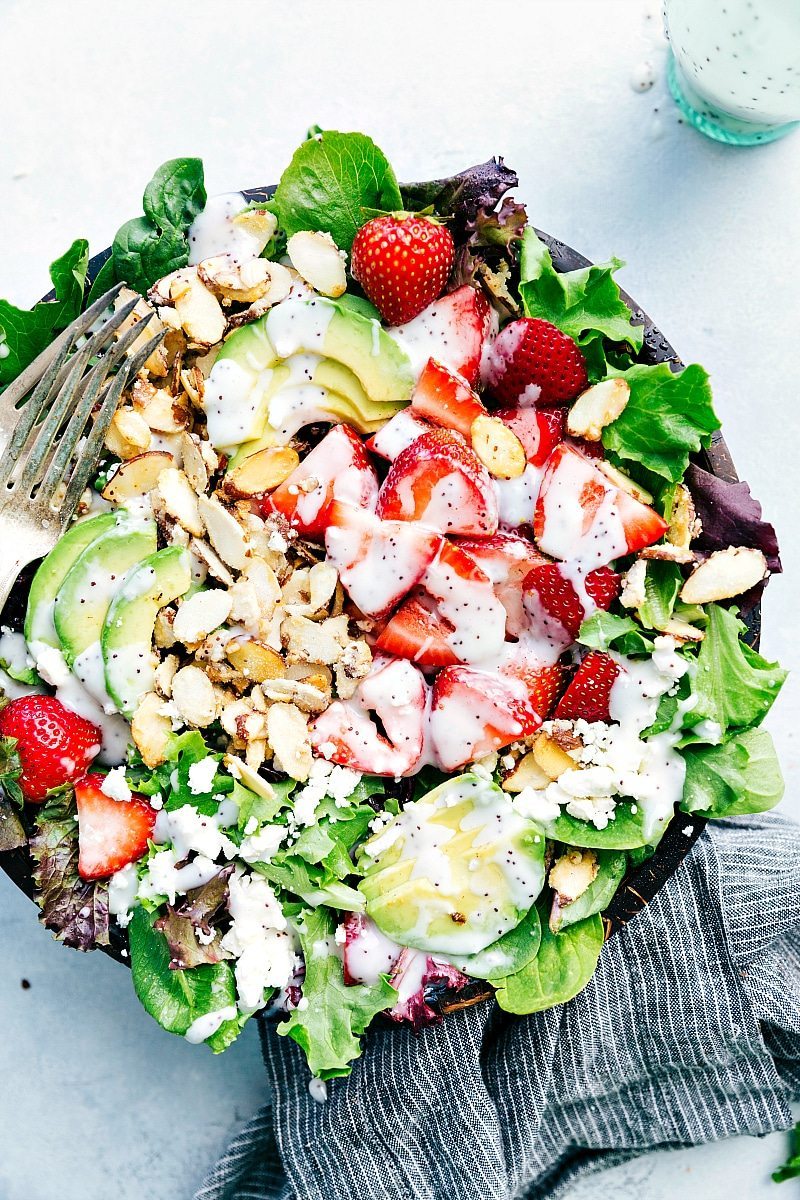 Strawberry poppyseed salad
This is one of my all time favorite salad recipes! It's got the perfect blend of flavors and textures — creamy, sweet, and crunchy. This recipe is based off a favorite salad from Panera, but with my own twist of course. 🙂
Panera's strawberry poppyseed salad has a medley of fruit, chicken, nuts, and a poppyseed dressing. For this recipe, we've got strawberries, nuts, and a poppyseed dressing, but I replaced the other fruits with avocado and some feta cheese. The avocado lends an incredible creaminess that works so well with the crispness of the nuts and strawberries. And the feta cheese ties everything together so nicely.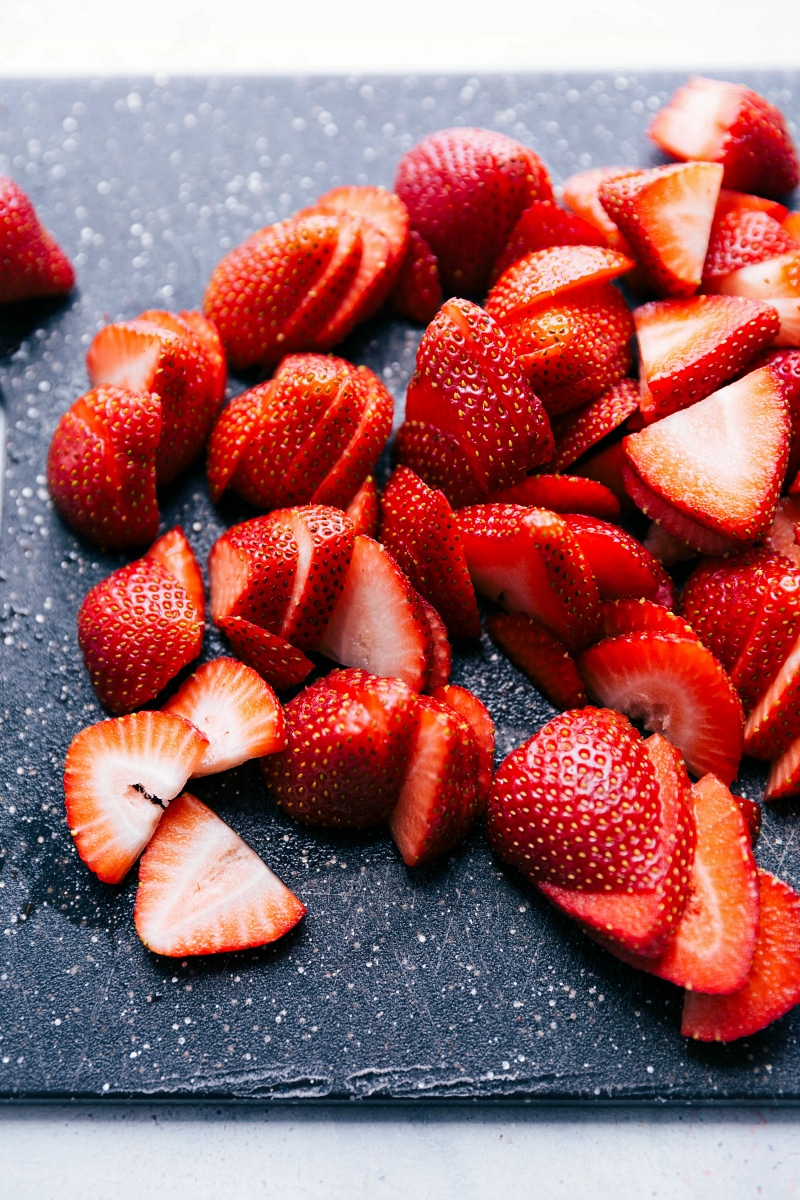 Is poppyseed dressing good for you?
While the poppyseed dressing does have a good amount of mayo and sugar in it, it also boasts some positive effects when enjoyed in moderation. There are many health benefits to consuming poppyseeds as well as apple cider vinegar. And despite the drawbacks, if poppyseed dressing gets you to eat lots of healthful ingredients (like lettuce, avocado, nuts, and strawberries), it's a great dressing to enjoy on occasion.
For a healthier (lemon juice & olive oil based) poppyseed dressing, try the dressing included in this apple quinoa salad recipe.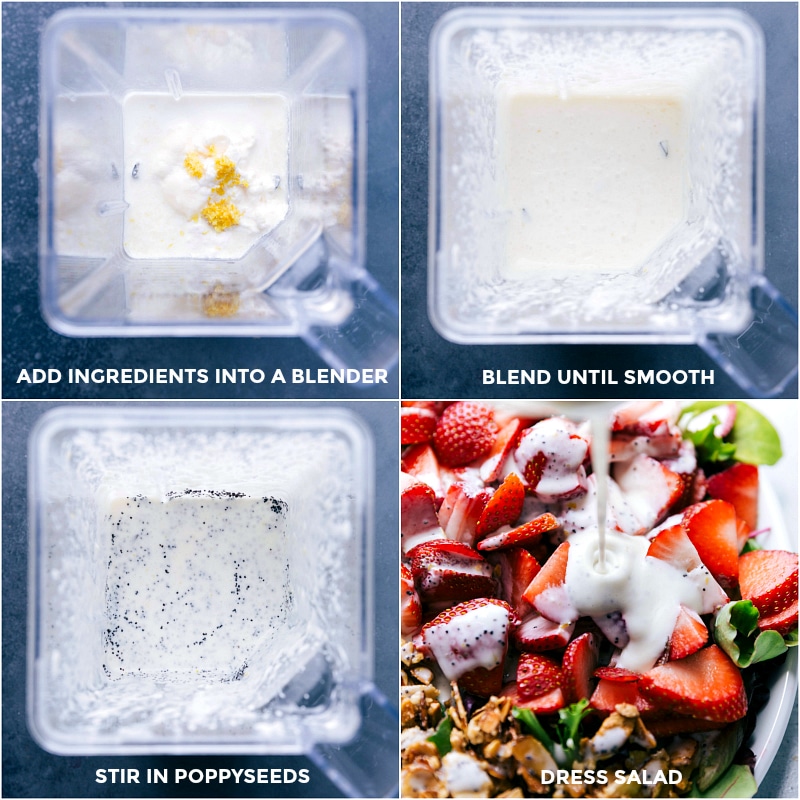 Candied almonds
The candied almonds add a nice crunch and additional sweetness to the salad. They're also so quick and easy to make! Only 2 ingredients and one skillet — no oven necessary!
Because they are made in a skillet, they do require constant supervision; skillet candied almonds can go from perfect to burnt in a matter of seconds. My biggest tip here is to stir them constantly and watch carefully. As soon as the sugar begins to get sticky and wet, remove them from the burner and continue to stir until the sugar is completely absorbed into the almonds.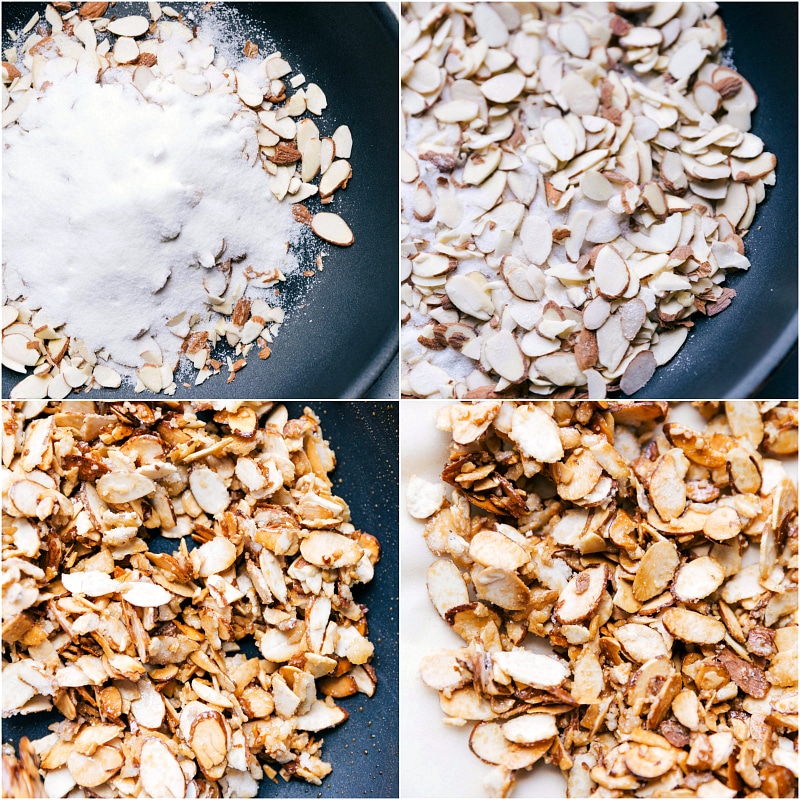 Strawberry Poppyseed Salad variation ideas
Panera's salad has blueberries, pineapple, and mandarin oranges in addition to the strawberries, so feel free to add in any other additional fruits to "copycat" that recipe.
We love feta cheese best, but another great option with this salad is blue cheese or even goat cheese.
While I think this poppyseed dressing recipe is the absolute best and highly recommend trying it (I promise it's so easy to make!) you can use store-bought dressing in a pinch. My personal favorite is Brianna's poppyseed dressing (not sponsored).
Add in some grilled chicken and call it a meal! We love this grilled chicken marinade recipe.
Recipe tips
Dressings can easily be adjusted to personal preference, so taste the dressing and slightly adapt it if needed — you may want to add a bit more sugar if you like things sweeter or a little more vinegar for more tang.
When serving this strawberry poppyseed salad for a party/event or holiday meal I recommend making the candied almonds and dressing a day or two in advance. This makes the final assembly a breeze! It's also a good idea to make both in advance as the almonds will have sufficient time to harden and the dressing has a chance to throughly chill and for the flavors to intensify.
Use a good mayo for the dressing — the better the mayo, the better the dressing will taste. I love Hellman's/Best Foods (not sponsored) since they've got a rich flavor without being overly sweet or tangy. It really is the best mayo for this dressing!
Strawberry Poppyseed Salad Storage
Unfortunately this salad doesn't sit or store well once being made. Once assembled, the salad needs to be eaten soon after otherwise the poppyseed dressing wilts the mixed greens lettuce, the avocado will brown, and almonds will soften.
To make parts of this salad in advance: prepare the dressing in advance and store in a mason jar in the fridge. Prepare the candied almonds in advance and store in an airtight container in a dry area. I wouldn't recommend any other parts of this salad being prepared in advance.
More salad recipes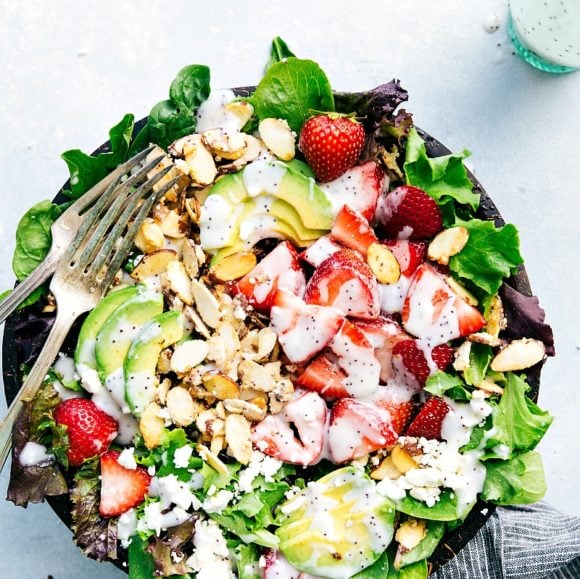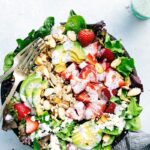 Strawberry Poppyseed Salad
A show-stopping simple strawberry poppyseed salad with fruity and sweet strawberries, creamy avocado, crunchy candied almonds, and tangy feta cheese. The poppyseed dressing is the absolute best and takes only minutes to whip together.
Keyword:
strawberry poppyseed salad
Servings
:
4
-6 as a side salad
Ingredients
Stovetop Candied Almonds (Note 1)
1

cup (95g)

sliced almonds

1/4 cup

+ 2 tablespoons (80g)

white granulated sugar
Creamy Poppyseed Dressing
1/3

cup (72g)

full fat mayo

(I recommend Best Foods/Hellmans)

2

tablespoons EACH:

whole milk, heavy cream, white granulated sugar

1

tablespoon

apple cider vinegar

1/2

teaspoon

lemon zest

Pinch of salt and pepper

1/2

tablespoon

poppyseeds
Salad
8

cups (140g; 5 oz)

baby spinach or mixed greens lettuce

2

cups (275g)

strawberries,

stems removed and sliced

1

ripe large avocado

diced (or 2 small avocados)

1/3

cup (45g)

crumbled feta cheese
Instructions
CANDIED ALMONDS: In a large skillet, add the sliced almonds and white sugar. Place over medium heat and stir constantly. The sugar will begin to melt and become a sticky liquid and then stick to the almonds. This takes about 3-4 minutes -- watch carefully and stir constantly to avoid burning the nuts. As soon as the sugar starts turning liquid-y, remove the skillet from the heat and continue to stir until almonds are well coated. Dump the candied almonds onto a sheet of parchment paper and let cool and harden. Break apart and set aside.

DRESSING: Combine all of the ingredients, except the poppyseeds, in a small blender jar and blend until combined. Taste and adjust any flavors to personal preference. (If you'd like a sweeter dressing, add an additional 1-2 tablespoons white sugar.) Stir in the poppyseeds. Store in an airtight container in the fridge until ready to serve. (Dressing stays good for 1 week stored in an airtight container in the fridge.)

SALAD ASSEMBLY: Meanwhile, add the lettuce to a large platter or bowl. Remove the stems of the strawberries and thinly slice. Remove the peel and pit of the avocado. Chop or thinly slice the avocado. Add the strawberries and avocado to the lettuce. Add in the feta cheese and candied almonds (to personal preference; we add about 1/3 cup) (Note 1)). Drizzle on the dressing (to personal preference, you may not use all the dressing -- See Note 2) and toss the salad. Enjoy immediately.

STORAGE: This salad doesn't sit well with the dressing, so only dress what will be enjoyed same day. Store any leftover salad and dressing separately. Almonds and cheese should also be stored separately. Avocado will brown if cut in advance.
Recipe Video
Recipe Notes
Note 1: This is more almonds than you'll need/want for the salad, but sugaring the almonds works best with this volume. Store leftover almonds in an airtight container in the freezer for up to 2 months or in the pantry for 2-3 weeks. Use leftover almonds as a snack, yogurt bowl topping, acai bowl topping, or salad topping.
Note 2: The dressing is likely more than you will need for the salad. Store leftovers in the fridge for 4-5 days and use for other salads or for a fruit/veggie dip.