A super simple strawberry and avocado salad with a creamy poppyseed dressing and candied almonds.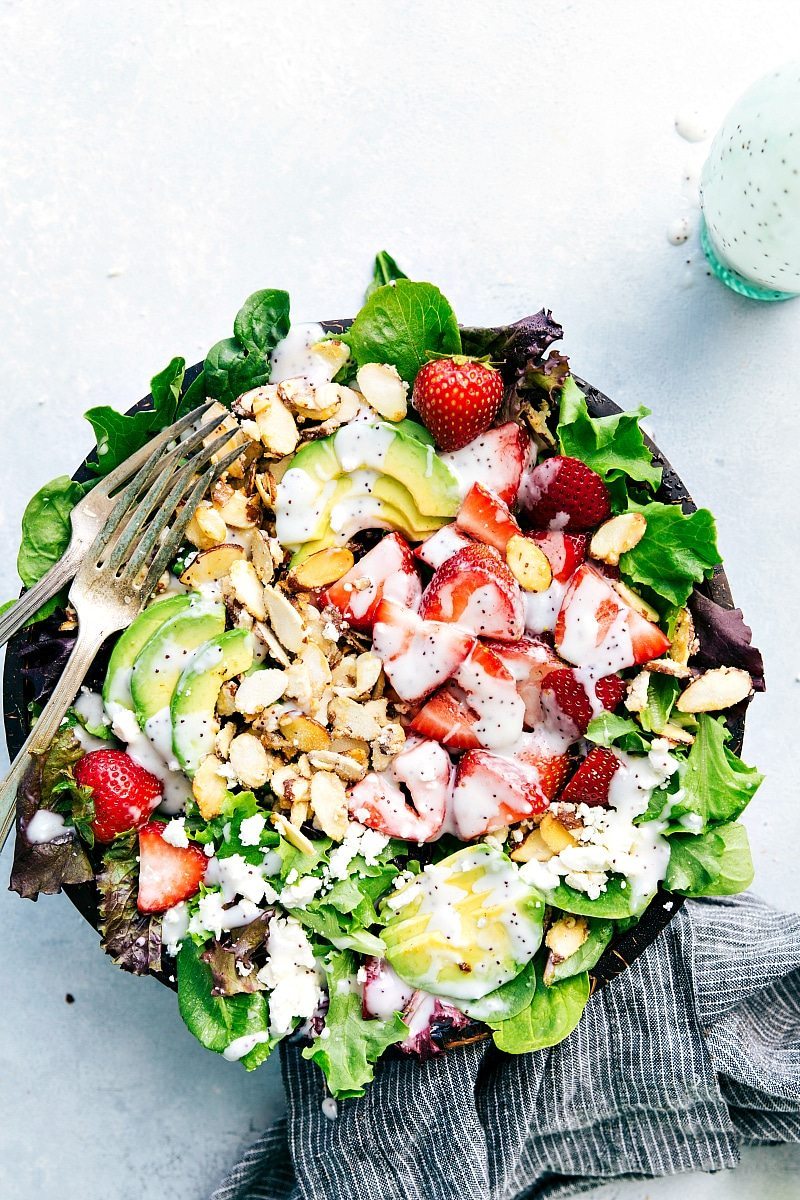 Aaaaaaand we are back in the US of A! Sorry for the little bit of absence on the blog. We ended up last minute changing our flight and coming home earlier than planned on since the husband's work study ended a bit early. In a few hours the flight was changed, we packed everything up, said our good-byes, and we started our nearly 30-hour journey back.
I'll admit, coming out to Perth was a lot easier than returning to the States with the babe. He was a bit of a handful on our long flight from Sydney to L.A. but overall he did pretty great all things considered. I mean traveling for 30 hours isn't too exciting for anyone I'm sure, especially not a BUSY 19-month old little boy.
We are still all crazy jet-lagged and working towards adjusting to mountain time! Hopefully we'll be moving into our place in the next week or so and things will be getting settled down a bit. I'm pretty excited to get all of our stuff out of the storage unit its been in for the last few months!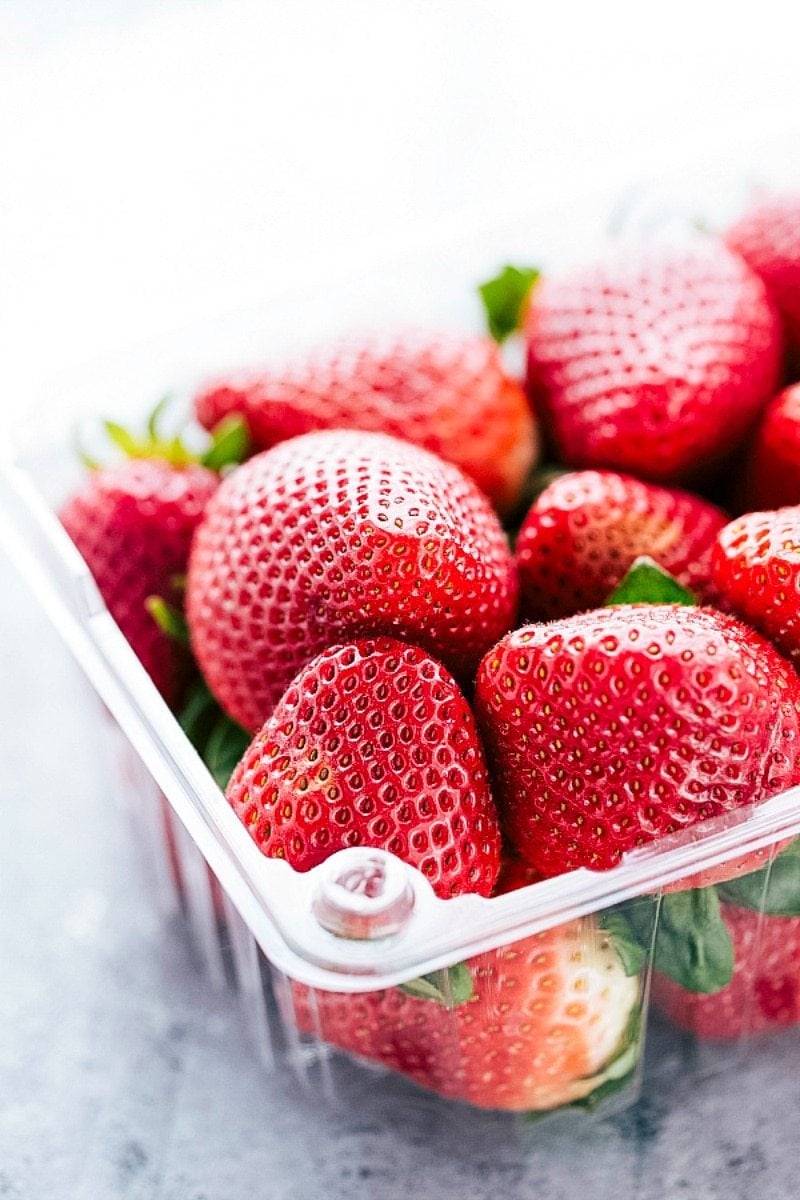 But enough about me, let's talk about this strawberry salad for a minute!
I love the smooth texture of the avocados along with the strawberries – totally delicious. A perfectly ripe avocado really makes this salad. And in a way it also makes it creamy – at least the bites with the avocado in them – definitely a creamy type of texture.
The candied almonds add a nice crunch to the salad. Don't be worried about them taking forever to finish. They are an easy TWO ingredients done in a skillet on the stove-top. No oven is necessary! All you do is combine the almonds and white sugar. You stir them around and the sugar gets thick and sticky until it all adheres nicely to the almonds which are now also toasted! YUM! Lay 'em out to dry and they will be ready to get tossed in the salad.
I personally love feta cheese, but another great combo with this salad is blue cheese. At the restaurant I used to work at there is an extremely popular spinach salad. It has spinach (obvs.), strawberries, dried pears, candied nuts, and blue cheese. Since I like feta more than I like blue cheese, that's what I used, but definitely try whichever you like best!
You can also add in some grilled chicken to this strawberry salad and call it a meal. Even some grilled steak would be pretty tasty if you are looking for a protein-filled salad!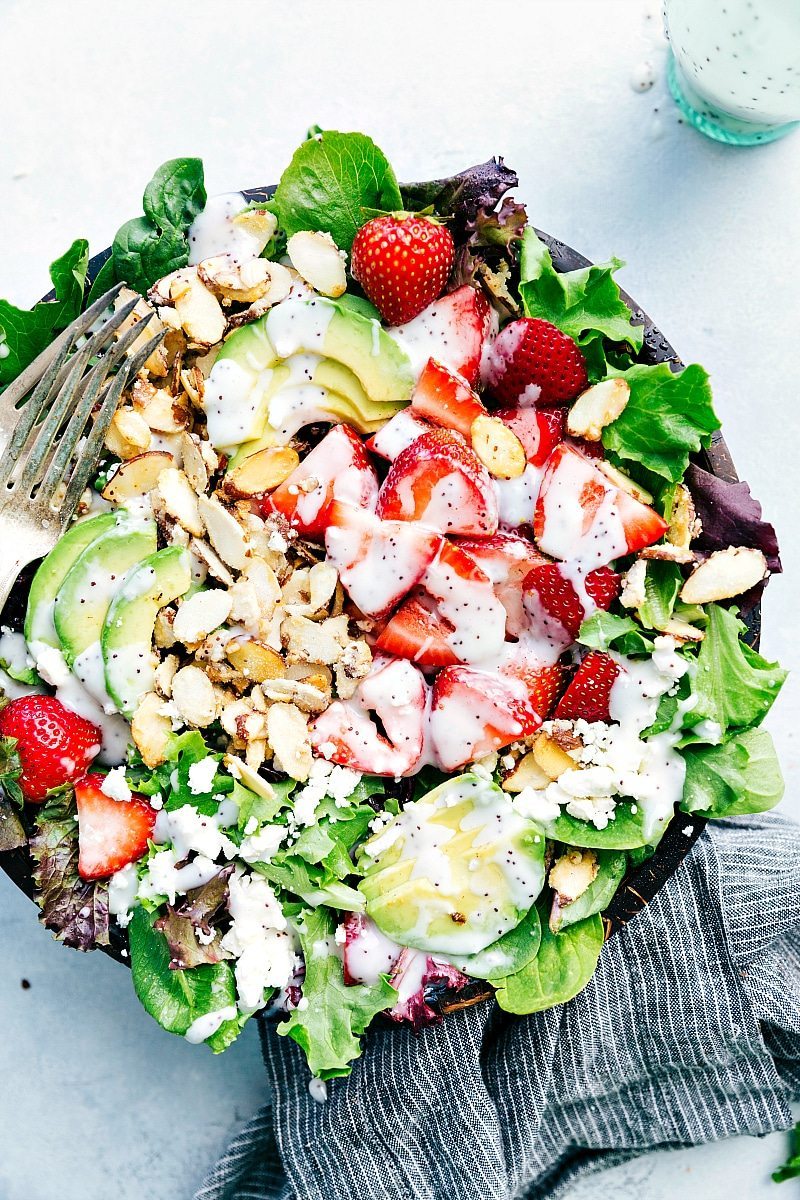 And finally, let's talk dressing. I love a good and creamy poppyseed dressing! This one whips up super quick – all the ingredients just get blended together and then you whisk (or stir) in the poppyseeds. Dressings can easily be adjusted to individual tastes, so taste the dressing and slightly adapt it if needed to your taste preference before mixing it into the lettuce. You may want to add a bit more sugar if you like things sweeter or a little more vinegar. You can also slightly thin the dressing with 1/2 – 1 teaspoon of water.
If you aren't interested in making your own dressing, you can definitely pick up some poppyseed dressing at the store. Some other fun dressings to try would be a basalmic vinaigrette, a raspberry or strawberry vinaigrette, or even a blue cheese dressing!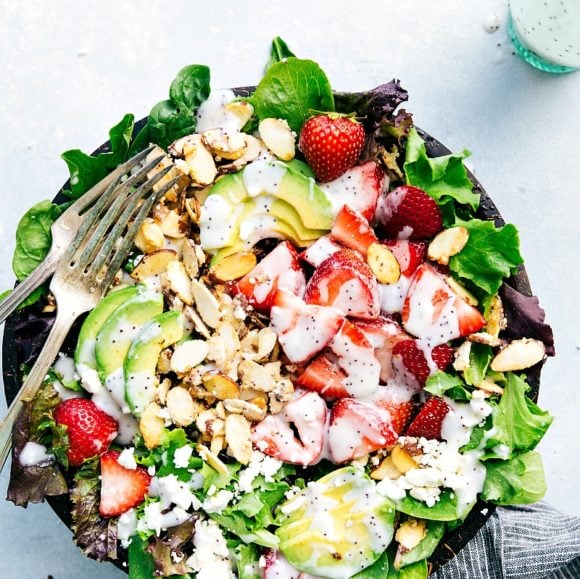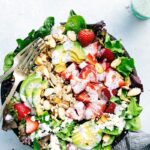 Strawberry and Avocado Salad with Candied Almonds
A super simple strawberry and avocado salad with a creamy poppyseed dressing and candied almonds.
Servings
:
4
-6 as a side salad
Ingredients
Stovetop Candied Almonds
1

cup

sliced almonds

1/4 cup

+ 2 tablespoons

white granulated sugar
Creamy Poppyseed Dressing
2/3

cup

full fat mayonaise

1/2

cup

half and half

1/4 cup

+ 2 tablespoons

white granulated sugar

2 and 1/2

tablespoons

red wine vinegar

1

large

lemon,

separated

Pinch of salt and pepper

1/2

teaspoon

poppyseeds
Salad
6-8

cups

baby spinach or mixed greens lettuce

2

cups

strawberries,

stems removed and sliced

1

ripe large avocado

diced (or 2 small avocados)

1/3

cup

crumbled feta cheese
Instructions
In a large skillet, add the sliced almonds and white sugar. Place the heat to medium-high and stir near constantly. The sugar will begin to melt and become a sticky liquid and then stick to the almonds. This takes about 3-4 minutes -- watch carefully and stir near constantly to avoid burning the nuts.

Dump the candied almonds onto a sheet of parchment paper and let harden. Break apart.

For the dressing, combine the mayo, half and half, white sugar, red wine vinegar, and the zest of a lemon (1-2 teaspoons or to taste), with salt and pepper (to taste) in a blender or food processor. Pulse until well combined. Taste and adjust to preference. Thin the dressing if desired with a tiny bit of water.

Stir in the poppyseeds. Store the dressing in the fridge in an airtight container until ready to serve the salad.

Meanwhile, remove the stems of the strawberries and slice. Remove the peel and pit of the avocado. Chop or thinly slice the avocado and then mix with the lemon juice (from the lemon used for the dressing) to avoid browning.

Toss the strawberries and avocado with the lettuce.

When ready to serve the salad, toss with the dressing. Stir in the feta cheese and dried candied almonds.

Enjoy. (Do not dress any part of this salad that you want to have leftover!)
Recipe Notes
The dressing makes more than you will need for the salad. Store leftovers in the fridge for 3-4 days. This salad is best when it is dressed right before eating. It doesn't store well if dressed. I recommend dressing the salad and adding the cheese + pecans right before serving.
More salad recipes: