Creamy and delicious broccoli cheddar soup made in ONE POT on the stovetop. This soup is easy to make and full of flavor (the "secret" to this soup is in the spices!).
Serve this broccoli cheddar soup recipe with this Italian Salad, Roasted Vegetables, and/or a crusty loaf of bread!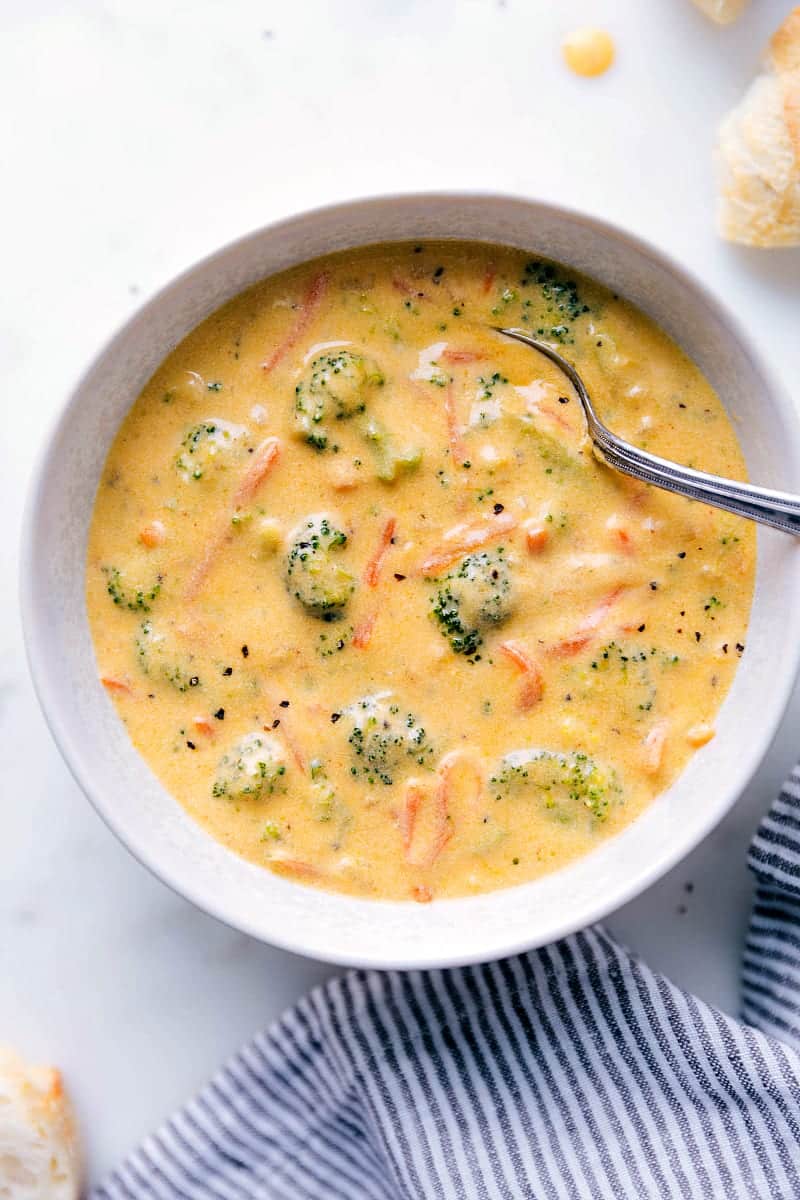 Broccoli Cheddar Soup
Soup is a popular meal choice in our home especially when it's cold outside. Grey could eat this tomato basil soup every meal of the day if I let him and Bentley inhales this creamy vegetable soup. One of my all-time favorite soups? Cheddar Broccoli! When we lived in Cleveland, we were right next to a Panera Bread, and I always ordered their broccoli cheddar soup.
Since there isn't a Panera near me anymore, I've had to create my own broccoli cheddar soup and I'm thrilled with this recipe. I'd say it's even better PLUS you'll know exactly what the ingredients are in your soup (which you can't say the same for Panera's broccoli cheddar soup).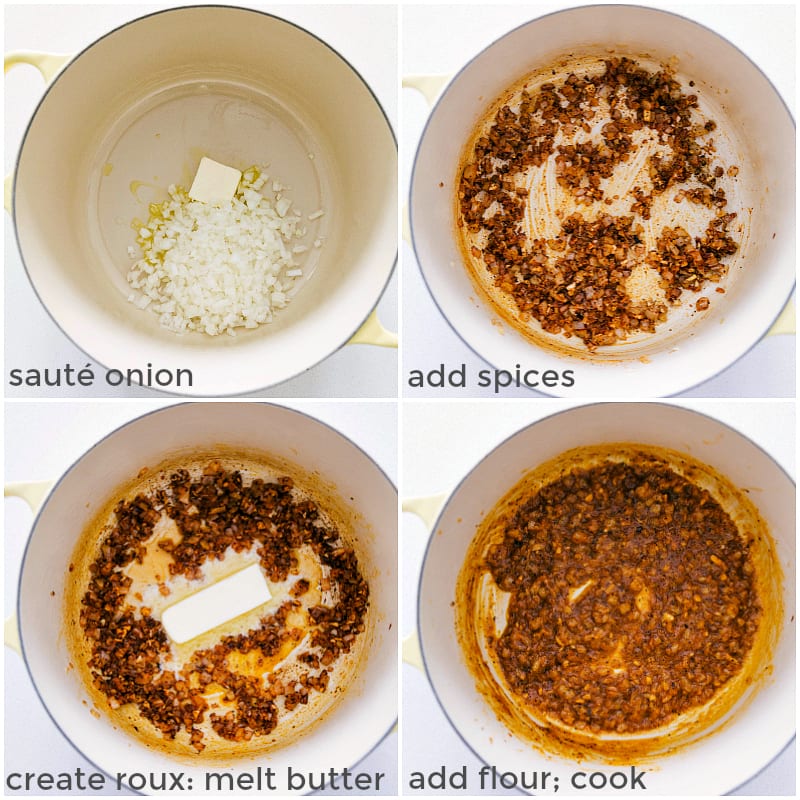 How do you make cheddar broccoli soup?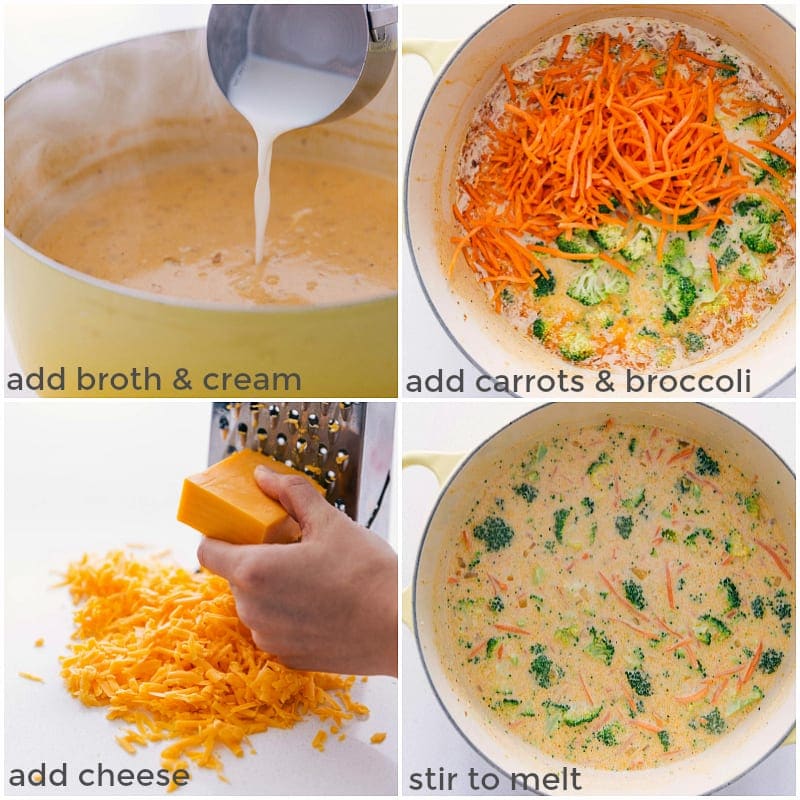 Quick FAQS
Can you use frozen broccoli? Unfortunately no. Frozen broccoli really doesn't hold up well in flavor or texture for this soup. I highly recommend fresh broccoli
Can you freeze this broccoli cheddar soup? This soup actually doesn't freeze very well because of the dairy in it. If you're worried about having too much, I'd recommend halving the recipe!
How do I reheat this soup? I recommend reheating this soup on the stovetop over low heat, stirring frequently. (Boiling may cause ingredients to separate.) Soup is best within 1-3 days. More info here.
Can you make this soup vegetarian? Yes! Very easily 🙂 Swap out the chicken stock for vegetable stock (or broth) and you'll have a vegetarian broccoli cheddar soup!
How can I make a healthy broccoli cheddar soup? You can use whole milk instead of the fat free half and half, but it will be a lot less thick and creamy. While this soup does have half & half cheese, it is healthier because we're using REAL ingredients (no velveeta here!)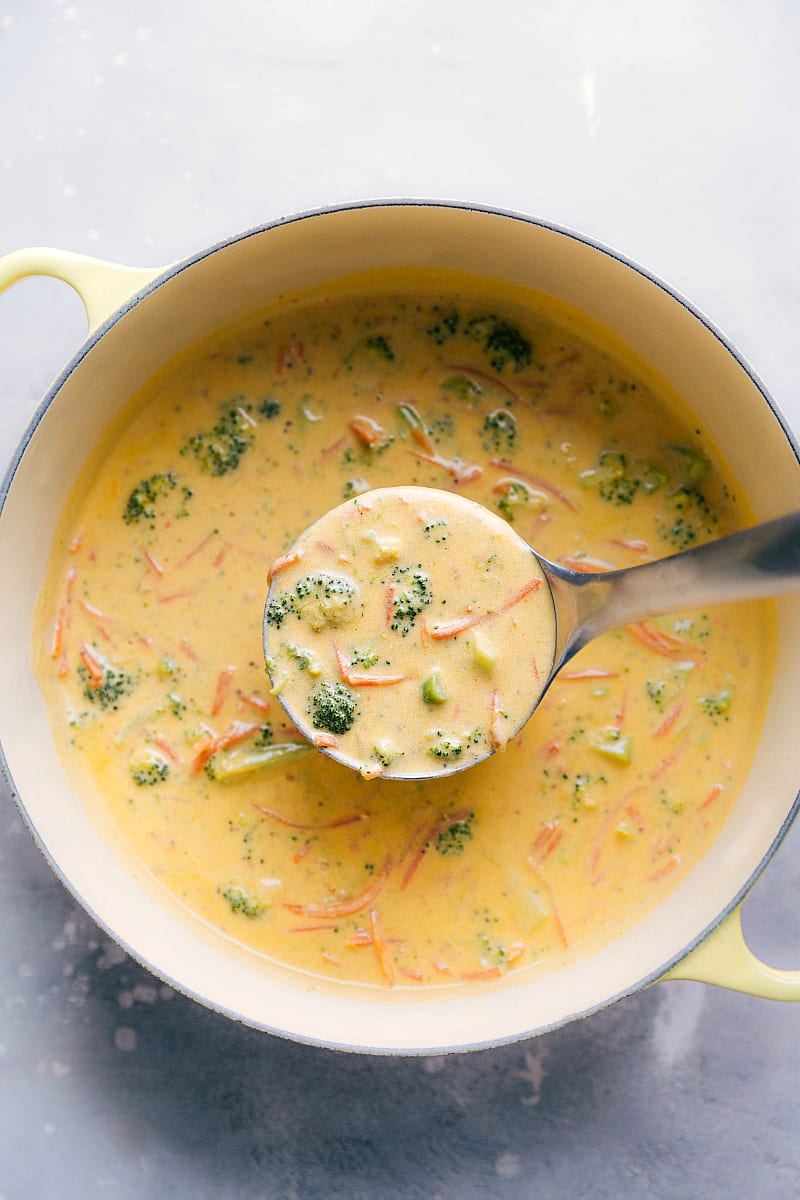 More INCREDIBLE Soup Recipes: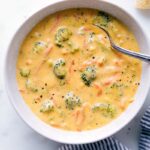 Cheddar Broccoli Soup
Creamy and delicious broccoli cheddar soup made in ONE POT on the stovetop
Keyword:
broccoli cheddar soup
Ingredients
7

tablespoons

unsalted butter,

separated

1/2

tablespoon

olive oil

1

small

yellow onion,

diced (1 cup)

2

small

cloves garlic,

minced

3/4

teaspoon

smoked paprika

3/4

teaspoon

ground mustard

1/8

teaspoon

ground cayenne pepper

Fine sea salt and pepper

6

tablespoons

white flour

1

container (32 ounces (about 4 cups))

low-sodium chicken stock (or broth)

(use vegetable stock for a vegetarian version)

3

cups

fat free half and half

1

bay leaf

6

cups

chopped broccoli crowns

(~4 large crowns)

2

cups

matchstick/shredded carrots

12

ounces

high quality extra sharp cheddar cheese

(don't use pre-shredded -- it doesn't melt well in this soup)

Optional: crusty bread OR bread bowls (we love serving this soup in sourdough bread bowls!)
Instructions
Add 1 tablespoon butter and olive oil to a large heavy bottomed stock pot/dutch oven over medium heat. Add the diced onion and saute, stirring occasionally, until tender, about 3-5 minutes. Add the minced garlic, paprika, mustard, cayenne pepper, and pepper (I add 1 teaspoon, but add to preference) to the pot. (I like to add the salt AFTER the stock to gauge how much more it needs.) Cook for another 45 seconds to 1 minute stirring constantly until fragrant.

Add in remaining 6 tablespoons butter and melt. Once melted, add in the flour and whisk to combine. Cook for 2-4 minutes, whisking constantly, until the flour is thickened (don't rush or your soup won't properly thicken/taste right).

Gradually add in the chicken stock, whisking constantly. Once all the stock has been added, gradually add in the half and half, again whisking constantly as you add. Reduce heat to medium low, add in the bay leaf, and allow to simmer for 15 minutes or until thickened a bit. (Whisk every few minutes as you chop the broccoli!)

Meanwhile, chop the broccoli and shred the cheese. Add the chopped broccoli florets and matchstick/shredded carrots (give carrots a quick chop in half if they are super long) to the soup.

Allow soup to simmer over low heat for about 15 to 20 minutes, or until broccoli is crisp tender (or tender to your preference!) Stir occasionally. Season to taste with salt (I add about a teaspoon here). (You can blend some of the soup or use an immersion blender here if desired. We like it chunky, but blend to preference if desired)

Add in the cheese and stir until melted. Again taste for seasoning. Serve immediately in bread bowls or regular bowls with a side of bread for dipping!
Recipe Video