A healthy and incredibly simple spinach salad topped with chicken breast, strawberries, blueberries, toasted almonds, feta cheese, clementines, a squeeze of lemon, and a balsamic vinegar dressing.
So, salad. It's been a while.
Well at least a while since I've posted salad on this blog. (Don't worry Mom. I'm still eating my greens and my veggies.)
Unless you count the tortellini pesto pasta salad. I mean it was kind of a salad. Just not a green lettuce type of salad.
But this salad – this salad – is one heck of a salad. And very good for you too. Right down to the healthy dressing that is a perfect complement to the spinach and the salad ingredients.
And a great way to welcome in Spring.
If Spring ever comes. It's still in the 30 degree range where I'm at. Which is an improvement from last week…sooooo I'll take it.
But if the sun wants to show it's smiley face sometime soon, I would be oh so happy!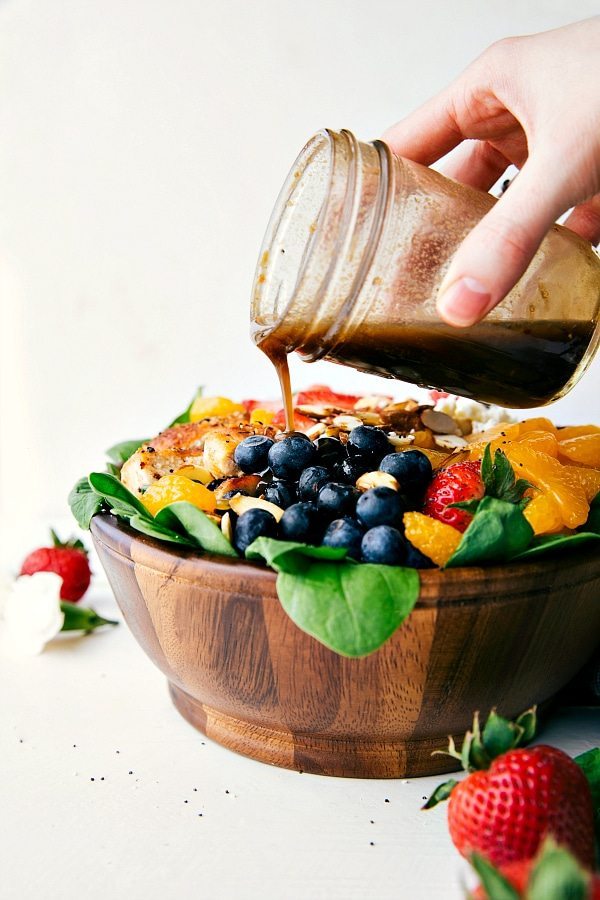 So yeah, the dressing. It's only four ingredients. All good-for-you ingredients – olive oil, balsamic vinegar, honey, and some dijon mustard.
Oh, and a squeeze of lemon if you want. I didn't add that to the dressing though, just over the salad before the dressing was poured on.
The rest of this salad is pretty straight forward – blueberries, sliced strawberries, and some peeled clementines are the fruity aspects. Then there are toasted almonds and feta cheese. And finally chicken.
The almonds are sliced and toasted. I bought them sliced, but toasted them myself. Suuuuper easy. Just pour the almonds into a small skillet over medium heat and stir them around a bit until they are toasted to your liking. This adds so much flavor! You can leave out the nuts if you want, or try another nut. Pecans and walnuts come to mind for this salad, but I'm sure there are other nuts you could try too.
The feta cheese tastes great with the berries and spinach salad. Again, you can definitely substitute a different cheese OR leave it out entirely if you don't want it or have dietary restrictions.
Finally, the chicken. I cooked the chicken on a skillet over medium heat with some olive oil, salt, pepper, and my favorite chicken seasoning – Mrs. Dash chicken grilling blends. SO good and adds a boat load of flavor to the chicken. I even sprinkled some of it over this salad.
Instead of cooking the chicken over the skillet, you can grill it or even boil and shred it. However you like your chicken! You could even buy a rotisserie chicken and use that for the salad which we love to do. Or if you want to make this salad vegetarian, simply leave out the chicken.
Almond, Berry, and Chicken Spinach Salad
Ingredients
1

large

boneless skinless chicken breast (plus olive oil)

4

cups

baby spinach

remove stems if desired

1/2

cup

fresh blueberries

1/2

cup

fresh strawberries

1/2

cup

clementine or mandarine oranges

2-3

tablespoons

feta cheese

2-3

tablespoons

slivered almonds

Salt and pepper
Dressing
1/4

cup

olive oil

1

tablespoon

balsamic vinegar

1/2

teaspoon

Dijon mustard

1/2

teaspoon

honey

Optional: squeeze of lemon, Mrs. Dash chicken grilling blends seasoning, salt
Instructions
Prepare the fruits and lettuce by washing and completely drying. If the spinach is still wet it won't absorb the dressing very well.

Remove strawberry stems and slice them. Remove clementine skins and separate into sections. OR drain a can of mandarine oranges.

Remove fat from chicken. Sprinkle both sides of the chicken breast with salt, pepper, and Mrs. Dash chicken grilling blends to taste.

Lightly coat a large skillet with 2 to 3 teaspoons olive oil.

Preheat the skillet over medium-high heat until hot. Place the chicken in the skillet and then reduce the heat to medium and cook until the meat is no longer pink and the juices run clear, or about 8 to 12 minutes.

As the chicken cooks, turn it occasionally so it browns evenly. If it starts to brown too quickly, reduce the heat to medium-low.

Combine all of the dressing ingredients (olive oil, balsamic vinegar, Dijon mustard, and honey) into an airtight jar. Add some salt to taste. Shake until well combined. Toss the dressing with the spinach in a large bowl. Add in the fruit and feta cheese and toss again. If desired squeeze some fresh lemon over the salad.

Toast the almonds in a small skillet over medium heat for about 1-2 minutes stirring constantly. Add the almonds to the salad.

Once the chicken is finished, remove from heat and slice or chop it. Let it cool and then add it to the salad.

If not enjoying immediately do not toss with the dressing or feta cheese!
Craving more salad?
Easy Apple Pistachio Quinoa Salad