The absolute best grilled chicken marinade recipe! This easy-to-whip-together marinade will become a summer staple. This marinade creates ridiculously good flavored chicken and keeps it super moist.
Pair your perfect grilled chicken with an easy summer salad like this Greek pasta salad or this easy fruit salad recipe.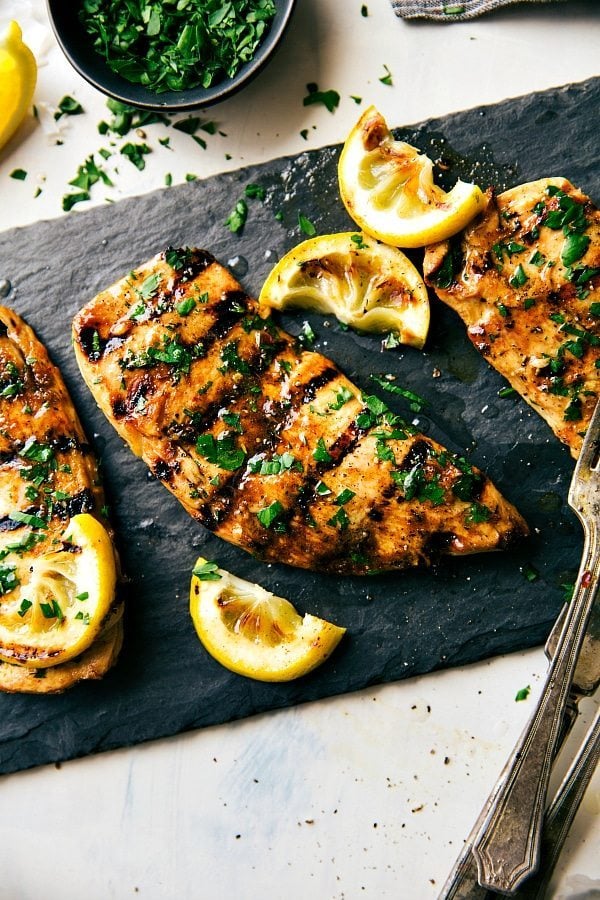 Grilled Chicken Marinade
The very first purchase my husband and I made as a married couple was…a grill! Yes, we found that more important than even a bed, because come on, grilled food is the BEST!
Right before we needed to return our moving truck we drove it to Home Depot, bought a grill, and drove the grill home. We were so excited to have our very own grill that we made meals on it for about two weeks straight.
I've said it before, but I'll say it again. We ADORE grilled chicken. My whole family loves it and it is probably the most common dinner at my home. In fact, you can find dozens of delicious grilled chicken recipes on my site. Some readers' favorites? These grilled taco chicken bowls, this mango chicken, or this pineapple chicken.
But today I'm sharing my go-to, all-purpose best grilled chicken marinade. So, let's talk ingredients.
Chicken marinade ingredients
All good recipes have four main components: fat, salt, acid, and heat. In this recipe, we hit all 4 points; oil (fat), salt, acid (vinegar & lemon juice), and heat (grilling). Below are some more details about the ingredients in this chicken breast marinade.
Vegetable oil: the oil keeps the chicken moist and juicy. I use vegetable oil since we use a lot of it in this recipe and it's a lot cheaper than olive oil, but feel free to use olive oil instead!
Soy sauce & red wine vinegar: break down the fibers to help make the chicken tender! The soy sauce also adds a good amount of salt.
Worcestershire sauce: gives the chicken a great Unami, salty flavor.
Honey: balances the other ingredients perfectly and adds a very subtle sweetness to the chicken.
Lemon juice: this also helps break down fibers and gives the chicken a great hit of flavor and a needed acid element.
Garlic, mustard, pepper, and parsley: all great (simple) flavor enhancers that pair great with chicken.
How to marinate chicken:
The best part about a grilled chicken marinade is just how easy it is! Simply whisk all the ingredients together and submerge the chicken breasts in the mixture.
I've included lots of tips below on marinating and grilling chicken.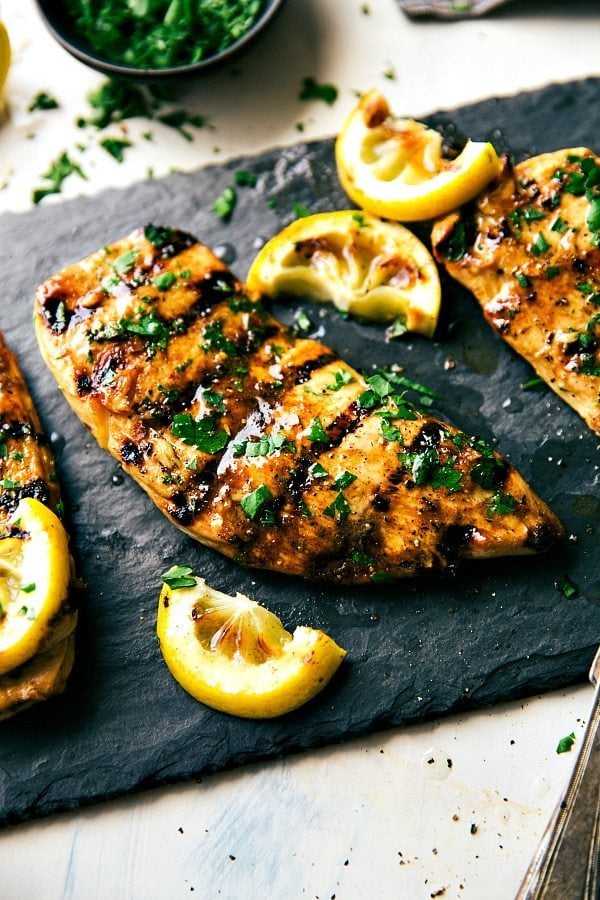 Chicken marinating and grilling tips
Score meat before marinating: to help the marinade penetrate deeper, prick the surface of the chicken a few times with the tines of a fork.
Slice breasts in half before marinating: slice and/or pound your chicken breasts into evenly thick pieces before marinating. That way they'll soak up all the delicious flavor from the marinade and AND they'll cook evenly.
Flip and/or stir: throughout the marinating process, be sure to flip the bag of chicken breasts on the other side, or stir the breasts in the marinade. We don't want just one side of the chicken getting flavorful!
Refrigerate: make sure the marinated chicken is in the fridge while it's marinating. Don't leave it out on the counter for any length of time as bacteria will spread quickly.
Generously oil your grill grates. I do this by rolling up a few paper towels, drenching them in oil (canola or vegetable), and using tongs, rub the drenched paper towels along the grill grates. Doing this will contribute to a beautiful sear, and ensure the chicken doesn't stick to the grates.
Baste the chicken: before adding the chicken to the marinade, take out some of the mixture to brush over the chicken as it grills. This adds a TON of flavor for very little effort!
Let the cooked chicken rest, tented with foil, for 5-10 minutes before cutting in. This allows a redistribution of the juices inside the chicken.
Not grilling the chicken? Check below for alternative cooking methods.
Alternate chicken cooking methods
Cooking times will vary depending on several factors so I always recommend using a thermometer to test your chicken as it cooks. Aim to hit 165 degrees Fahrenheit. (Undercooked = unsafe; Overcooked = dry chicken)
Baked Chicken: Preheat oven to 450 degrees F. Place chicken on a baking sheet (do not cut breasts in half for this method) lined with parchment paper. Bake for approximately 15-18 minutes, flipping the chicken halfway. Remove from the oven, and loosely cover sheet pan with foil. Let the chicken rest for 5-10 minutes.
Sautéed Chicken: Heat 1 tablespoon oil in a sauté pan over medium-high heat. Add (horizontally halved) chicken breast and cook for 4-6 minutes per side until the chicken is cooked through and the juices run clear. As you sauté the chicken, brush it generously with the reserved marinade. Transfer the chicken to a clean plate, and loosely cover with foil. Let the chicken rest for 5-10 minutes before cutting in.

Remove extra marinade: to ensure the meat is cooked properly if you choose to stir-fry or sauté it, be sure to drain off any excess marinade. Otherwise the meat will "stew" instead of char.
How long can chicken marinate for?
Most recipes tend to get better the longer you marinate, but this grilled chicken marinade is an exception. I've tried all different kinds of marinating times and around 4-6 hours yields the best end product.
Honestly though, even 30 minutes of marinating will give you deliciously flavored chicken! I wouldn't recommend marinating more than 6 hours because the acid (lemon and vinegar) begins to "cook" the chicken.
Is it OK to bake chicken in its marinade?
After raw chicken has marinated in any kind of liquid, that liquid is no longer safe to consume. However, you can baste the chicken early on in the cooking process because that marinade will get cooked along with the chicken.
If you want to use marinade that has touched raw chicken, boil it vigorously for 1-2 full minutes in a separate pot. Use a clean basting brush or spoon to add it to the cooked chicken.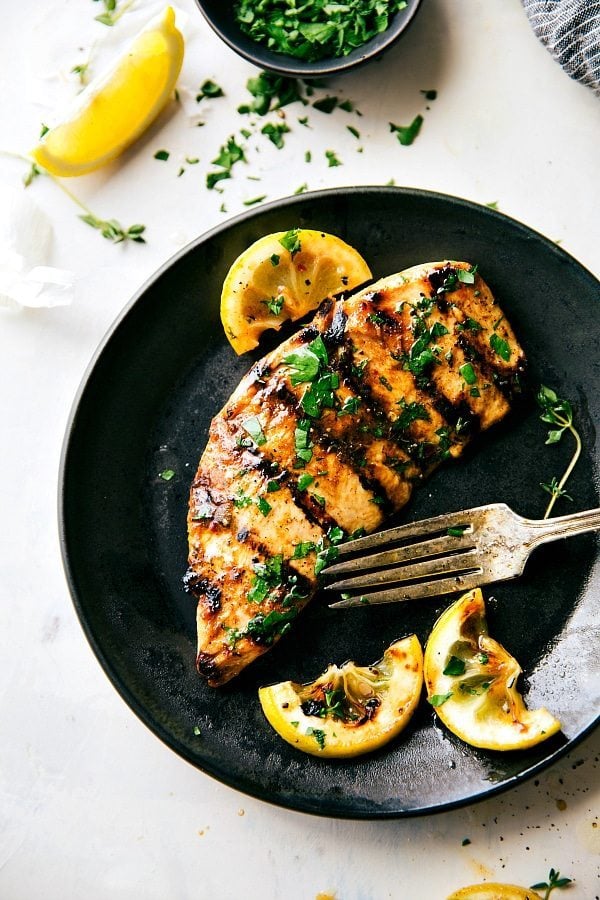 Ways to jazz up your grilled chicken:
Add an easy fruit or vegetable salsa: this mango salsa is my personal favorite.
Serve it on a salad: chop up the chicken and add it to some greens. Dress it with the cilantro ranch dressing from this BBQ Chicken Salad recipe; yum!
Add it to a burrito bowl: serve it on top of rice or quinoa, add in some roasted vegetables, and drizzle on your favorite sauce (can be as simple as a squeeze of lime/lemon and some fresh herbs!).
Sprinkle on fresh herbs: add some fresh cilantro, parsley, green onions, or basil after grilling.
More easy chicken recipes:
Quick tip: don't re-use this grilled chicken marinade! Once the marinade has touched raw meat, it's no longer safe to consume. If you want extra marinade as a sauce or to baste the chicken at the end of cooking, set aside some of the marinade BEFORE adding it to the raw chicken.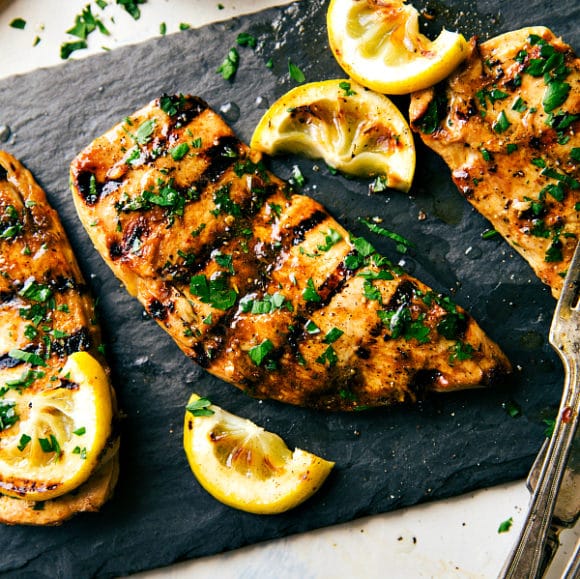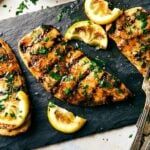 Grilled Chicken Marinade
The absolute best grilled chicken marinade recipe! This easy-to-whip-together marinade will become a summer staple. This marinade creates ridiculously good flavored chicken and keeps it super moist.
Keyword:
grilled chicken marinade
Ingredients
1 and 1/2

pounds

boneless skinless chicken breasts
Marinade
3/4

cup

vegetable oil

1/4

cup + 2 tablespoons

low sodium soy sauce

3

tablespoons

Worcestershire sauce

1/4

cup

red wine vinegar

4

tablespoons

freshly squeezed lemon juice + 1 teaspoon zest

(~2 large lemons)

1/2

tablespoon

black pepper

(use 1 teaspoon if sensitive)

2

teaspoons

Italian flat leaf parsley,

finely minced

3

tablespoons

prepared yellow mustard

1-2

teaspoons

minced garlic

1

tablespoon

honey,

separated
Optional honey lemon sauce
3

tablespoons

butter

3

tablespoons

lemon juice + 1-2 teaspoons lemon zest

3

tablespoons

olive oil

3

tablespoons

honey
Instructions
MARINADE: Combine 3/4 cup vegetable oil, 1/4 cup + 2 tablespoons soy sauce, 3 tablespoons Worcestershire sauce, 1/4 cup red wine vinegar, about 3-4 tablespoons lemon juice, 1 teaspoon lemon zest, 1/2 tablespoon black pepper, 2 teaspoons minced parsley, 3 tablespoons yellow mustard, 1-2 teaspoons minced garlic (for a more intense flavor use 2), and 1 tablespoon honey in a large bowl.

RESERVE: Set aside 1/3 cup of the marinade and save it for later.

PREP CHICKEN: Remove fat from the chicken and pound the chicken to an even width (about 1 inch wide everywhere.) If breasts are very wide, cut them in half to get them 1 inch wide. Prepping the chicken like this will ensure even grilling and make sure more chicken gets all those great marinade flavors.

MARINATE: Place the chicken in the marinade and marinate for at least 30 minutes to 6 hours. The chicken is best at 4-6 hours. Too much longer and it tends to get salty/cooked by the vinegar and lemon.

PREP GRILL: Make sure your grill grates are clean and greased. To grease, dredge a paper towel in vegetable oil and holding it with tongs rub it all over the grate. Grease once the grill is fully preheated. Preheat the grill to medium heat about 375-450 degrees F. Don't go hotter than 450 to avoid drying out the chicken.

GRILL: Grill the chicken until completely cooked through (about 4-6 minutes per side depending on heat of the grill and thickness) Chicken should be at 160 degrees F at its thickest part (carry over heat will bring it to 165 degrees). For 1 inch thick breasts grilled at 400 degrees, it takes generally 5 minutes on the first side and 4 minutes on the other side.

BASTE: Generously brush chicken with the reserved marinade mix as it grills. Keep grill closed as much as possible though.

OPTIONAL: For a quick lemon butter sauce to serve over the chicken, combine: 3 tablespoons melted butter, 3 tablespoons lemon juice, 1-2 teaspoons lemon zest, 3 tablespoons olive oil, and 3 tablespoons honey in a small bowl. Add some pepper and parsley if desired. Serve with the chicken.
Recipe Video