A super healthy "detox" quinoa and veggie salad made with all natural ingredients that are good for you and help to detox your body!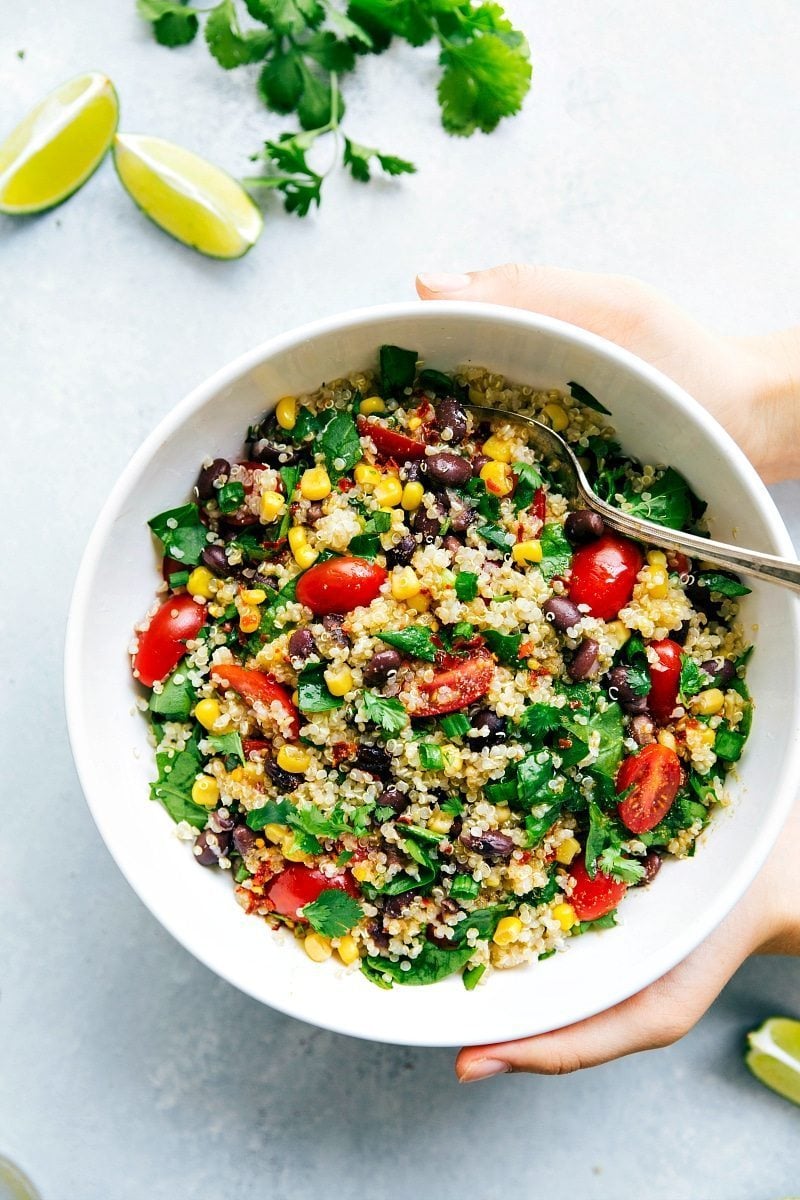 This detox quinoa salad is my favorite way to get back on track with healthier eating! It's packed to the brim with healthy, good-for-you ingredients and it tastes amazing! It's quick to whip together and easy to make.

For some people, the word detox might mean STARVING to death by only eating veggies and drinking juice (haha, okay my husband's words). But with this salad, you will be amazed just how filling it is. The quinoa is packed with protein, the olive oil has healthy (and filling) fats, and the black beans also have tons of protein and fiber. These ingredients will absolutely fill you up all while cleansing your body from the inside.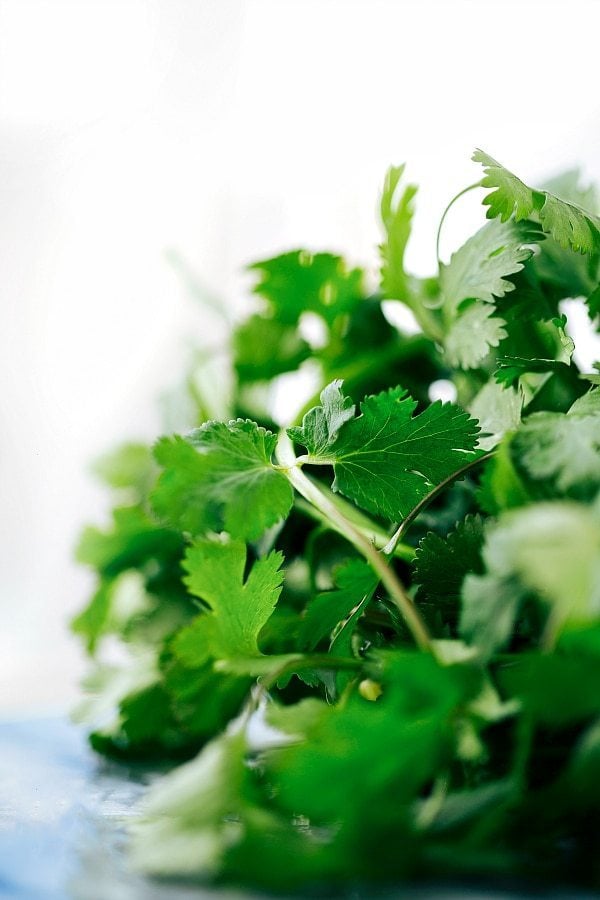 Here's a quick break-down on how the ingredients in this detox quinoa salad help detoxify your body:
Quinoa is a low-glycemic food which mean it is slowly absorbed into your body. A slow absorption ensures you won't have spikes in your blood sugar which affects your energy and mood (and even how hungry you feel).
Black Beans are LOADED with fiber. Because they contain so much fiber, they get digested very slowly and during that process of digesting, you feel full for a longer period of time.
Tomatoes have Lycopene (responsible for the red color) that is a super powerful antioxidant that assists in detoxing the body and protecting it from cancer. The antioxidants in lycopene protect the body from radical damage essentially removing toxins from the body.
Cilantro has actually been found to detox heavy metals (such as aluminum, mercery, arsenic, lead, etc.) from your body which in turn protects just about every vital organ.
Cumin has traditionally been used to treat all kinds of stomach problems (indigestion, nausea, diarrhea, morning sickness, stomach pain, etc.) which is great for clearing out and detox-ing your system. It's also known for it's immunity boosts from the vitamin C content in this spice.
Spinach naturally boosts your metabolism, is known as a "cancer fighter," and has a ton of iron. It's also got a high amount of vitamin A which promotes clear and healthy skin by allowing your body to properly retain moisture.
Lime Juice helps to flush toxins out of your digestive tract.
Corn contains vitamin B6 which is essential for good liver function. Toxins remove vitamin B6 from the liver and so corn helps to replenish that depletion and aids in performance of the liver. It is also rich in fiber which again helps you feel fuller for longer and helps to flush toxins out of the body.
Green onions help to rid your liver of harmful toxins.
Pretty much every ingredient is tailor made at giving your body an awesome re-set and "detox" in a healthy and wholesome way. I hope you love this salad as much as we do, Enjoy! 🙂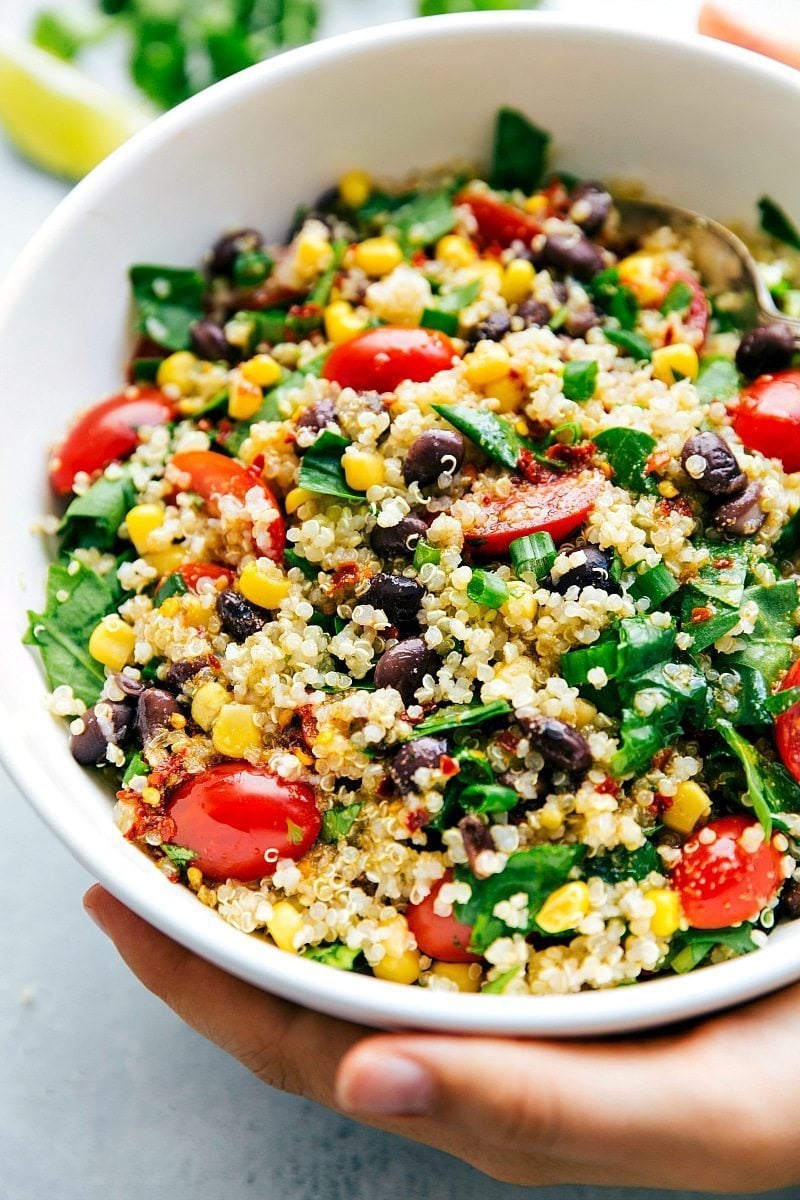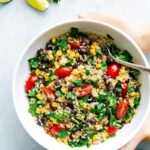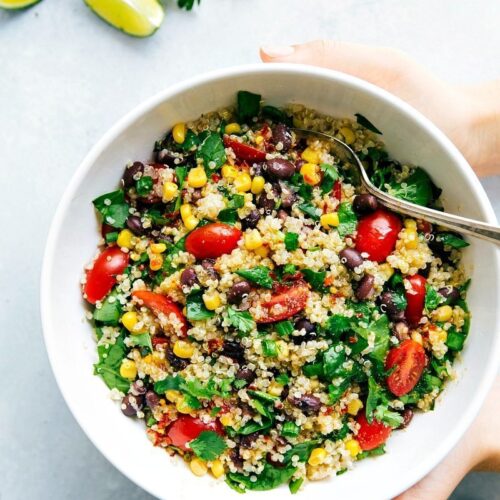 Detox Quinoa Salad
A simple detox quinoa salad -- such healthy and delicious ingredients that are so good for you and help detox your body.
Ingredients
1

cup

quinoa

thoroughly rinsed

2

cups

water

3-4

ounces

spinach,

stems removed and coarsely chopped

1 can

(15 ounces)

corn,

drained and rinsed

1 can

(15 ounces)

black beans,

drained and rinsed

1

cup

cherry tomatoes,

halved

5-6

green onions,

chopped

1/4

cup

cilantro,

finely chopped

Salt and pepper,

to taste

2

large

limes,

juiced

4

tablespoons

olive oil

2

teaspoons

ground cumin

1/2

teaspoon

red pepper flakes
Instructions
Follow package instructions to cook the quinoa. Transfer to a large bowl and aside to cool completely.

To the bowl with the cooled quinoa, add the chopped spinach, rinsed corn, rinsed black beans, cherry tomatoes, chopped green onions, and finely chopped cilantro.

In a small bowl whisk together the lime juice, olive oil, about 1 teaspoon salt, 1/4 teaspoon pepper, ground cumin, and red pepper flakes. Pour over the salad and toss to coat.*

Store leftovers in the fridge in an airtight container.
Recipe Notes
*Only add dressing to what you plan on eating in the same day. Unfortunately, this salad doesn't sit super well with the dressing. If you are planning to have leftovers, toss only what you'll being eating on day 1 with the dressing. Other than that, this salad can store in the fridge pretty well for up to 3 days. 
More Quinoa Salads: