Easy grilled flank steak with a delicious marinade and an easy cilantro-parsley chimichurri. This grilled flank steak recipe includes a simple marinade, easy rub, and a delicious chimichurri sauce.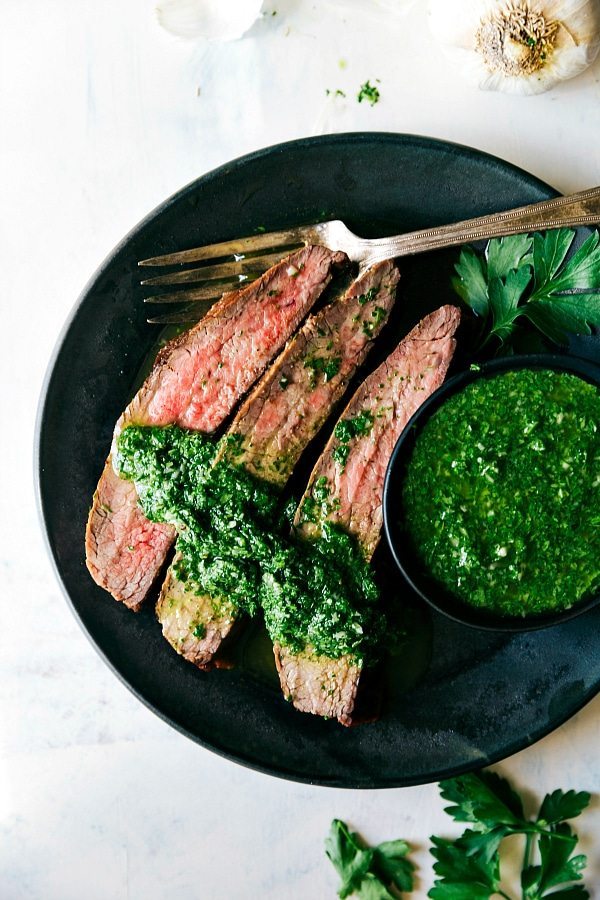 This is one of my all time favorite recipes and I'm so excited to share it here! Not only is this steak to.die.for good, but it's especially a favorite because of the memories that this grilled flank steak recipe is based off of.
A couple of months ago I had the opportunity to visit LA with some amazing girls for a blogging retreat. It is absolutely one of the best experiences to get to meet virtual friends "in real life." As fun as it is to chat with blogging friends over the internet, there is nothing like getting to hang out with and really get to know each other all in one place.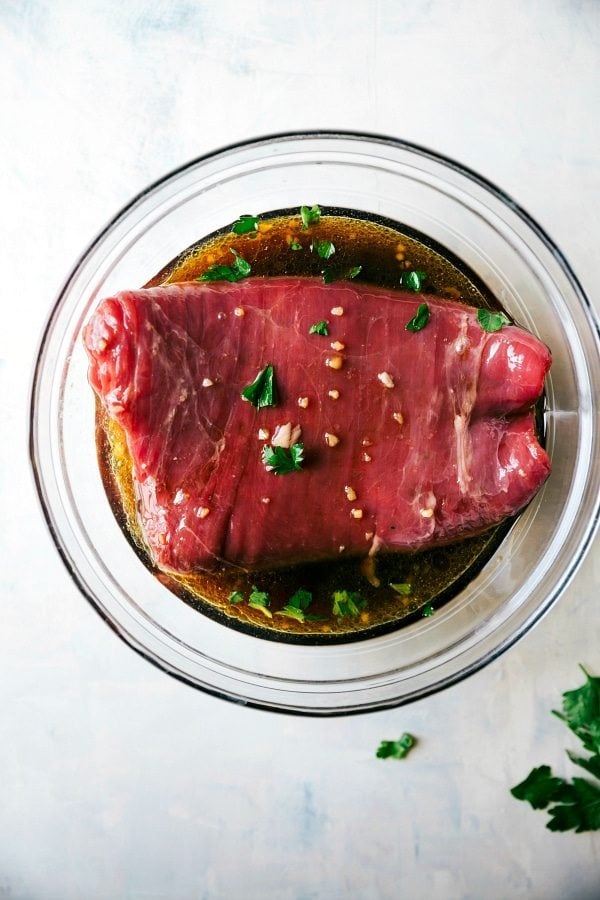 The group of bloggers that attended are some of the most talented and kind girls I've ever met. If you don't know these girls and their blogs, you definitely need to check them out: (L-R) Nagi from RecipeTin Eats, Meggan from Culinary Hill, me (hi!), Rachael from Eazy Peazy Meals, Jen from Carlsbad Cravings, and Holly from Spend With Pennies.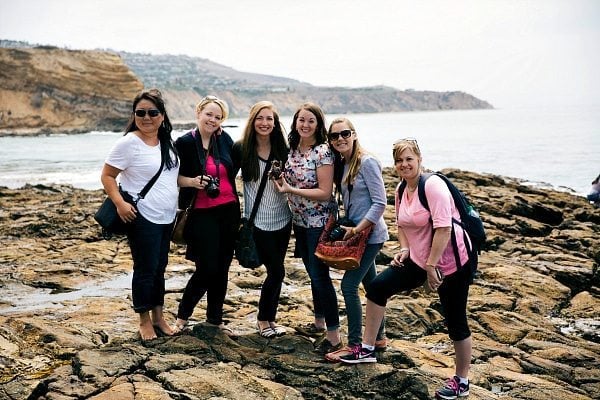 Terranea Resort in LA hosted our retreat and short of writing ten more paragraphs, I will try to sum it up in one word: spectacular. From the very start of our check-in (and eating about a million of the most delicious miniature macarons at the check-in stand) to our first meet-up by the gorgeous swimming pools — this resort was unbelievable! The resort is right on the coast so you can imagine the stunning views surrounding the entire place. But, as a food blogger, (and I'm sure you aren't surprised about this), the highlight of the resort? The food, hands down!
We were able to get a private cooking demo in their fine dining restaurant Mar'sel and later enjoyed dinner and dessert there. We also enjoyed a breakfast/lunch/brunch at another delicious restaurant, Nelson's, which is what inspired this recipe. I ordered Tenderloin Tips with chimichurri and a side of parmesan fries.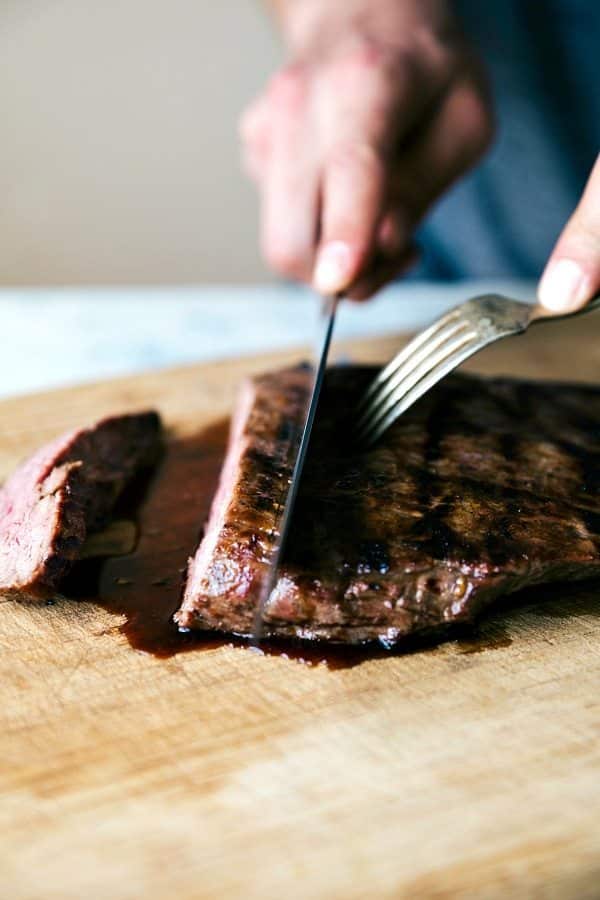 Oh my WORD it was so delicious! After the first bite, I knew it was a recipe I needed to re-create as soon as I got home. Especially because I knew my husband would be a huge fan (which he was). I grilled more steak than I thought could possibly get eaten for dinner and he scarfed it down. Every last bite. (So much for saving the leftovers for a salad the next day…)
He also requested it be on the weekly menu for the rest of summer, which I could not turn down. Not only is it delicious, it's also suuuuper simple to make. The marinade, rub, and chimichurri all have ingredients that overlap with each other making the complete ingredient list relatively short. All three components are so easy to throw together and take extremely little prep time.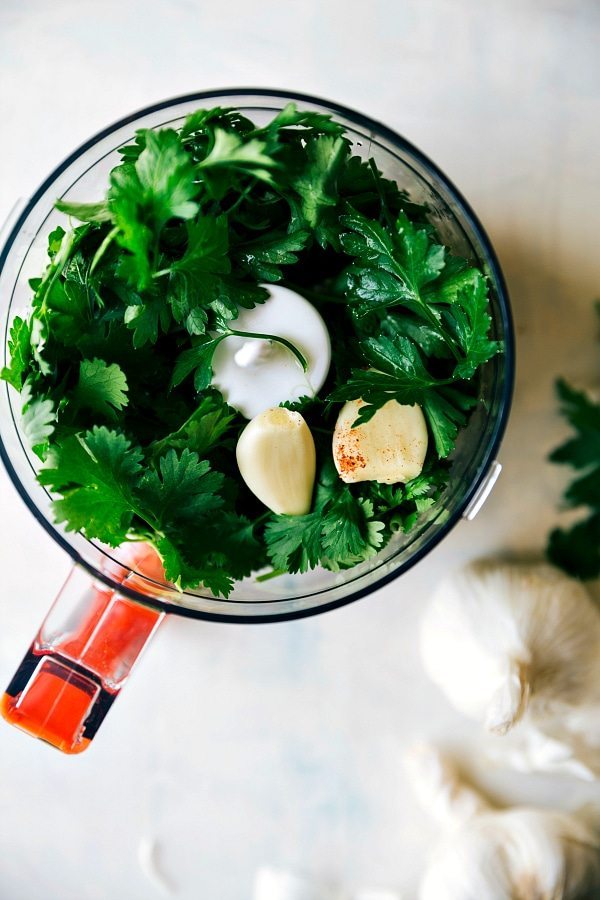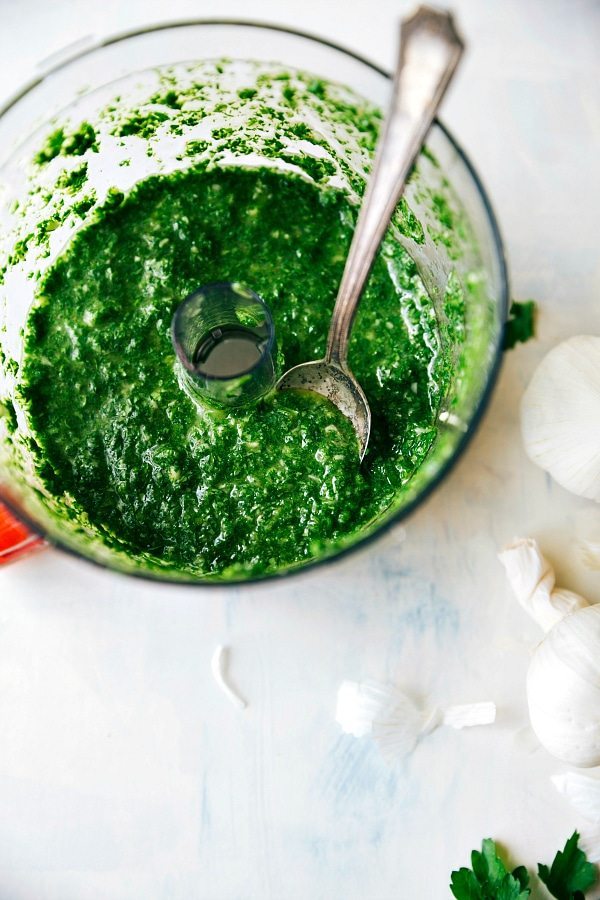 The chimichurri isn't totally authentic, but being a self-proclaimed cilantro obsessor, I had to add in plenty of that. It's also got a good bite of garlic which we love, but feel free to reduce the amount of cloves to cut back on the garlic flavor if you aren't a huge fan of it.
And honestly, if you don't have the ingredients for the chimichurri, the steak can totally stand on its own with that marinade and rub. It's THAT good! Enjoy!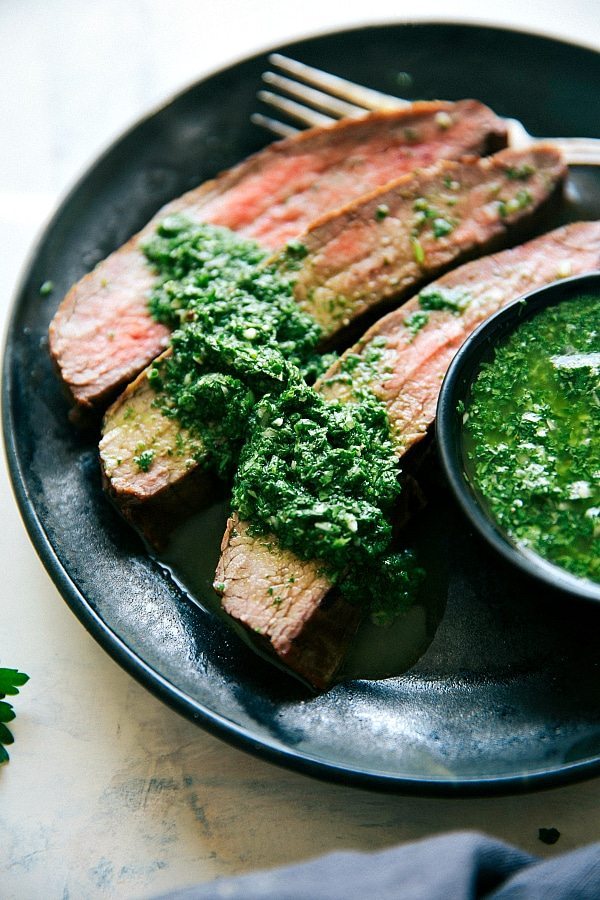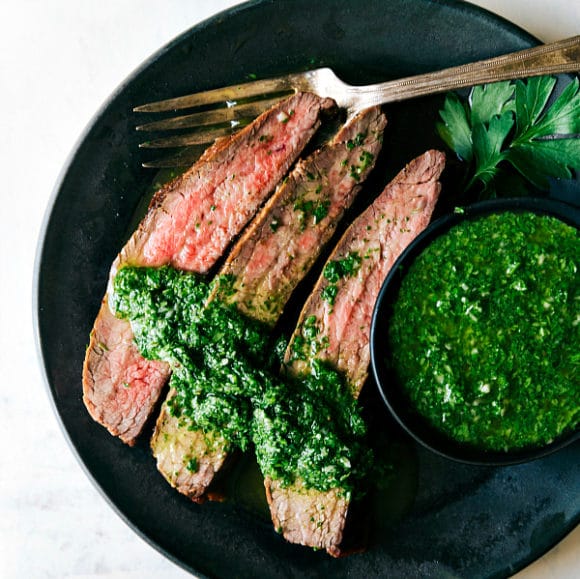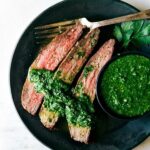 Flank Steak with Easy Cilantro Chimichurri
Ingredients
1 and 1/2

pounds

flank steak

1/4 + 1/3

cup

olive oil,

separated

3

cloves

minced garlic,

separated

2

tablespoons

+ 1/4 cup red wine vinegar,

separated

1/4

cup

honey

1/4

cup

soy sauce

1/2

teaspoon

ground cumin

1/2

teaspoon

ground coriander

1 and 1/2

cups

flat leaf Italian parsley,

separated

1 and 1/2

cups

cilantro

1/4

teaspoon

ground cayenne powder

Salt and pepper
Instructions
Marinade
Place the flank steak in a large resealable bag.

In a bowl, combine 1/4 cup olive oil, 1 and 1/2 cloves minced garlic, 2 tablespoons red wine vinegar, 1/4 cup honey, 1/4 cup soy sauce, 1/4 teaspoon pepper, and 1 tablespoon coarsely chopped Italian parsley.

Whisk together and pour over the flank steak.

Seal and place in the fridge for at least 1 hour and preferably 6-8+ hours. Flip the steak in the bag halfway through the marinating time.
Steak
Preheat one part of your grill to high heat and the other to lower heat. (The hot area of the grill is hot enough when you can hold your hand over it for only a second)

Stir together 1 teaspoon salt, 1/2 teaspoon ground cumin, 1/2 teaspoon ground coriander seeds, and 1/4 teaspoon black pepper.

Remove the steak from the marinade, pat dry, and rub the herbs all over the steak.

Put the prepared steak on the hot area of the grill. Grill for 1-2 minutes on each side to get a nice sear.

Then move the steak to the lower heated side of the grill. Cover, and cook for a few more minutes or until the steak is at your desired temperature.

Remove steak and let rest on a cutting board (covered with foil) for 10 minutes.

Slice against the grain and serve with chimichurri.
Chimichurri
In a food processor, pulse the remaining 1 and 1/2 cloves minced garlic. Add remaining parsley. Add the cilantro, cayenne powder, remaining 1/4 cup vinegar, and remaining 1/3 cup olive oil. Add about 1/2 teaspoon salt and 1/4 teaspoon pepper.

Pulse until the herbs are finely chopped.

Taste and adjust to personal preference (more garlic, salt, pepper, cayenne, etc.)
More GRILLING recipes:
Tin Foil Grilled Sausage and Veggie Packets
Grilled Chicken with a Mango Salsa
While this post is not sponsored, I'd like to give special thanks to Terranea Resort for providing us with complimentary accommodation and some meals to experience their resort. If you are looking for somewhere to stay in LA, I can not give a more glowing recommendation than this resort!