This Italian Chopped Salad is a copycat of the famous California Pizza Kitchen's Italian salad.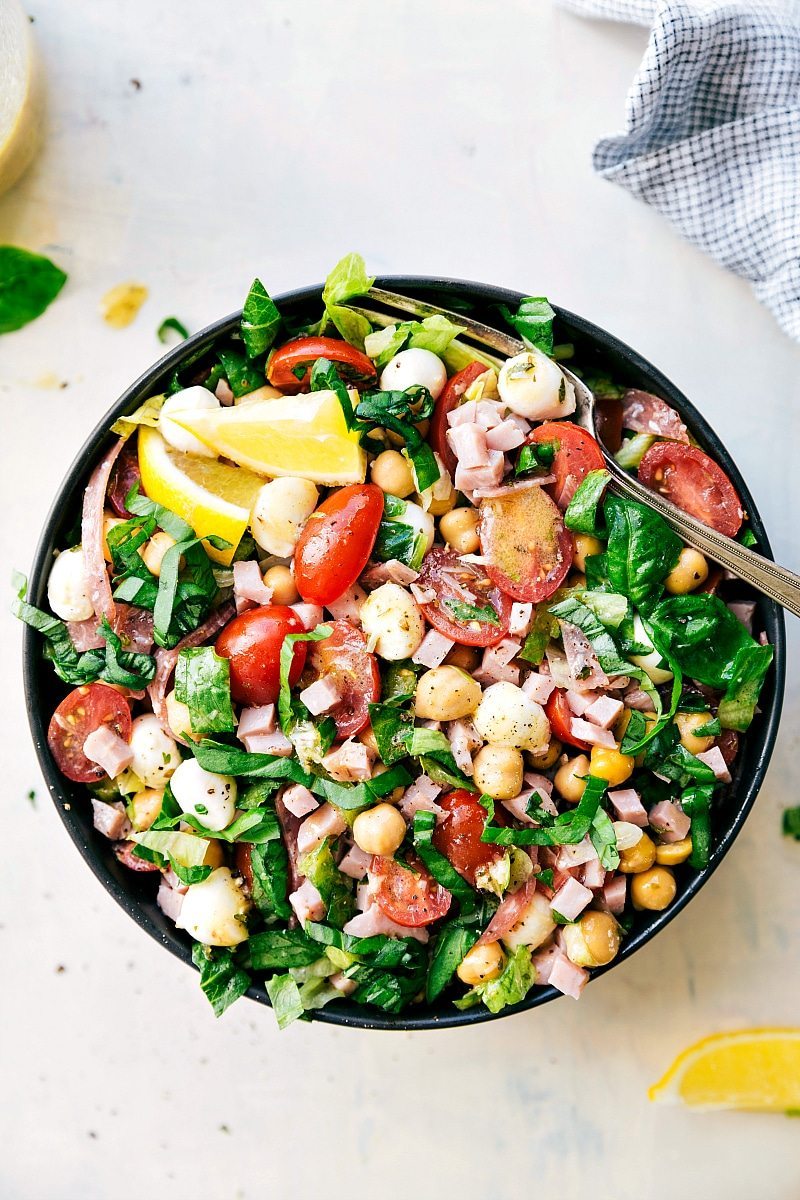 This Italian Chopped Salad includes ham, salami, chick peas, tomatoes, mozzarella, fresh basil, and lettuce. It is tossed in an easy lemon dijon and herb vinaigrette.
I had two goals for this week. First, to send enough positive vibes into the universe to keep the warm spurt of weather we were having at the beginning of the week.
…It has snowed, and I mean, really snowed, the past three days.
Second goal, to get my 18-month-old (who is saying plenty of words, none of which include "mama") to FINALLY call me "mama."
…He's now consistently calling me "dadda."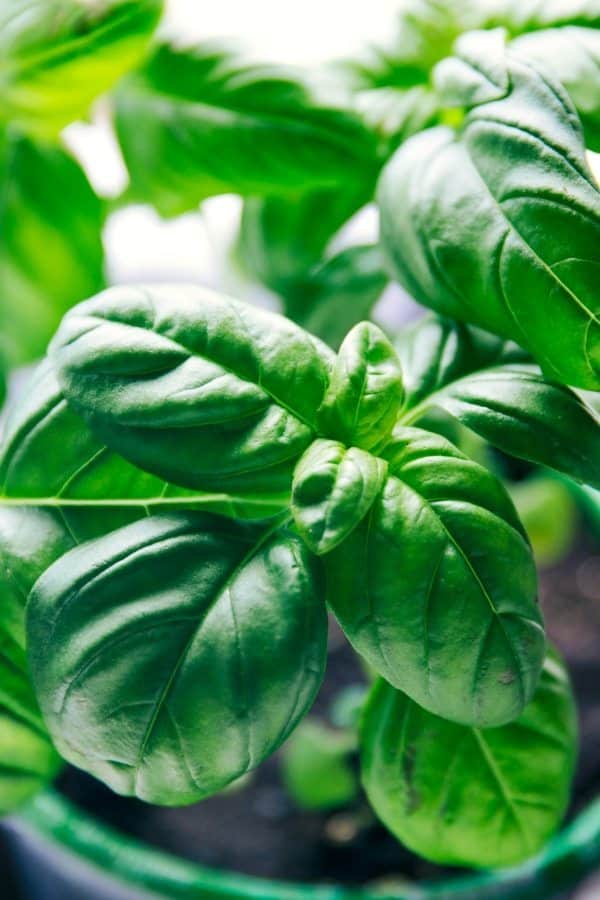 Clearly, my seemingly simple goals were far too lofty. And so, I settled for making a Spring/warm-weather kind of salad and it's definitely making me feel better about the snow AND the fact that my babbling baby has yet to say the word "mama."
A few weeks ago I went to Vegas with some girl friends. Lucky for us there is a California Pizza Kitchen in the hotel we stayed in and we had lunch there a few times. While I know it's probably some kind of crime to not actually get pizza there, I tried a few of their salads and knew I had to create some "copycat" recipes. Their Cobb salad and this Italian Chopped Salad are some of my favorite salads ever. And, I'm pretty excited about this recipe because I like it even better! 🙂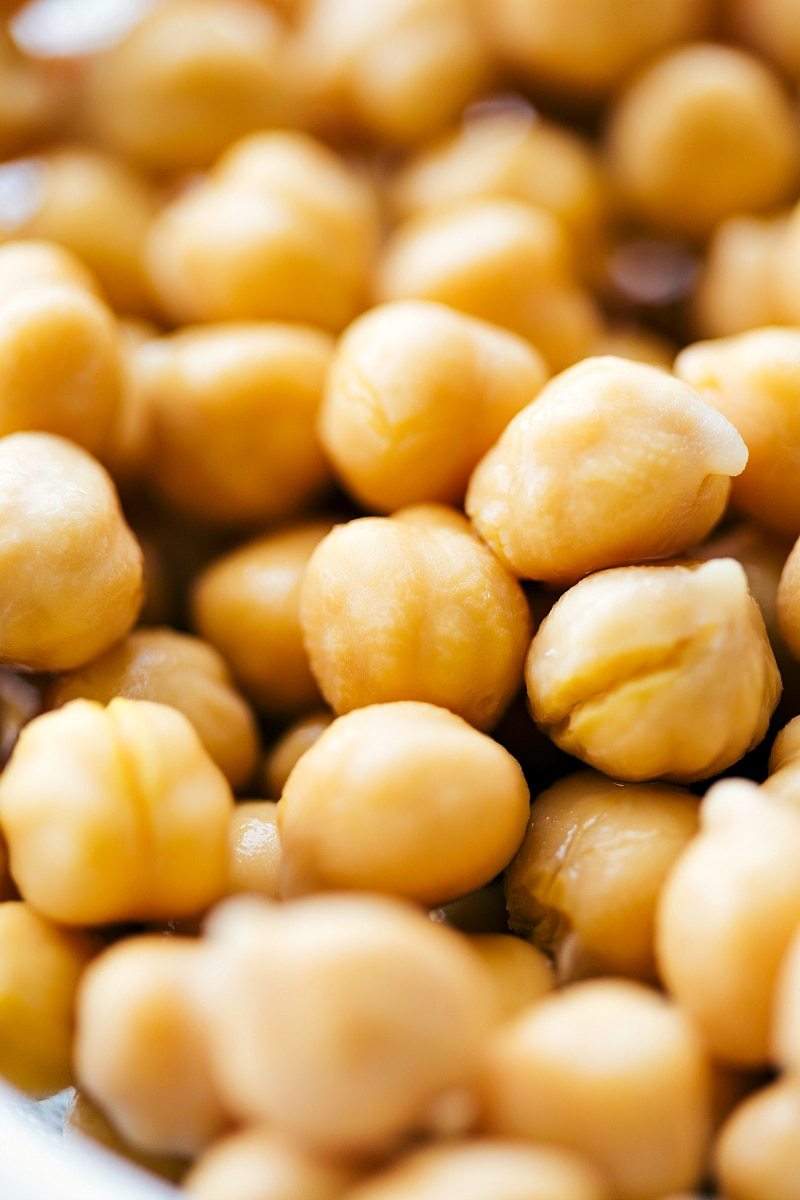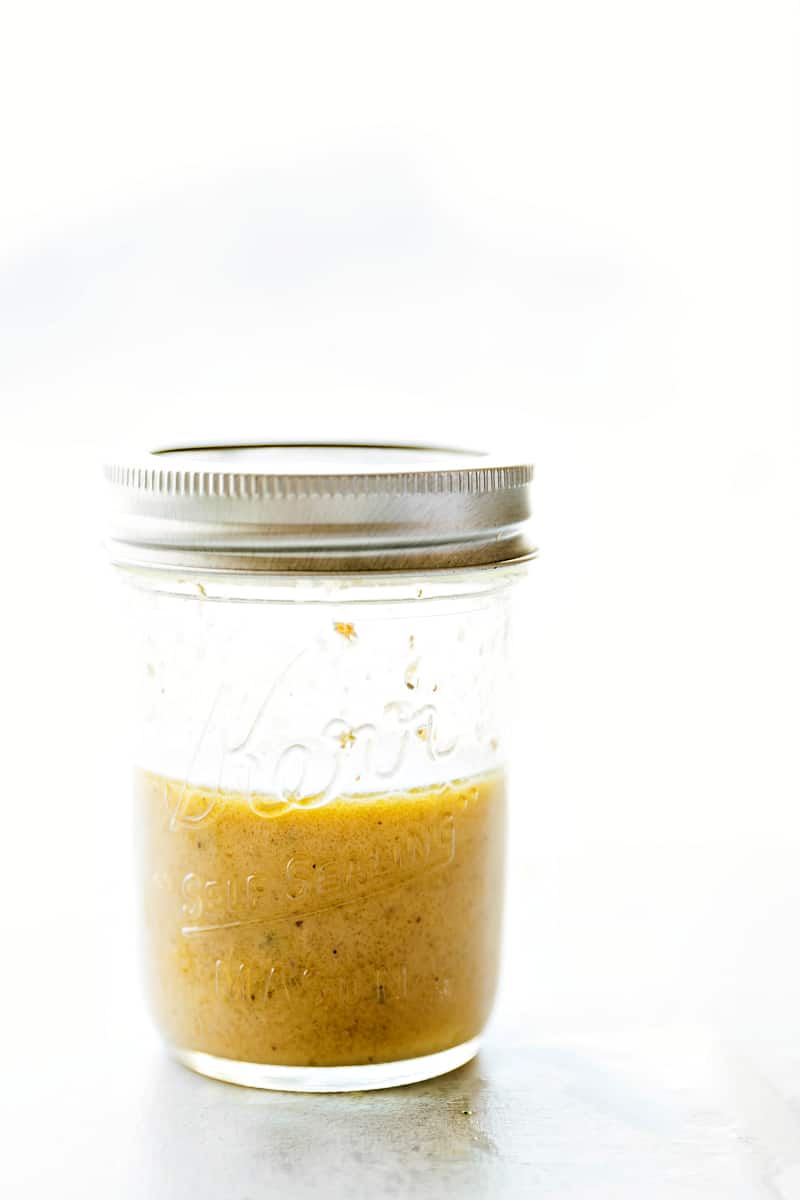 The best part about making a chopped salad is you can pick and choose how much of the ingredients you want in. I've listed (of course) our preferences which is heavy on the chickpeas and tomatoes, but you can play around with the quantities you like best!
Also, the California Pizza Kitchen's version of this salad uses chopped turkey, so you can absolutely use that in place of the ham.
The dressing is super tangy and full of flavor. It complements the salad perfectly!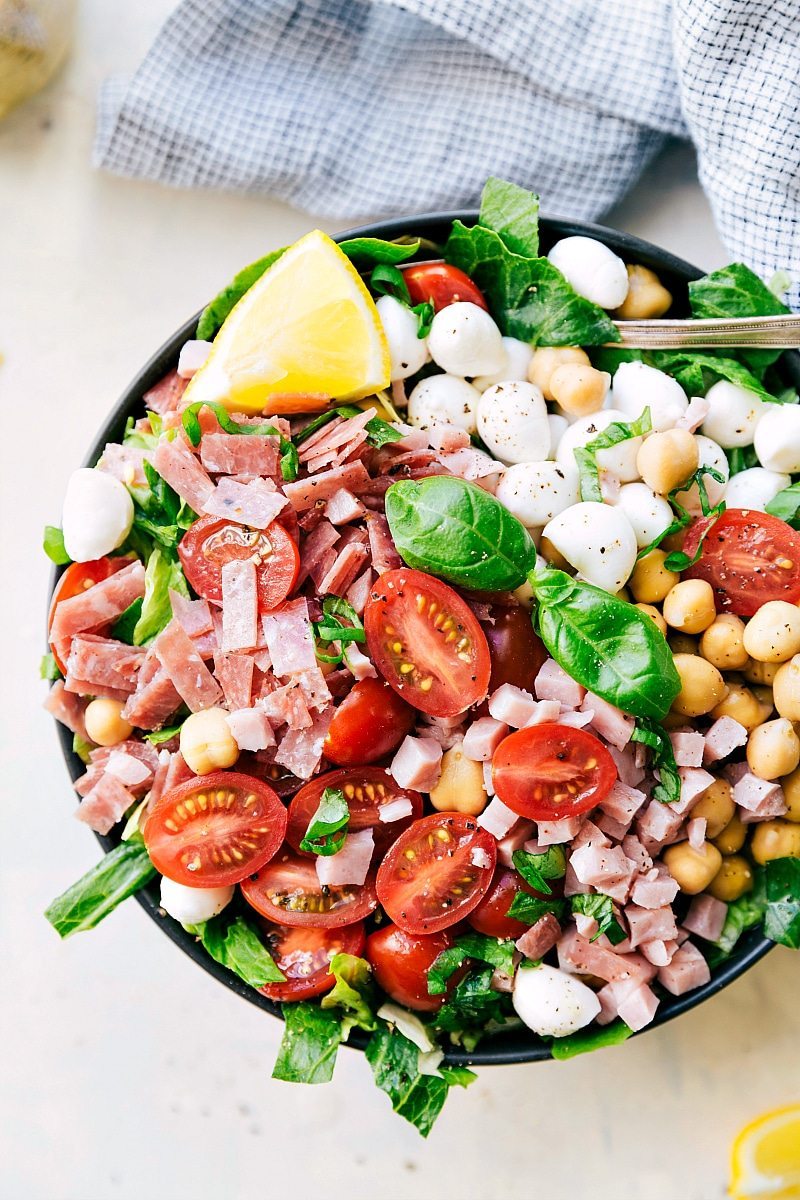 Pin this ITALIAN CHOPPED SALAD to your Recipe Board!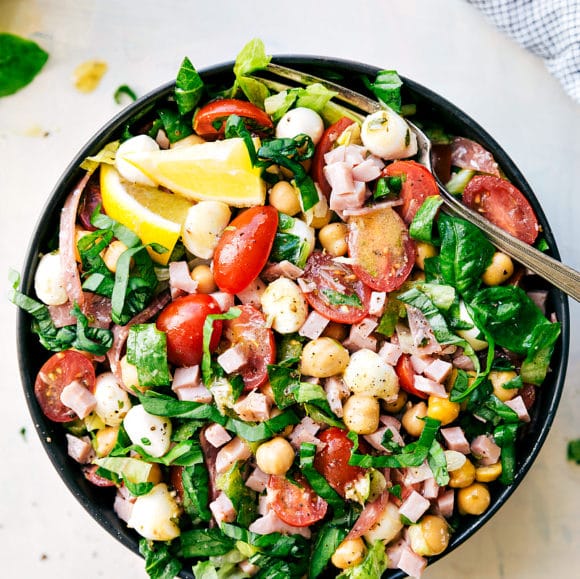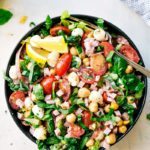 Italian Chopped Salad (CPK Copycat)
This Italian Chopped Salad is a copycat of the famous California Pizza Kitchen's Italian salad.

Ingredients
Salad
1

large head

romaine lettuce*

or a mix of romaine and iceberg lettuce

1

cup

chickpeas or garbanzo beans

rinsed and drained

1

pint

cherry tomatoes

halved

1

cup

chopped ham

1/2

cup

chopped salami

2/3

cup

fresh mozzarella

cubed or bought in pearls

10-12

large

fresh basil leaves
Dressing
2

tablespoons

freshly squeezed lemon juice

2

tablespoons

dijon mustard

3

tablespoons

red wine vinegar

3

teaspoons

white sugar

1

teaspoon

dried oregano

1

teaspoon

dried parsley

1

clove

garlic

1/2 teaspoon minced

1/3

cup

olive oil

Salt and Pepper
Instructions
Start by making the dressing: In a wide-mouth jar or bowl, add the lemon juice, dijon mustard, red wine vinegar, white sugar, oregano, parsley, garlic, and about 1/2 teaspoon salt, and about 1/4 teaspoon pepper (or to taste). Whisk until combined. While briskly whisking, slowly stream in the olive oil. Cover the jar (or transfer the mixture to a jar) and shake until ingredients are combined. Place in the fridge.

For the salad: wash and thoroughly dry the romaine. Roll up 4-5 leaves and thinly slice. Chop the sliced lettuce to make very small pieces. Place in a large bowl.

Add in the drained and rinsed chickpeas, halved cherry tomatoes, chopped ham, chopped salami, and fresh mozzarella pearls (or cube into small pieces). Chiffonade the basil pieces and add those in. Toss the salad and adjust add-ins to personal preference. (The amounts listed are general guidelines of how we like this chopped salad. But the best part of making this homemade is you can add or remove toppings to personal preference!)

Remove the dressing from the fridge and again shake. Add the dressing *just* to what you will be enjoying immediately. Unfortunately the salad doesn't sit well with dressing so keep it separate until right ready to eat!

Leftover dressing keeps up to a week in the fridge.
Recipe Notes
*For more crunch and variety use 2 different types of lettuce -- romaine and iceberg. BUT if you don't want to buy both, just romaine by itself is so delicious too! If you do mix and match use 1/2 head of iceberg and 1/2 head of romaine.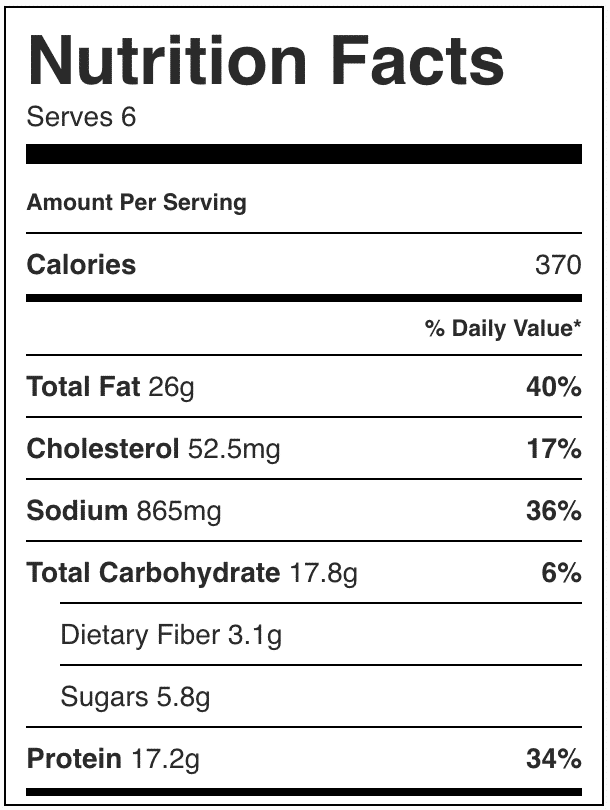 More Salad Recipes:
Tropical Quinoa and Fruit Salad
Candied Pecan, Pear, and Pomegranate Salad
Candied Almond, Mandarin Orange, and Apple Salad