Italian Chopped Salad is a copycat of the famous California Pizza Kitchen's salad. This Italian Chopped Salad is loaded with ham, salami, chickpeas, tomatoes, mozzarella, fresh basil, and lettuce. It is tossed in an easy lemon, Dijon, and herb vinaigrette.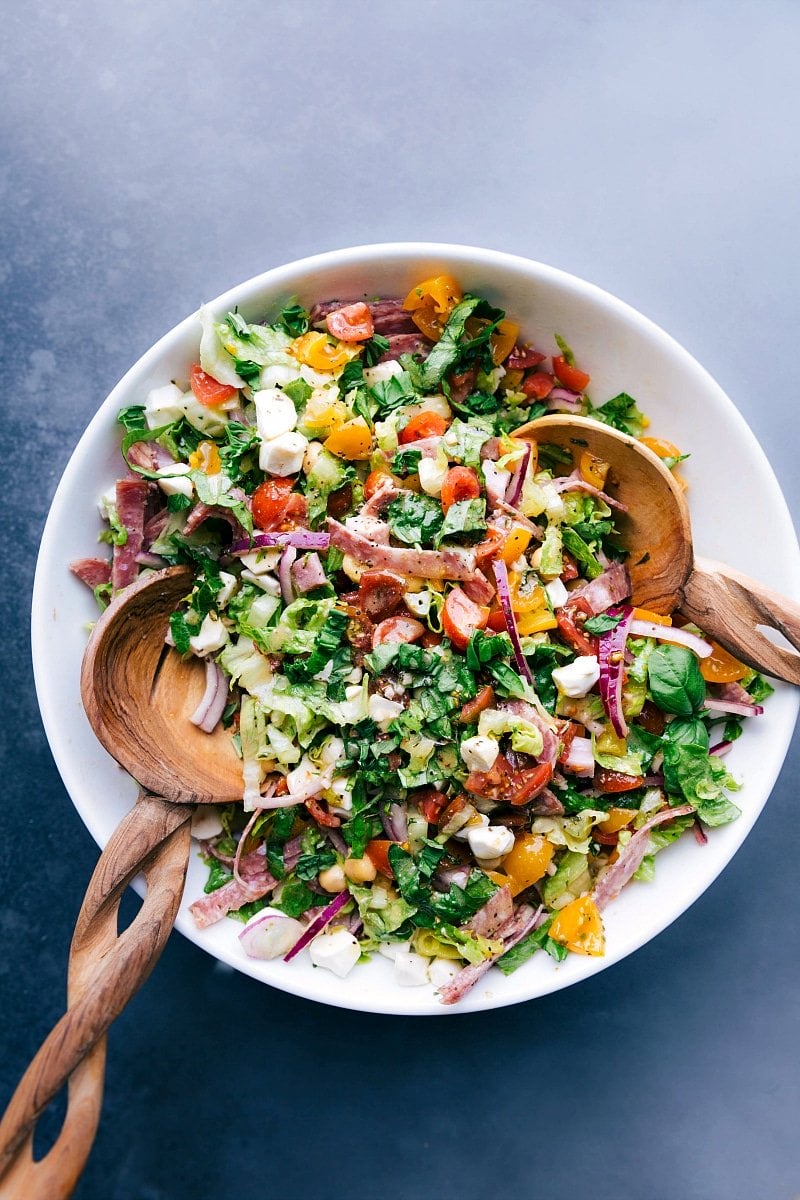 California Pizza Kitchen Copycat!
Several months ago I went to Vegas with some girl friends. There is a California Pizza Kitchen in the hotel we stayed in and we had lunch there a few times. For one of the lunches, I grabbed this salad and knew I had to create a copycat recipe. And, I'm pretty excited about this recipe, because I like it even better!
It's chock full of delicious ingredients and the best part about making a chopped salad is you can leave out or swap in all kinds of ingredients. I've of course listed our preferences, which are heavy on the chickpeas and tomatoes, but you can play around with the quantities you like best. This salad is very forgiving as long as overall proportions remain fairly consistent.
The dressing
The lemon, Dijon, and herb vinaigrette is very tangy with a hint of sweetness. It complements the veggies and meat in this Italian Chopped Salad perfectly. It's also very quick to whip up; simply add all the ingredients in a mason jar and shake vigorously to emulsify. A few dressing notes:
If sensitive to tanginess, I'd recommend reducing the Dijon mustard and/or adding a few additional teaspoons of sugar.
The better the olive oil used, the richer and more robust the dressing with taste. I recommend using extra virgin olive oil in this salad.
I recommend making the dressing ahead of time and storing it in the fridge so it can intensify in flavor and be cold when added to the salad.
If the dressing separates or forms clumps, don't be alarmed. It's just the olive oil solidifying, which it does at cold temps. Take the vinaigrette out of the fridge about 20-30 minutes or so before you need it, then shake it up to remix.
Add dressing slowly, since you may or may not want it all on the salad. We love dressing so we typically add most of it, but you may not want that much. Add to preference or set it out separate from the salad and allow guests to add their own.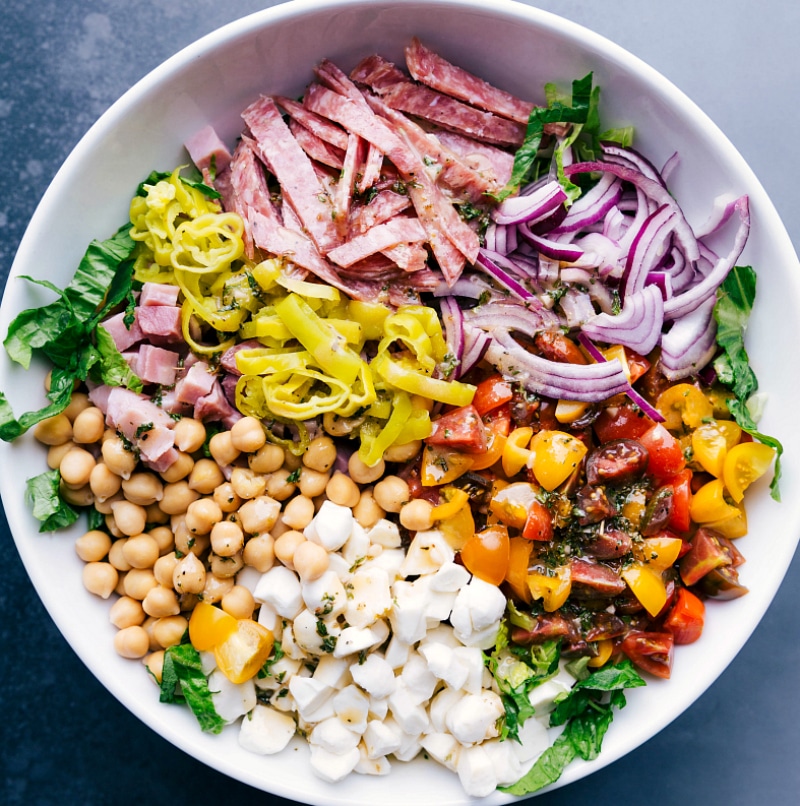 Italian Chopped Salad Tips
Roll the romaine lettuce into thin cigars and thinly slice. Chop the thin slices to get thin and short ribbons of lettuce. This gives the lettuce more surface room for the dressing to coat and integrates better with all the other chopped ingredients
Wash lettuce and make sure to dry thoroughly. There's nothing that ruins a salad quicker than wet lettuce! Use a salad spinner if you have one or a few paper towels to ensure the lettuce is 100% dry before adding anything else.
The best thing about a chopped salad is getting all the flavors of the salad in one bite. Also, the dressing integrates even better and more evenly. To get everything in one bite, the ingredients do need to be chopped fairly small and evenly. The more evenly everything is chopped the better this salad tastes.
If you're sensitive to the flavor of raw red onion, soak the thinly sliced onions in ice cold water (with a pinch of salt) for 10 minutes. Drain thoroughly before adding to this salad.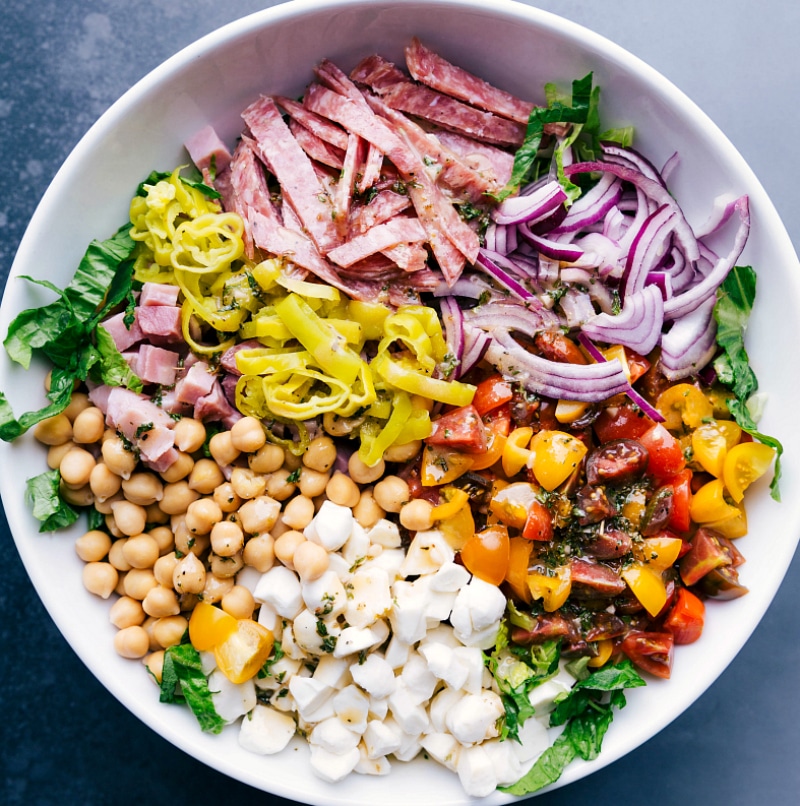 Italian Chopped Salad Variations
The California Pizza Kitchen's version of this salad uses chopped turkey, which can be used in place of the ham.
Swap out chickpeas for drained and rinsed white beans.
Add another cheese: Add in small cubes of provolone or a finely grated Parmesan cheese in addition to the mozzarella pearls.
Instead of just using romaine lettuce, use a mix of two different lettuces like iceberg and romaine.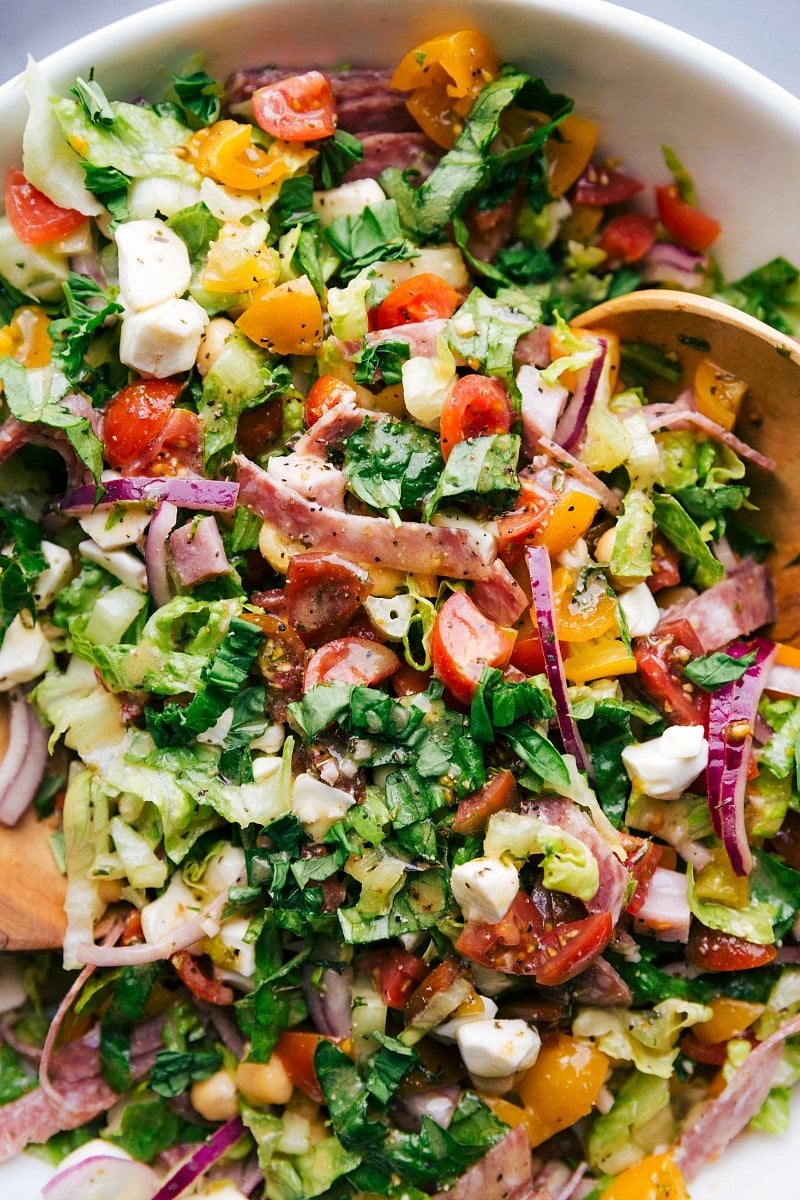 Italian Chopped Salad storage
Unfortunately, once dressed, this Italian Chopped Salad doesn't store well. The dressing makes the ingredients wet and soggy. I'd recommend only dressing what you will enjoy the same day. Store dressing and salad separately to enjoy later.
Make ahead
The components for this salad can all be prepared ahead of time and then assembled at serving time. Store the dressing in a mason jar in the fridge and shake for a minute before tossing with the salad.
More Salad Recipes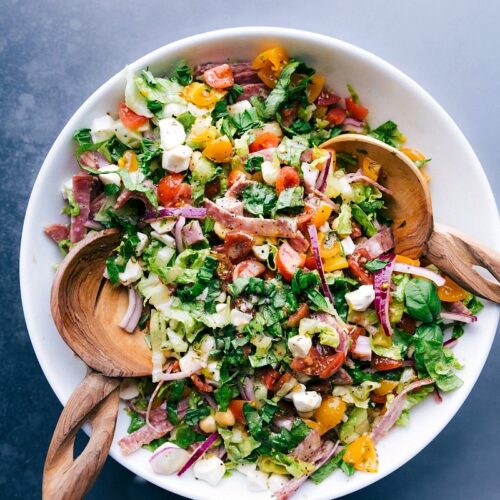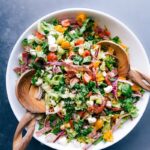 Italian Chopped Salad (CPK Copycat)
This Italian Chopped Salad is a copycat of the famous California Pizza Kitchen's salad. It's loaded with ham, salami, chickpeas, tomatoes, mozzarella, fresh basil, and lettuce. It is tossed in an easy lemon, Dijon, and herb vinaigrette.
Course:
Dinner, lunch, Main Course, Salad
Keyword:
Italian chopped salad
Ingredients
Salad
1

large head (4 cups; 285g)

romaine lettuce

(See Note 1)

1

can (15 ounces; 439g)

chickpeas (also called garbanzo beans),

drained and rinsed

1

pint (2 cups; 300g)

heirloom cherry tomatoes,

cut into quarters

1/2

cup (48g)

very thinly sliced red onion

1

cup (4 ounces; 120g)

chopped salami

1/2

cup (80g)

chopped ham

1

cup (5oz, 140g)

fresh mozzarella pearls,

halved

1/3

cup (40g)

thinly sliced pepperoncini

10-12

large

fresh basil leaves
Dressing
2

tablespoons

freshly squeezed lemon juice

2

tablespoons

Dijon mustard

3

tablespoons

red wine vinegar

3

teaspoons

white sugar

1

teaspoon

dried oregano

1

teaspoon

dried parsley

1

clove

garlic

(1/2 teaspoon minced)

1/3

cup

olive oil

salt and pepper
Instructions
DRESSING: Place all of the dressing ingredients in a wide-mouth jar. Season to taste with salt and pepper -- I add about 1/2 teaspoon salt, and 1/4 teaspoon pepper. Place the lid on the jar and shake briskly to combine. Place jar in the fridge and store there until ready to dress the salad.

LETTUCE: Wash and chop the lettuce. I like to cut the lettuce into ribbons (roll up the pieces into cigars and then thinly slice) and then halve the ribbons -- thinner salad pieces allow for more surface area for the dressing to adhere to. Use a salad spinner to ensure the lettuce is 100% dry before adding any other ingredients.

SALAD INGREDIENTS: Add in the drained and rinsed chickpeas, quartered cherry tomatoes, thinly sliced red onion, thinly sliced salami, chopped ham, halved mozzarella pearls, and thinly sliced pepperoncini. Chiffonade the basil pieces (see Note 2) and add those into the salad. Toss the salad and adjust add-ins to personal preference. (The amounts listed are general guidelines of how we like this chopped salad. But the best part of making this homemade is you can add additional toppings to personal preference!)

ADD DRESSING: Remove the dressing from the fridge and shake again to recombine. Only add the dressing to the quantity of salad you will be enjoying immediately. Unfortunately the salad doesn't sit well with dressing so keep it separate until right ready to eat!

LEFTOVER DRESSING: You may not use all the dressing in this salad (dress to preference). Leftover dressing keeps up to a week in the fridge.
Recipe Notes
Note 1: For crunch and variety, use two different types of lettuce -- romaine and iceberg. If you do mix and match use 1/2 head of iceberg and 1/2 head of romaine. (I typically just use romaine though)
Note 2: Chiffonade is the technique for cutting thin ribbons, usually from lettuces or herbs. To chiffonade basil, gather the leaves together into a stack, and roll up like a cigar. Make thin slices through the rolled bundle, and unroll to see the delicate ribbons. For shorter chiffonade, cut each slice in half before unrolling the leaves.