A delicious Greek salad with pasta and romaine lettuce, tomatoes, cherry tomatoes, red onion, cucumbers, black olives, feta cheese, and a red wine vinaigrette. A traditional salad made even better!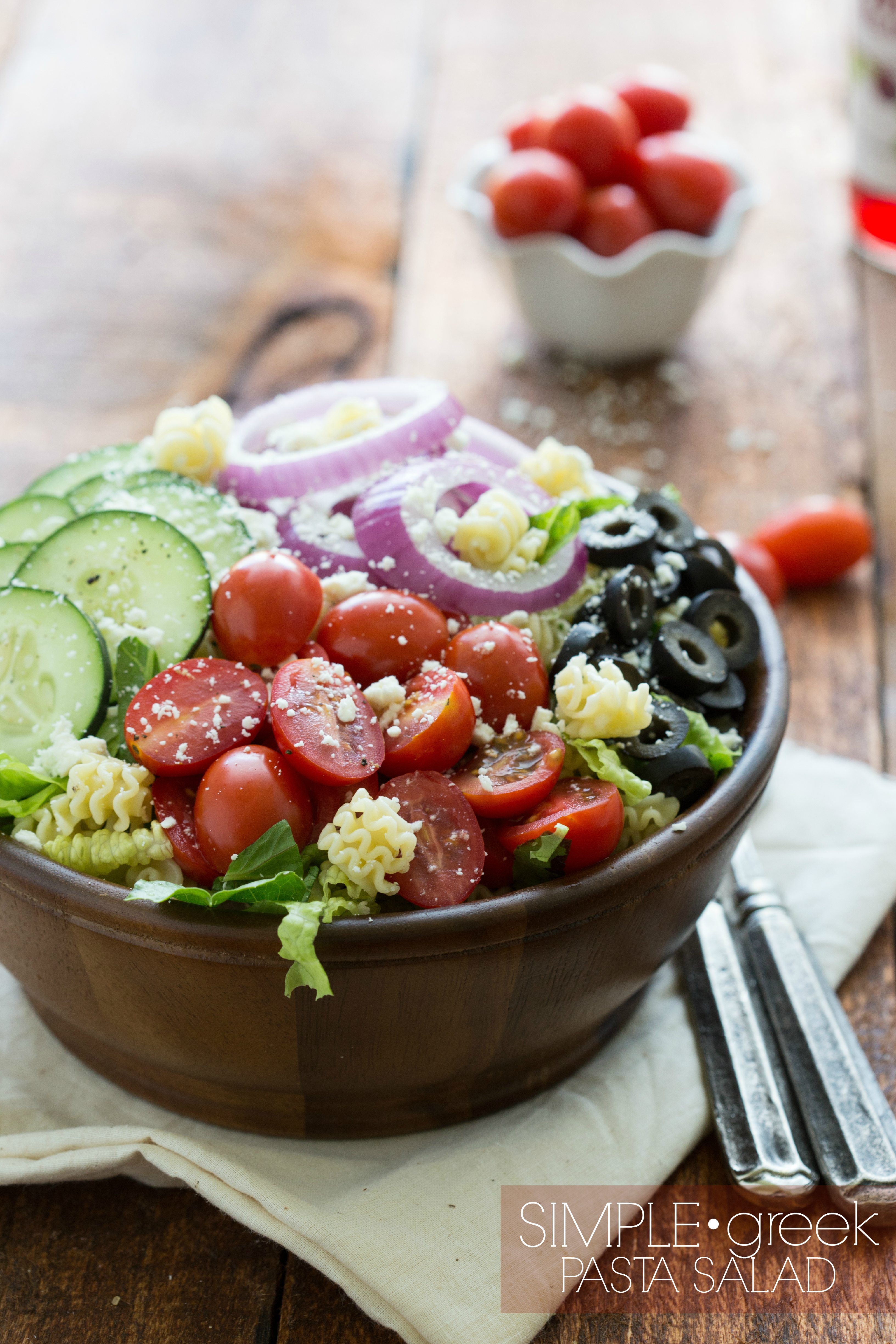 This post is coming to you from Pittsburgh, PA!
The husband has been in Pittsburgh for work this week so the little guy and I decided to make the trip down to stay with him for the weekend. I was a little nervous for the car trip down, but it turns out I'm more restless than the babe.
I was ready to be done about 30 minutes into the drive and he didn't start fussing til hour 3. Pretty impressive I think! I gave him some toys and he stayed pretty entertained for most of the ride. I started listening to Allegiant on tape and oh, man it is good! Have you all read this series? (Divergent) Have you seen the movie yet? I'm dying to see it!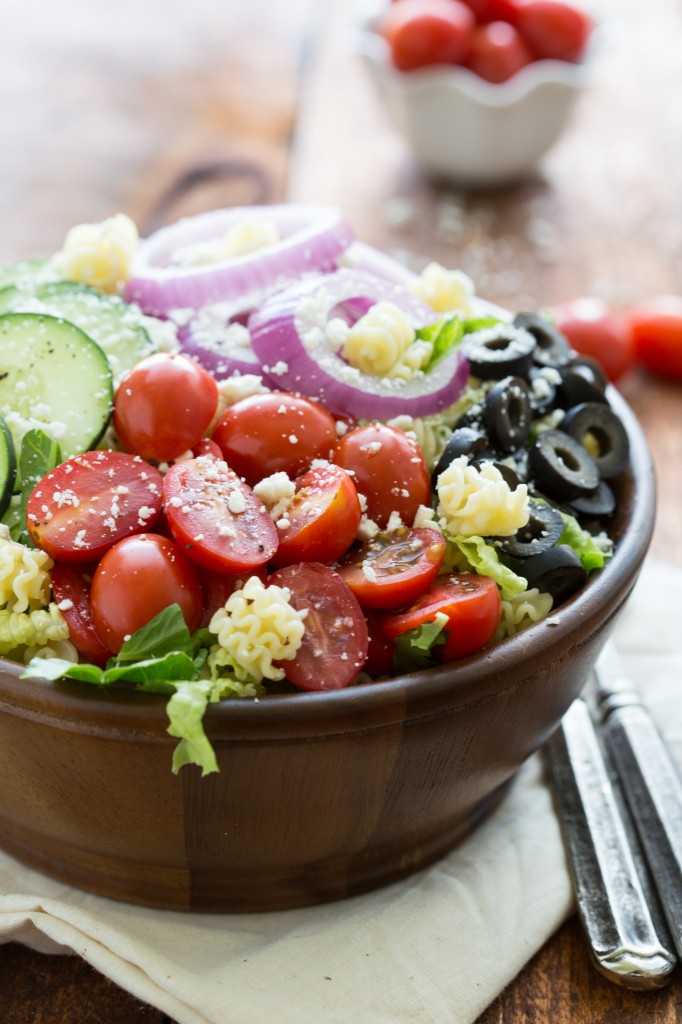 The husband actually tried to surprise me with a date to see the movie. He got a babysitter and everything and then we went to look up times and guess what? It was already out of the theaters. So I guess we are waiting for it to come to Redbox. (P.S. Still a major husband win.)
Pretty much I am dying in anticipation for this movie if you couldn't tell.
Especially after the re-listen-ages of the book on tape. Which I highly recommend on a long drive on free-way roads and pretty much the same scenery the entire way.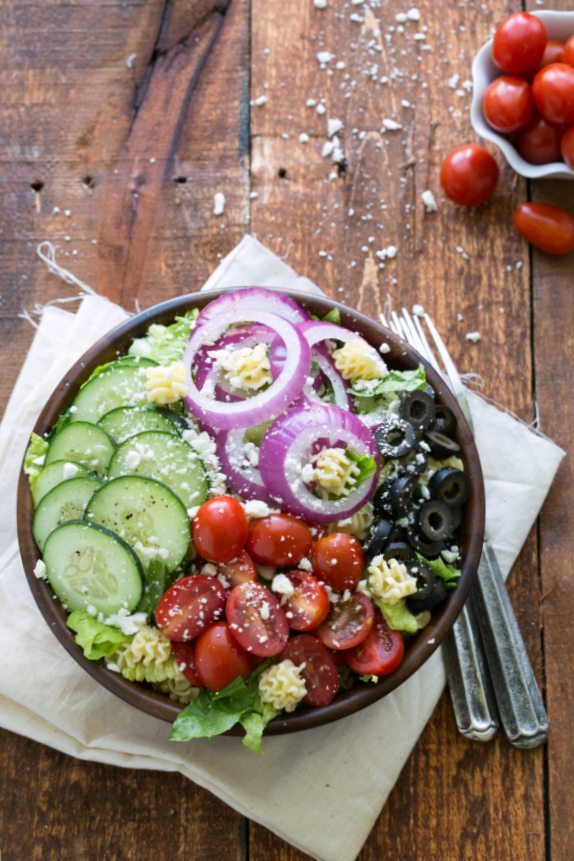 Changing gears here a little… Last weekend, the husband and I (baby too) went to Panera for dinner. When we lived in Utah, Kneaders was hands-down my favorite place to eat. I'm totally a sandwich/salad type person. Plus, their french toast? Yeah, I don't even want to know how many millions of calories I have consumed of that french toast.
Especially when I was pregnant and used my cravings to my advantage. Truth is, I craved it all the time. Other truth: I'm no longer pregnant and still crave it. all. the. time.
Anyways…. one of the most devastating facts about leaving Utah was leaving Kneaders. Little did I know there was a place verrry similar – Panera Bread. So, naturally, it's my favorite place to eat out here. And although they don't have Kneader's french toast, they have some pretty awesome soups/sandwiches/salads.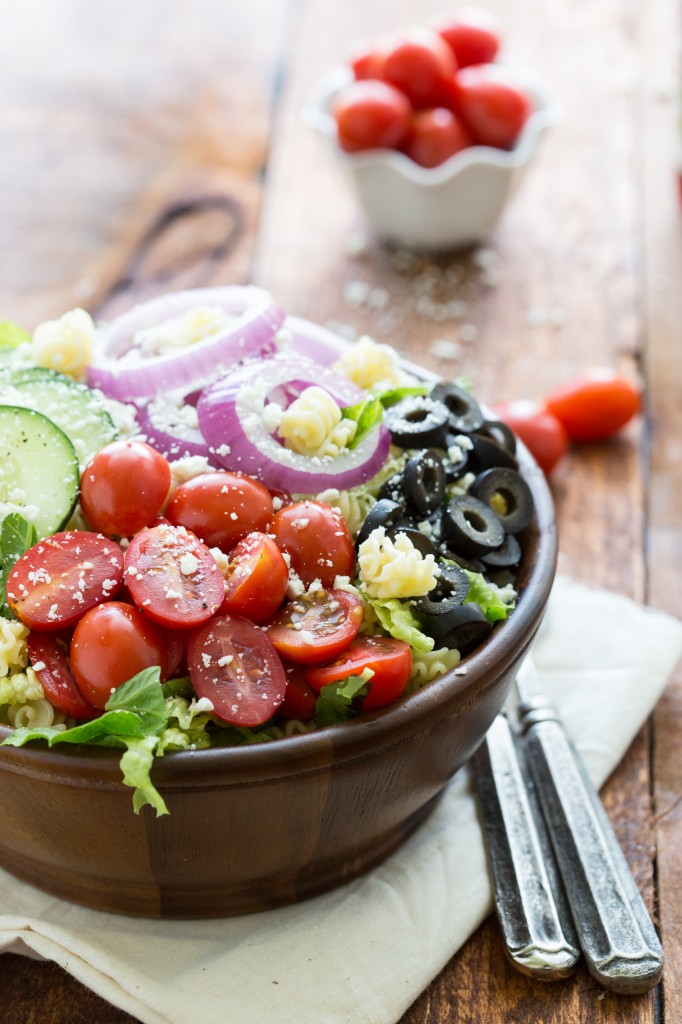 When we went last week I got a Greek salad. It was so-so-so good. Nothing too crazy or out of the ordinary, like this salad, but there was definitely a need to re-create it.
Especially the dressing. Best Greek salad dressing ever. Until this dressing was created. And then, to add a bit more staying power (aka. I need lotsa carbs), I added in some pasta to this salad. You've got to try the whole cold salad with lots of lettuce combo if you haven't already. It's perfection.
Particularly for a carb addict like myself.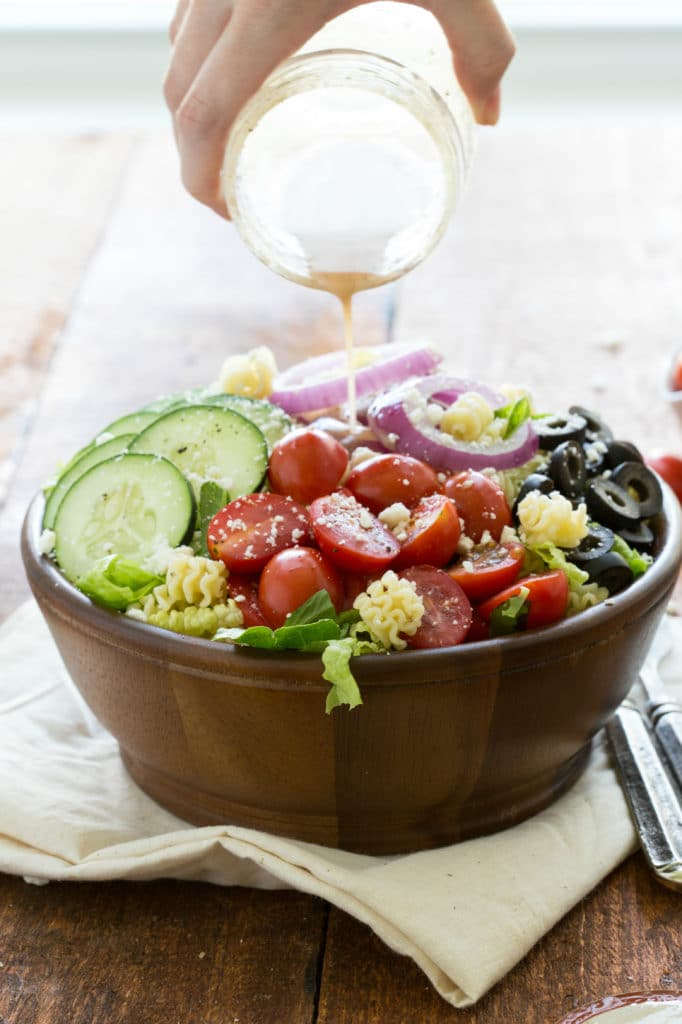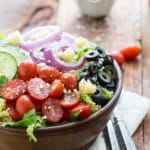 Greek Pasta Salad
Ingredients
Salad
4

cups

romaine lettuce

2

cups

uncooked pasta

I used radiatore

1

small red onion

1 and 1/2

cups

cherry tomatoes

1

small cucumber

1/2

cup

black or kalamata olives

Feta cheese
Dressing
3

tablespoons

red wine vinegar

1/4

teaspoon

oregano

1/8

teaspoon

garlic powder

1/4

teaspoon

salt

1/4

teaspoon

pepper

4

tablespoons

olive oil

1

teaspoon

Dijon mustard

1/2

teaspoon

white sugar
Instructions
Thoroughly wash the vegetables and then dry.

Boil the pasta according to package directions.

Meanwhile, chop the romaine lettuce and place in a bowl. Thinly slice the red onion and separate into sections. Alternatively, you can chop up the onion for the salad.

Slice the cucumber into thin slices. (I like the peel on, but peel first if desired).

Halve the cherry tomatoes, and slice the olives.

Toss everything together.

For the dressing, combine all of the ingredients in a re-sealable jar and shake until combined. Pour over the salad and toss to combine.

Drain the pasta and run under cold water until cool. Add the pasta into the salad and toss once more.

Crumble feta cheese over the salad to desired amount.
Here are some more salads: