Beet and Goat Cheese Salad brings together caramelized roasted beets, creamy goat cheese, salty roasted pistachios, creamy avocado, and tangy citrus in a simple orange-honey vinaigrette.
This salad is great as a main course! Add some grilled and sliced chicken (here's a great grilled chicken marinade) or steak.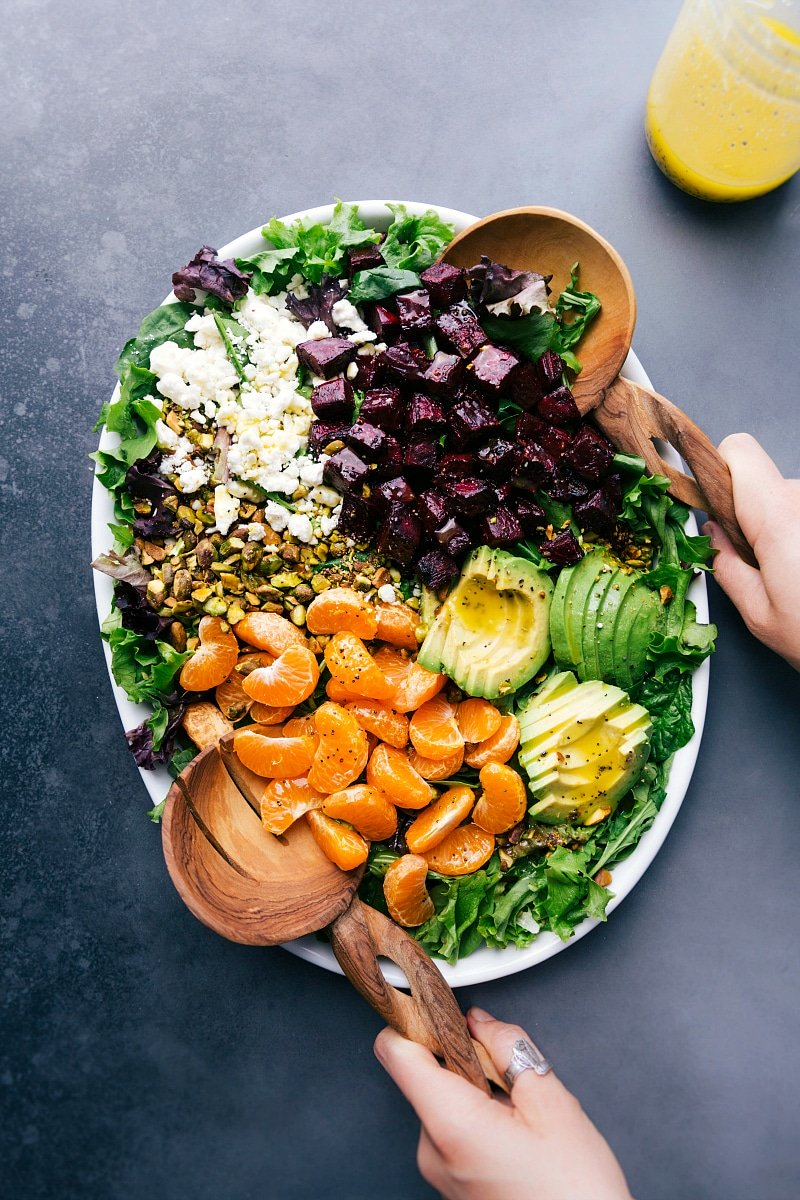 Beet and Goat Cheese Salad
Beet and Goat Cheese Salad is based on one of my favorite salads from a local restaurant. Combining beets and goat cheese into a salad is nothing revolutionary, but they serve theirs with an orange-honey vinaigrette that is life changing good. And now I can make it in the comfort of my own home, which only means it tastes even better! That's because when you make it homemade you can add exactly how much of each topping you'd like, and drizzle on extra dressing without an additional charge.
And in my case, that always means extra dressing.
The beets are roasted to caramelized perfection, with crispy exteriors and soft, savory interiors. And when you pair those beets with the creamy goat cheese and a ripe, velvety avocado, there are few things better! The clementines add the perfect hit of crisp freshness and the pistachios adds a great crunch.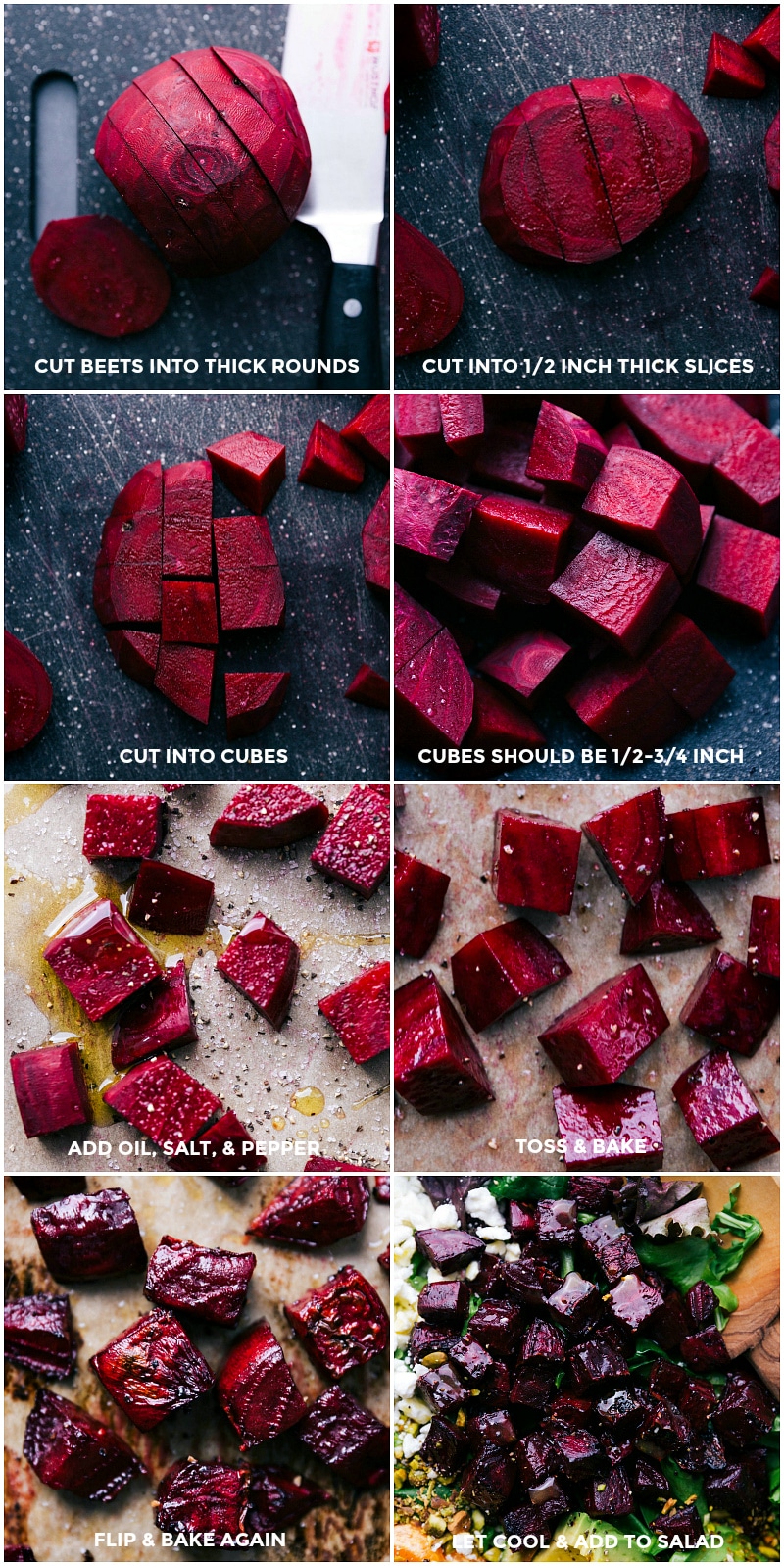 How to roast beets
Tip: You may want to wear gloves when working with beets, because they can stain your hands and fingernails. Also, I recommend a dark plastic cutting board, since beets will stain wood and lighter boards.
Trim the beets. Cut the tops off the beets (save the beet greens and use them in one of these recipes!) and trim the root.
Peel the beets. Completely peel the beets with a vegetable peeler.
Cut. The beets should be in 1/2 to 3/4-inch cubes. To get even-sized beet cubes, cut the beets first into 1/2-inch-thick rounds, then cut each round into 1/2 thick strips. The strips can then be cut down in 1/2 to 3/4-inch cubes.
Roast. Place the cut beets on a lined sheet pan and toss with olive oil, salt, and pepper. Bake for 15 minutes, flip, and bake another 15 minutes. They may need another 5-10 minutes, depending on the size they were cut, actual oven temperature, and how spaced out the beets are.
For best results, I recommend roasting the beets on a 15×21-inch sheet pan. The bigger pan will ensure the beets aren't overlapping which will give you perfectly caramelized beets. If the beets are crowded on the pan and overlapping, they will steam instead of roast.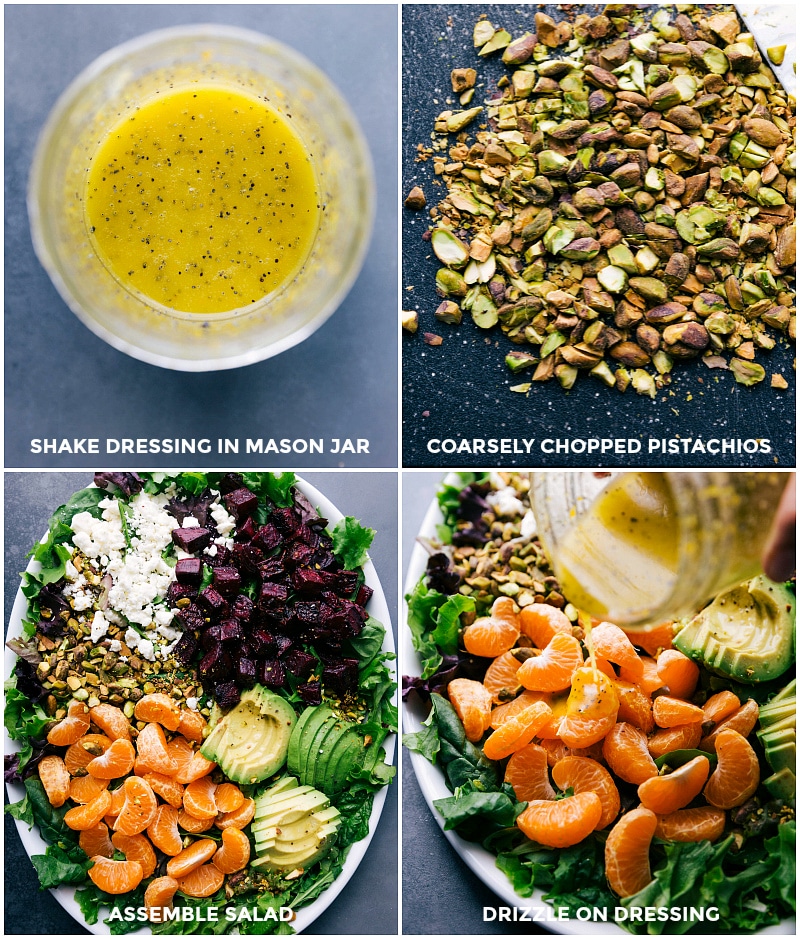 Dressing tips
Use good quality, extra virgin olive oil: The better your olive oil, the better the flavor of the dressing will be. Here are a few tips when trying to find a good olive oil and a list of chefs' favorite olive oils. Cobram Estate® Extra Virgin Olive Oil is a current favorite of mine for the orange-honey vinaigrette (not sponsored).
Squeeze the orange juice yourself: Already prepared (store-bought) orange juice is typically concentrated or has added ingredients which affect the flavor and sweetness of the dressing. Use freshly squeezed juice — either from a naval orange or even from the clementines if you have extra on hand.
If the dressing separates or forms clumps, don't be alarmed. It's just the olive oil solidifying, which it does at colder temps. Take the vinaigrette out of the fridge about 20-30 minutes before you need it, to bring it back up to temperature; then shake it up to remix before dressing the salad.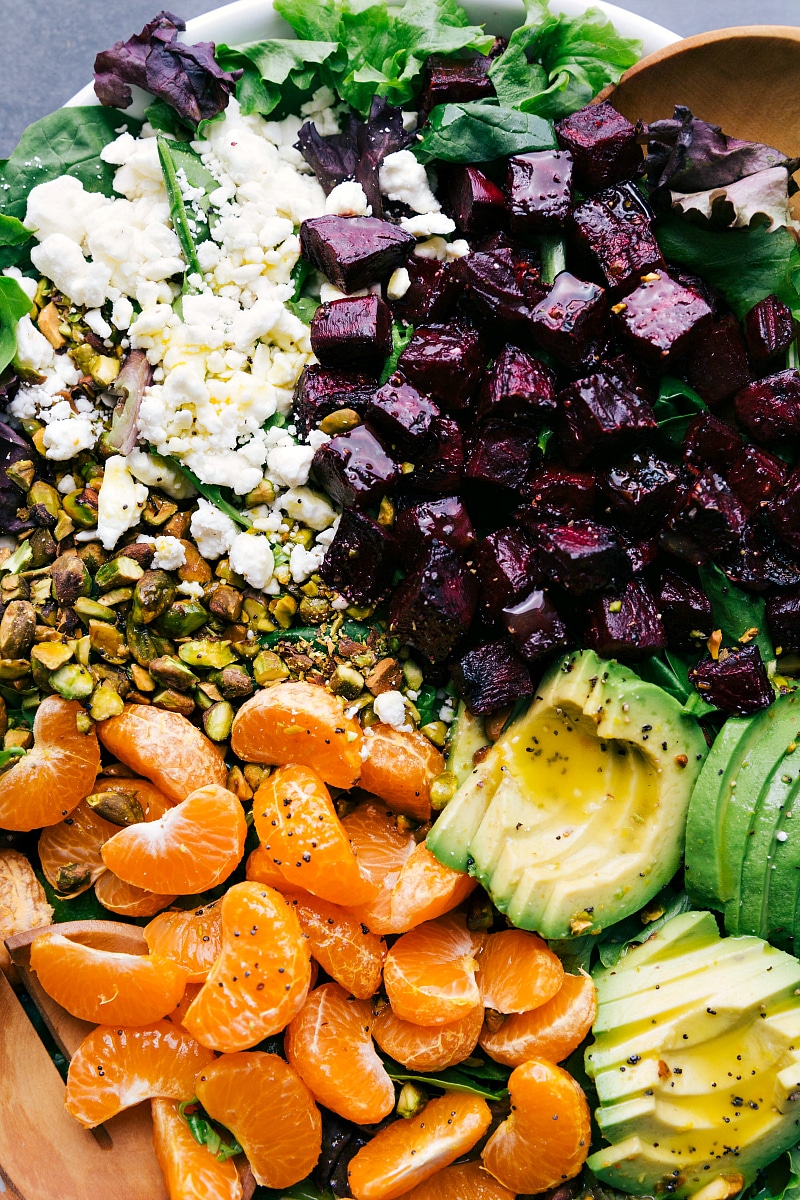 Beet and Goat Cheese Salad shortcuts
While this salad is the best made according to the recipe, I understand that we all need short-cuts here and there. Here are a few ways to speed up the prep of this salad:
Work ahead of time: You can roast the beets ahead of time and store in the fridge for 3-5 days. You can also make the dressing 3-4 days in advance.
Pre-roasted beets: A lot of stores have already-roasted beets in their produce section; pick the plain variety and simply chop those up for Beet and Goat Cheese Salad. In a pinch, you can use canned beets; make sure to drain them thoroughly.
Mandarin oranges: A can of mandarin oranges will work in place of the clementines; again, make sure to drain thoroughly.
More delicious salads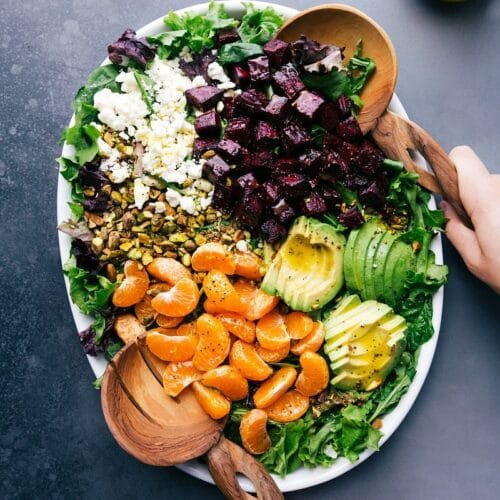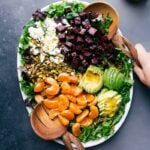 Beet and Goat Cheese Salad
Beet and Goat Cheese Salad brings together caramelized roasted beets, creamy goat cheese, salty roasted pistachios, creamy avocado, and tangy citrus in a simple orange-honey vinaigrette. 
Course:
lunch, Main Course, Salad, Vegetarian
Keyword:
beet and goat cheese salad
Ingredients
Salad
7

cups (6 ounces; 170g)

mixed greens lettuce

(I use 50/50 blend spinach and spring mix leaves)

1

large avocado

1

teaspoon

lemon juice

1/3

cup (46g)

lightly salted and roasted pistachios,

coarsely chopped

3-4

mandarin oranges,

peeled and segmented

crumbled goat cheese

(or feta), add to preference (we add ~1/3 cup (40g))
Roasted Beets
2-3

(1 lb 4 oz; 560g)

whole beets,

trimmed, peeled, and cut into 1/2-3/4-inch cubes

1

tablespoon

olive oil

Fine sea salt & freshly cracked pepper
Dressing
1/4

cup (57g)

freshly squeezed orange juice

2

teaspoons

orange zest

1 and 1/2

tablespoons

honey

1/2

teaspoon

Dijon mustard

1/4

teaspoon

fine sea salt

1/4

teaspoon

onion powder

1/3

cup (70g)

extra virgin olive oil

1/2

tablespoon

poppyseeds
Instructions
Roast Beets
Preheat the oven to 400 degrees F. Line a large (15x21-inch) sheet pan with parchment paper and set aside. (See Note 1) Remove the tops and stems of the beets and peel with a vegetable peeler. Cut into 1/2-3/4 inch cubes (see photos in the post for tips). Add beet cubes to the prepared sheet pan. Drizzle on 1 tablespoon oil plus salt and pepper to taste (I add 1/2 teaspoon salt and 1/4 teaspoon pepper). Toss to coat the beets and spread in an even layer so beets have plenty of room and aren't overlapping. Bake for 15 minutes, remove and toss, and bake for 15 more minutes. If needed, toss again and bake for another 5-10 minutes or until crisp tender (a fork easily pierces through a beet). Remove from the oven and allow to cool to room temperature before adding to the salad. If desired, toss hot beets with 1-2 tablespoons of the dressing to help cool them down quicker and and infuse them with more flavor.
Dressing
While beets are roasting, prepare the dressing. Combine all of the dressing ingredients in a mason jar. Close tightly and shake well until combined. Taste and adjust any flavors to personal preference.
Salad Assembly
Place the lettuce in a large bowl or platter. Peel and segment the oranges; add to salad. Remove the pit and peel of a ripe avocado. Chop into small pieces (or thin slices) and toss with lemon juice. Add to the lettuce.

Drizzle dressing to preference (you may not want to use all the dressing; leftover dressing will stay good for up to a week in an airtight container in the fridge) (See Note 2). Then sprinkle the chopped pistachios and crumbled feta or goat cheese over top.
Make ahead
If making this salad ahead of time, keep the lettuce separate, the dressing separate, and all the veggies and toppings separate. Toss all together right before enjoying.
Recipe Video
Recipe Notes
Note 1: Beets can stain your hands, nails,cutting board and pan. I recommend using a dark plastic cutting board, lining the pan with parchment, and if desired, handling beets with gloves on (If you wash your hands often and quickly after handling beets, the color usually washes out well).
Note 2: Do not toss the salad with the dressing until ready to use. This salad doesn't store or sit well with the dressing and is best enjoyed right after being dressed.