A savory, hearty short ribs recipe completed with veggies and a delicious gravy! (Prepare in a crockpot, stovetop, or oven).
Serve these amazing short ribs with mashed potatoes, this Italian salad, and/or some homemade rolls.

Short Ribs
My sister went to the grocery store the other day to pick up some bone-in short ribs for me. However, instead of getting short ribs, she came back with bone-in rib-eye steaks 🙂 At least it was still beef, right?
Lest any of you have the same problem as my sister did, see below for pictures of what short ribs look like 🙂
What does a short rib look like?
As you can see in the picture below, bone-in beef short ribs come in large chunks with the bone still attached. When picking out your beef look for good marbling in the fat for the best flavor. You also want to make sure the ribs are bone-in which helps conduct heat within the meat to ensure it cooks more evenly.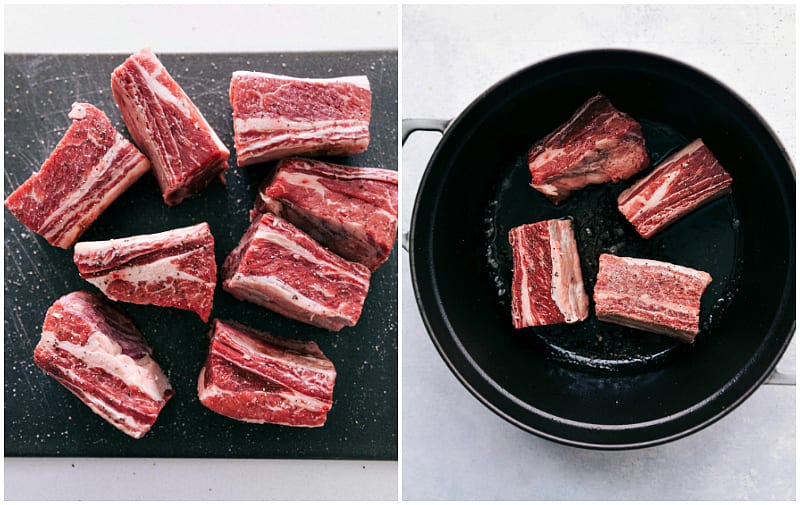 Beef short ribs are the equivalent of pork spare ribs. Beef ribs are generally a bit larger and more "meaty" than pork spare ribs. Both are delicious in my opinion!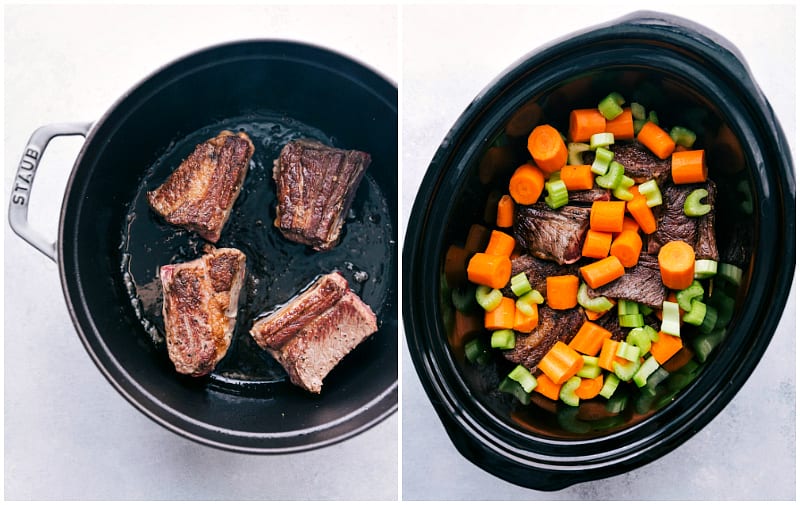 What is the best way to cook beef short ribs?
The best way to cook beef short ribs is in a slow cooker. The slow cooker gets them super tender and its nearly impossible to mess up! While you can certainly cook them in other ways, it's easier to dry them out while using other methods.
Before putting the short ribs into a slow cooker I'd recommend that you quickly sear them. This will caramelize the surface of the meat which will really enhance the flavor of the dish – braised short ribs cooked in the slow cooker can't be beat!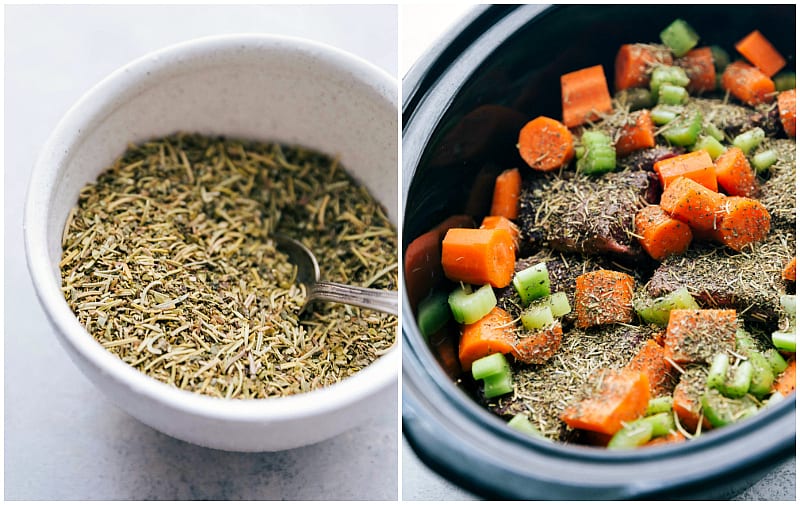 While my recommended method is in a slow cooker, it's also possible to cook them in an oven:
How do you cook short ribs in the oven?
Prepare the meat as indicated in the recipe (add salt and pepper and then sear in olive oil for about 45 seconds per side.)
Remove the ribs to a plate and then drain off all but 2 tablespoons of the fat. Add the carrots, onion, celery, and Tuscan seasoning to a large oven-safe dutch oven and stir for 5-6 minutes over medium-high heat on the stove.
Add in the garlic, Worcestershire sauce, tomato paste, bay leaves, beef broth, and 1 cup of juice. Stir. Return and submerge the short ribs in the pot.
Put a lid on the pot/dutch oven and transfer to the oven (325 degrees F.) Cook until the meat is fork-tender and falling off the bone, about 2 to 2 1/2 hours (flip the meat around after 50 minutes). Remove the pan from the oven and allow to sit for 20 minutes with the lid on before serving. Skim the fat off the top of the liquid and follow recipe directions to prepare the gravy.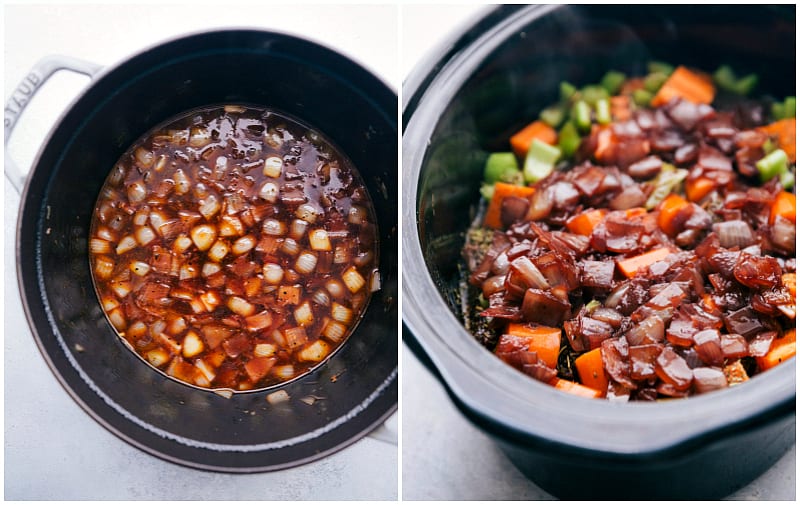 For this beef short ribs recipe you'll need to skim the fat from the cooking juices to make the gravy. Here's how to do it:
How do I skim the fat?
Once the beef is done cooking, removing the beef and vegetables from the slow cooker/ dutch oven and place the cooking juices in a small saucepan. Let it sit for several minutes so the fat can float to the top.
Gently tilt the pan and with a spoon, skim off all the fat that risen to the top.
For a more detailed description on how to skim the fat, you can check out this post.
This recipe became an instant family favorite in my house. I hope you enjoy it as much as we do!

Recipes that use the same seasoning blend from this recipe: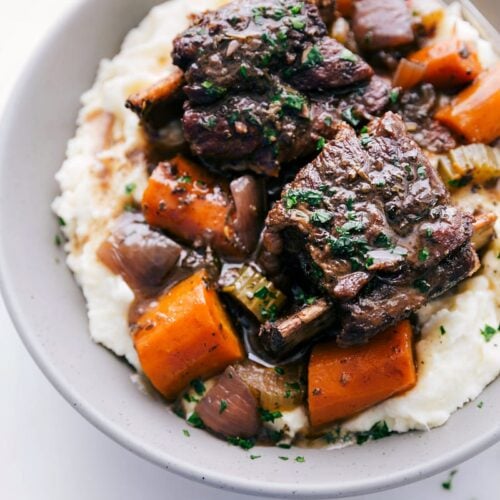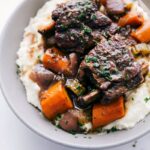 Short Ribs
A savory, hearty meal of short ribs with veggies and a delicious gravy!
Ingredients
3

pounds

bone-in short ribs,

well marbled

1

tablespoon

kosher salt

2

teaspoons

freshly ground black pepper

4

tablespoons

olive oil,

separated

2 and 1/2

cups (~4 medium)

carrots,

peeled and cut into 1-inch pieces

1

cup (~2 stalks)

celery,

sliced

1

cup

low-sodium beef broth (or stock)

2

tablespoons

Tuscan-Style Seasoning Blend

SEE RECIPE NOTES

1

tablespoon

Worcestershire sauce

1

bay leaf

2

medium yellow onions,

cut into 1/2 inch wedges

3

cloves

garlic,

minced

1

tablespoon

tomato paste

2

cups

red wine

Cabernet Sauvignon; OR you can substitute with additional beef stock, or grape, pomegranate, or cranberry juice

2

tablespoons

cornstarch

1/4

cup

water

Optional: fresh herbs such as parsley, thyme, and/or rosemary
Instructions
Dab the short ribs with paper towel and sprinkle each side with salt and pepper.

Warm 2 tablespoons of the olive oil in a large Dutch oven (or oven-safe heavy-bottomed pot) over medium-high heat. Once you can feel the heat when you hold your hand 6 inches above the pot, place 3-4 short ribs (at a time) in the pot. Brown the pieces on all sides, about 45 seconds per side. (To get a good sear don't overcrowd the meat, you can sear the meat in batches). Use the additional 2 tablespoons of oil IF needed. Once the short ribs are nicely seared with a good crust, remove them from the pot and place it in your slow cooker. (Use a 5 quart or larger slow cooker). Add carrots, celery, beef broth, 2 tablespoons of Tuscan seasoning blend, Worcestershire sauce, and bay leaf on top.

Drain off all, except 2 tablespoons of the oil in the pot. Add in the onions and cook until the onions are translucent, 4 to 5 minutes over medium high heat. Add the garlic and cook for about 30 seconds. Pour in the wine (or additional beef stock or juice). Deglaze the pan by scraping up the browned bits at the bottom of the pan with a wooden spoon or spatula as it bubbles. Bring to a boil; cook 8-10 minutes or until liquid is reduced by half (you should have 1 cup liquid without the onions). Stir in the tomato paste. Pour the reduced liquid and onions into the slow cooker. Cook, covered, on low 5-8 hours or until meat is tender. (4-5 hours on high, but low heat is recommended).

Remove ribs and vegetables to a serving dish, cover with foil to rest and keep warm. Transfer cooking juices to a small saucepan and skim the fat (see post for more direction on this). Discard bay leaf. Bring crockpot juices to a boil. In a small bowl, mix cornstarch and water until smooth; stir into cooking juices. Return to a boil; cook and stir 3-5 minutes or until thickened. If desired, sprinkle with additional salt and pepper. Serve gravy with ribs and vegetables. If desired, add some fresh herbs on top.

Recipe Notes
Tuscan-Style Seasoning Blend: COMBINE 3 tablespoons dried rosemary, 3 tablespoons dried oregano, 3 tablespoons dried basil, 1 and 1/2 tablespoons dried thyme, and 1 and 1/2 teaspoons dried sage Whisk all of the ingredients together and add TWO tablespoons to this meal. Store the remaining in a mason jar in a cool, dry, dark place. (See post for ways to use the remaining seasoning blend)