This lemon chicken orzo soup is packed with great flavors and good-for-you ingredients. With a few shortcuts, you can have this soup on the table in 30 minutes or less!
Pair this lemon chicken orzo soup with homemade dinner rolls and a green salad like this Italian salad!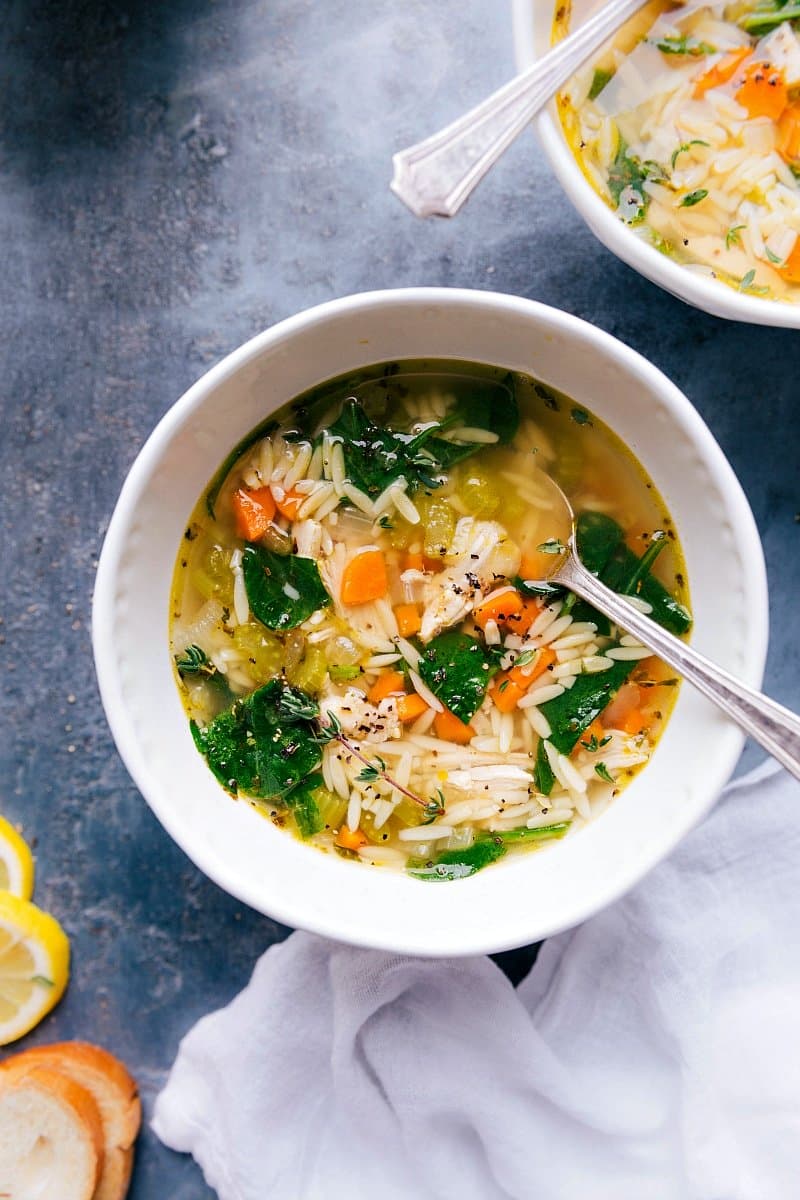 We've been sick a bit more than usual this Fall/Winter, and I swear by this soup — not only does it make everyone feel better while eating it, I'm also convinced it clears up some of the sickness as well.
And it's not just in my mind, research has shown that chicken soup with veggies can help keep you hydrated when sick and reduce cold symptoms. And then we've also got lots of lemon which happens to be loaded with vitamin C. Which, when you're sick or on the verge of being sick, vitamin C is definitely needed in the immune system. So I think it's safe to say, this soup is one of the BEST things to eat when you're feeling a scratchy throat coming on. I know it has been in our home!
But it's definitely not a soup only for the cold season, it's truly good whenever you're craving some warm comfort food and something a bit different than a regular chicken noodle soup.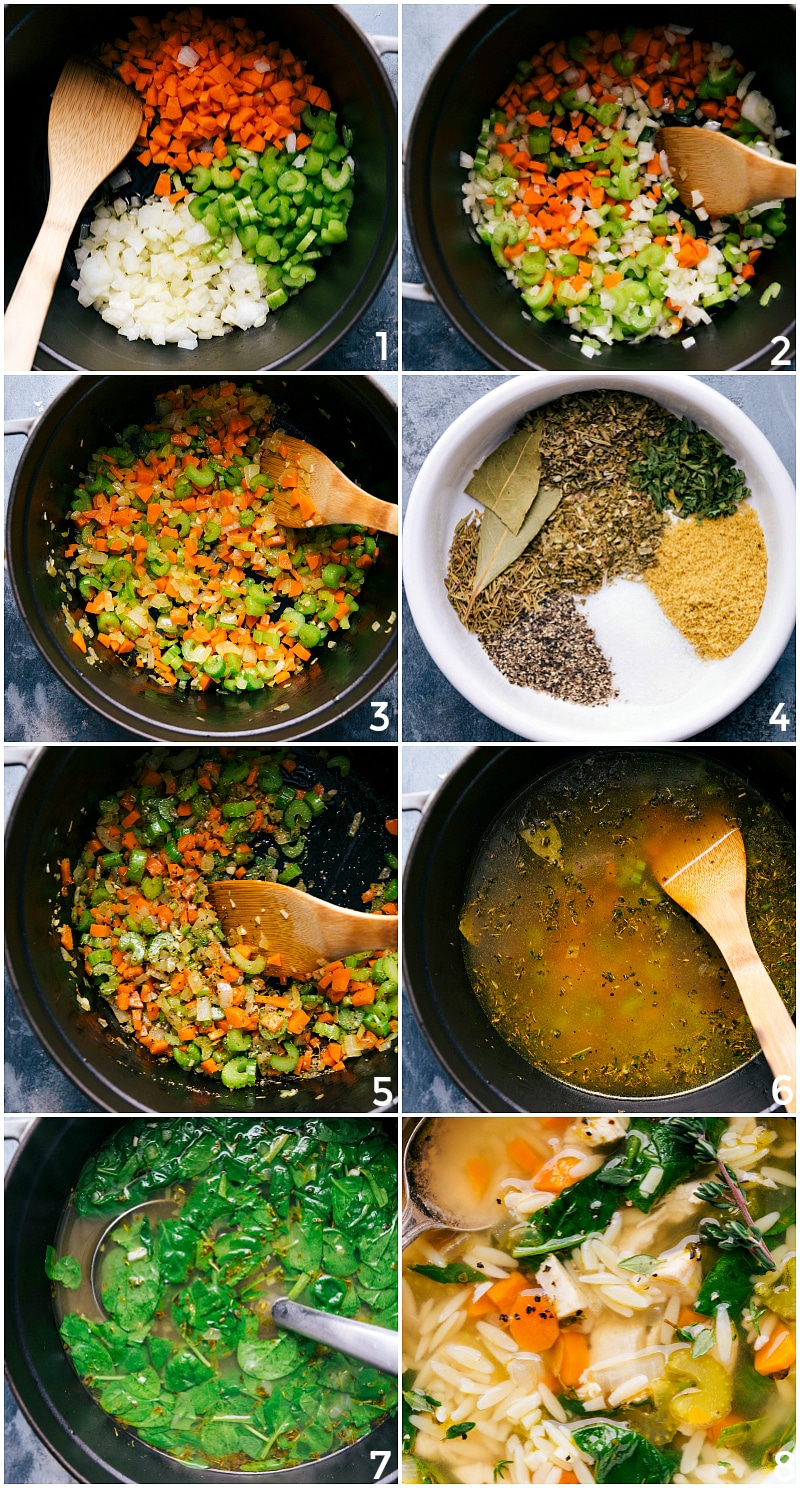 How to make lemon chicken orzo soup
The descriptions below correlate to the pictures above
Add olive oil, diced carrots, diced celery, and diced onion to a large pot.
Saute the veggies until crisp tender, about 8-10 minutes
The veggies will look like this when they're ready!
Here are all the spices we'll add into the soup
Add those spices into the veggies and stir around to get fragrant
Add in the broth and bring to a boil; once boiling add in the orzo pasta and cook until tender.
Stir in the rotisserie chicken to warm through and then the spinach to wilt. Add the lemon zest and juice.
Soup is ready! Garnish individual bowls with parmesan cheese and fresh herbs as desired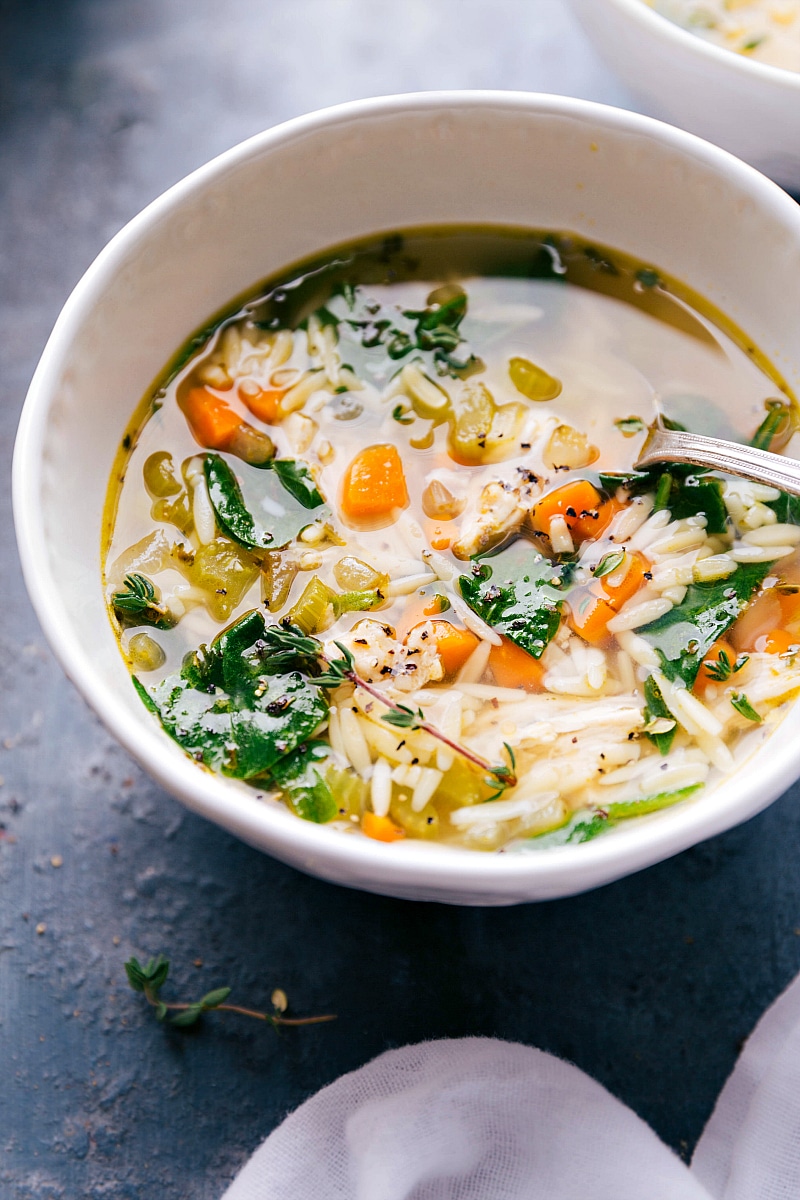 Soup shortcuts
Using rotisserie chicken in this soup is already saving us loads of time, but did you know you can buy already shredded rotisserie chicken? (I've seen it at Costco, Smith's (Kroger), Trader Joes, and Walmart.) Most stores have different seasoned rotisserie chickens, I love using a lemon herb seasoned rotisserie chicken for this soup — SO good!
To save yourself chopping time, grab mirepoix (also labeled as soup starter at some stores). Lots of stores sell pre-chopped mirepoix in the produce section of the store. If you're in a hurry grab that fresh chopped mirepoix OR you can even use frozen mirepoix in this lemon chicken orzo soup.
Use a lemon juicer and microplane to make zesting and juicing the lemon a breeze. If you're a huge lemon fan, you might even want more juice or zest than the recipe indicates!
Lemon chicken orzo soup storage
This lemon chicken soup is best eaten the same day its made. When stored, the orzo pasta continues to absorb liquid, bloats, and becomes overly soft. If you aren't planning on enjoying this soup the same day it's made, I recommend either cooking the orzo separately (and reducing the amount of liquid in the soup) or halving the recipe.
If cooking the orzo separately, simply add a few spoonfuls to individual soup bowls.
Because the orzo pasta continues to take on liquid, this soup isn't a great candidate for freezing and thawing. Besides the pasta, this soup doesn't freeze and thaw well because of the spinach and other veggies in it.
More delicious soup recipes: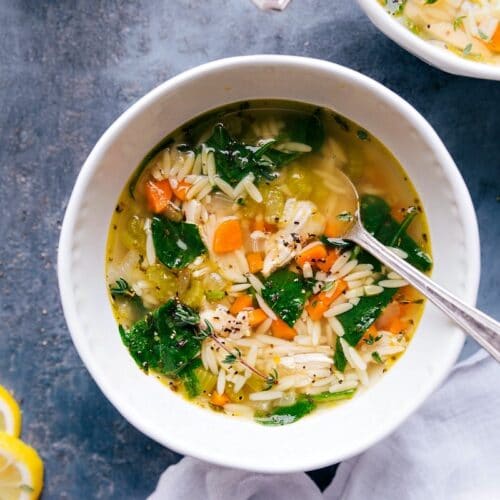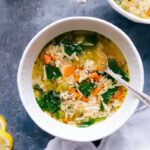 Lemon Chicken Orzo Soup
This lemon chicken orzo soup is packed with great flavors and good-for-you ingredients. With a few shortcuts, you can have this soup on the table in 30 minutes or less!
Keyword:
lemon chicken orzo soup
Ingredients
2

tablespoons

olive oil

1

cup

diced yellow onion

~1/2 large onion

1

cup

diced celery

~3-4 stalks

1

cup

diced carrot

~3 carrots

2

teaspoons

minced garlic

1

teaspoon

chicken boullion powder

1/2

teaspoon

EACH: fine sea salt, freshly cracked pepper, dried parsley, dried oregano, dried thyme

1

teaspoon

Italian seasoning

8

cups

low sodium chicken broth

1

bay leaf

3/4

cup

UNCOOKED orzo pasta

Note 1

2

cups

rotisserie chicken,

shredded/chopped Note 2

2

cups

coarsely chopped baby spinach

1/2

tablespoon

lemon zest

Note 3

1/4

cup

freshly squeezed lemon juice

Optional: fresh thyme, parmesan cheese, and crusty bread

for serving
Instructions
MIREPOIX: Add olive oil in a large pot over medium heat. Once the oil is shimmering, add in onion, celery, and carrots. Cook until the onion is translucent and veggies are crisp tender, stirring occasionally, about 7-9 minutes (Reduce heat if veggies are browning) Add in the garlic and stir for 30 seconds. While veggies are cooking, measure out all the spices.

SEASON: Add in the spices (chicken bouillon powder, salt, pepper, parsley, oregano, thyme, and Italian seasoning) and stir around for 30 seconds. Add in the chicken broth and bay leaf. Increase heat to a boil. Once boiling, add in the orzo pasta. Boil according to package directions, subtracting 2 minutes from what the package says.

CHICKEN/SPINACH: Stir in the shredded rotisserie chicken and then spinach. Gently stir to warm through chicken and allow spinach to wilt, about 2-3 minutes. Remove from the heat. Stir in the lemon zest and juice. Season to taste if any additional salt/pepper is needed.

SERVE: Ladle into bowls and garnish if desired with fresh thyme. Add parmesan cheese if desired to individual bowls. Serve with crusty bread.
Recipe Notes
Note 1: if you want to have leftovers of this soup, I recommend cooking the orzo pasta separately and then adding a few spoonfuls into individual soup bowls. When storing this soup, the pasta continues to bloat and take on liquid.
Note 2: if your grocery store sells it, grab a lemon herb seasoned rotisserie chicken for extra lemon and herby flavor.
Note 3: add lemon juice and zest gradually to personal taste preferences. What is written is how we love it, but you may like slightly less or slightly more. If you're a huge lemon lover, you can also add in some lemon herb seasoning (Mrs. Dash) or lemon pepper instead of regular pepper to the soup.
How many calories are in a cup of chicken orzo soup?