A simple and tasty creamy crockpot creamy chicken chili. No cream of "x" soups needed! Dump all the ingredients in the crockpot and forget about it until dinner time!
Pair this creamy chicken chili with homemade dinner rolls and this easy Italian salad.
Chicken Chili
I've been majorly holding out on you guys with this soup!! I made way too many Christmas treats last year (wait; is that even a thing? SLASH saying "last year" feels kind of crazy…time flies!) that I had to share before Christmas had come. So treats did take precedence over soup. This soup has been photographed and ready to share for over a month now, but I hadn't gotten around to actually typing out a post. And then I promised on Instagram it would be coming over two weeks ago. Major fail.
But it's here now and you're going to want to eat this soup every night for the rest of this winter!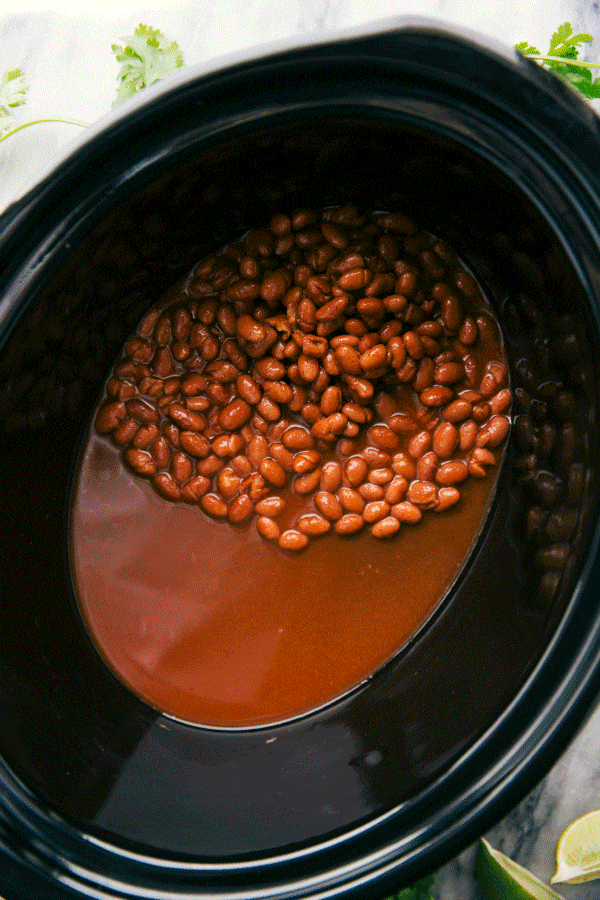 Several months ago I threw my (now married) sister her bridal shower. We decided to do some soups, salads, a caramel apple bar, and a few other desserts. One of the soups was a chicken enchilada chili. My family is addicted to the chicken enchilada chili at Zupas so I tried my best to recreate it for the shower. While it was delicious, it wasn't quite how I wanted it.
After the shower there wasn't a spoonful left so I had to re-make it for my boys. This time I changed it up quite a bit and it tasted even better than the Zupas chili. Instantly this soup became a favorite! A favorite for me (talk about EASY– just a dump it and forget about it kind of meal), and a favorite from the boys taste-wise. They inhale this soup! I've tweaked the recipe a few more times since it's already been made half a dozen times. This has become our "Sunday meal" — put it in the slow cooker before church and dinner is ready when we get back!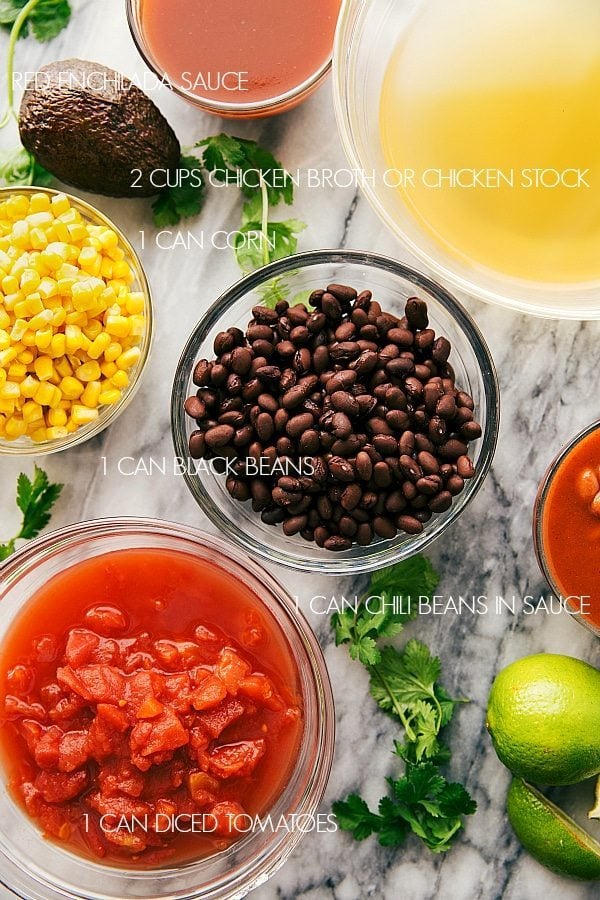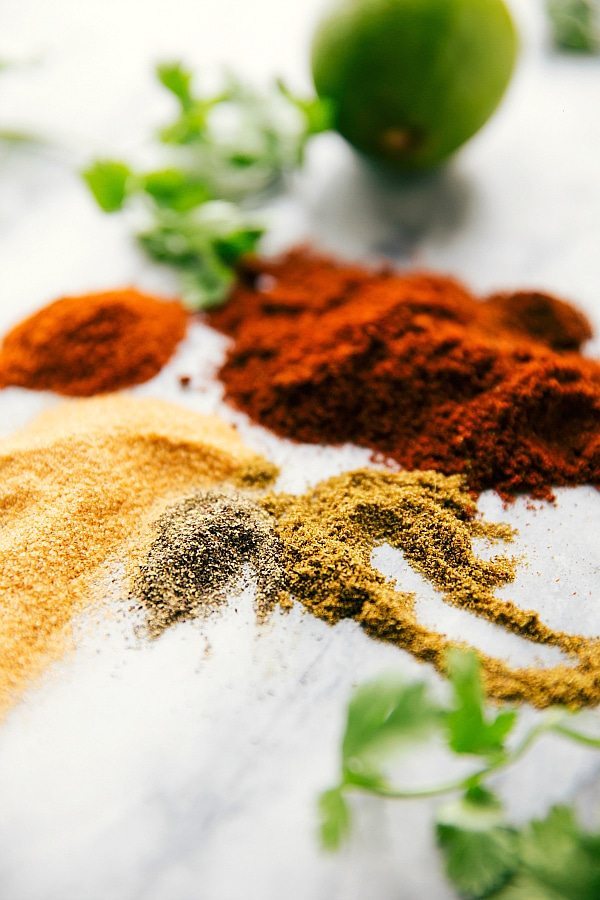 Chicken chili notes
This soup is quite mild depending on the enchilada sauce you use. I've used both mild and medium. Medium is our personal favorite (and not too spicy for the 2-year old), but if you are super sensitive to spice, stick to the mild. And as you know, all store-bought enchilada sauces aren't created equal — some are definitely more spicy or more mild than others so use an enchilada sauce you know and love! Alternatively, you can substitute your own homemade enchilada sauce if desired. Just keep the quantities about the same as a 10-11 ounce can (~ 1 and 1/4 cup).
If you want more spice, I've also added a little chipotle chili powder a few times which is delicious. You could add in some jalapeños or extra green chilis — whatever you like that gives a chicken chili more "spice" should work well in this soup!
Then as far as toppings: Cheddar cheese is a MUST! This soup is seriously good with tons of cheese mixed in….plus — cheese strings. I also love sour cream — we use fat-free and it's delicious in this soup. While I absolutely love a squeeze of fresh lime juice and some cilantro, neither are a "must." And avocado is just for a nutritional boost (plus so tasty in this soup) if you like avocados. The husband thinks they are a little weird in soup, but I love 'em so that topping is up to you!
Enjoy!

More popular soup recipes:
Easy Crockpot Chicken Enchilada Chili
A simple and tasty creamy slow-cooked chicken enchilada chili. No cream of "x" soups needed!
Ingredients
1 can

(10 ounces)

red enchilada sauce*

1 can

(14.5 ounces)

petite diced tomatoes with green chilis**

1 can

(15 ounces)

chili beans in mild chili sauce

1 can

(15 ounces)

black beans

drained and rinsed

1 can

(15 ounces)

corn

drained

1 and 1/2

pounds

boneless skinless chicken breasts

~2-3 large breasts

1

cup

chicken stock

or chicken broth (for a thinner chili, use 2 cups)

1 package

(8 ounces)

cream cheese,

very soft
Seasonings
1/2

teaspoon

ground cumin

3/4

teaspoon

paprika

1

teaspoon

seasoned salt

1/4

teaspoon

pepper

1 and 1/2

tablespoons

chili powder

Toppings:

sour cream, freshly grated cheddar cheese, avocado, fresh lime, and fresh cilantro
Instructions
In a large crockpot (I use a 6 quart crockpot), add in the enchilada sauce, undrained tomatoes, undrained chili beans, drained and rinsed black beans, drained corn, and uncooked chicken breasts.


I like to cut each chicken breasts into 2-3 pieces after removing the fat only if I'm cooking this on high (cooks faster/more evenly in my crockpot).


Add in the chicken stock and all of the seasonings. Stir well.


Cover and place on high for 3-5 hours (or until chicken will easily shred) or low for 5-8 hours (again, until chicken will shred easily)


Remove the chicken from the crockpot and shred in another bowl using two forks.


Meanwhile, cube the cream cheese into small cubes (it should be very softened -- melt in microwave) and put them in the crockpot. Stir well and cover. Change temperature to high. Let it sit for a few minutes and then using a large whisk, briskly whisk the cream cheese to melt.


Add the shredded chicken back into the crockpot. Stir and cover. Cook on high until all the cream cheese is completely melted. Stir.


Serve with sour cream, cheddar cheese, avocado, and fresh cilantro as desired. If you only do one topping, to me, cheddar cheese is a MUST!

Recipe Video
Recipe Notes
*I've used Rosarita brand, Old El Paso, and Great Value brand (medium and mild, medium preferred for us, but use what you like best) **You can use just plain diced tomatoes if desired, it still tastes great!