How to make crepes:tips and tricks (straight from a French bakery) to making delicious crepes every time!
The possibilities are endless with this recipe — fill them with a savory filling, sweet filling, or enjoy them plain with a sprinkle of powdered sugar. Our favorite way to enjoy them is with Nutella, berries, homemade whipped cream and this vanilla sauce. These banana crepes (filled with custard) are also a favorite!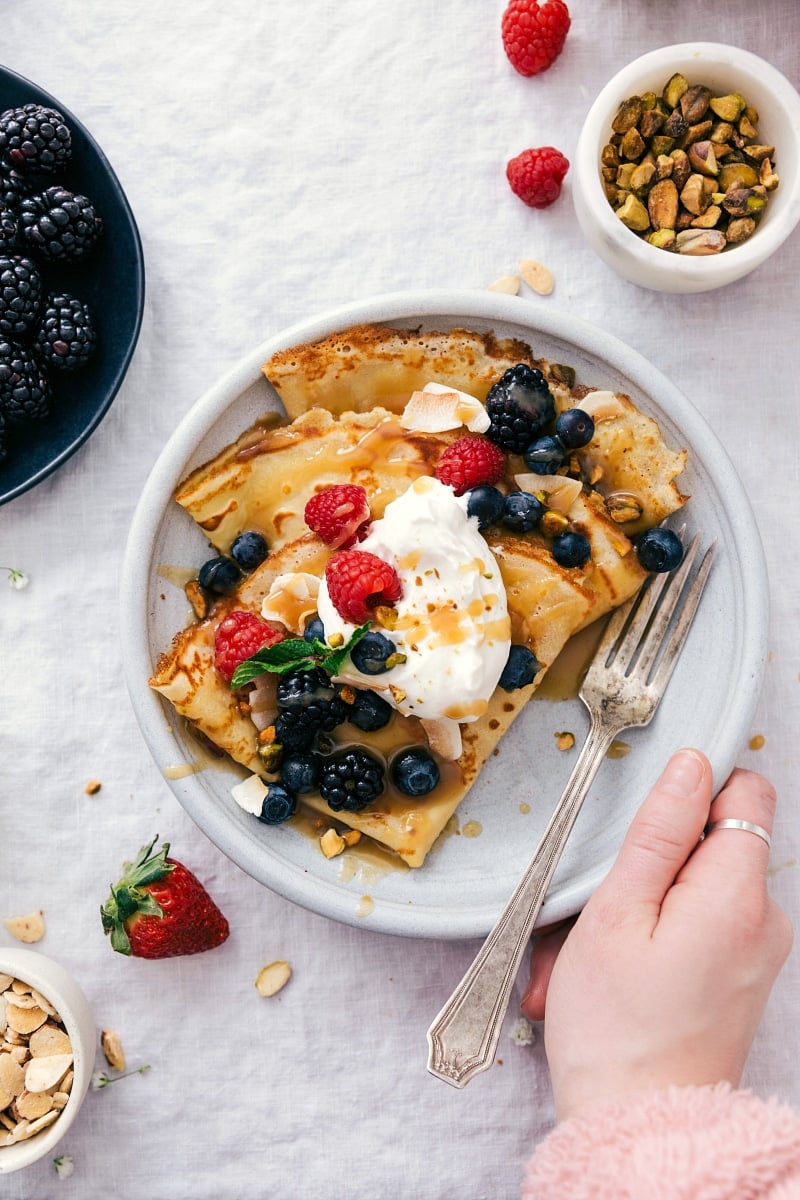 When I was in high school, we had the cutest foreign exchange student from France live with our family for about a year. We all fell in love with her immediately; she is the sweetest girl and fit in perfectly!
Her dad is a pastry chef and owns a bakery/pastry shop in France, so you can bet we drilled her for any and all of her secrets and recipes. And the recipe we made the most? Crepes. She taught us how to make them perfectly and dozens of ways to enjoy them. I think we had some kind of "crepe meal" 3 out of 7 days a week for the whole time she lived with us 🙂
Today I'm sharing the step by step process to making them (I promise it's easy!), our favorite ways to enjoy them (savory & sweet), and some tips.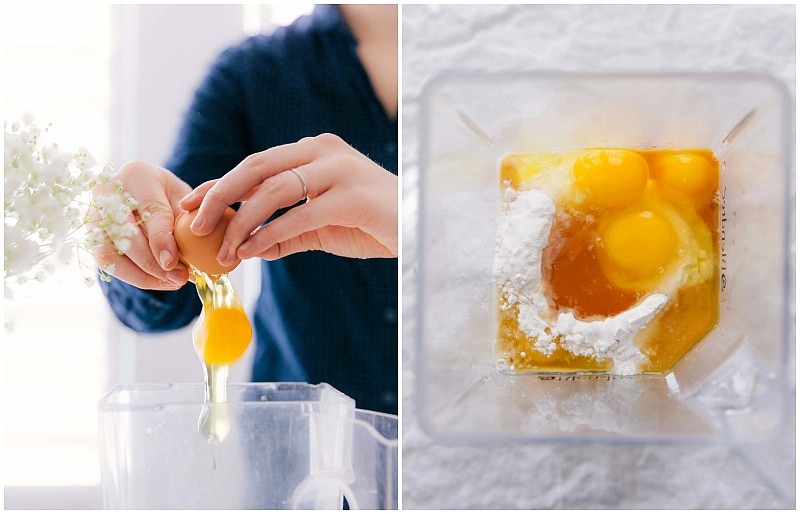 Step by step process to making crepes:
Blend: Add milk, flour, sugar, salt, butter, vanilla and eggs to a blender, then blend on low speed until well combined — just about 10 seconds if you have a powerful blender!
Scrape: Make sure you scrape the sides of your blender. If any ingredients didn't mix in well, blend for another few seconds.
Chill: Chill the mixture for at least an hour. (The batter can chill overnight if you want to make the batter the night before.)
Cooking the crepes: Once the mixture has chilled and you're ready to make them, give your mixture a quick stir. Next, lightly butter a large skillet (you don't need a special crepe maker!) then lift the pan and pour 1/4 cup batter into pan. Immediately tilt and swirl the pan in circular motion to evenly coat entire bottom portion of pan with that crepe batter. Once the bottom is golden brown (about 1 minute), use an offset spatula to lift the edge of the crepe and flip to the opposite side. Cook the other side until golden brown spots appear.
Enjoy: Add your filling(s) of choice and fold it up in half then half again to form a triangle OR just roll it up like a burrito.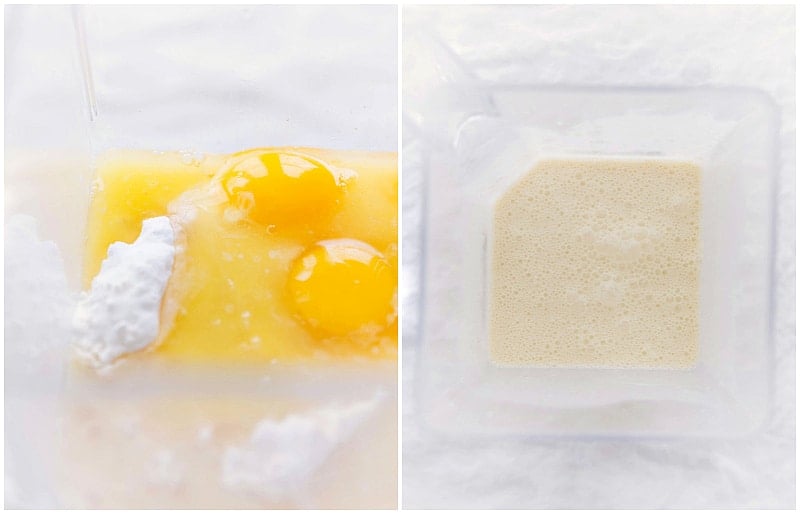 One of my favorite things about this recipe is that it makes a lot! Which is nice to "meal prep" or plan meals for your week. Once made, these crepes store beautifully in the fridge for 4-5 days. So it's perfect to grab a couple of prepared crepes in the morning and whip together a quick (filling and healthy!) breakfast (or lunch, dinner, or snack).
Below are some of our favorite ways to fill them up and make a satisfying meal.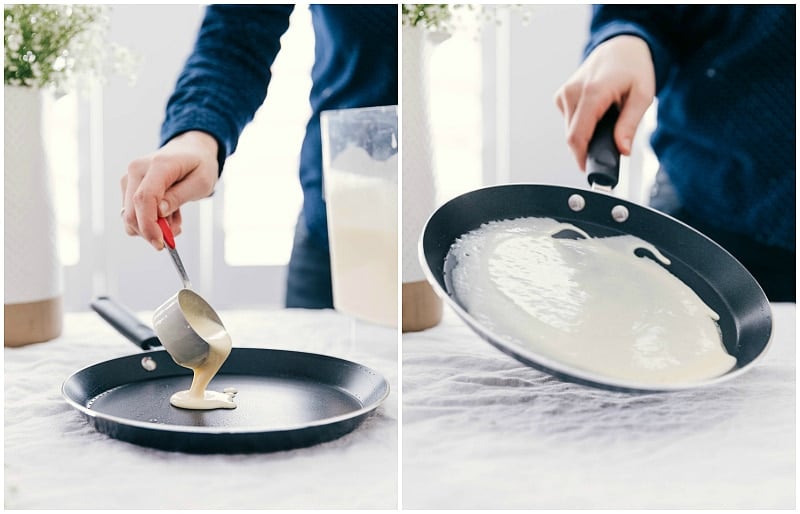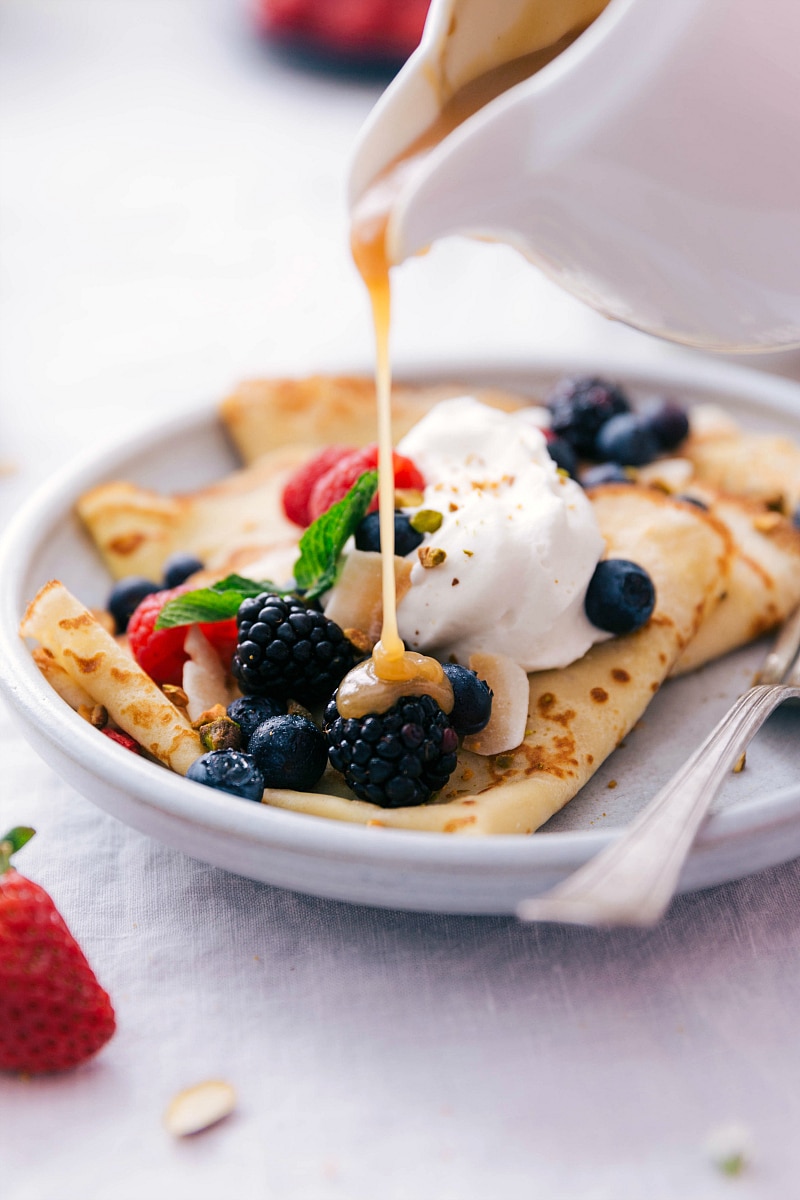 Crepe making tips:
Refrigerate the batter for at least one hour. Refrigerating the mixture after it's been blended, relaxes the gluten and makes for light, airy crepes.
Nonstick pan: while you don't need a special pan or crepe maker to make amazing crepes, you do need a nonstick pan! FYI: Here's the exact pan I use.
Heat: Slowly heat the pan to the desired temp. If you try heating your pan too quickly you'll have to constantly be adjusting the temperature trying to get it right.
Buttering your pan: You want to make sure you have enough butter to evenly cover the bottom and parts of the sides of your frying pan. Your first crepe may be a bit crispy and buttery but the following crepes should come out perfectly. The initial butter you apply to the pan should last at least 5-6 crepes.
Don't flip it too early: Make sure you wait until the surface of your crepe is starting to get golden brown spots, the edges have started to brown, and it is no longer shiny. If you flip it too early the crepe will tear and be undercooked.
Immediately swirling the batter: It's vital that as soon as your pour your 1/4 cup of batter onto your heated frying pan you immediately swirl the batter evenly around the whole base of the frying pan. If you wait at all the batter will start to cook immediately and you won't get that thin, delicious crepe.
More Breakfast Favorites: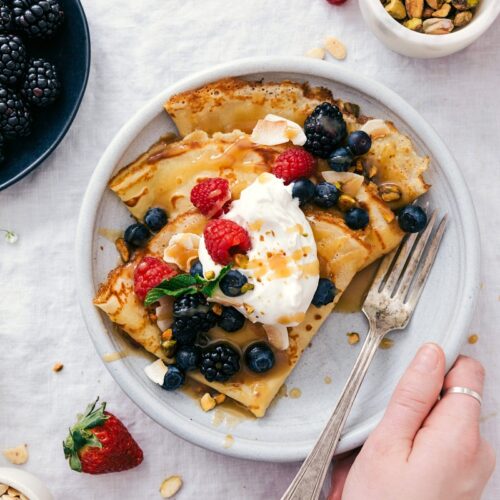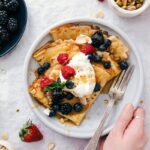 How to Make Crepes
How to make crepes: tips and tricks (straight from a French bakery) to making delicious crepes every time!
Course:
Breakfast, Dessert
Keyword:
How to Make Crepes
Ingredients
Parchment Paper

2 and 1/2

cups

whole milk

(I don't recommend a lower fat percentage)

2

cups

white all-purpose flour,

measure by spoon and level

1/4

cup

granulated white sugar

1/4

teaspoon

fine sea salt

4

tablespoons

unsalted butter,

melted and slightly cooled

2

teaspoons

pure vanilla extract

4

large

eggs

Optional: powdered sugar, syrup, whipped cream -- whatever you want to serve in or on top
Instructions
Add milk, flour, sugar, salt, melted and slightly cooled butter, vanilla and eggs to a high powered blender. Blend on low speed until well combined, about 10-15 seconds.

Scrape sides and bottom of blender if there's any flour sticking and blend a few seconds longer. Cover and chill in the fridge for 1 hour (or overnight if desired).

Cut small squares of parchment to separate crepes. This is important so they don't all stick together after being cooked and especially important if you are saving/storing them in the fridge for later.

Heat an 8 to 10-inch NONSTICK skillet over medium to medium low heat. Remove the batter from the fridge and give it a quick stir. Place a large tray or platter out and put one square of parchment paper down. This is where you'll place all the crepes as they are cooked.

Lightly butter the skillet with melted butter and a pastry brush or paper towel dipped in the butter and rubbed over the skillet. Barely lift the pan off the heat and immediately pour 1/4 cup crepe batter into the pan. Immediately, and working quickly, tilt and swirl the crepe pan in a circular motion to evenly coat the bottom of the pan with batter. Return skillet to the heat.

Cook until crepe is golden brown on bottom (1-2 minutes) and then use an offset spatula (I like to use a rubber spatula) to lift an edge of the crepe. Gently grab that edge of the crepe and using your fingers and the spatula, flip the crepe to the other side. Cook until golden brown spots appear (another 1-2 minutes) on bottom and then remove to prepared plate/tray. Place a piece of parchment or wax paper on top of the crepe.

Repeat until all of the batter has been used up. If crepes are cooking too quickly, reduce the temperature of the burner as needed and alternatively increase if they are taking longer than 1-2 minutes per side to cook.

TO SERVE: fill with desired fillings and then fold in half, and then half again to form triangles. Sprinkle with powdered sugar, add a spoonful of whipped cream, and drizzle on syrup as desired. 

TO STORE: let cooked crepes cool COMPLETELY and then transfer to a large ziplock bag. Seal without any air and store in the fridge for up to 5 days.