This Chicken Gnocchi Soup makes for the best creamy comfort food! It's loaded with plump potato gnocchi, seasoned veggies, and tender chicken.
This soup needs just one pot and about 30 minutes; it pairs perfectly with homemade dinner rolls and this Italian salad!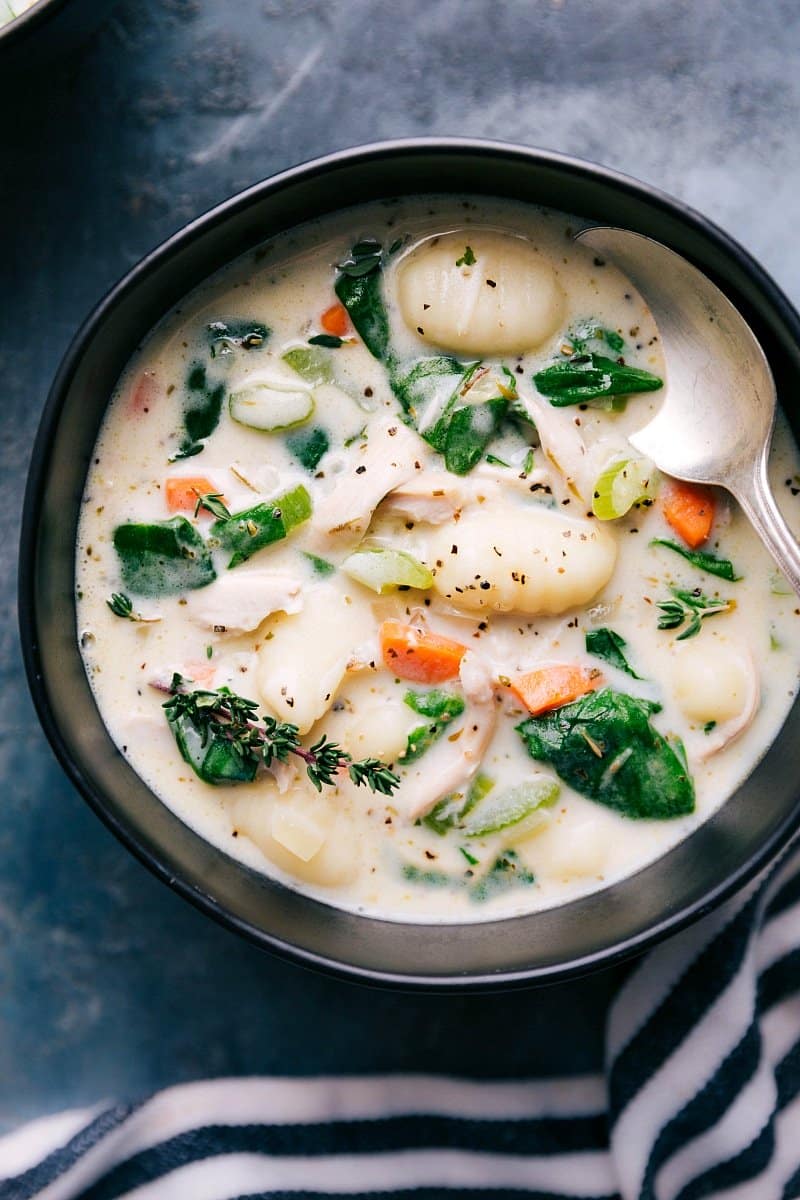 Joining the ranks of easy soup recipes that can be made in one pot and in about 30 minutes or less: let's welcome creamy Chicken Gnocchi Soup! In case you're new around here, this chicken parmesan soup and chicken tortilla soup are ready in about 20 minutes or less and have been wildly popular here on the blog.
We use a few shortcuts to have a big pot of comforting soup on your table as quick as possible and this soup is no exception. It takes *slightly* longer to make (because we need to make a roux to make it creamy), but it truly can be ready in 30 minutes or less.
How to make Chicken Gnocchi Soup
The descriptions below correlate to the photo above.
Cook the mirepoix (carrots, celery, and onion) in olive oil until tender.
Veggies have been cooked until tender.
Melt in butter. Once melted, add in flour, and whisk to cook off the raw flavor.
All the seasonings — we'll add all these in plus the bay leaf.
Veggies with all the seasonings are ready to turn into soup.
Gradually add in chicken broth or stock while whisking constantly. We want to slowly add this and the milk to allow the soup to thicken properly. Make sure to be stirring all parts of the pot to ensure you don't end up with clumps.
The soup looks like this after it's thickened with the chicken broth/stock.
Add in the milk; again gradually, while whisking and stirring constantly.
Add in the gnocchi and spinach — allow the soup to cook the gnocchi and wilt the spinach.
Stir in the shredded rotisserie chicken to warm through and soup is ready to eat!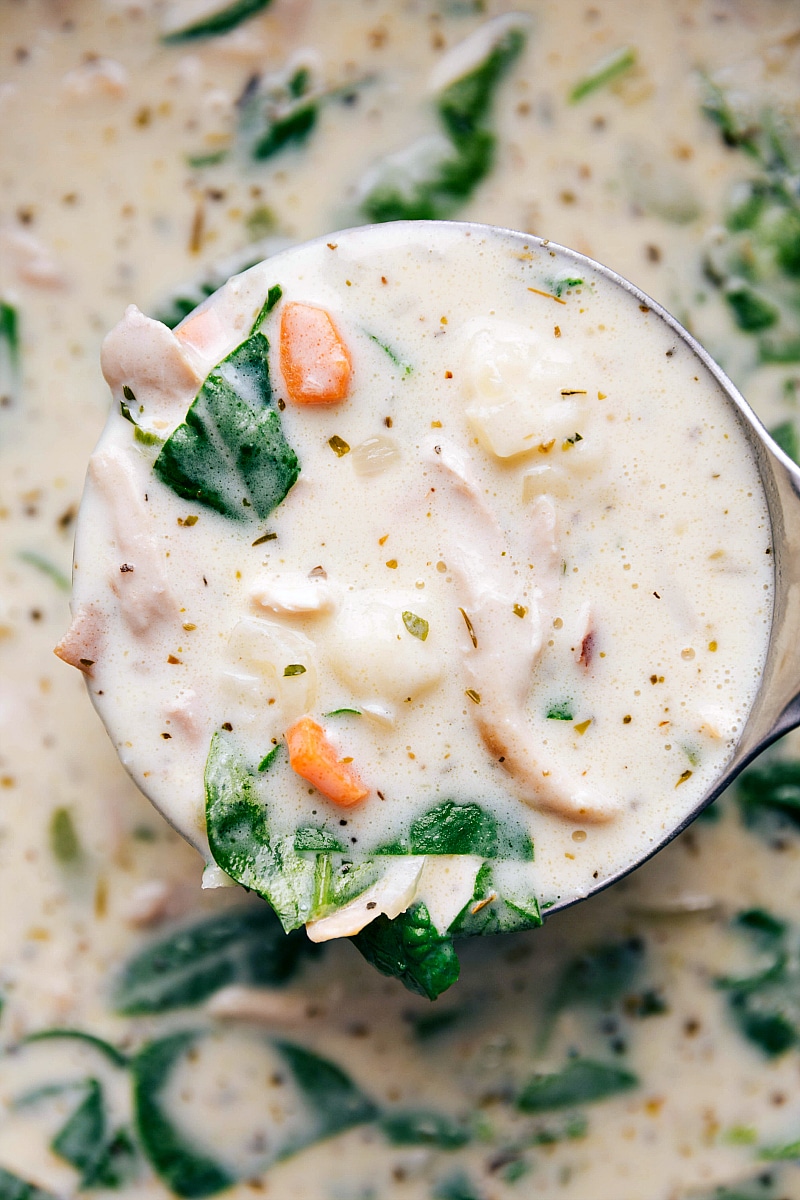 A few shortcuts
Rotisserie chicken already saves a load of time, but did you know you can buy it already shredded? I've seen it at Costco, Smith's (Kroger), Trader Joe's, and Walmart.
To save yourself chopping time, buy some mirepoix (also called soup starter at some stores). Lots of stores sell pre-chopped mirepoix (a French term for diced onion, carrot, and celery) in the produce section of the store. If you're in a hurry, pick up that fresh-chopped mirepoix, or you can even use frozen mirepoix.
To save chopping time, use jarred garlic or a garlic press: Instead of mincing your own garlic, you can use jarred to save time. Alternatively, a garlic press gets you fresh minced garlic in a fraction of the time that hand mincing takes.
Chicken Gnocchi Soup storage
This Chicken Gnocchi Soup is best eaten the same day its made. When stored, the gnocchi continues to absorb liquid, and becomes overly soft and mushy. So if you don't plan to eat this soup the same day it's made, I recommend either cooking the gnocchi separately (and reducing the amount of liquid in the soup) or halving the recipe.
Again, because the gnocchi continues to take on liquid, this soup isn't a great candidate for freezing and thawing.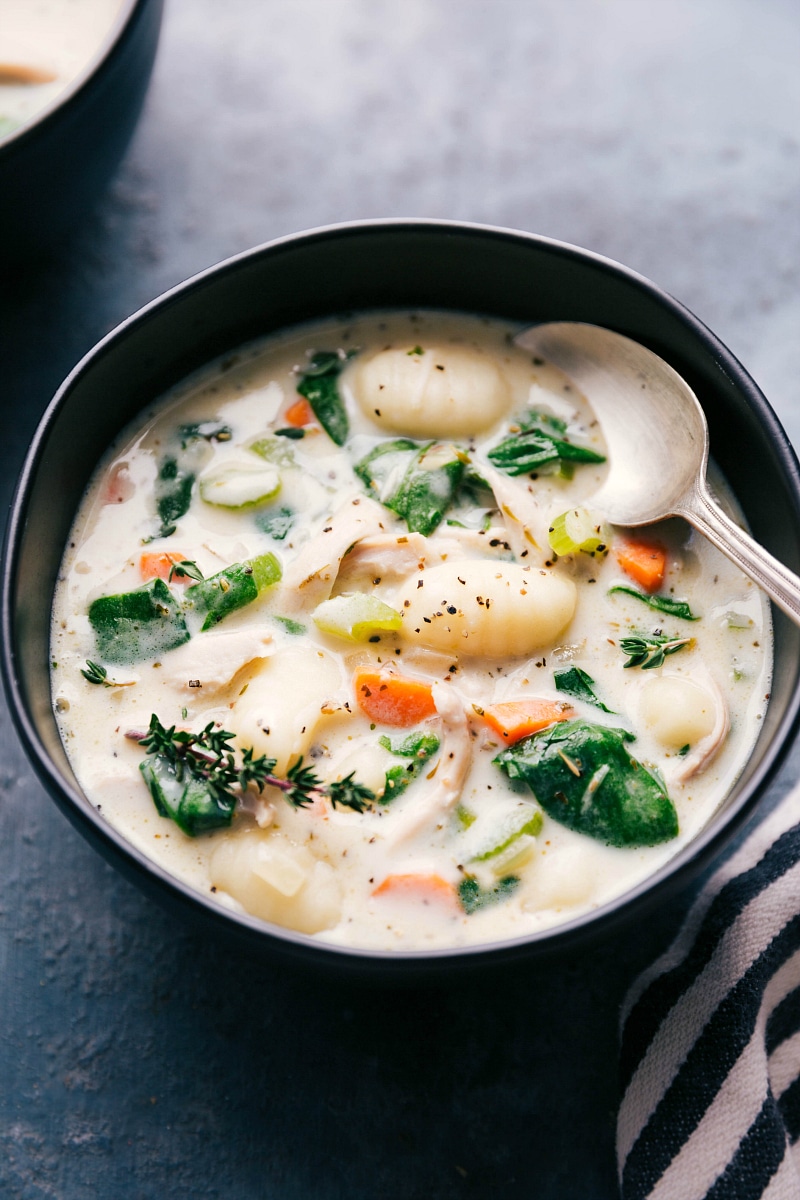 More delicious soup recipes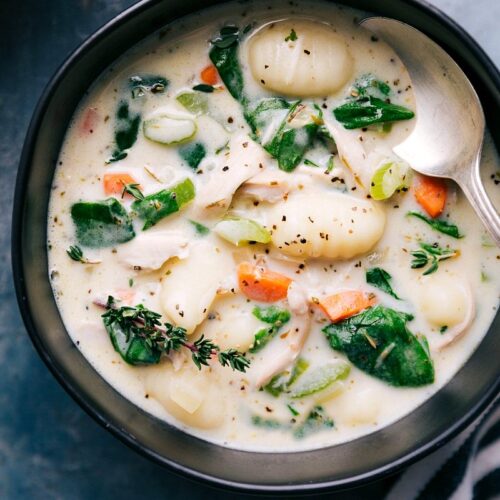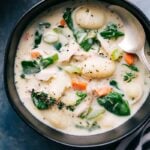 Chicken Gnocchi Soup
Chicken Gnocchi Soup makes for the best creamy comfort food! It's loaded with plump potato gnocchi, seasoned veggies, and tender chicken.
Course:
Dinner, Main Course, Soup
Cuisine:
American, Italian
Keyword:
chicken gnocchi soup
Ingredients
1

tablespoon

olive oil

1

cup

diced yellow onion

(~1/2 large onion)

3/4

cup

diced celery

(~2-3 stalks)

3/4

cup

diced carrot

(~2-3 carrots)

1 and 1/2

teaspoons

minced garlic

5

tablespoons

unsalted butter

1

teaspoon

chicken boullion powder

1/2

teaspoon EACH:

fine sea salt, freshly cracked pepper, dried parsley, dried oregano, dried thyme

1

teaspoon

Italian seasoning

1/4

cup + 2 tablespoons

white all purpose flour

3

cups

low sodium chicken broth

2

cups

whole milk

1/3

cup

heavy cream

1

bay leaf

1

package (16 ounces)

baby gnocchi

(frozen if possible; if using shelf stable I recommend DeLallo)

2

cups

coarsely chopped baby spinach

2

cups

rotisserie chicken

Optional: fresh thyme and crusty bread, for serving
Instructions
MIREPOIX: Add olive oil to a large pot over medium heat. Once the oil is shimmering, add in onion, celery, and carrots. Cook until the onion is translucent and veggies are crisp tender, stirring occasionally, about 7-9 minutes (Reduce heat if veggies are browning) Add in the garlic and stir for 30 seconds. While veggies are cooking, measure out all the spices.

ROUX: Add in the butter and allow to melt. Once melted, add in the spices (chicken bouillon powder, salt, pepper, parsley, oregano, thyme, and Italian seasoning) and stir around for 15-30 seconds. Add in the flour and stir until completely smooth. Cook over medium heat for 1 minute to cook off the raw flavor of the flour. Gradually whisk in the chicken broth, stirring constantly. It should form a thick paste at first. Continue to add the chicken broth until fully blended in and slightly thickened. Once smooth, gradually add in the milk and then heavy cream, all while whisking constantly. Cook for about 3-5 minutes, stirring occasionally, or until thickened. Add in the bay leaf.

GNOCCHI/SPINACH: Add uncooked gnocchi and in spinach; simmer, stirring gently, until wilted-- about 3 more minutes. Stir in the shredded rotisserie chicken to warm through. Remove from the heat. Season to taste if any additional salt/pepper is needed.

SERVE: Ladle into bowls and garnish with fresh thyme, if desired. Serve with crusty bread.