A delicious roasted butternut squash, red potato, carrot, shredded chicken, onion and kale broth-based soup. This soup is filled with tons of flavor and very healthy!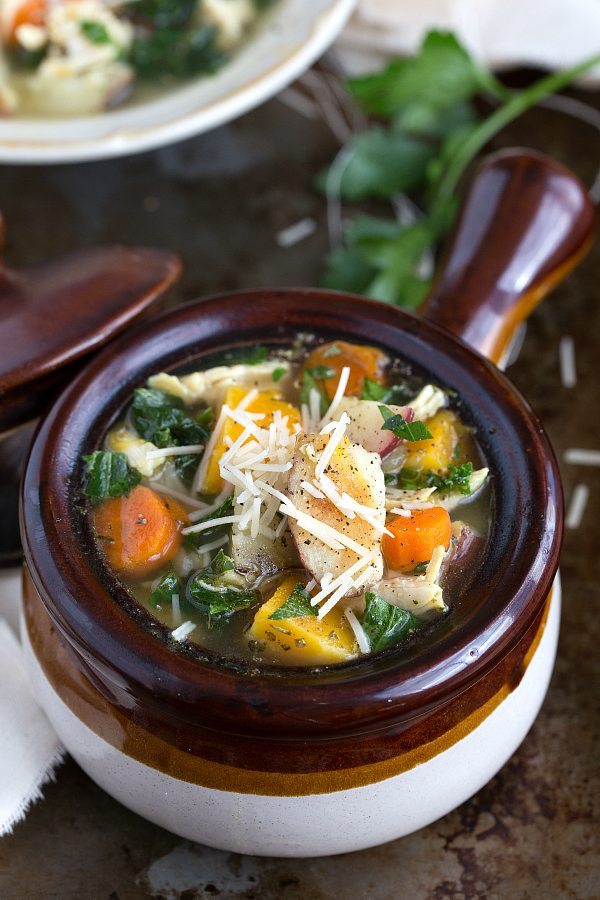 Usually with soups, I like doing them in the slow cooker. My crockpot tends to be my best friend this time of the year. Dump ingredients in, wait a bit, and a delicious dinner later – sign me up!
Buuuut, there are also times when the crockpot can be a little inconvenient or just not work in the schedule. I don't have one of those handy-dandy set the crockpot to start and turn off at certain times. Are they as cool as they seem? And follow up question, should they make it on my Christmas wish list? Oh yes. I'm already thinking about Christmas. Mostly Christmas food though is what's on my mind. I spent about a good portion of my day earlier this week brainstorming and writing down Christmas food ideas. And let's just say, I'm pretty excited. It's gonna be good 🙂
Okay, okay. Sorry. No more Christmas talk until at least after Halloween. Fine, Thanksgiving. I can wait til then… At least, I think I can.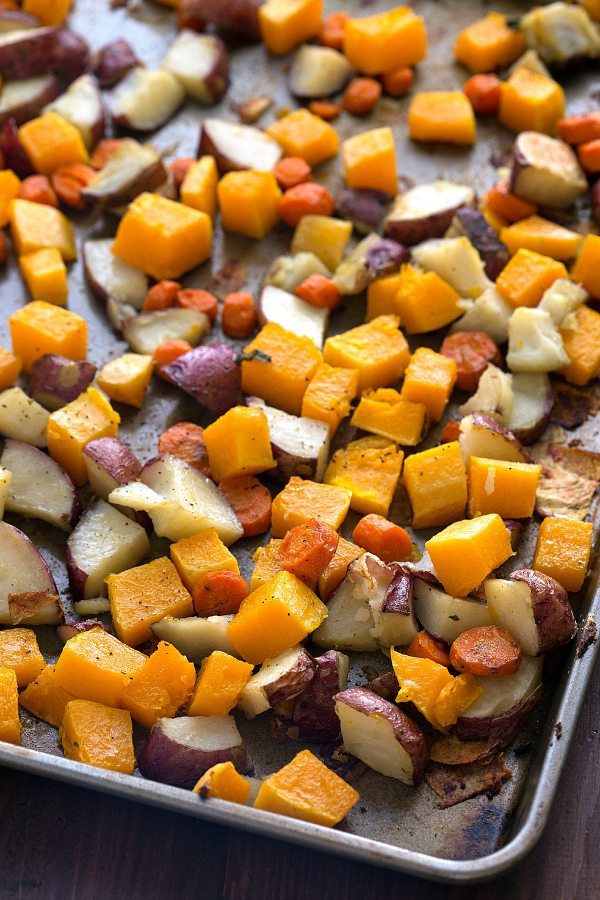 Got a bit off topic there. I can't help it when holidays are involved! I'm kind of a Halloween-Thanksgiving-Christmas freak. I love em. (Who am I kidding..I love all the holidays!) But back on topic. Essentially, sometimes soups made on the stovetop are a wonderful thing. And eeeespecially when there are roasted vegetables.
Roasted butternut squash is a huge favorite around these parts. It's our favorite way to eat it. (Even my meat-lovin' husband can not get enough roasted butternut squash.) And adding some carrots + red potato to the mix makes for one heck of a roasting veggie party. But the party is only getting started because all that roasted goodness gets put into a soup with kale.
P.S. If you still are unsure of kale, have you tried it in soup yet? It's amazing. Totally tender and very mild which is a great complement to the flavor bursting veggies. But it can be left out if your must or maybe even replaced with spinach.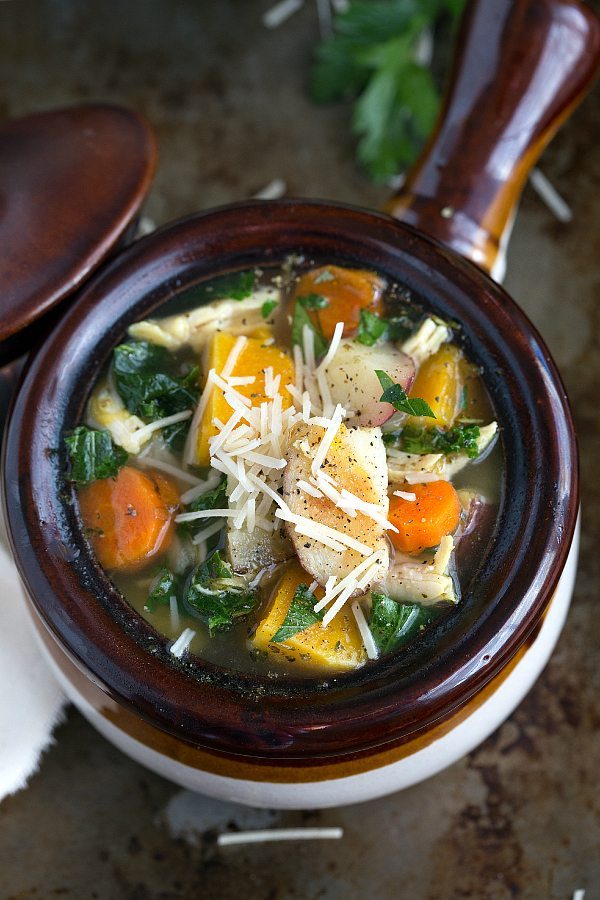 And of course, you may be wondering about a few more substitutions or recipe notes. I used chicken bouillon cubes instead of chicken broth. I like both, but the cubes are more flavor-packed in my opinion. And with a brothy, vegetable soup, a flavor pack is a must! In the recipe I call for 3 extra large cubes or 6 small ones. You can also use the chicken bouillon powder. Just follow the directions to make sure you have the right about of cube/powder to each of the 6 cups of water.
The spices are also a MUST. It's not much (only 1/4 teaspoon of each one), but they all add a ton of flavor. You can also increase any amount of any of those spices to your own preference. And salt and pepper – plenty of that along the way!
This soup does require a bit of time with all the veggie chopping, but let me tell you – this is WAY worth the time investment. Such a healthy soup with so much flavor – this one can't be beat! 🙂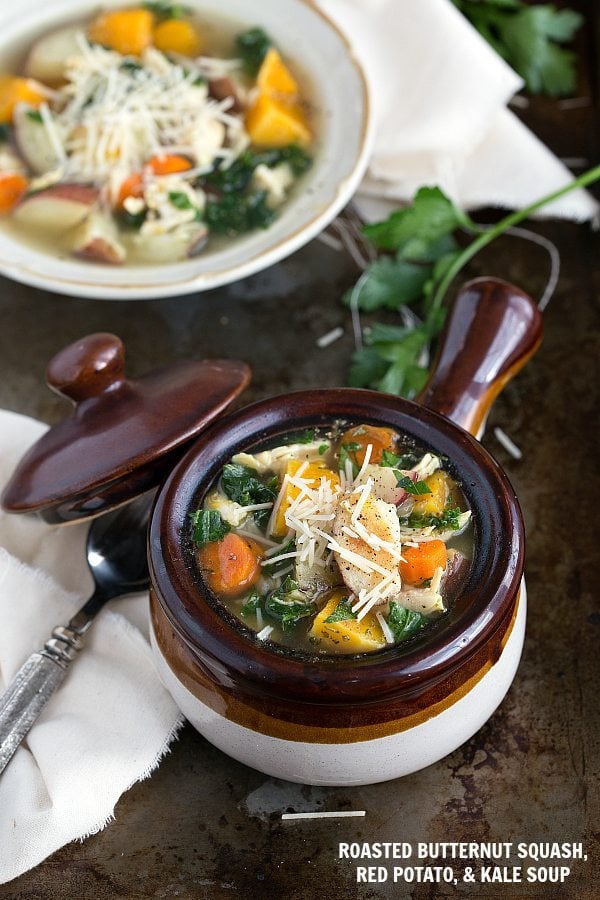 More amazing soup recipes: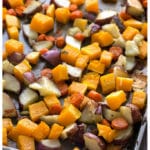 Roasted Butternut Squash, Red Potato, and Kale Soup
Ingredients
1

cup

carrots

2 large

2

cups

red potatoes

3 potatoes

4

cups

butternut squash

1 small squash

2

tablespoons

olive oil

9

cups

water

separated

3

extra large chicken bouillon cubes

or 6 small ones

1.25

pounds

large boneless skinless chicken breast

1/2

cup

yellow onion

chopped

1

teaspoon

minced garlic

2

cups

kale

1/4

teaspoon

each dried marjoram, sage, rosemary, thyme

Salt and pepper

to taste

Freshly grated Parmesan cheese

optional
Instructions
Preheat the oven to 375 degrees F. Lightly grease a baking pan.

Peel the carrots and butternut squash. Remove the seeds and stem from the butternut squash.

Coin the carrots and cube the butternut squash.

Leave the skin on the red potato and cube into small pieces.

Combine the sliced carrots, cubed butternut squash, and cubed red potato in a large bowl. Toss with the olive oil, salt, and pepper.

Lay out the vegetables evenly on the baking sheet. Bake for 15 minutes, then flip and stir them around, bake for another 15 minutes, flip and stir them around and bake for 10-15 more minutes or until roasted to personal preference.

Meanwhile, combine 6 cups of water with the bouillon cubes. Bring the water to a boil and whisk in the cubes to dissolve.

Slice the large chicken breast into 3 even pieces (or use a few smaller ones). (The reason to cut them down is to help them cook quicker.)

Place the chicken pieces in the boiling water with the chopped onion, and minced garlic and cover with a lid. Let the chicken boil until cooked through, about 10-15 minutes.

Turn the heat to low, remove the chicken breasts and allow to slightly cool. Shred the chicken and return it to the pot with the remaining 3 cups of water.

While the chicken is cooking, massage the kale under cold water and rinse well. Remove the stem and finely chop the kale.

Stir the kale and roasted vegetables into the broth. Add the dried herbs - marjoram, sage, rosemary, and thyme. Season additionally with salt and pepper and additional poultry seasonings if desired.

Optionally top each bowl with freshly grated Parmesan cheese.