A simple (dump it and forget it) slow cooker meal featuring well seasoned Italian chicken, quinoa, and vegetables.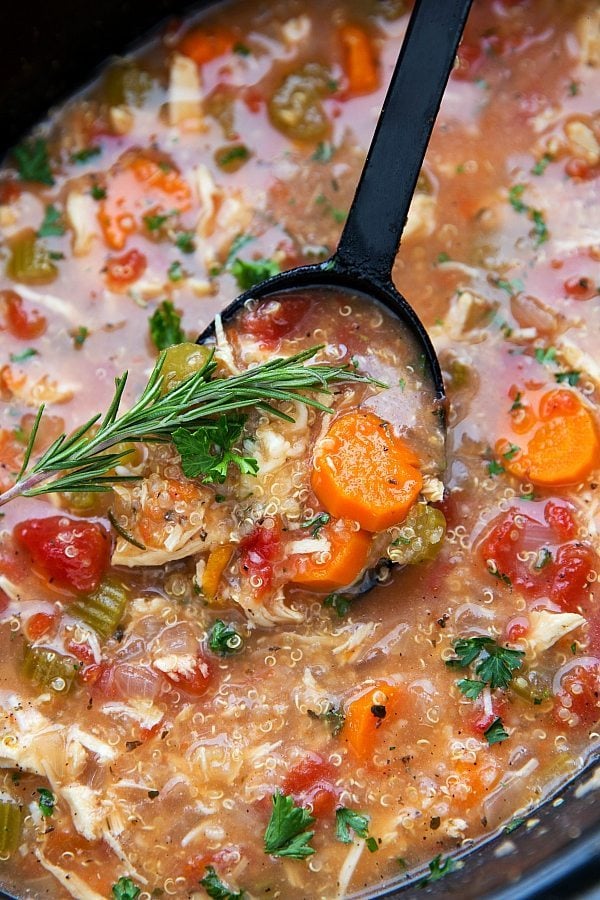 It's a well-known fact in my family that I could eat sandwiches, soups, or salads every single day of my life and NEVER get sick of them. Salads in the summer and soup in the winter and then sandwiches year-round. I like 'em simple, flavorful, and fairly healthy.
The husband, however, is pretty different. He's someone that likes a heartier meal (it doesn't have to have meat, but he does like that) and tends to want soup only once every couple of weeks. The good news about that is, if I make a soup for lunch it is all mine and the babe's for the rest of the week!
And so, of course, if the soup is just for us, I'll add tons of onions and be in onion PARADISE. Because the one and only food my husband does not do is onions and they happen to be one of my favorite additions to a meal. If the onions are "expert-level" hidden he usually won't notice, but chunks of them in a soup is definitely a no-go. Luckily the babe has inherited my taste-buds in the onion department so we enjoy tons of onions in the soup all week long during lunch.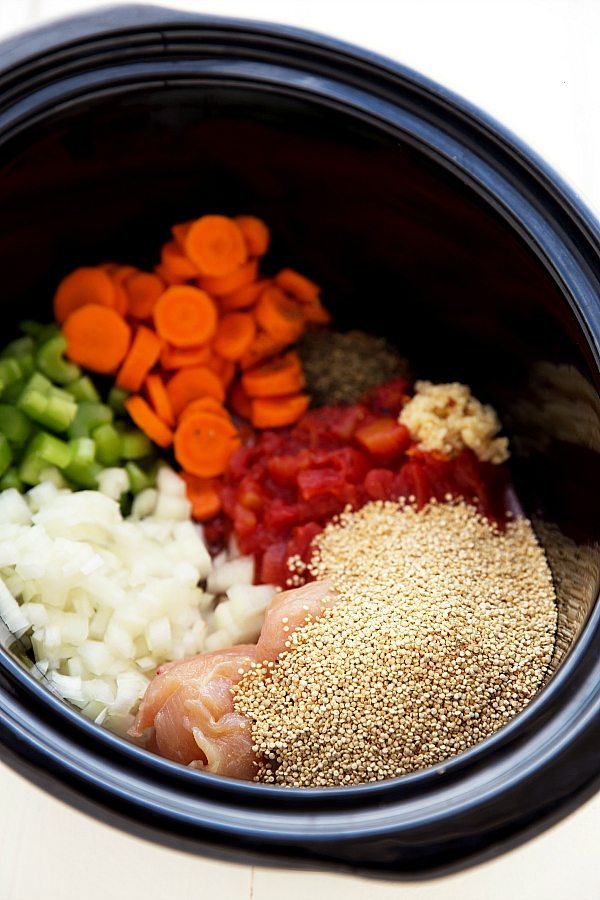 This is one of those soups that an onion adds LOADS of flavor. I love the onion in this soup! Mixed with all those other vegetables and the spices it makes for a super flavorful soup with not too many ingredients. Plus it is quite hearty with the chicken and quinoa! (Both of which need NO pre-cooking.!!!)
The ingredient list is especially short if you pick up one of those pre-chopped veggie packs (mirepoix) in the grocery store that has carrots, celery, and onion all chopped and ready to go. Then your prep is really insanely quick. I'm talking like 5 minutes quick.
Not that it takes too long to cut up the veggies since you only need a cup of each.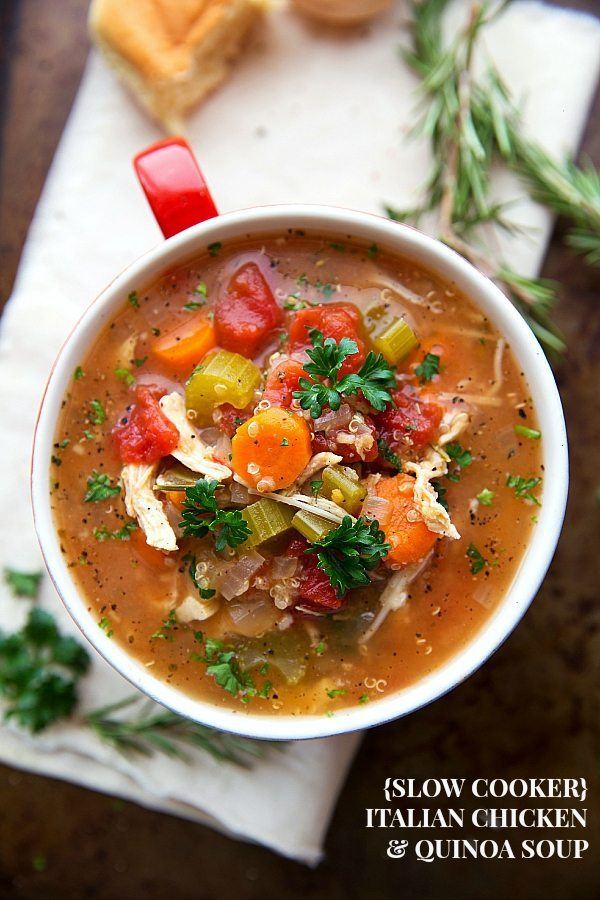 Increase or decrease any of those herbs to your personal preference — I like a lot of fresh parsley and rosemary, but add whatever you like best in an Italian-tasting soup.
Also note that the longer this soup sits or cooks in the slow cooker, the more liquid the quinoa absorbs. For a heartier soup that's fine, but if you want it to remain brothy, follow the directions (cooking it only on high temperature and stopping the cooking time as soon as the quinoa has "popped.")
Each crockpot is a little different so the key things to look for is the chicken is fully cooked and shreds easily, the quinoa has "popped," and the veggies are tender. And by that point you are ready for one heck of a delicious and healthy soup!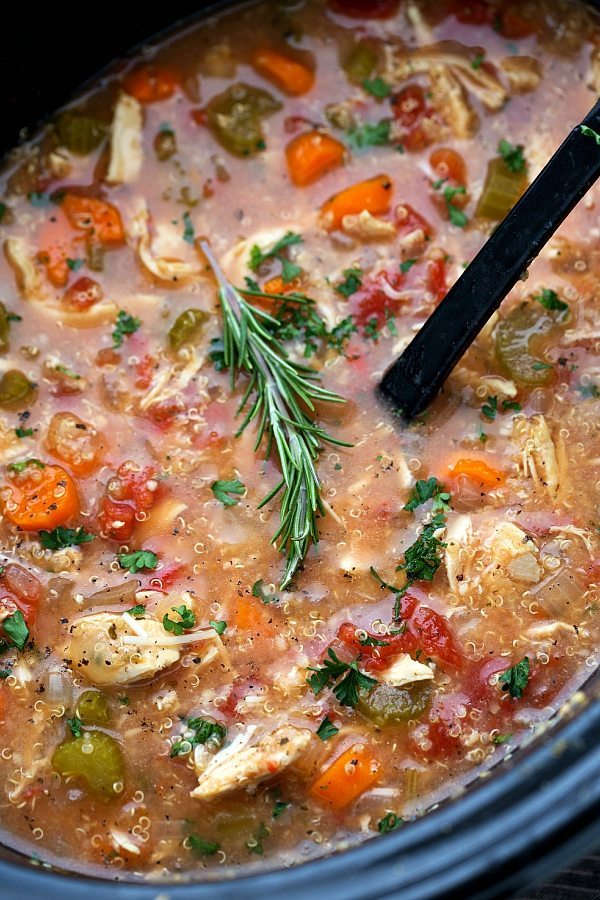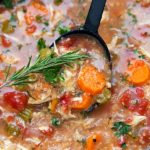 Crockpot Italian Chicken, Quinoa, and Vegetable Soup
Ingredients
2 small

(~12 ounces or 3/4ths a pound)

small boneless skinless chicken breasts

1

cup

chopped yellow onion

1

cup

chopped celery

1

cup

diced carrots

1

teaspoon

and 1/2 minced garlic

3/4

cup

uncooked quinoa

I used a roasted garlic flavored quinoa

1

(14.5 ounces)

can fire-roasted diced tomatoes

6

cups

chicken broth*

1/4

teaspoon

red pepper flakes

1/2 - 1

teaspoon

full Italian seasoning

2

teaspoons

dried oregano

1/2 - 1

tablespoon

full dried basil

Salt and pepper

to taste preference

Parmesan Cheese

Optional: fresh rosemary, fresh parsley
Instructions
Lightly spray a slow cooker with non-stick spray. I used a 6-quart slow cooker for this recipe.

Add in the boneless skinless chicken breasts (no need to cook first), chopped yellow onion, chopped celery, diced carrots, garlic, uncooked quinoa (rinse to remove bitter saponin if your quinoa isn't pre-rinsed), and un-drained fire-roasted diced tomatoes.

Add in the broth along with all the seasonings -- red pepper flakes, Italian seasoning, dried oregano, and dried basil. Make sure to add these seasonings to your personal preference -- if you aren't sure you want as much of something leave it out until the end where you can slowly add it and taste test it. If you want to add more - go for it! I always do the red pepper flakes, 1 full teaspoon Italian seasoning (and sometimes more), the oregano, 1/2 tablespoon basil, 1 one small sprig of fresh rosemary, and LOTS of cracked pepper.

Cover and cook on high for 3-5 hours (Mine took 4 hours) or until the quinoa has popped and the chicken shreds easily.

Shred the chicken and return it to the crockpot. Add in any more seasonings to taste. Add in fresh rosemary and fresh parsley if desired.

NOTE: the longer this soup "sits" or cooks the more broth that gets absorbed into the quinoa. This makes it heartier and also less brothy. If you want a more brothy soup, watch carefully and remove from the heat of the slow cooker when it is your desired consistency. Alternatively add more broth as desired.

Top each bowl with freshly shredded Parmesan cheese and enjoy!
Recipe Notes
*For the chicken broth, I use chicken boullion cubes/powder dissolved in hot water.
More delicious crockpot quinoa soups: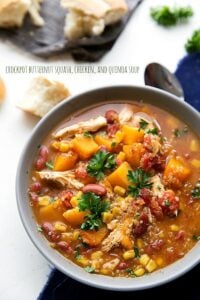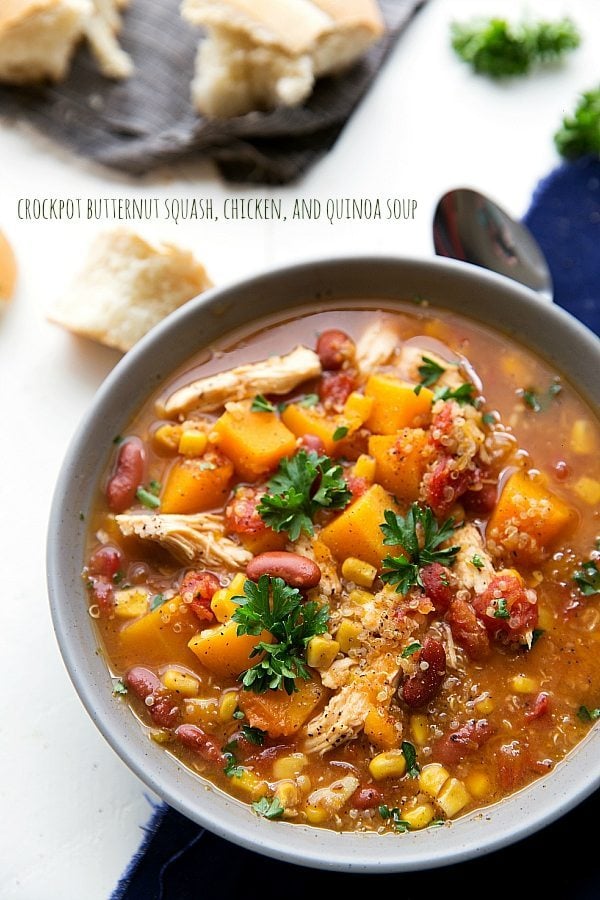 Crockpot healthy chicken, butternut squash, and quinoa soup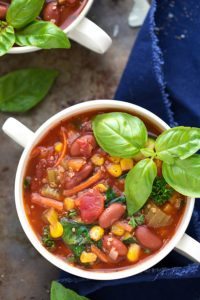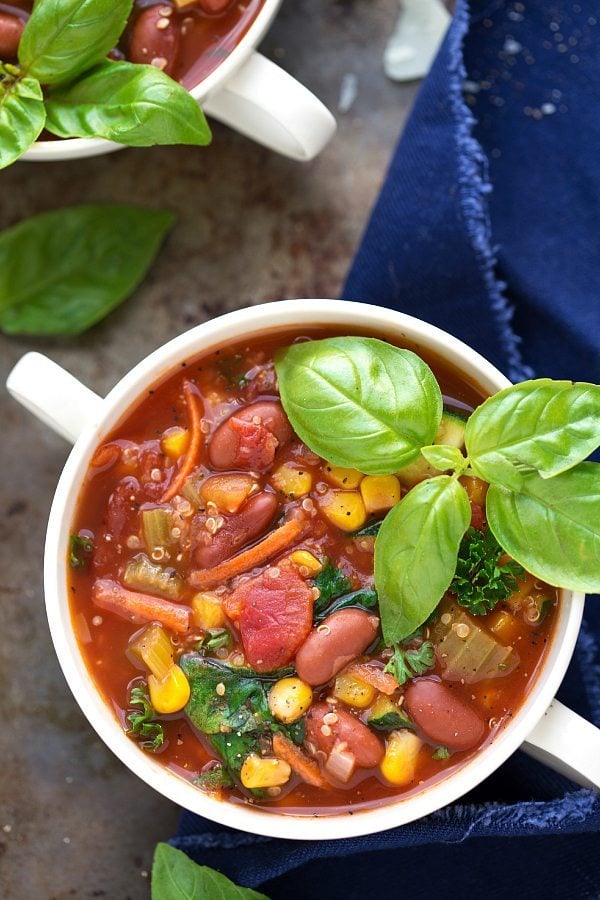 Crockpot healthy quinoa minestrone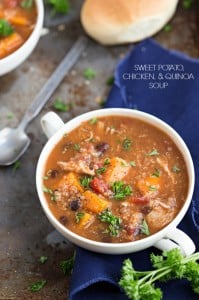 Slow Cooker Sweet Potato, Quinoa, and Chicken Soup
Crockpot Quinoa Chicken Parmesan Soup