This vegetable soup is loaded with tons of veggies, miniature pasta noodles, and a "secret" ingredient that adds loads of flavor! This healthy soup can be made in one pot in about 30 minutes or less.
Pair this vegetable soup with a crusty baguette or homemade dinner rolls and a simple Italian salad. If you're looking for a creamy version, try this creamy vegetable soup.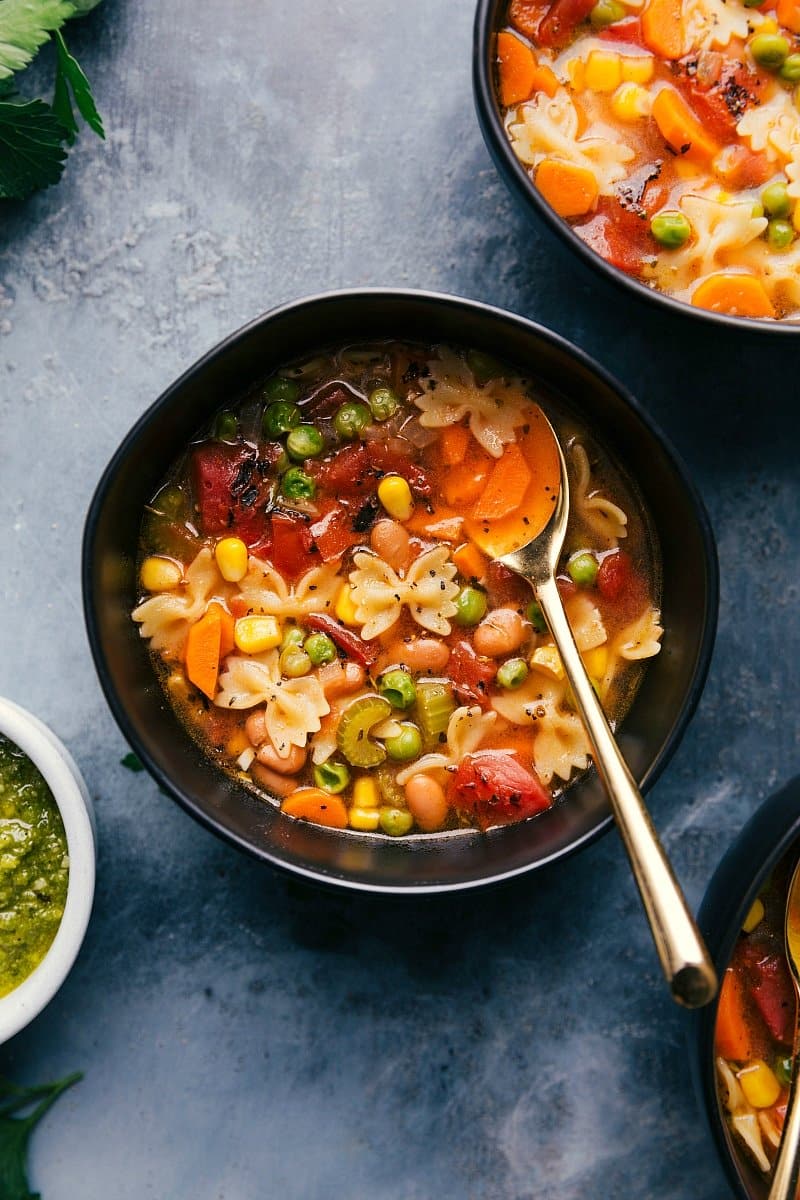 Even as a huge vegetable lover (hi! yes me!) I can tell you I have had many less than stellar vegetable soups. I've even had a few vegetable soups that have left me questioning my love for vegetables altogether.
So when I say this is the best healthy vegetable soup ever, I mean it. It's loaded with flavor, packed with veggies, and surprisingly very filling.
What can I add to vegetable soup for flavor?
The "secret" to this vegetable soup is PESTO. That's right, pesto in soup, and it's the best thing that ever happened to a healthy broth-based veggie soup.
Pesto adds loads of flavor without any extra effort. Instead of chopping tons of herbs, grating in Parmesan cheese, or figuring out a slew of spices to add, just add in a big spoonful of fresh good quality basil pesto. Swirl it around a bit and be prepared for healthy soup heaven.

What pesto to use
While of course you can make and use your own basil pesto in this recipe, I recommend picking up store-bought pesto to help you get this soup on your table in 30 minutes or less. When grabbing a store-bought pesto, I highly recommend the fresh refrigerated (not shelf stable) pestos. We love Buitoni's fresh basil pesto, Rana's fresh basil pesto, and the store-brand (Hemi-fares) pesto at Smith's (Kroger) is another one of our favorites. Here are a few other good options.
How do you make soup flavorful?
Aromatic vegetables like onion, celery, and carrots add so much to a soup.
Beyond the pesto that adds insane amounts of flavor, we also add in a few spices (Italian seasoning and dried thyme).
While this might sound obvious, sometimes it's easy to forget how much flavor salt and pepper add. If you feel the soup is lacking flavor, add in a bit more of both!
Using a good quality brand of fire-roasted diced tomatoes will add loads of flavor to this soup (I recommend Muir Glen or San Marzano — not sponsored).
Vegetable soup shortcuts
To save yourself chopping time, grab mirepoix (also called soup starter at some stores). Lots of stores sell pre-chopped mirepoix (a French word for diced onion, carrot, and celery) in the produce section of the store. If you're in a hurry grab that fresh chopped mirepoix OR you can even use frozen mirepoix.
To save yourself chopping time, use jarred garlic or a garlic press: instead of mincing your own garlic, you can use jarred to save time. Alternatively a garlic press gets you fresh minced garlic in a fraction of the time that hand mincing it does.

Variation ideas
This soup is heavy on tomatoes (which we love), but if you aren't a fan of tomato chunks, use fire-roasted CRUSHED tomatoes instead. You can also use just one can if desired.
Switch out the beans: instead of pinto beans, try cannellini beans
Switch up the pasta: if you can't find miniature farfalle pasta, any small pasta will work. I'd recommend miniature shells, mini fusilli, or corbata (bowtie) pasta.
Swap veggies: really any veggies can work in this soup. If you don't like one that's listed in the recipe, swap it out for another (just remember to keep quantities fairly consistent). I recommend using frozen veggies for the quickest prep time. Some other veggie ideas: frozen green beans, frozen sweet peppers, frozen broccoli florets, frozen cauliflower, etc.
Add spinach or kale in at the end: 1-2 cups chopped greens and stir in at the end just until wilted (kale will take longer than spinach to wilt).
Is homemade vegetable soup good for you?
Yes! Vegetable soup is a great source of many essential vitamins and nutrients. It's also fairly low in calories but packed with fiber which helps keep you satiated for long period of time.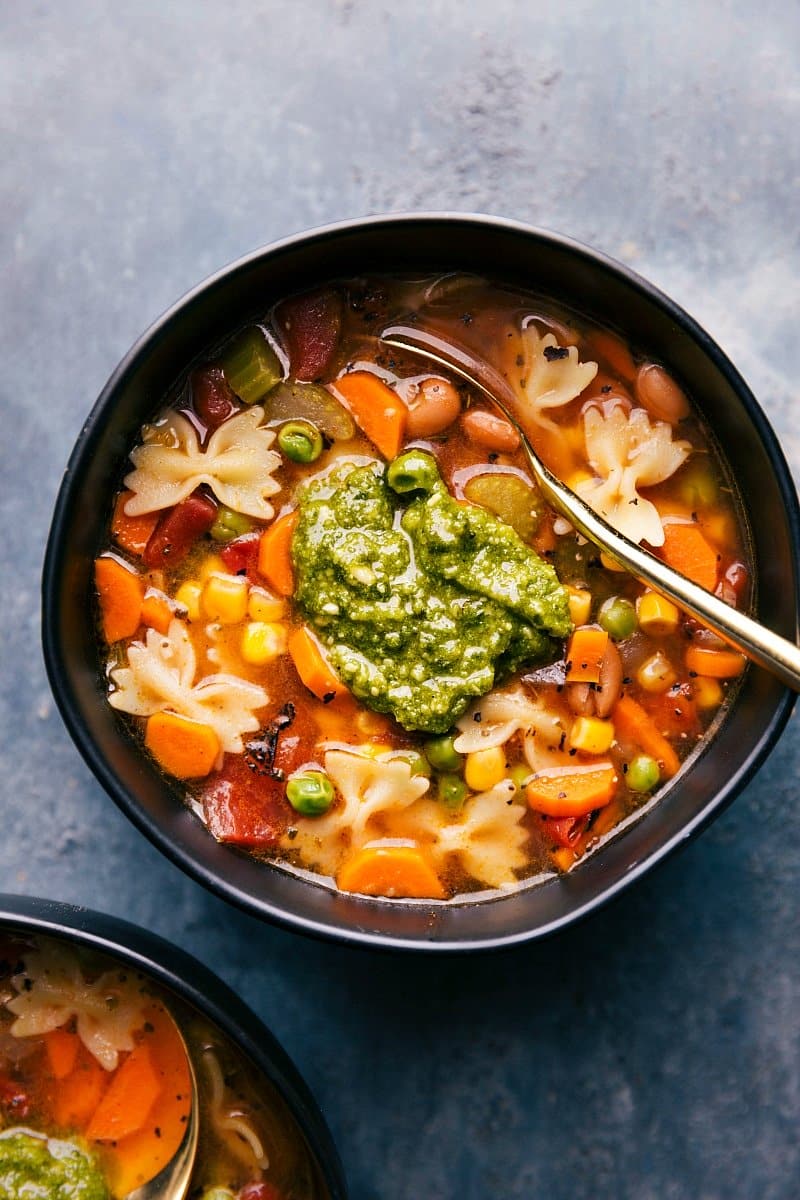 Storage
This vegetable soup is best eaten the same day its made. When stored, the pasta continues to absorb liquid, bloats, and becomes soft and mushy. So if you don't plan on eating this soup the same day it's made, I recommend either cooking the pasta separately (and reducing the amount of liquid in the soup) or halving the recipe.
Again, because the pasta continues to take on liquid, this soup isn't a great candidate for freezing.
More soup recipes: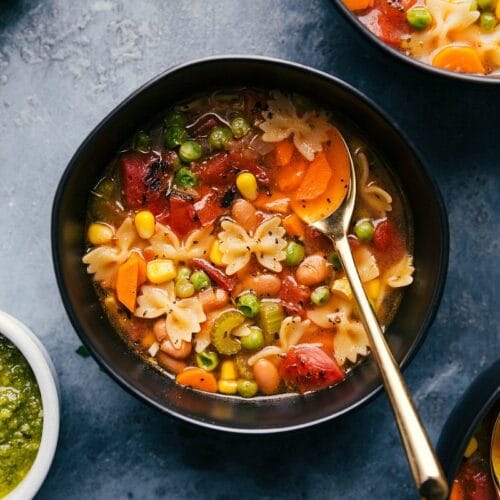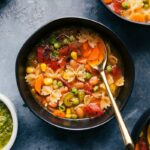 Vegetable Soup
This vegetable soup is loaded with tons of veggies, miniature pasta noodles, and the "secret" ingredient that add loads of flavor! This healthful soup can be made in one pot in about 30 minutes or less.
Ingredients
1

tablespoon

olive oil

1

cup EACH:

diced yellow sweet onion, thinly sliced carrots, thinly sliced celery

4

cloves

garlic,

minced

1/2

teaspoon

dried thyme

1

teaspoon

Italian seasoning

1/2

teaspoon EACH

fine sea salt, freshly cracked pepper

8

cups

hot water

8

teaspoons

chicken boullion granules/powder

Note 1

2

cans (14.5 ounces EACH)

fire-roasted diced tomatoes

(Muir Glen or San Marzano recommended)

1 and 1/2

cups

uncooked MINI farfalle (bow-tie pasta)

1

can (15 ounces)

pinto beans,

drained and rinsed

1 and 1/2

cups EACH:

frozen corn, frozen peas

1

container

fresh basil pesto

Note 2
Instructions
VEGGIES: Add oil to a large pot and heat to medium high heat. Add the onion, carrots, and celery. Saute over medium high heat, stirring occasionally, for 8-10 minutes or until vegetables are tender. Add in the garlic and stir until fragrant, about 30 seconds. Add the thyme, Italian seasoning, and salt and pepper (add salt/pepper to taste; you may want to hold off adding salt until the end, I add 1/2 teaspoon of each, but it will vary greatly depending on the broth or boullion you use.)

TOMATOES AND BROTH: Stir in water and chicken boullion OR low sodium chicken broth and undrained diced tomatoes. Bring soup to a boil over high heat.

PASTA: Once boiling, stir in pasta, and cook, stirring occasionally, 6-7 minutes or until pasta is tender. Stir in the drained and rinsed beans, corn, and peas just to warm through. Remove from heat, taste/adjust seasonings, and then ladle soup into bowls. Add a generous spoonful of fresh basil pesto to each bowl. Stir in the pesto and enjoy!
Recipe Video
Recipe Notes
Note 1: alternatively use chicken broth (2, 32 ounce containers)
Note 2: make your own OR grab a fresh refrigerated (not shelf stable) basil pesto.