Healthy Minestrone Soup is made with quinoa instead of pasta. It's loaded with good-for-you veggies and a delicious seasoned broth.
Pair this healthy soup with some crusty bread or freshly made dinner rolls and a salad such as this mandarin orange salad.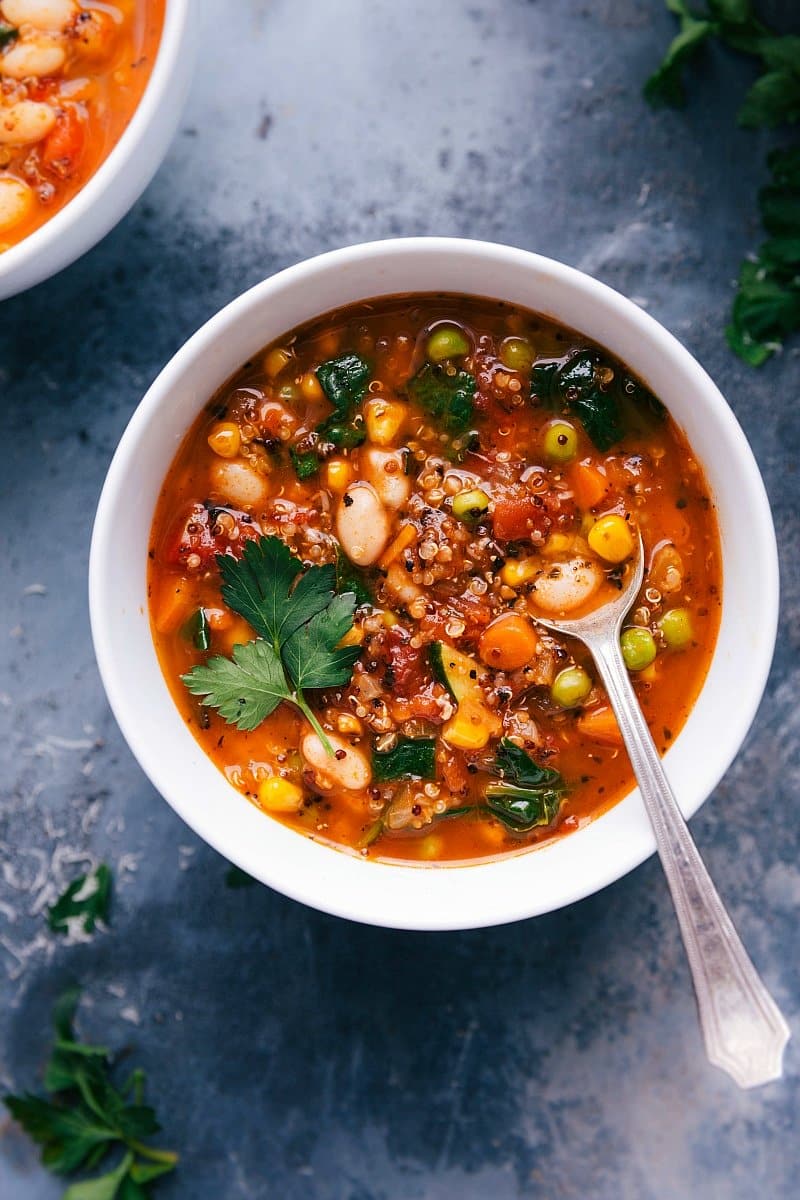 A healthy twist on minestrone soup
Minestrone is a thick soup originating from Italy. It's made with mirepoix (celery, onion, carrots), vegetables, pasta or rice, and often includes beans and tomatoes. The vegetables change, depending on what is in season and the actual soup can vary quite a bit depending on the region of the country.
My version today isn't an authentic minestrone soup, but it has a lot of the same elements — mirepoix, tomatoes, broth, beans, and lots of veggies. I've added a few healthy twists, including replacing pasta or rice with quinoa. The quinoa is not just a fun flavor twist, it also adds a whole lot of protein to this soup. It also brings a unique texture, making this soup ultra hearty and thick.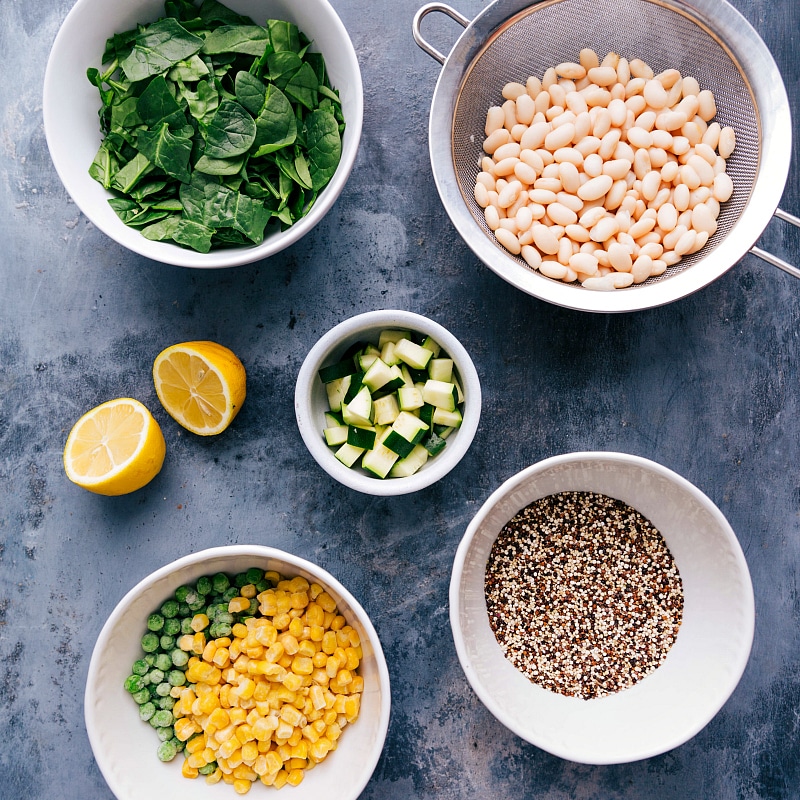 How to make Healthy Minestrone Soup
The descriptions below correlate with the photo collage following the text.
Add olive oil and the mirepoix (onion, carrots, celery) and garlic to a pot.
Cook until veggies are tender, about 7-9 minutes. Take your time, as this will develop the base flavor for the soup.
Add in tomato paste and cook for a minute.
Add in seasonings and stir well.
Fire-roasted diced tomatoes get added in next. I recommend a good-quality canned tomato (I love Muir Glen®/San Marzano®; not sponsored). The tomatoes add so much richness to this healthy soup.
Pour in the vegetable stock and add in the bay leaves. Again, a good veggie stock adds so much flavor; I love Swanson's® stock (not sponsored). Bring to a boil and then reduce to a simmer.
Add uncooked quinoa to the soup and cook for 15 minutes or until quinoa begins to pop. I like tricolor quinoa's flavor best in this soup, but any variety of quinoa will work.
This photo shows the soup once the quinoa is mostly cooked through and nearly tender.
Add the remaining veggies: the zucchini, frozen corn, and frozen peas. The white beans are also added here.
Last, add in the baby spinach and stir until just wilted.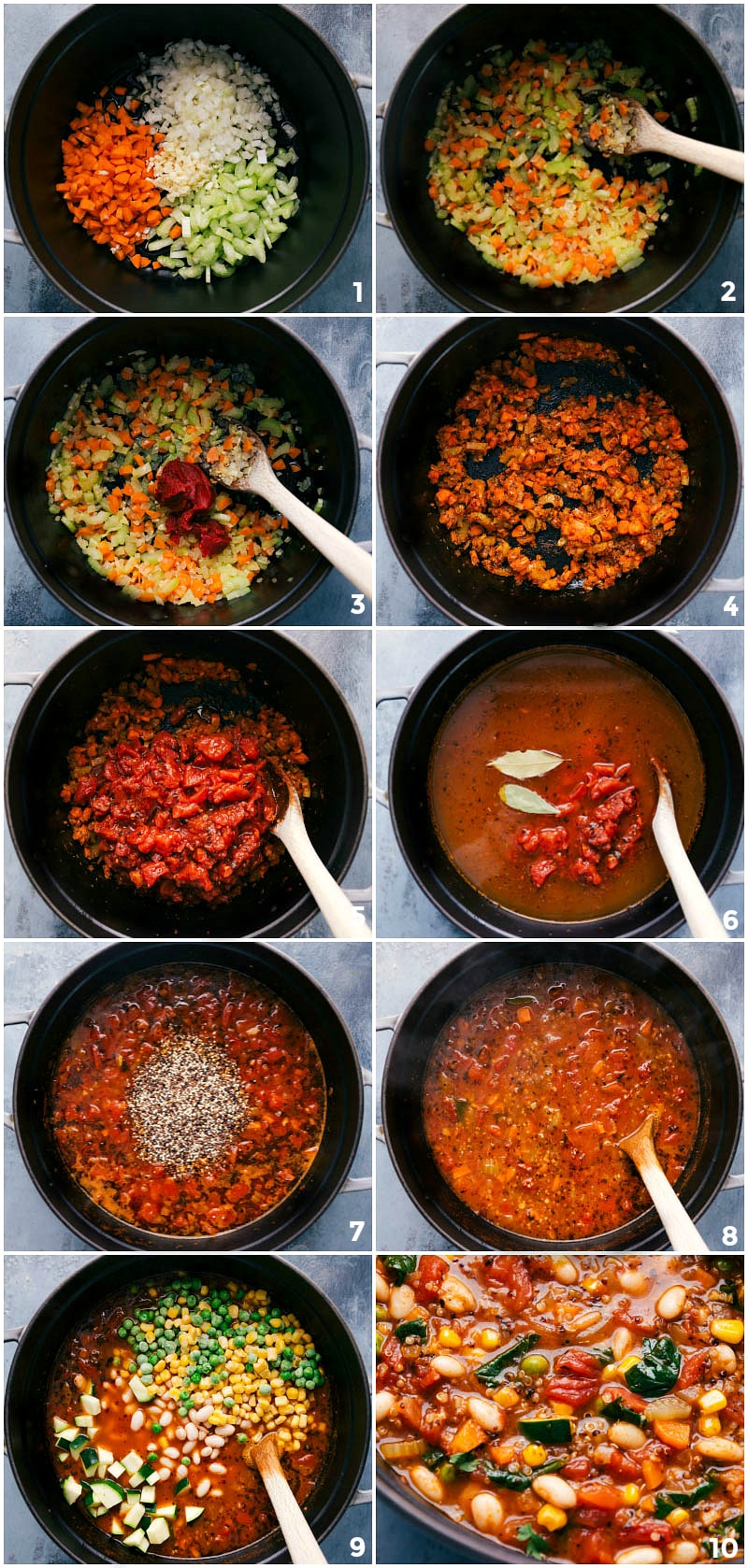 Variations
Soup thickness: Healthy Minestrone Soup is a very thick and hearty soup — more the consistency of a stew. This is exactly how we love it, but you can always make it thinner by adding additional broth.
Additional protein: The quinoa and beans add a lot of protein, but if you'd like more, stir in some shredded rotisserie chicken near the end of cooking to warm it through.
Swap veggies: Feel free to swap out the veggies called for in the recipe. If you're using frozen veggies, add them in the last 5 minutes of cooking and if you're using raw veggies, you'll likely want to add them in with the quinoa so they have time to cook through. Some other veggie ideas include frozen chopped broccoli, diced potatoes, diced squash, and frozen green beans.
Use kale instead of spinach: If using kale, coarsely chop it into bite-sized pieces and add it with the other veggies in the last 5 minutes of cooking.
Quick tips
Take time developing the flavor base. The mirepoix, tomato paste, and seasonings really set up this soup to have a rich flavor; take your time sauteing and getting these veggies tender.
Short-cut: Many grocery stores sell pre-chopped mirepoix in the produce section. Use 3 cups of these already-chopped veggies in place of your own celery, onions, and carrots.
Season as you go. Taste often and season the soup as you go. At the end of making this soup, be sure to taste again before serving and adjust the salt and pepper. The recipe also calls for fresh lemon juice which adds a nice touch of acid to help balance and intensify all the flavors. If you don't like lemon, I recommend adding a teaspoon or two of red wine vinegar.
Garnish: Fresh herbs and freshly grated Parmesan cheese (I recommend grating it on a microplane) make the perfect finishing touch for Healthy Minestrone Soup.
Rinse the quinoa. If the quinoa isn't already rinsed (it will say on the package, if it is), add it to a fine mesh sieve and rinse under cold water. This removes the saponin coating which can cause quinoa to taste bitter. (Saponins are bitter compounds that are naturally present in quinoa and help protect the plant from pests. Some people are sensitive to saponins, and rinsing well helps remove them from the grain.)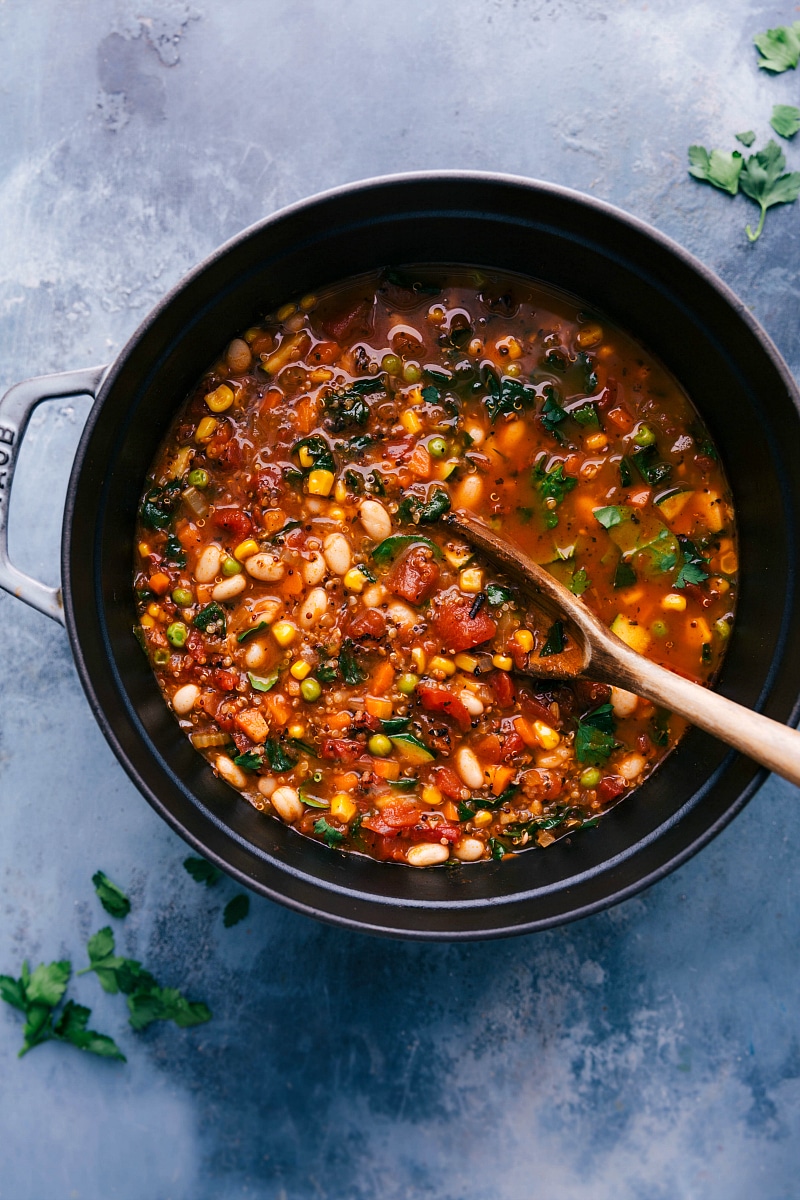 More healthy soup recipes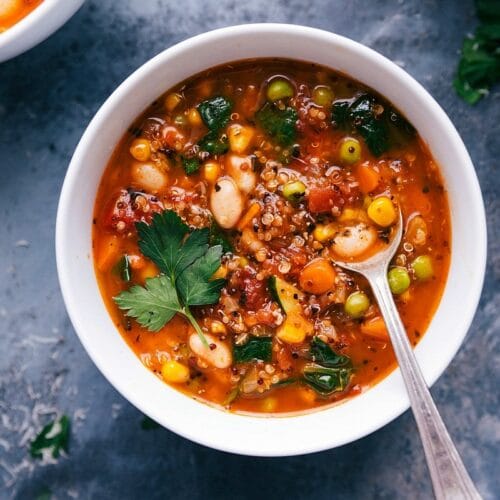 Healthy Minestrone Soup
Healthy Minestrone Soup is made with quinoa instead of pasta. It's loaded with good-for-you veggies and a delicious seasoned broth.
Course:
Dinner, Main Course, Soup
Cuisine:
American, Italian
Keyword:
Healthy Minestrone Soup
Ingredients
3

tablespoons

olive oil

1

cup EACH:

diced carrots, diced yellow onion, diced celery

(~2 large carrots, 3 celery stalks, and 1 small onion)

1

heaping tablespoon

minced garlic

(~4 cloves)

1/4

cup

tomato paste

1/2

teaspoon EACH:

dried thyme, dried oregano, fine sea salt, freshly cracked pepper

1

teaspoon

Italian seasoning

2

cans (14.5 ounces EACH)

fire-roasted diced tomatoes

(I love San Marzano or Muir Glen)

6

cups

vegetable stock

(I recommend Swanson)

2

bay leaves

3/4

cup

tri-colored quinoa

(Note 1)

1

can (15 ounces)

Great Northern white beans,

drained and rinsed

1

cup

frozen corn

1/2

cup

frozen peas

1/2

cup

diced zucchini

(Note 2)

2

cups

coarsely chopped baby spinach

Finishing touches: 1 more tablespoon olive oil, 1 tablespoon lemon juice, fresh parsley (optional)
Instructions
VEGGIES: Add the 3 tablespoons olive oil to a large cast iron pot. Heat to medium and once oil is hot, add the 1 cup diced carrots, 1 cup diced celery, 1 cup diced onion, and heaping 1 tablespoon minced garlic. Add a tiny pinch of salt and cook, stirring often, until veggies are tender, about 7-9 minutes. Add in the tomato paste and stir for another 1 minute. Add in the 1/2 teaspoon dried thyme, 1/2 teaspoon dried oregano, 1/2 teaspoon salt, 1/2 teaspoon cracked pepper, and 1 teaspoon Italian seasoning. Cook and stir until fragrant, about another 30 seconds.

SIMMER: Add both cans of undrained, fire-roasted diced tomatoes and 6 cups vegetable stock. Add the 2 bay leaves and bring the soup to a boil. Once boiling, reduce the heat to low and simmer for 10 minutes, covered most of the way with a lid (leave a 1 inch gap for the steam to escape).

QUINOA: Remove the lid entirely and add in the rinsed quinoa. Cook, uncovered, for 15 minutes over low heat (soup should be maintaining a simmer, but not boiling).

REST OF THE VEGGIES: After 15 minutes, add in the 1 can of drained and rinsed white beans, 1 cup frozen corn, 1/2 cup frozen beans and 1/2 cup diced zucchini. Stir and cook for 5 more minutes or until quinoa has fully "popped" and the veggies are warmed through. Remove from heat and gently stir in the spinach. The spinach should wilt within a minute or two. Finish the soup with 1 more tablespoon olive oil and 1 more tablespoon lemon juice. Taste and adjust seasonings as needed. Remove the bay leaves and serve.

SERVE: Garnish bowls of soup with grated Parmesan cheese and chopped fresh parsley, if desired.

STORAGE: Soup will continue to thicken as the quinoa expands. We still think it tastes great, but it does get thicker and thicker as it stands. This soup is best eaten within 2-3 days. It does not freeze well; the soup continues to absorb liquid and gets overly bloated.

SLOW COOKER INSTRUCTIONS: Follow step one and then transfer everything from that pot to a 6 quart crockpot. Add in the diced tomatoes, stock, rinsed quinoa, drained and rinsed white beans, zucchini, frozen corn, frozen peas, and bay leaves. Cook on high for 2-3 hours or low for 3-5 hours or until quinoa has popped and veggies are tender. Stir in spinach, olive oil, and lemon juice. Remove bay leaves. Adjust salt and pepper; serve in bowls garnished with fresh parsley and topped with Parmesan cheese.
Recipe Notes
Note 1: If the quinoa isn't already rinsed (it will says so on the package), add it to a fine mesh sieve and rinse under cold water. This removes the saponin coating which can cause quinoa to taste bitter.
Note 2: We like the zucchini crisp tender. If you'd like it totally tender, add it in when you stir in the quinoa.