A simple quinoa minestrone packed with good-for-you veggies and made easy thanks to the crockpot!
I know what you are thinking…soup in the middle to end of April? I know, I know. But you guys, it SNOWED this last week. Like a few inches of snow! We had the craziest wind ever and next thing it was raining and then it turned to snow and before we knew it there were a couple of inches on our deck outside.
And anytime it snows, I have a seriously craving for soup. The good news is, this isn't a super "winter-y" soup. It's totally perfect for Spring and even for Summer because it's packed with delicious seasonal vegetables.
But of course when it gets super cold outside and turns into winter and you are still craving this soup (I know I will be!) the vegetables can easily be changed out for what's in season. This soup is highly adaptable – to seasonal need or personal preferences!
And I haven't even mentioned the best part yet…it's made in the SLOW COOKER. Because who doesn't love an easy, dump and forget about it kind of meal?! I also love sneaking about a million vegetables into a meatless dinner and having both the husband and baby begging for more!
It's pretty ironic I can't hardly get the baby to eat vegetables unless they are blended in some type of smoothie or in a quinoa based soup – then he is all over the veggies! He went nuts over this soup! Lately it's been a challenge hiding vegetables so he'll eat them (why is he getting picky all of the sudden!?!) but this soup did the trick!
As with all slow cooker/crockpot meals, all slow cookers are different! They cook at different speeds and temperatures so make sure to watch yours with this dish. What takes mine 4 hours may take yours 2 hours if it's faster and 6 hours if it's slower! Cook the soup until the flavors are well melded and the quinoa has "popped." For my slow cooker, this was about 3 and 1/2 hours. With quinoa, soup can sometimes get a bit tricky because it keeps absorbing the liquid. SO if your soup is not soup-y enough you may have over-cooked this a bit. Not a huge problem, just add in some more broth and seasonings! 🙂
You'll also want to make sure you have a large slow cooker because this makes a lot of soup. I have a 6-quart crockpot and this soup filled it up to the top. If you/your family don't finish this the first night, you will have some amazing leftovers to look forward to. (I thought this was even yummier the second day!)
I also mentioned that this soup is highly customizable and adaptable – change it up to your personal preferences! Substitute in different vegetables or leave some out. You could use kale instead of spinach or yellow squash instead of the zucchini! Try a different type of bean or omit the carrots. This soup changes pretty easily so long as the liquid amount remains pretty constant.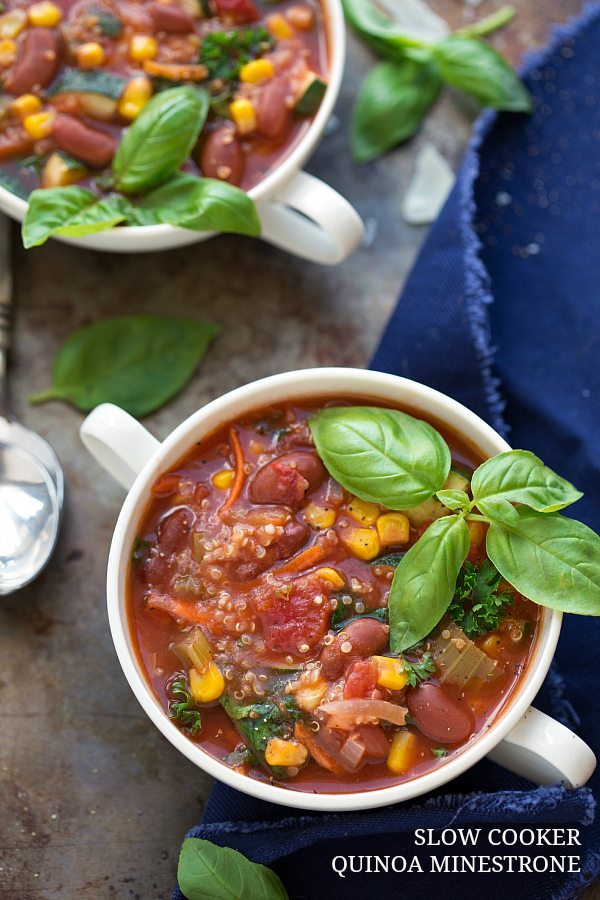 And now when it snows again in April, or maybe even in May, this is just the recipe to make it all okay 🙂
More slow cooker soup recipes: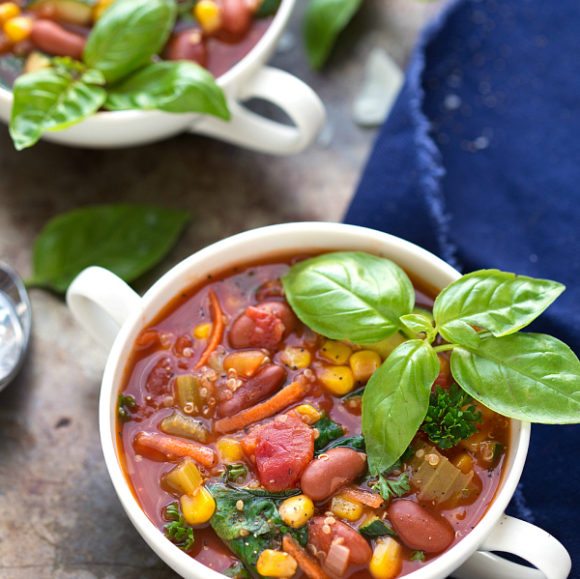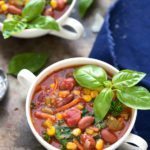 Slow Cooker Quinoa Minestrone
Ingredients
2

tablespoons

olive oil

1

teaspoons

and 1/2 minced garlic

2

yellow onions

finely chopped

2

cups

celery

2

cups

shredded carrots

I used multi-colored

4

cups

and 1/2 tomato-broth

or vegetable broth*

2

ounces

cans tomato sauce

8 each

2

ounces

cans diced tomatoes

undrained, 14.5 each

1

ounces

can kidney beans

15

1

ounces

can corn

15

1

cup

quinoa

2

cups

chopped zucchini

~2 small

2

cups

baby spinach

Optional: fresh basil and fresh oregano

Salt and pepper
Instructions
Pour the olive oil in a saucepan over medium-low heat. Add the garlic and stir for 1-2 minutes. Add the finely chopped onion and sauté until tender (about 4 minutes). Add the chopped celery and carrots and sauté for another 2-3 minutes.

Pour into your slow cooker (I used a 6 quart crockpot) with the tomato, chicken, or vegetable broth, both cans of tomato sauce, and both cans of undrained diced tomatoes. Add in the drained and rinsed kidney beans, drained corn, and rinsed quinoa. (Wash your quinoa in a mesh strainer before using to remove the bitter saponin coating).

Cover and cook on high for 3-4 hours or until the quinoa is cooked through and vegetables tender. At this time, add in the zucchinis and spinach along with fresh herbs, salt and pepper. I used a few tablespoons of finely chopped basil and 1 tablespoon finely chopped fresh oregano.

Serve immediately.

The longer you leave this in the slow cooker (or depending on different heats/types of slow cookers), the less soup-y it will be (the quinoa will take in more moisture) so watch the soup carefully and add more vegetable broth as desired.
Recipe Notes
*I used tomato bouillon cubes to make my own broth and then mixed it in. I LOVE the flavor the tomato broth adds, but a vegetable broth (for vegetarians) or chicken broth (if not vegetarian) would work as well.