A delicious and simple to make Italian sausage and pasta soup with plenty of veggies (clear out your fridge!), fresh baby spinach, and mini farfalle pasta. This easy soup is a recipe the entire family will love!
Pair this pasta soup with a hearty salad! This roasted sweet quinoa potato salad, Italian salad, or chickpea salad would go perfectly with this soup.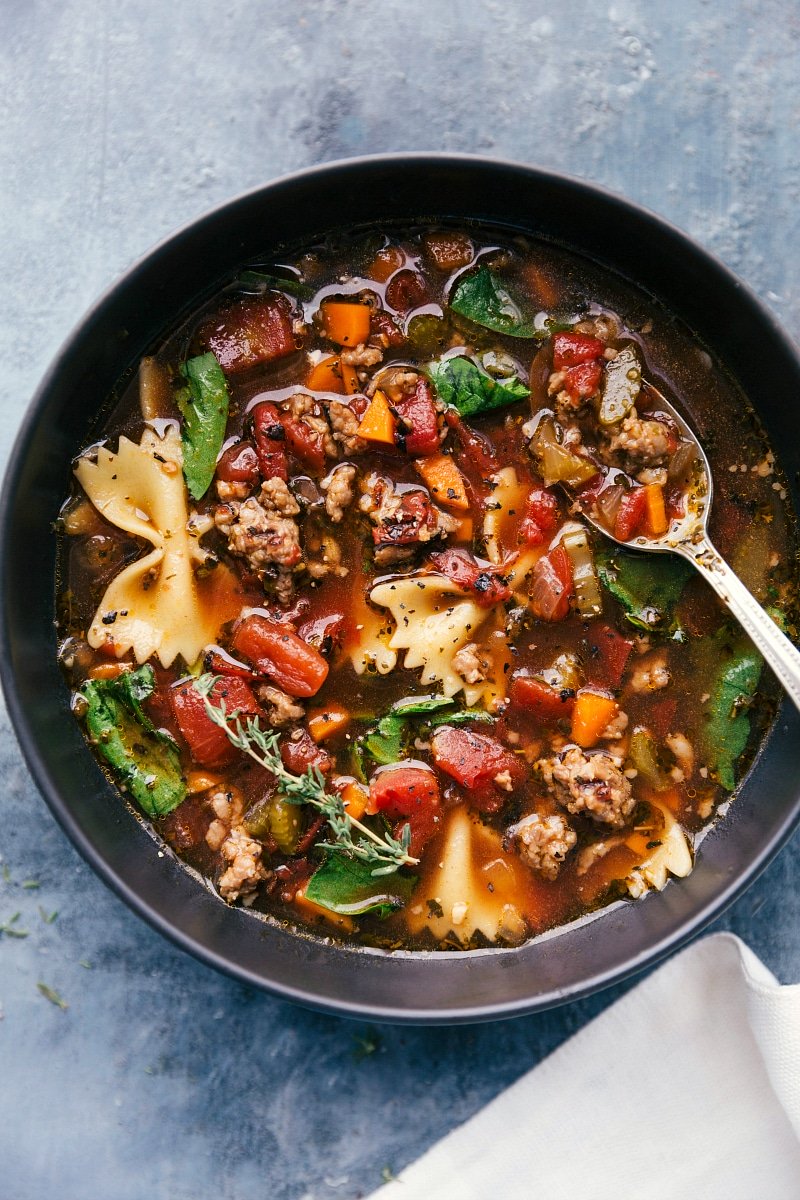 While I love the produce and fresh ingredients so readily available for summer meals, there is nothing I love more than soup season! And this year I have quite a few soup recipes to share that I hope your family loves as much as mine has.
Pasta soup
This pasta soup is on the lighter side, with a broth base and tons of veggies. It does have sausage and (of course) pasta which help to add some "staying power" so you won't be hungry thirty minutes after eating. A good piece of crusty bread dipped in this soup also helps with satiability.
Below I've broken down the steps for making this pasta soup and also have a quick video overview. And below that I've got some quick tips and substitution ideas. Enjoy!
How to make pasta soup
Numbered photos line up with numbered descriptions below.
Brown the sausage; use

hot

or

mild

Italian sausage

(whichever you prefer)

.

Next the onions, celery, and carrots get sautéed (they don't get much more tender throughout the cooking process, so don't rush 'em).
Celery, carrots, and onion are nice and tender, plus seasoned nicely by cooking in olive oil and the little bit of oil left from the sausage.
Add in the beef broth (or stock), seasonings, and fire-roasted diced tomatoes.
Adding in more beef broth or stock.
Mix everything together and bring to a boil. Once boiling, add in the…
Pasta! Add in 3 cups of pasta.
Stir in some spinach until its wilted and this soup is ready to eat! Don't forget to grate some Parmesan cheese over top!
Pasta soup tips
U

se a hot cast iron skillet and don't over-stir or over crumble the meat — you want it to get browned to develop layers of flavor. Transfer sausage to a paper towel lined plate to drain off the grease.
Dice all 3 veggies into small and even sizes so they'll cook quickly and integrate into the soup nicely.
I highly recommend getting a good brand of broth/stock and fire roasted tomatoes as these ingredients are contributing the main flavor. I typically use Swanson broth/stock and Muir Glen or San Marzano fire-roasted tomatoes (not sponsored)
Grab a low sodium or no salt added broth/stock so you can completely control the amount of salt in the pasta soup.
These photos show regular sized farfalle pasta, but I also tested it with miniature farfalle pasta and it was even better! Either pasta works, but the mini farfalle pasta is easier to eat and you get more pasta per bite.
Variation ideas
Use a different pasta: really any pasta will work in this soup. Just pay attention to the package instructions; cook the pasta in the boiling soup for 1 minute less than the package indicates.
Spiciness: to reduce spiciness: use mild sausage instead. To increase spiciness: add some red pepper flakes
Freezing: unfortunately, this soup doesn't freeze very well because of the pasta in it (the pasta bloats and continues to absorb liquid). If you're worried about having too much, I'd recommend halving the recipe! If you are determined to freeze this soup, here are a few helpful tips!
Reheating this soup: I recommend reheating this soup on the stovetop over low heat, stirring frequently. Honestly, because of the pasta being added, this soup is best enjoyed the same day it's made. The pasta does continue to absorb liquid and bloat as it sits in the liquid. (You can cook pasta separately and add it in separate portions; if you do this you will want to slightly reduce the beef stock/broth).
Making this pasta soup vegetarian: swap out the beef stock for vegetable stock (or broth) and replace the sausage with beyond meat crumbles (or similar brand) or omit the meat entirely! Want less meat? Use 1/2 pound in this soup, no other changes necessary.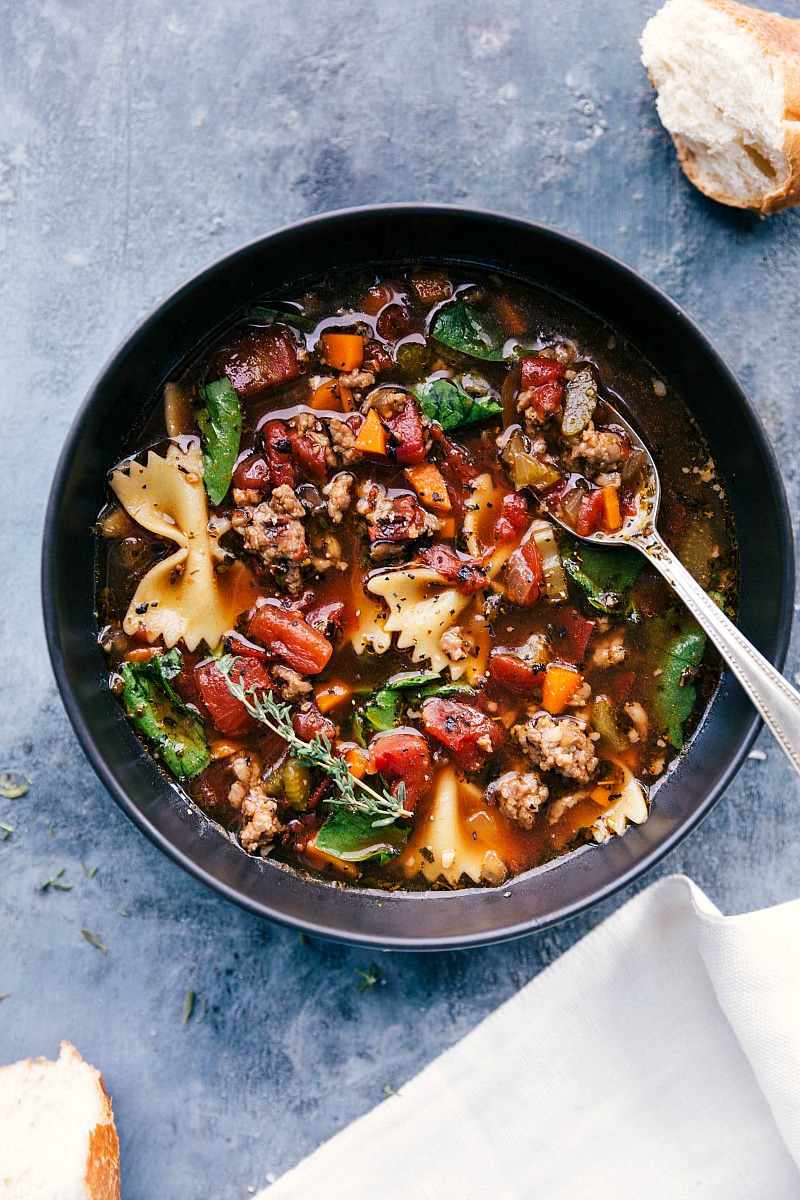 Side dishes to serve with this soup
More delicious soup recipes: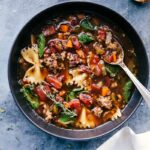 Pasta Soup
A delicious and simple to make Italian sausage and pasta soup with plenty of veggies (clear out your fridge!), fresh baby spinach, and mini farfalle pasta. This easy soup is a recipe the entire family will love!
Ingredients
1

pound

spicy italian sausage

(mild sausage works too)

2 and 1/4

cups

mirepoix: 3/4 cup diced carrots, 3/4 cup diced celery, 3/4 cup diced yellow onion

3

garlic cloves

minced

2

cans (15 ounces each)

fire-roasted diced tomatoes

(I recommend Muir Glen or San Marzano)

2

cartons (32 ounces EACH)

reduced-sodium beef broth or stock

1

teaspoon EACH:

dried basil, Italian seasoning

1/2

teaspoon

dried oregano

Fine sea salt and freshly cracked pepper

3

cups

miniature farfalle pasta (uncooked)

(Note 1)

4

cups

(lightly packed when measured) fresh spinach,

coarsely chopped

Freshly grated Parmesan cheese
Instructions
SAUSAGE: Line a plate with paper towel and set aside. Heat a large (6 quart) cast iron stockpot over medium high heat. Add a drizzle (1/2 tablespoon olive oil) and once the oil is shimmering, add in the sausage. Let stand for 30 seconds and then cook, breaking into crumbles, until browned through (about 6-8 minutes). You don't need to stir constantly, allow sausage to brown which will add more flavor. Transfer to prepared plate and set aside.

VEGGIES: Drain off all but 1 tablespoon sausage grease and add in 1 tablespoon olive oil. Add in the diced carrots, diced celery, and diced onion. Saute, stirring often, for 5-7 minutes or until tender. Add in garlic and stir until fragrant, about 30 seconds. Add in both cans of tomatoes, both cartons of beef stock/broth, and seasonings: dried basil, Italian seasoning, dried oregano, salt and pepper (add salt and pepper to taste, I add 1/4 teaspoon salt and 1/2 teaspoon pepper -- this will vary depending on the actual beef stock/broth you use). Stir.

PASTA: Bring the soup to a boil. As soon as it's boiling, add in the uncooked pasta. Return to a boil and cook, uncovered, until pasta is tender, about 7-9 minutes. Stir back in the cooked sausage. Stir in the spinach until wilted, remove from heat, and taste to adjust salt/pepper seasoning.

SERVE: serve with parmesan cheese and crusty bread. Enjoy!
Recipe Video
Recipe Notes
Note 1: regular farfelle pasta will work as well, but taste testers preferred miniature farfelle. (More pasta per bite and easier to eat.) Any similar sized pasta will work, aim for pasta with plenty of ridges.