Churros are a delicious cinnamon-sugar coated fried pastry dough snack! They are surprisingly simple to make at home and are the perfect party treat.
Along with this recipe, I'm sharing two dipping sauces: a shortcut dulce de leche and a dark chocolate sauce.
Serve these churros for dessert after enjoying these Mexican street corn chicken tacos or this quinoa enchilada bake!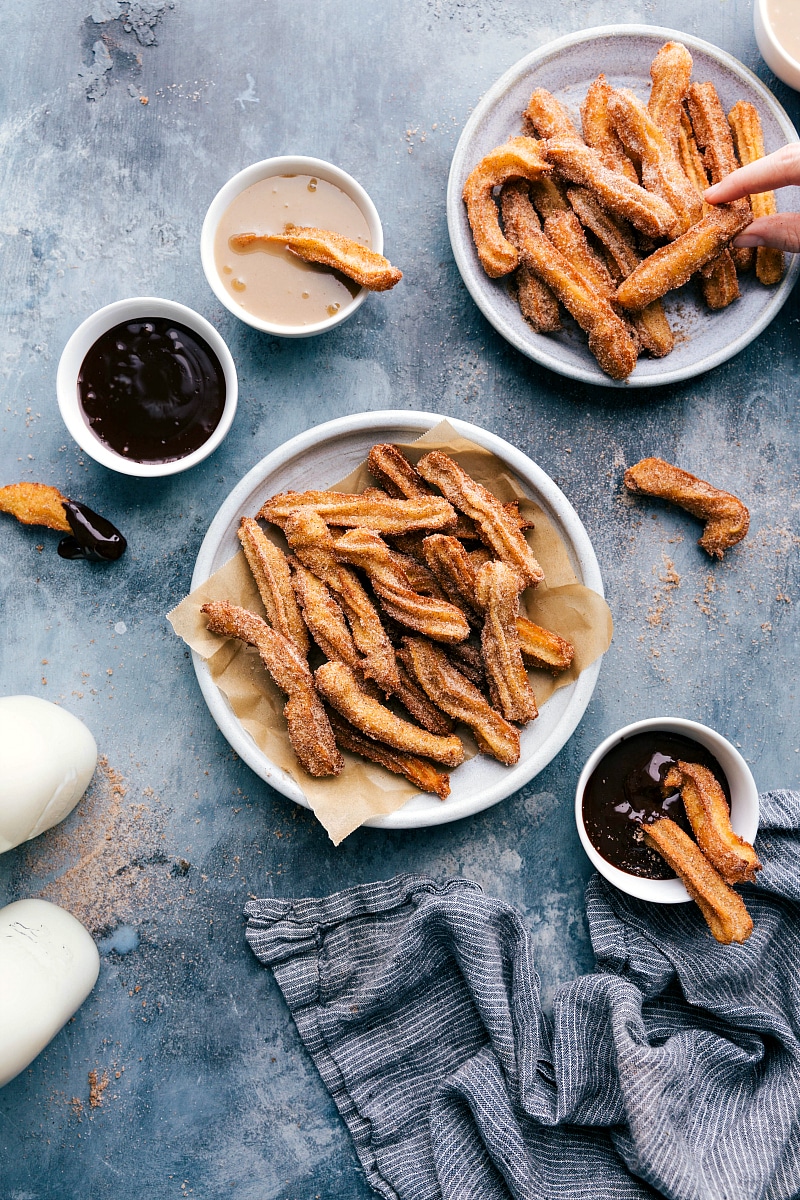 Churros are believed to have originally come from Spain, but they are one of those amazing foods that have been assimilated into nearly every culture. There's nothing better than walking down cobblestone streets with a hot churro and chocolate sauce in hand (either at Disneyland or in Spain).
Although they may seem intimidating to make at home, they're actually quite simple to make! With few ingredients and a couple of kitchen tools, you'll be a churro-making-master in no time. 🙂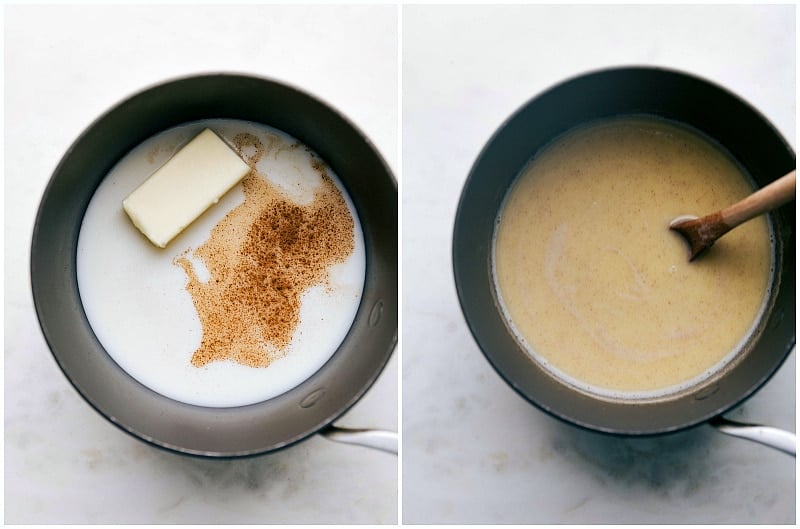 First thing first, if you've never made homemade churros, you might be wondering what are in these magical cinnamon-sugar coated treats.
What is a Churro made of?
Churro dough is a mixture of milk, water, sugar, cinnamon, butter, vanilla, flour, and egg. While a lot of traditional recipes call for fewer ingredients, I like adding a few more flavor enhancers. The vanilla, sugar, and cinnamon in the dough makes it more flavorful and the milk makes the dough richer.
After they're cooked, they're rolled in a mixture of cinnamon and white sugar. I like to add a little brown sugar to the mix for even more flavor!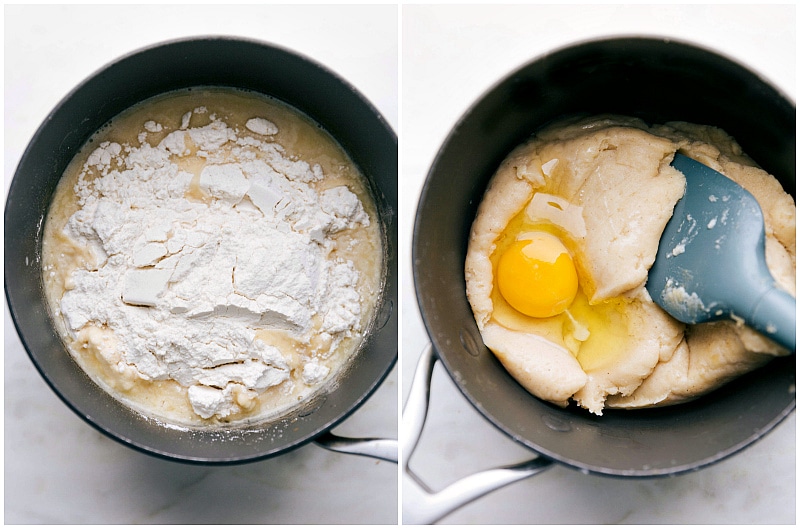 Now that we've talked about what's in the dough, you might be wondering what these end up tasting like. If you've never tasted a churro, you are in for a treat! 🙂
What does a churro taste like?
Churros are a cinnamon sugar deep fried pastry. (Yes, they are as delicious as they sound). If you've ever had Cinnamon Toast Crunch cereal, you can compare the flavor of a churro to that.
Churros are generally served with dipping sauces and are very best served while they're still warm and soft.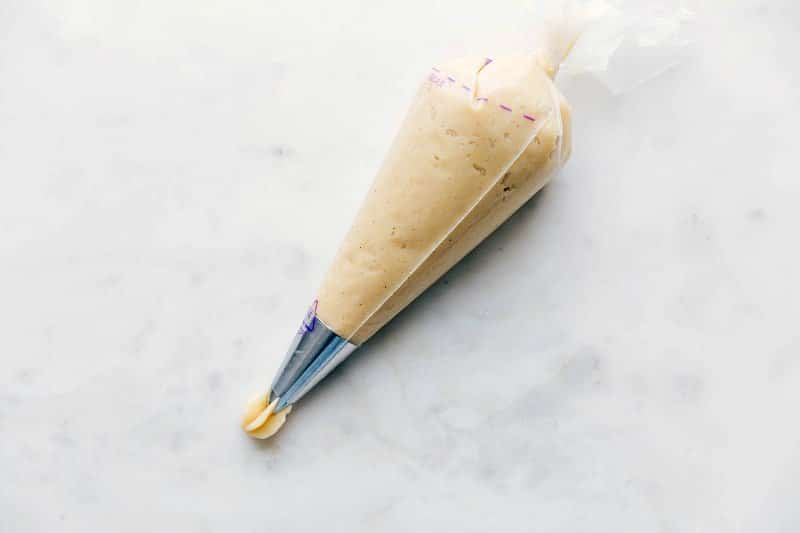 Texture-wise…
Are churros soft or crunchy?
Churros have a relatively hard outside and soft inside. The cinnamon sugar crystallizes from the heat of the fried churro and creates an addictive sugary and crispy exterior.
Texture-wise, they taste like a chewier, denser, and slightly crispy donut.
I mentioned churros are best eaten fresh, while they're still warm and fresh. I highly recommend eating them minutes after they've been fried and coated in the cinnamon sugar mixture.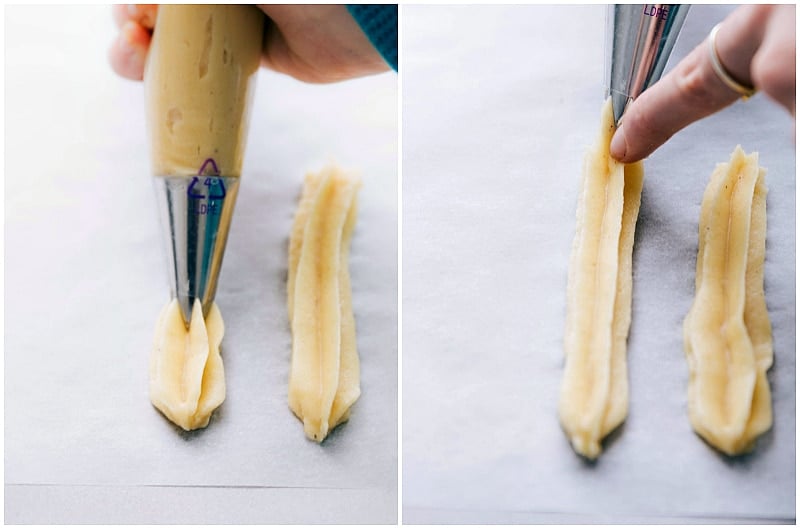 How long do churros last?
Make ahead: The churro dough can be refrigerated in an airtight container for up to 1 day before frying. When you're ready to fry them up, wait until the dough is at room temperature.
If you're frying ahead of time, don't roll the fried dough in cinnamon sugar. Allow the fried dough to cool completely and then store in an airtight container at room temperature (not in the fridge). Reheat the churros on a tray at 350 degrees F for about 3-5 minutes or until crisp again. Then roll in the cinnamon sugar. (Fried ahead of time is best consumed within 1 to 2 days).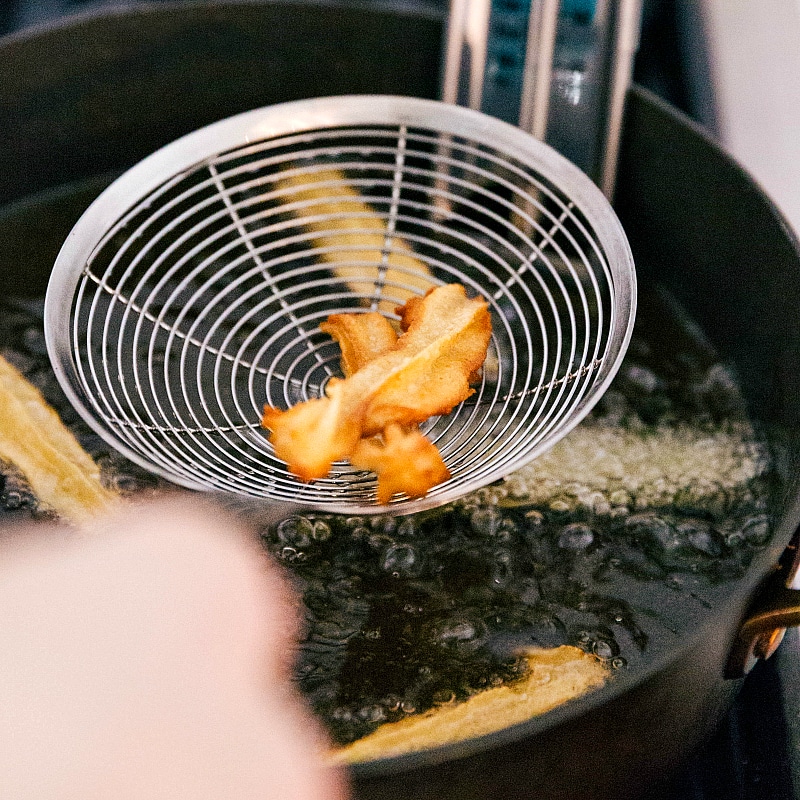 Tips for this recipe
Use a thermometer: frying the dough is a cinch with a thermometer. It clues you into sightly increasing or decreasing the heat when frying. I can't recommend a thermometer enough!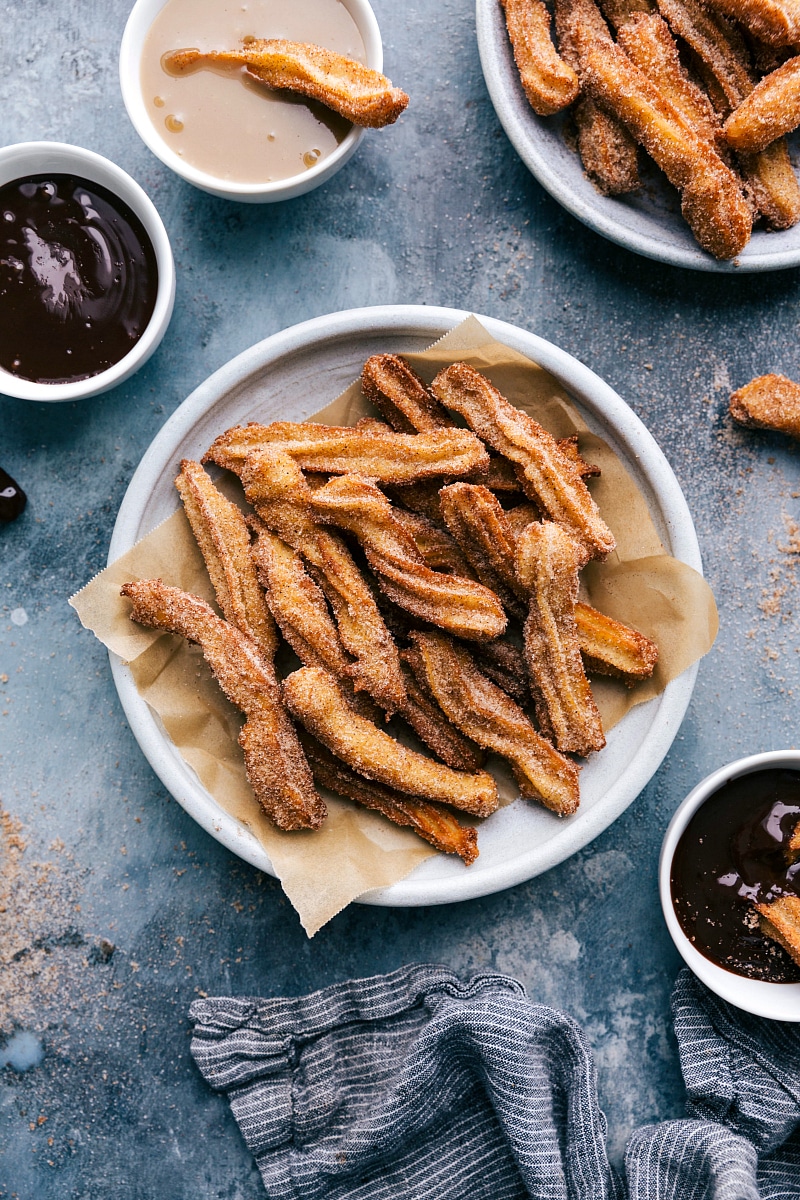 More delicious desserts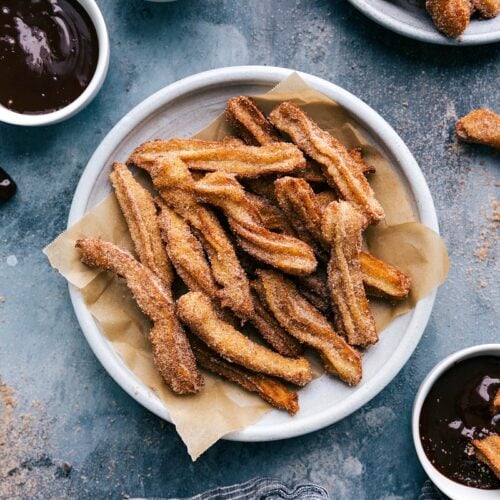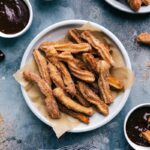 Churros
Churros are a delicious cinnamon-sugar coated fried pastry dough snack! They are surprisingly simple to make at home and are the perfect party treat. This churros recipe is our favorite!
Ingredients
Churros
1/2

cup

whole milk

1/2

cup

water

1/4

teaspoon

fine sea salt

1

tablespoon

white sugar

1/4

teaspoon

ground cinnamon

1/4

cup (4 tablespoons)

unsalted butter

1

teaspoon

Mexican vanilla

1

cup

white all-purpose flour

1

large egg

3/4

cup

white sugar

1/4

cup

light or dark brown sugar

1

tablespoon

cinnamon
Chocolate Sauce
3.5

ounces

chopped dark chocolate

(or semi-sweet)

1/3

cup

heavy cream

1

tablespoon

unsalted butter

Tiny

pinch of

fine sea salt
Dulce de Leche Sauce (Easy Version)
1

cup

heavy cream

1

cup

dark brown sugar,

packed

1/2

cup

full-fat, regular sweetened condensed milk
Instructions
Dulce de Leche Sauce (Easy Version)
In a medium-sized pot, combine 1 cup cream and 1 cup dark brown sugar. Heat to medium. Stir while sugar dissolves and mixture comes to a slow boil. Continue to boil, stirring occasionally, until the mixture reduces down to 1 cup (~10 minutes)

Once it has reduced down, stir in 1/2 cup sweetened condensed milk and stir until everything is well combined. Let stand at room temperature to continue to thicken while making the churros. Serve the sauce warm and re-warm it in the microwave if it starts to get too thick.
Churros
In a medium-sized pot over medium high heat, combine the milk, water, salt, 1 tablespoon sugar, and butter. Mix until the butter is melted and bring the mixture to a boil.

As soon as the mixture boils, remove from the heat and stir in the vanilla. Stir until combined.

Stir in the flour and, using a rubber spatula, continue to mix (and press out any lumps) until the dough is completely smooth. Let slightly cool and then add in the egg. It will seem hard to mix and gluey, but mix until it comes together into a dough. You can use hand mixers if needed or mix with hand. It will come together even though it might not seem like it will.

Transfer the mixture to a large piping bag fitted with an open star tip.

Onto a sheet of parchment paper, pipe 3-4 inch strips of the dough. Allow to rest for 10-20 minutes. (Resting is optional, but recommended).

In the meantime, preheat a deep fryer (or heavy bottomed pot over medium heat) to 350 to 360 degrees F. I highly recommend a candy thermometer to ensure the oil heat stays consistent.

In a small bowl, stir together the 3/4 cup white sugar, 1/4 cup brown sugar, and 1 tablespoon cinnamon. Set aside. Set out a large plate lined with a few paper towels.

Lightly spritz a metal spatula with cooking spray and use to pick up the churros and transfer to the hot oil. Place 3-5 churros at a time in the deep fryer or pot.

Allow the churros to fry until they are golden brown flipping about halfway through the cooking time for a total of about 2 minutes per side. I like to use a wire skimmer to remove the churros. Transfer to paper towels to dry briefly (but don't wait long) and then transfer to prepared cinnamon sugar mixture and roll to coat.

Place the hot churros in the prepared sugar/cinnamon mixture and coat evenly. Repeat with remaining dough being careful to not add more than 5 churros to the pot at a time and watching the thermometer closely to ensure even temperatures.

Enjoy while hot with chocolate sauce and/or dulce de leche. Churros are best enjoyed soon after being fried.

Chocolate Sauce
Add all of the chocolate sauce ingredients to a large microwave safe bowl. Microwave in bursts of 15 seconds, stirring in between each burst, until melted and smooth. Stir until silky smooth. Serve the chocolate sauce warm and re-warm it in the microwave if it starts to get too thick.