A delicious and creamy chicken noodle soup packed with veggies and made easy in the slow cooker.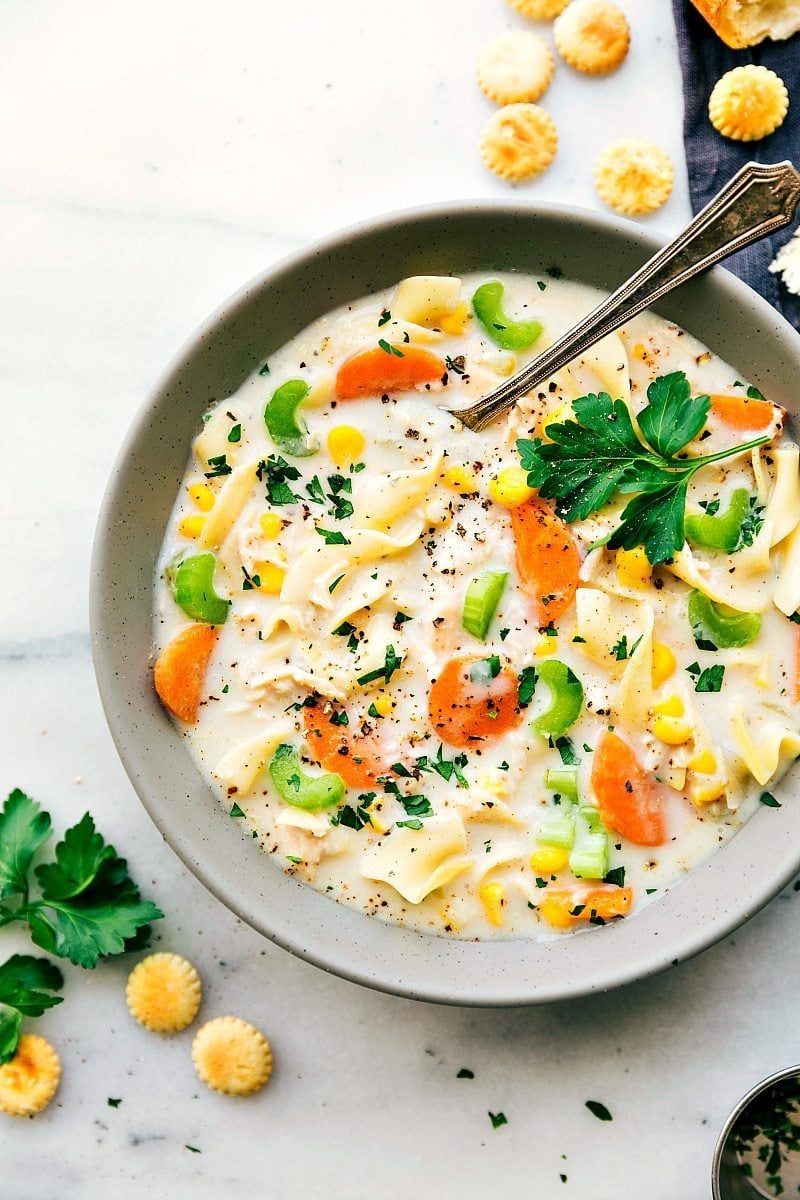 I rely on my slow cooker a lot. It's used at least once a week and does not get put away once the winter is over. There are a few meals that are staples for the crockpot — meals we make over and over again and never get sick of.
This — creamy chicken noodle soup — has become one of those staples.
Between the four of us, someone has had some sort of cold or sickness this entire past month. I started making this soup at the end of last December (because who doesn't like chicken noodle soup when they're sick?!) and I've been making it every week since then. It's the perfect soup to combat a cold! AND if you happen to have the cold, well, it's something you can easily muster enough strength to make. It's seriously easy to make thanks to the crockpot!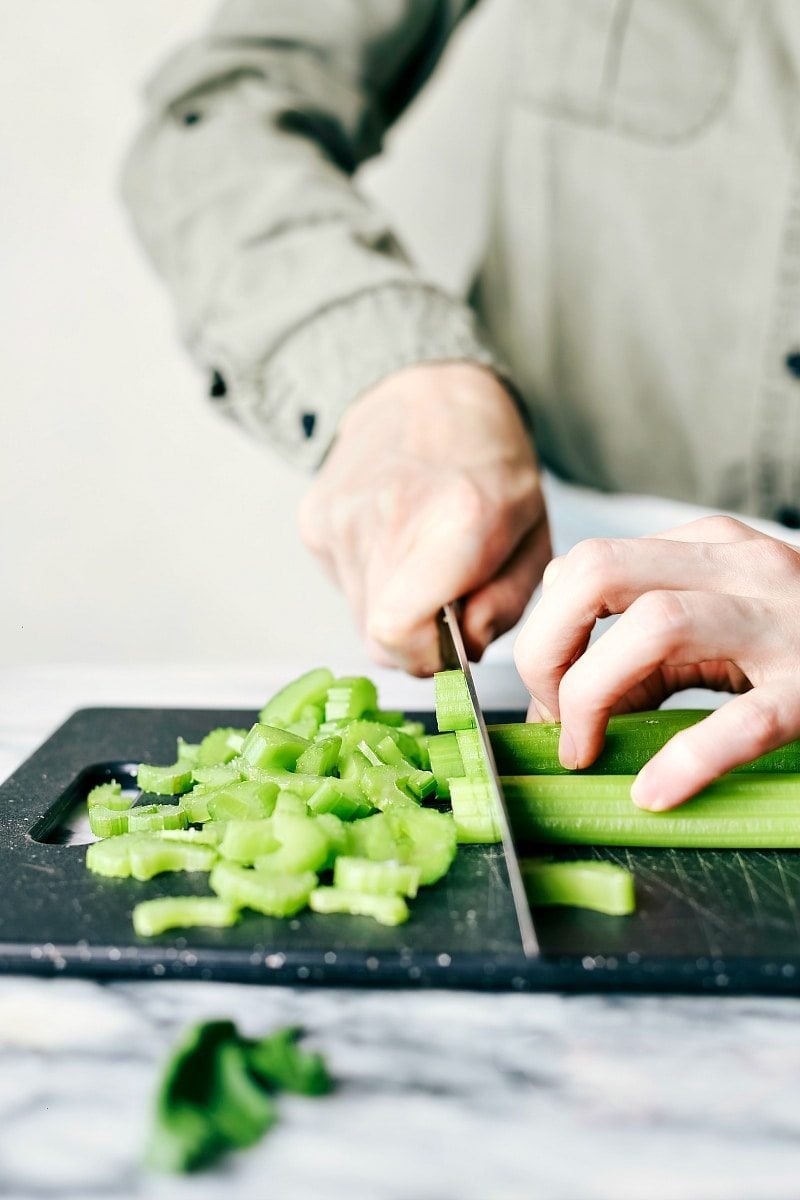 There is a little veggie prep involved, but if you're looking to avoid that, a lot of grocery stores have pre-chopped carrots, celery, and onion (called mirepoix). Grab a container of that and then this meal is completely dumping it all in the crockpot and forgetting about it!
The chicken can go into the crockpot uncooked and then there are a few herbs and finally, chicken stock. This stock is a super important ingredient in this soup and really creates the base flavor of the soup. Because of all of the flavor in the stock there isn't a huge need for too many extra seasonings or additions to this soup. This stock takes care of all that!
Finally, when the soup is just about done, you'll make the cream base addition and boil some egg noodles. I didn't have the greatest success with adding uncooked egg noodles to the crockpot when trying that — they tend to disintegrate or cook unevenly. Also, if you plan to have leftovers, you can package up the noodles separately so they don't get "soggy."
We like soups on the thicker/chunkier side, so if you're looking for a "thinner" soup it's easy to add a bit more broth or milk to this soup!
And finally, some fresh parsley plus crusty bread for dipping = must haves.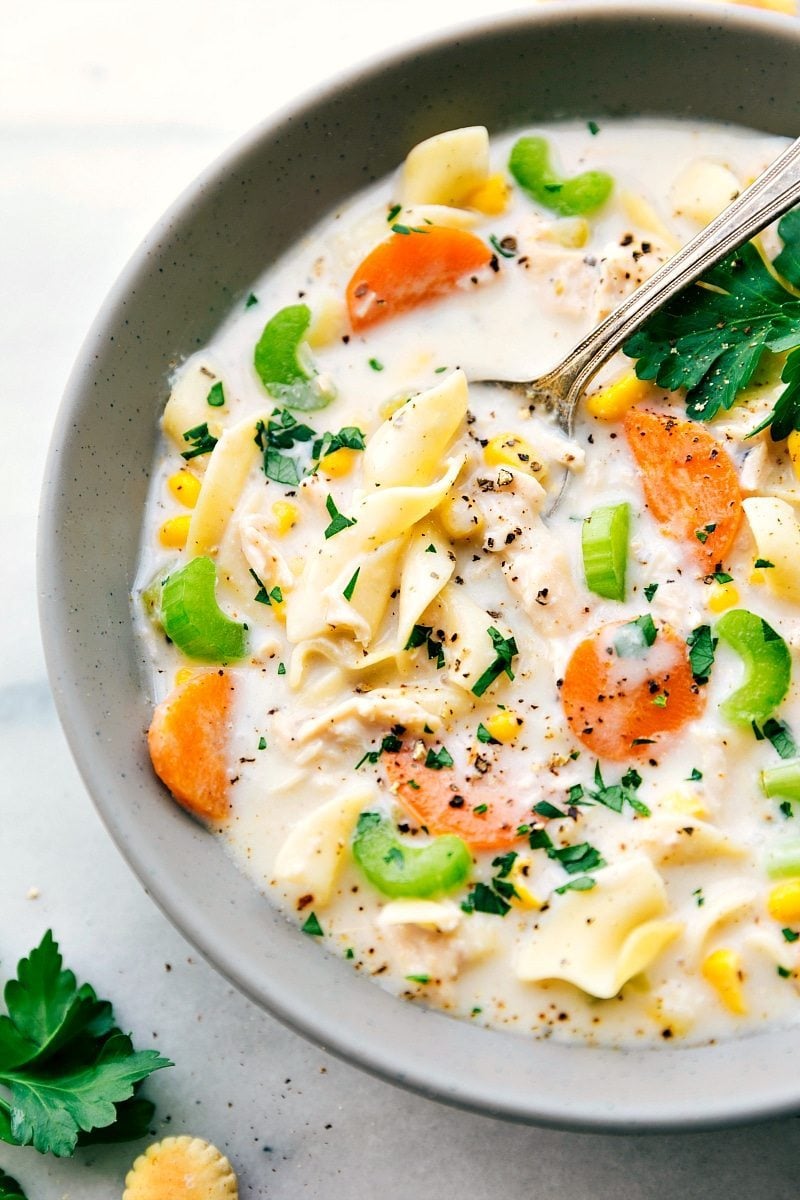 More Easy Crockpot Soups: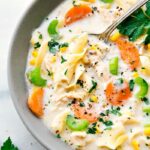 Crockpot Creamy Chicken Noodle Soup
A delicious and creamy chicken noodle soup packed with veggies and made easy in the slow cooker.
Ingredients
1

pound

boneless skinless chicken breast

1

small

yellow onion

2

stalks

celery

2

large

carrots

12

ounces

frozen corn

1

tablespoon

minced garlic

1

container (32 ounces)

Chicken Stock

(I use Swanson Organic Free-Range)

2

bay leaves

1/2

teaspoon

EACH: dried thyme, dried basil

1/4

teaspoon

dried oregano

Salt and pepper

(I use 2 teaspoons salt and 1 teaspoon pepper)
Add Later:
8

ounces uncooked

medium egg noodles

1/2

cup

unsalted butter

1/2

cup + 2 tablespoons

white flour

2-3

cups

whole milk

3-4

tablespoons

fresh parsley
Instructions
Trim the fat from the chicken and place in a large crockpot. (I use a 6-quart crockpot).

Dice the onion, thinly slice the celery, and peel + thinly slice the carrots. Add to the crockpot along with the frozen corn and minced garlic. Pour the chicken stock over everything. 

Add in the bay leaves, dried thyme, dried basil, dried oregano, and salt + pepper. Stir and then cover and cook on low for 5-7 hours or high for 3-5 hours or until chicken is cooked through and shreds easily and veggies are tender.

Meanwhile, boil the noodles according to package directions. Drain.

While the noodles are cooking, melt the butter in a small pot over medium heat. Once it is melted, slowly add in the flour and whisk until combined. Whisk until smooth and cook over medium heat for 1 minute.

Slowly add in the whole milk (starting with 2 cups) whisking constantly. Allow to thicken. Add this cream mixture to the soup. Remove the chicken, shred, and return to the crockpot. If desired add remaining 1 cup of milk to the soup.

Stir in the egg noodles (OR if you plan on having leftovers, keep them separate). Add in the fresh parsley. Taste and season if needed (extra salt and pepper) and enjoy!