Autumn Crunch Pasta Salad: A simple pasta and spinach salad with tart apples, crisp celery, toasted pecans, sweet dried cranberries, and juicy oranges. This salad is dressed with a simple poppyseed vinaigrette.

Autumn Crunch Pasta Salad
We're all obsessed with a good pasta salad at my home. And with Fall on the mind, I thought it would be great to combine a pasta salad with seasonal fruits and veggies like apples, cranberries, and pecans. Fall salad essentials!
This salad has it all — flavor, sweetness, and texture and we can't get enough of it! Today I'm sharing plenty of tips to making the best pasta salad along with some variation ideas. Let's get started!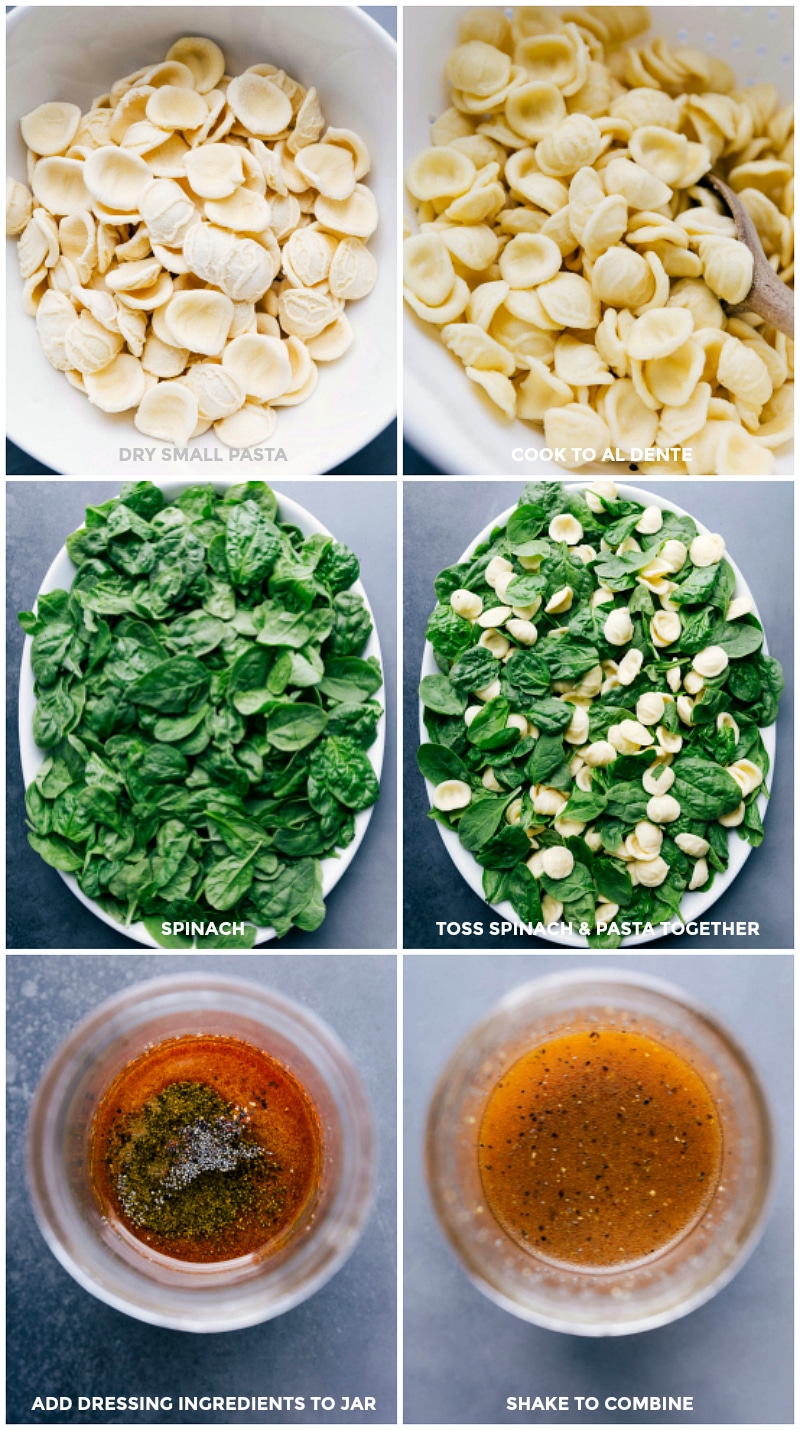 Look for short pasta: Choose pasta that has plenty of nooks and crannies to catch as much of the dressing as possible. I use orecchiette pasta, but some other pastas that would work well is miniature farfelle, rotini, or small pasta shells.
Salt the pasta water: Since this Autumn Crunch Pasta Salad is eaten cold, the flavors tend to get muted. Make sure the pasta is well-salted as it cooks, since salting is the only chance you have to season the actual pasta. Don't be afraid to add more salt to the finished salad if it needs it. Read about how to properly salt your pasta water here.
Cook the pasta to al dente: Since the pasta sits in dressing, it has a tendency to get soggy if overcooked. Pasta also gets a little firmer when served cold, so don't under cook it! I cook it right to the package directions of what al dente is.
The dressing can easily be adjusted to personal preference. Give it a quick taste test and slightly adapt if needed — you may want to add a bit more sugar if you like dressings on the sweeter side. On the flip side, if you're worried about dressing sweetness, you may want to reduce the sugar.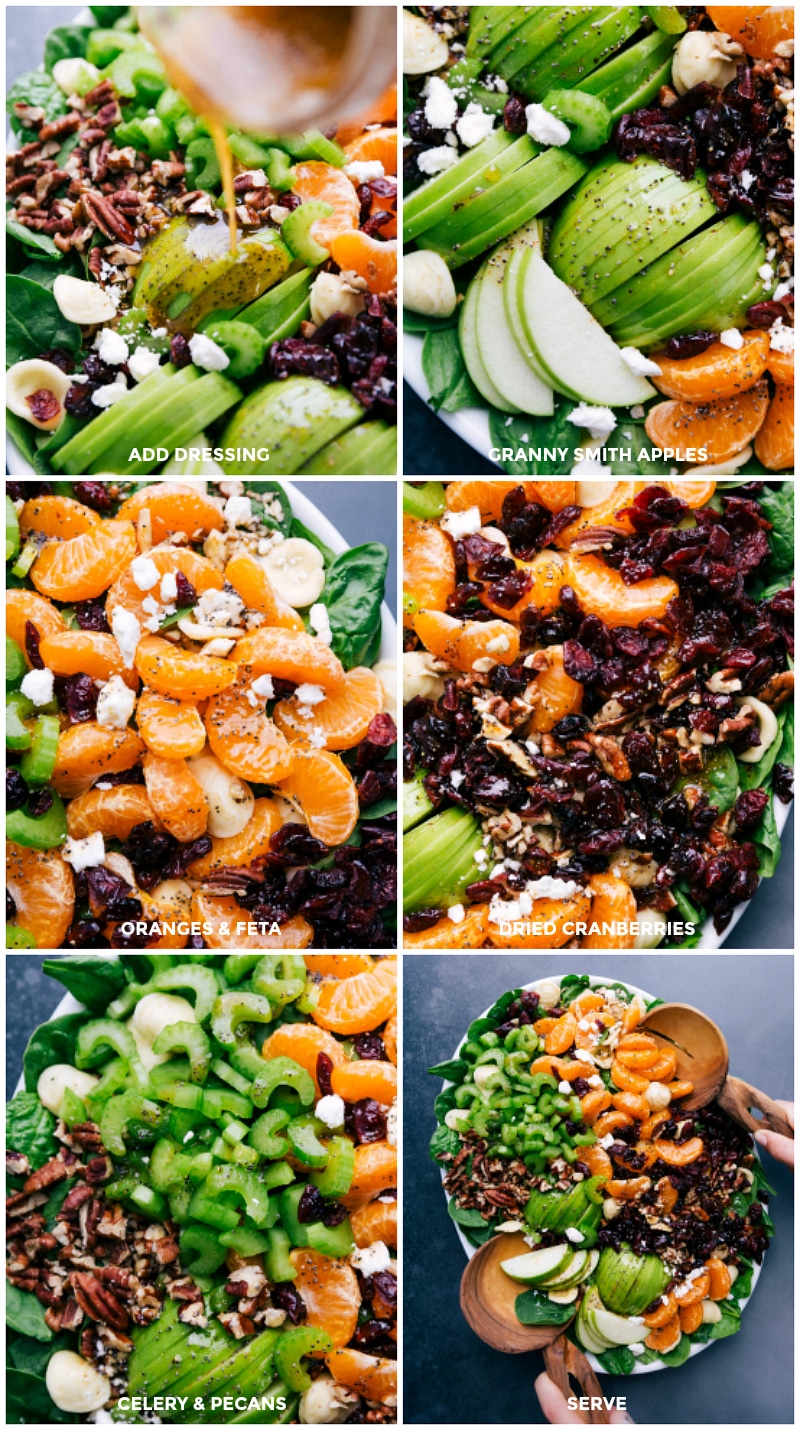 Autumn Crunch Pasta Salad variation ideas
Add a creamy element, such as a ripe avocado. Since avocados don't hold up well in the salad, if you add them, add to individual plates right before serving.
Add chicken. Either leftover cooked chicken, a rotisserie chicken, or some diced grilled chicken (use this delicious chicken marinade).
For an additional creamy element (beyond the cheese), add a diced or thinly sliced avocado
Swap out dried tart cherries for the dried cranberries
Use goat cheese instead of feta cheese
Swap out candied pecans for the toasted pecans
How to toast pecans
Pour the (un-chopped) pecans into an even layer in a small, dry (no need to add oil or anything) skillet over medium-heat and stir them around a bit until they are fragrant and toasted to your liking.
Watch the pecans carefully; they can go from perfectly cooked to burnt in an instant! I like to remove them as soon as they begin to smell fragrant.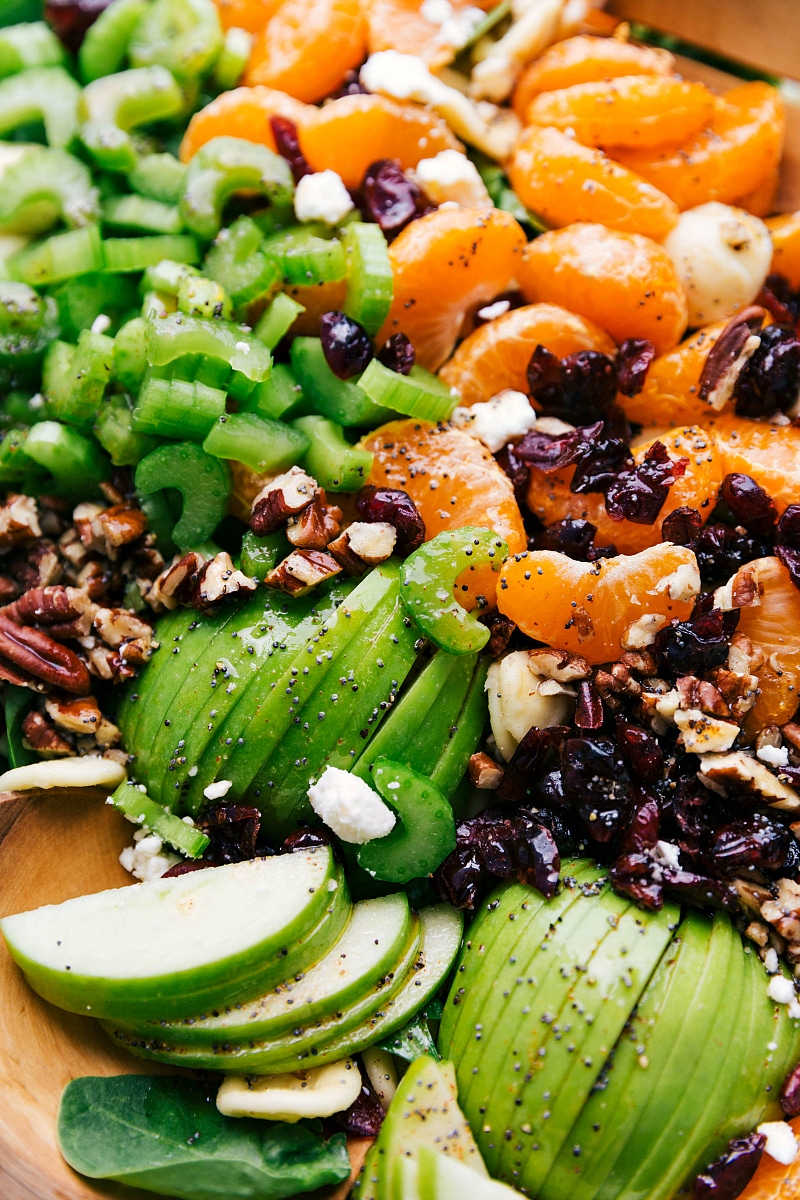 Autumn Crunch Pasta Salad Storage
Unfortunately this Autumn Crunch Pasta Salad doesn't sit or store well once dressed. The dressing will wilt the spinach, the apples begin to brown, and the pecans get soggy once dressed.
The salad can be made in advance as long as everything is stored separately and the apple is cut right before enjoying. Assemble and add the dressing right before eating.
If you do make the dressing in advance, don't be alarmed if it clumps and separates in the fridge (the clumps are the fats (oil) separating and solidifying). To fix this simply shake the dressing together again until smooth (If it's still clumpy, let it stand at room temperature for 15-20 minutes and then shake again).
More delicious seasonal salads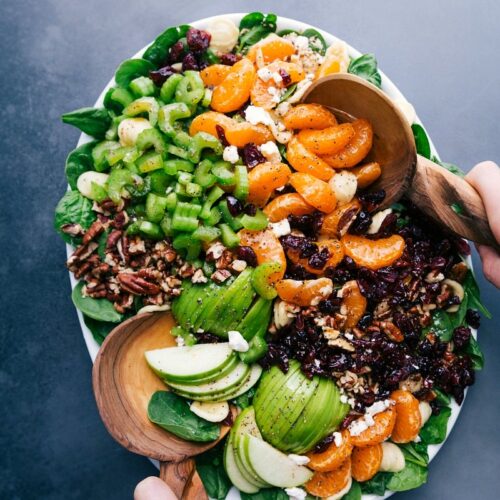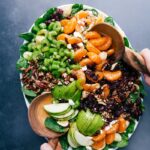 Autumn Crunch Pasta Salad
Autumn Crunch Pasta Salad: A simple pasta and spinach salad with tart apples, crisp celery, toasted pecans, sweet dried cranberries, and juicy oranges. This salad is dressed with a simple poppyseed vinaigrette.
Keyword:
autumn crunch pasta salad
Ingredients
5

ounces

fresh spinach

half a 10 ounce bag (6 cups; 140g)

1 and 1/2

cups (150g)

dry small pasta

3/4

cup (87g)

chopped celery

1

large

Granny Smith Apple,

thinly sliced or chopped

1

teaspoon

lemon juice

1 can

(15 oz; 425g)

drained mandarin oranges

(or 2 mandarin oranges)

3/4

cup (91g)

dried cranberries

1/3

cup (41g)

pecans,

coarsely chopped (See Note 1)

Optional: Feta cheese
Dressing
2

tablespoons EACH:

apple cider vinegar, white wine vinegar

2-4

tablespoons

white sugar

1/8

teaspoon each:

paprika & onion powder

1/4

cup

olive oil

1/2

tablespoon

poppyseeds

Fine sea salt and freshly cracked pepper
Instructions
COOK PASTA: Cook the pasta according to package directions to al dente. Make sure to generously salt the water; this is what will actually season the pasta! I add 1 teaspoon salt to every 4 cups of water.

DRESSING: While the pasta is cooking, prepare the dressing. In a mason jar combine the apple cider vinegar, white wine vinegar, sugar, (adjust -- more or less to personal preference, I use 2 tablespoons), paprika, onion powder, olive oil, poppyseeds, and salt and pepper (I add 1/4 teaspoon each). Seal the jar and shake vigorously to combine.

FINISHING PASTA: Drain the pasta once it's cooked through and immediately toss a few tablespoons of the dressing with the pasta. Chill the dressed pasta in the fridge.

REMAINING INGREDIENTS: Meanwhile, prep the other additions: thinly slice the celery, thinly slice (or chop) the apple and toss with the lemon juice, and peel the oranges or drain from the can.

ASSEMBLY: In a very large bowl, toss the completely cooled pasta with the spinach. Add in the celery, apple, oranges, dried cranberries, and coarsely chopped pecans. Drizzle dressing over the salad and toss to combine. Add feta cheese to personal preference and enjoy immediately.

STORAGE: This salad isn't very great leftover. If you aren't eating this immediately, keep the ingredients separate from the dressing and only toss with the dressing right before eating. Top with pecans and feta after dressing the salad.
Recipe Video
Recipe Notes
Note 1: if desired, toast the pecans. Let completely cool and then coarsely chop before adding into the salad.
To toast pecans: If you want to toast the pecans, place them in a single layer in a dry saucepan (don't add anything) over medium heat. Stir constantly until the nuts are barely fragrant -- just a couple of minutes. Watch carefully as the nuts are VERY easily scorched/burned.