Quinoa flavored with a hint of tomato tossed in a salad filled with cherry tomatoes, black olives, avocado, and cucumber. This salad is doused in a simple Greek salad dressing and topped with feta cheese. (Photos updated 1/12/2016)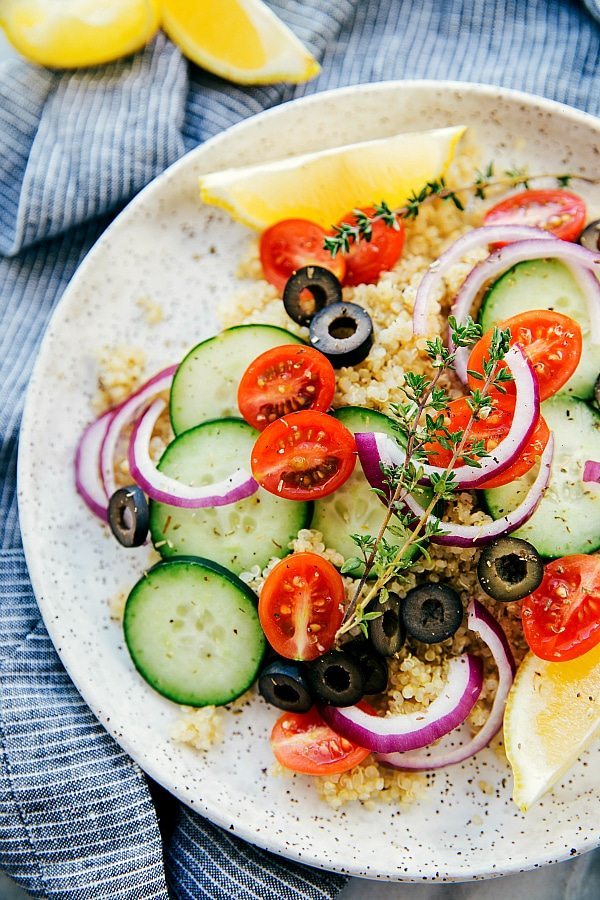 You are still seeing salads and healthy options here and it is January 6th. I'd say that's quite some New Year's Resoluting still going strong.
At least for one more week right?
And I was hoping to get this post out to you guys like three days ago. And then I lost the recipe I had written out.
Speaking of New Year's Resolutions, I seriously have some work to do in organizing how I write out my recipes. It's a bit of a mess right now. I get excited, run to the kitchen and start cooking or baking. And then I realize I need to be writing down what I'm doing in case something great results.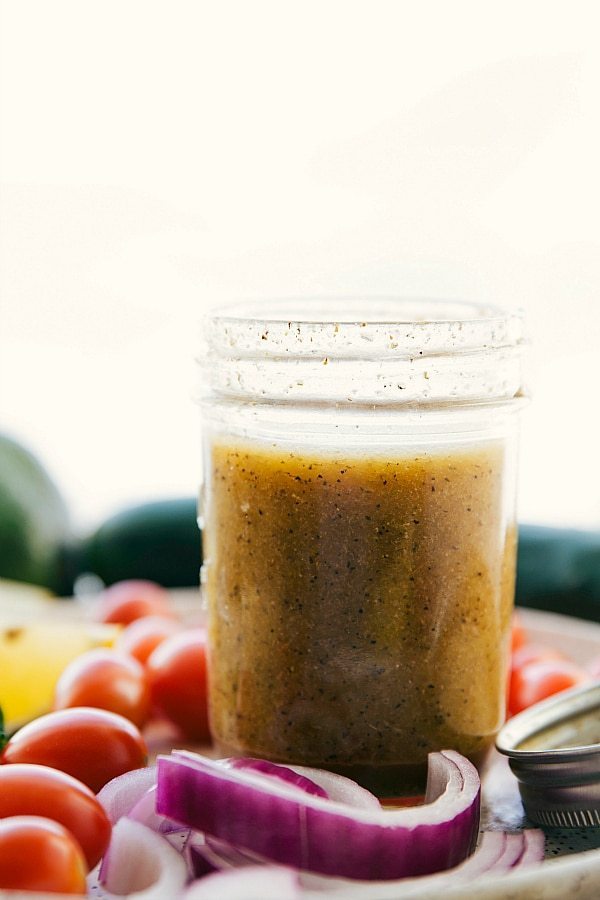 So I quickly grab my post-it note pad of paper and scribble tiny notes all over. These notes are only legible to me. It's how I save my recipes from being stolen 😉
And then I compile all my mess of post-it notes into a small little box. Somehow my small post-it note for this salad was lost. I looked, my husband looked, and no luck.
But I think it was for the better anyways.
Because I remade the salad and this time with a different dressing that was sooo much better. I'm pretty excited about it actually.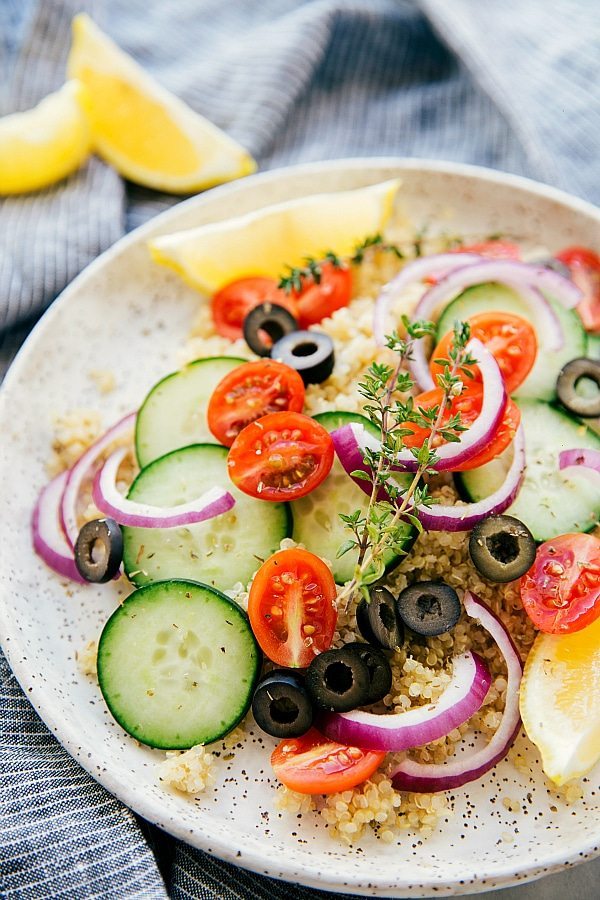 And now the boring stuff…a couple notes on this recipe:
First off, I used black olives, but if you want a more authentically Greek Salad you can use kalamata olives.
Second, in the instructions I say to stripe your cucumber. This is optional, but the skins in cucumbers have tons of nutrients and vitamins. So if you keep half the skin, you are getting a lot of good nutrients. Plus I think it adds more color to the salad! All you do is peel a stripe off the cucumber, leave a small space of skin on and then peel another stripe off. You continue to peel a stripe, leave a stripe, peel a stripe until the cucumber is every other.
Another fun option you could include would be red and green peppers. You can switch up some of the vegetables in this salad with peppers or just add them into the mix.
And finally, if you want a vegan option, just leave out the feta cheese!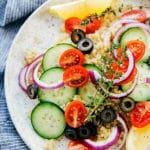 Greek Quinoa Salad
Ingredients
1

cup

quinoa

rinsed

1 and 1/2

teaspoon

Knorr tomato bouillon

optional

1

cup

cherry tomatoes

halved

3/4

cup

black olives

or sub kalamata olives

1

ripe medium avocado

1

cup

cucumber

chopped

1/3

cup

red onion

chopped

1/4

cup

feta cheese
Dressing
1/4

cup + 2 tablespoons

red wine vinegar

1

teaspoon

dried oregano

1

clove

garlic

minced

1

teaspoon

salt

or to taste preference

1/2

teaspoon

ground pepper

1/2

cup

extra-virgin olive oil

Optional: 1 lemon
Instructions
Thoroughly wash your quinoa and follow package directions to cook the quinoa. Add the tomato bouillon when the water starts to boil.

Slice the cherry tomatoes in half and slice the black olives either in half or in slices.

Peel the cucumber in stripes, deseed if desired (I didn't), and chop into small pieces.

Remove the avocado skins and pit and chop into small pieces.

Combine the cherry tomatoes, black olives, cucumber, and avocado in a medium sized bowl and lightly stir together.

In a small bowl, whisk together the red wine vinegar, dried oregano, and minced garlic Whisk in the salt and pepper.

While you are continuing to whisk, slowly add in the olive oil. (Alternatively, blend all the ingredients together)

Pour the dressing over the cooked quinoa that has been cooled.

Toss the rest of the vegetables in with the quinoa and let chill in the fridge for at least 15-20 minutes to let the flavors marinate together,

When ready to serve, top the salad with crumbled feta cheese. Squeeze fresh lemon over the salad if desired.
Recipe Notes
See the post for substitutions and more ideas to add to this salad.
More delicious salads:
Roasted Sweet Potato and Wild Rice Salad
Frog eye salad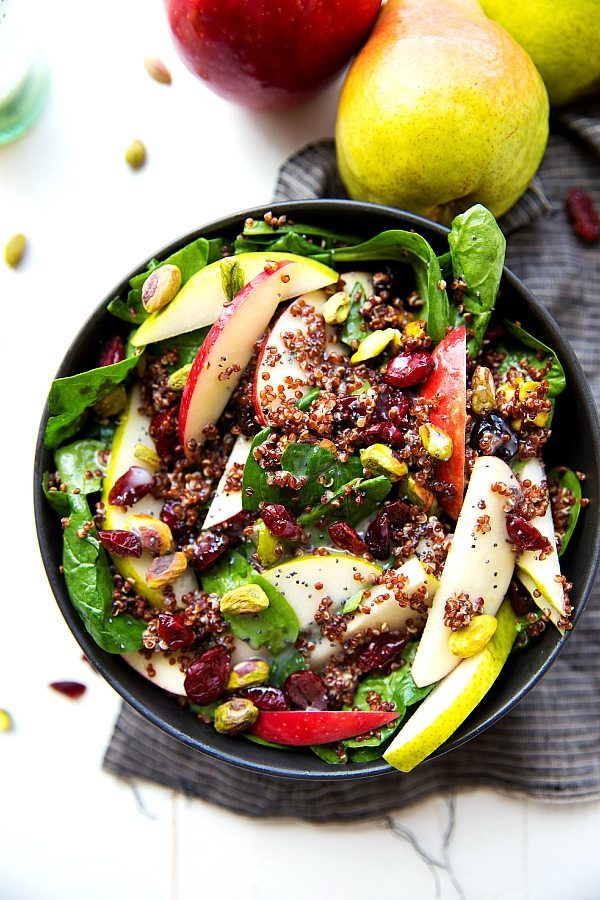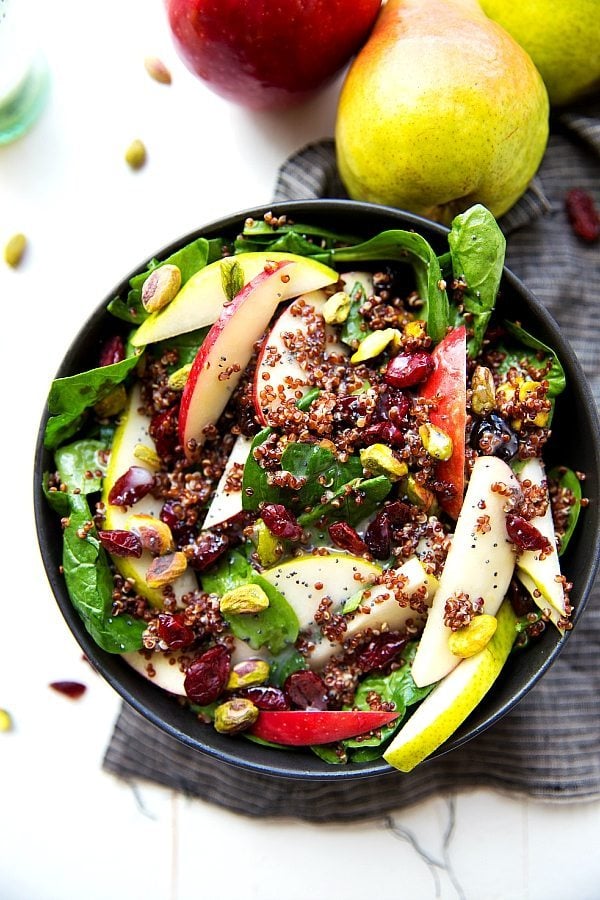 Easy Apple Pistachio Quinoa Salad