An incredible Greek chicken dinner of marinated & grilled chicken breasts with a side of grilled zucchini & corn, a simple Tzatziki sauce, and grilled pita bread
This recipe includes it all — an easy side, a tasty sauce, plenty of protein, and carbs in the form of pita bread. While it may sound like a lot you'll be amazed how easily and quickly it comes together! Plus we're keeping the heat out of the house and cooking it all on the grill!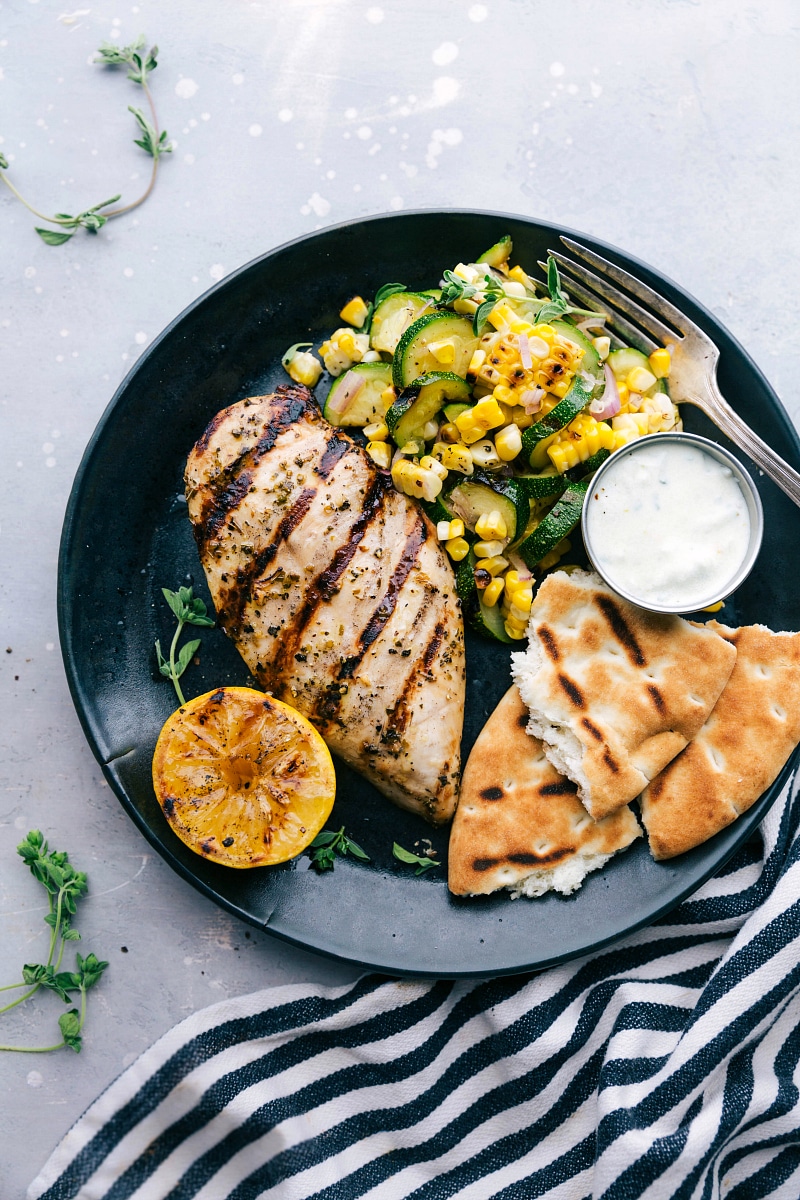 Greek chicken
A few months ago, my husband found a little Greek restaurant for us to go on a date to and ever since then we've gone more times than I can count. To say we're hooked would be an understatement.
He always goes for the lamb gyro (which is amazing), but my personal favorite is their lemon herb grilled chicken. With plenty of tzatziki of course! They also have a side dish of corn and zucchini which I've gotten several times. So you could say this dish is a mash-up of some of our favorites, but all the components are a bit simplified to make this a doable weeknight dinner!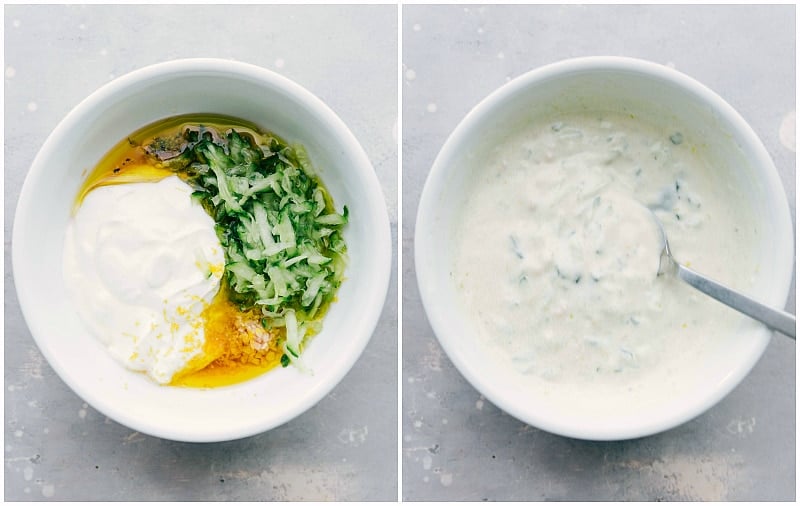 Greek chicken marinade
A great marinade guarantees two things: juicy AND flavorful chicken. This Greek-inspired marinade is no exception.
This marinade is not going to give your chicken an overpowering flavor — we don't want competition with the bold flavors found in the side salad and tzatziki. But, this marinade will result in tender and juicy chicken with a harmony of subtle Greek-inspired flavors that pair perfectly with the sides on the plate.
To create a marinade to encompass that all, we need a combination of acid, fat, and sweetness. Then salt, spices, and herbs finish it up and round out the flavor. This marinade has acid in the form of lemon juice, olive oil is our (healthy) fat, and honey is the sweetness. The salt, oregano, pepper, and garlic finish it up perfectly.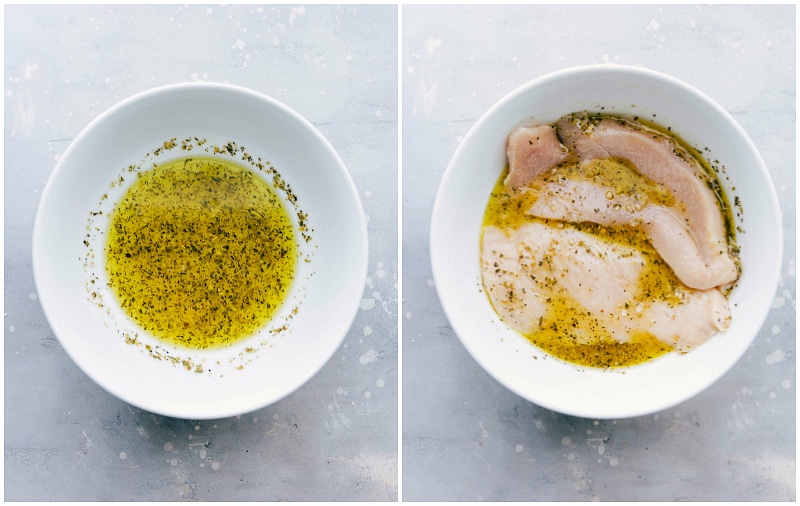 If you marinate chicken often you may have noticed that lemon juice doesn't always react the same as other acids in a marinade.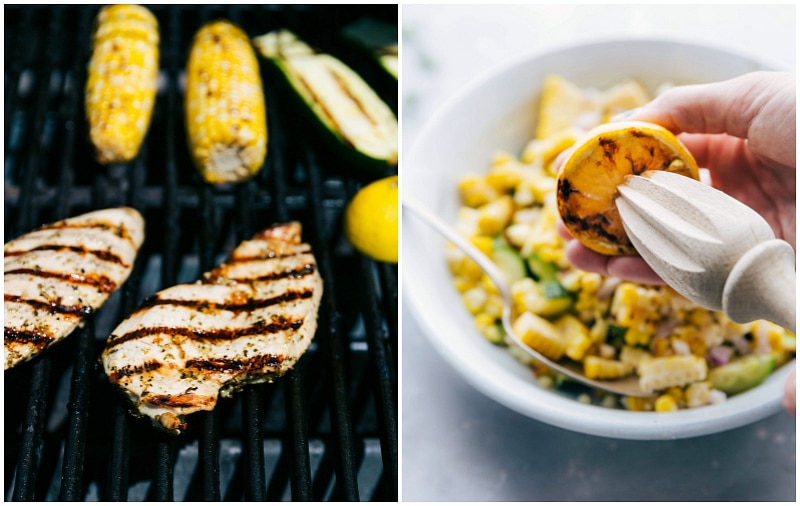 Greek chicken quick tips
A gallon-sized, zip-top freezer bag is the best for marinating chicken. It not only makes clean-up easy, but it also helps to ensure all of the chicken is coated in the marinade. To save dishes, you can dump all your marinade ingredients in the bag, shake them up and knead to mix, and then add in the chicken.
Make sure to slice the chicken in half, or pound them into an even thickness before marinating. This allows the chicken to soak up more flavor from the marinade (which improves the taste), and the even thickness will allow them to grill evenly.
Fresh ingredients are best and you really notice them in this recipe. Skip the bottled lemon juice, grab organic (or from your garden) veggies if accessible, and use a good full fat Greek yogurt in the tzatziki.

Other side dishes
If you're not wanting to serve tzatziki or the grilled corn & zucchini on the side, here are a few other ideas of good pairings for this Greek chicken:
And if you're feeling really ambitious, try making your own pita bread! Whatever you do though, don't skip grilling the pita, it adds so much to this dish!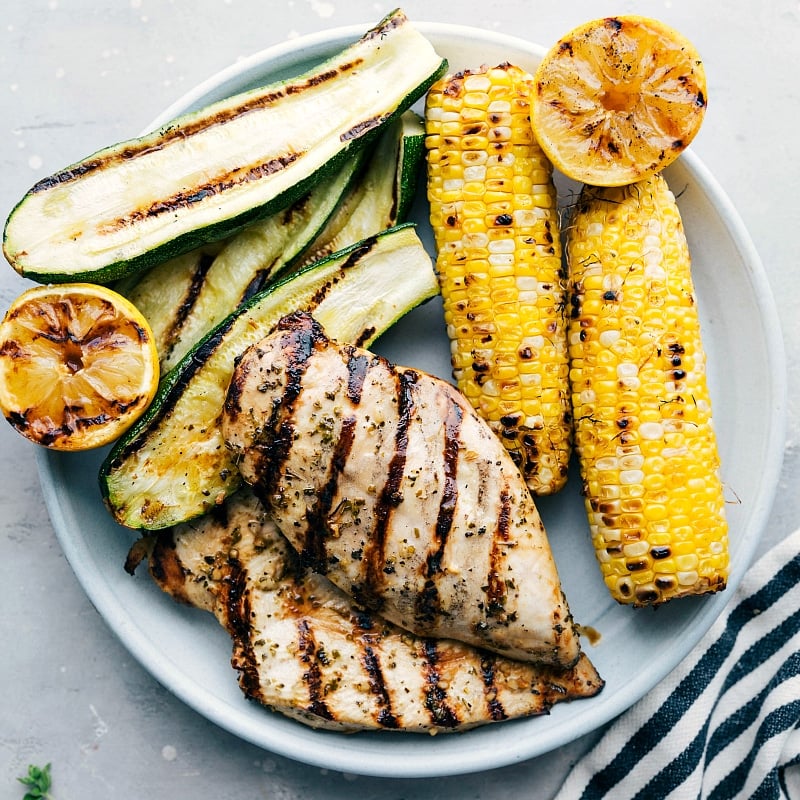 (A lot of ingredients overlap but have been written out twice for clearer reading.)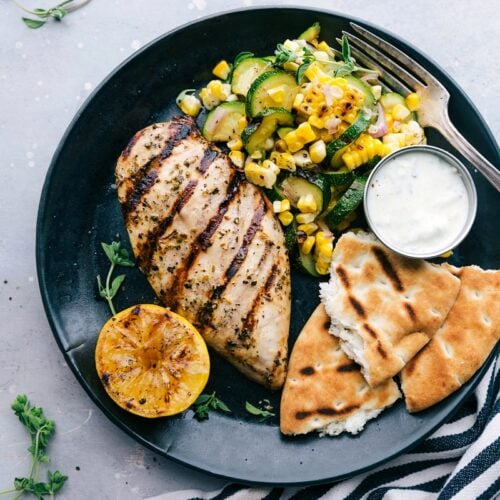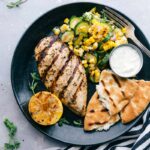 Greek Chicken
An incredible Greek chicken dinner of marinated & grilled chicken breasts with a side of grilled zucchini & corn, a simple Tzatziki sauce, and grilled pita bread
Keyword:
greek chicken, greek chicken marinade
Ingredients
Chicken Marinade
1.8

pounds (~2-3 breasts)

boneless skinless chicken breasts

(or thighs)

1

tablespoon

honey

2

teaspoons

dried oregano

3-5

cloves

garlic,

finely minced

1/4

cup

freshly squeezed lemon juice

1/4

cup

olive oil

1

teaspoon

salt

1/2

teaspoon

pepper
Salad
2

(13 ounces)

small zucchinis

2

(14 ounces)

ears corn

1

tablespoon

shallot

Olive oil and canola or vegetable oil

2-4

pita breads
Tzatziki Sauce
1/4

of 1 large

English cucumber

(~1/2 cup measured after grating)

1/2

cup

plain full-fat Greek yogurt

1

teaspoon

minced garlic

1 and 1/2

teaspoons

red wine vinegar

1

large lemon,

separated in 2 halves, one for grilling one for juicing (1/2 teaspoon zest, 1 tablespoon juice)

1 and 1/2

tablespoons

olive oil
Instructions
MARINATE CHICKEN: Prepare the chicken breasts by halving each breast horizontally. Cover chicken breasts with plastic wrap (to avoid splatter). Using a meat mallet or the bottom of your frying pan, pound breasts to even thickness (you don't want the meat super flat, just even in thickness). Pat dry with paper towel. Place in a large ziplock bag. In a bowl, whisk together the honey, oregano, garlic, lemon juice, olive oil, salt and pepper (add to personal preference, I add 1 teaspoon salt and 1/2 teaspoon pepper). Once combined pour over prepared chicken breasts. Turn to coat and massage into the breasts and then place in the fridge for 20-30 minutes. Marinating too much longer than an hour will cause the chicken to "cook" in the acid.

TZATZIKI: While chicken marinates, prepare the sauce so it can have a chance to chill before serving. Grate a cucumber with the large holes in a cheese grater. Line a small bowl with a few paper towels (or clean kitchen towel) and place the grated cucumber on top. Squeeze out as much extra moisture as you can from the cucumber (to keep the sauce from being watery). Once it's drained add to a medium sized bowl. Add in the Greek yogurt, minced garlic, red wine vinegar, first half of lemon (1/2 teaspoon lemon zest, 1 tablespoon lemon juice), olive oil, and salt and pepper to taste (I add 1/4 teaspoon salt and a pinch of pepper). Place in the fridge until ready to serve.

GRILL: Preheat grill to medium heat (400 degrees F). Halve zucchini lengthwise. Shuck corns. Drizzle zucchini halves and corn with olive oil and then lightly sprinkle with salt and pepper. Rub the oil and salt/pepper into all sides of the zucchinis and corn. Set aside. Remove the chicken from the marinade and discard any remaining marinade. Prepare the fully preheated grill by cleaning and then generously oil the grill (I drench a rolled-up paper towel in vegetable oil and, holding it with tongs, rub it over the grill grates).

GRILL CONT.: Add the chicken to one half of the grill. Add the zucchinis and corn to the other side. Cook the chicken for 4-5 minutes per side or until it registers 160 degrees F (carryover heat will take it to the safe temperature of 165 degrees F). Grill zucchinis for 3-5 minutes per side, flipping once. Grill corn about 10 minutes total, flipping every 3-4 minutes until bright yellow and lightly charred. Remove finished ingredients to a plate and cover with foil. Once everything is removed give the grates a quick clean with the brush. Now add the remaining half of lemon to the grill and the pita bread. Grill the lemon for 2-3 minutes (until lightly charred) and the pita bread for 30 seconds to 1 minute per side or until toasted and warmed through.

ZUCCHINI CORN SALAD: Let chicken rest under the foil. Cut the grilled zucchini into half moons (about 1/2 inch thick) and slice the corn off the cob. Toss in a bowl with the 1 tablespoon shallot. Add a drizzle of olive oil (about 1/2 tablespoon) and then juice the grilled lemon and add to the bowl. Season to taste with salt and pepper (I add about 1/4 teaspoon each). Toss to combine. Rip the pita bread into bite size pieces.

SERVE: Serve the chicken breasts alongside the zucchini and corn salad, the pita bread, and the tzatziki sauce.